The 2017-18 NBA season begins Tuesday with yet another wonderful opening night schedule. It's a long season, to be sure, and longer now with the early mid-October start to allow players lengthier midseason rest periods for commercial shoots and various "branding" opportunities. Baseball and football still can't figure out this kind of prime viewer premiers. The NHL? Hey, did you know they had a hockey team in Columbus, Ohio? Anyway, it's just a great opening night for a season that really begins to matter in six months. Curtain, please, orchestra. Trumpets, trombone, drums. Hit it!
First, the Boston Celtics with Kyrie Irving start in Cleveland, about which Kyrie already has said some unpleasant things. Not that Kyrie is inaccurate or hinted whether he'd consulted with Joakim Noah. But people take these things personally. Irving was a big, big part of that rare Cleveland title a few years back. Will he be welcomed? It's LeBron with old buddy Dwyane Wade and the guy who denied LeBron five straight MVP awards, Derrick Rose, against the team that may/could/should dethrone?
And then onto the nightcap with the Golden State Warriors, basically expected to go 83-0 as they may be awarded an extra win because of the presumed dominance. And if they think they can shoot a lot of threes, it's you ain't seen nothing yet with the Houston Rockets. Who now have perennial All-Star, playoff victim and State Farm thespian Chris Paul to join James Harden. Yes, I'll see you a 30 footer and raise you a 35 footer. Jump ball!
It's a night of stars Tuesday, and that's what the NBA is about. Let the stars some out and light up the night.
So who are the best and the brightest lights of the NBA?
Who's going to be the most acclaimed individuals?
David Halberstam in his acclaimed The Best and the Brightest book on Vietnam employed the title ironically, those best and brightest routinely erring despite their superb credentials. It occurs everywhere, the consequence of expectations. When they are exceeded, the awards generally follow. When they aren't met, condemnation can follow. They are both among the great American pastimes.
For a refresher, last season's NBA Most Valuable Player was a bit of a surprise with Russell Westbrook coming fast and achieving that historic regular season triple double after the departure of Kevin Durant from the Oklahoma City Thunder. The MVP winner usually is a rough compendium of the best player on the best team or close. Westbrook was somewhat of an NBA exception as the Thunder finished sixth. But his individual achievement was extraordinary enough to transcend the usual informal guidelines. James Harden was runnerup for the second time in three years.
Milwaukee second rounder Malcolm Brogdon was a surprise Rookie of the Year ahead of the 76ers' Dario Saric and Joel Embiid, the latter the big favorite until missing more than half the season. How you can still be top three playing so little suggests the unpredictability and personal bias of the awards.
Draymond Green was Defensive Player of the Year ahead of Rudy Gobert and Kawhi Leonard. Eric Gordon was Sixth Man ahead of Andre Iguodala and Lou Williams. Giannis Antetokounmpo was Most Improved winner over Nikola Jokic and Gobert. The Most Improved seems to have to fewest guidelines. Antetokounmpo had emerged the previous season, averaging 17 points then. But going to All-Star status was understandable. The debate often is over should it be someone unexpected like a low first or second round pick. After all, a high pick who didn't play much is expected to improve.
Coach of the Year was Mike D'Antoni over Gregg Popovich and Erik Spoelstra. The joke among coaches always had been to avoid the award since many winners were then soon fired. The reason was since coaching is so difficult for voting media to figure out, they vote for the coach whose team they underestimated. But then when the team falters because it really was better than imagined, the coach suffers. Popovich is a good choice any year, if only for the interviews.
So as we prepare for the 2017-18 season, here's a guess about who may be the best. It's difficult to add that it comes from the brightest.
Most Valuable Player: LeBron James, Cleveland Cavaliers
James hasn't won one since 2013. Everyone routinely says he's the best player (on the planet, of course, as we Americans of exceptional personal bias insist). And then they find someone else to select, like the last four years Westbrook, Kevin Durant and Stephen Curry twice. Then everyone 10 years from now will look back, like they did with Michael Jordan, and wonder how James didn't win every season. Though there is that understandable tendency to spread around kudos. There are many bests. James is going to have to do a lot this season even though the Cavs seem deeper with Derrick Rose and Dwyane Wade. There's the loss of Kyrie Irving, who ran things when James rested, and Wade and Rose are not those guys anymore, especially Wade. Plus, those two change the Cavs' dynamic with limited long distance shooting. The Cavs look like the best in the East even with excitement about Boston's acquisitions of Irving and Gordon Hayward. It stil will be up to James. Probably Durant as runner up since he's become the most important figure with the 2018 champion Warriors. Maybe Leonard again to follow.
Coach of the Year: Steve Kerr, Golden State Warriors
Like with Phil Jackson and Pat Riley, their teams tend to be so good they got overlooked often for coaching excellence awards since voters prefer the team they missed understanding. Yeah, must have been coaching. Understandably, Kerr has been on and off the sidelines with medical issues. But his is the hand that guides this great team. It's subtly misunderstood how much Kerr took from a combination of playing for Jackson and Popovich and their ways with players and making every season an adventure and then expanded on that with his own unique ideas, welcoming personality and belief in defense. There's a real gift to carrying a great team through multiple seasons and Kerr is joining the group of best ever at that. It's always safe to include Popovich. Boston's Brad Stevens will get support with so many new players, though they are better than the ones he had. I've liked Washington's Scott Brooks and that team could surprise given John Wall's consistency. And, of course, Tom Thibodeau with the Timberwolves and his equally large new batch of players that include Jimmy Butler, Taj Gibson and Jamal Crawford. One outsider who could make a run is Charlotte's Steve Clifford, whose team underachieved last season, and then reaching its level makes it, again, look like coaching. Losing Nicholas Batum early to injury will hurt. Hey, if he can coach Dwight Howard.
Most Improved Player: Justin Holiday, Chicago Bulls
Hey, let them win something. He is the kind of guy I most like for this award, someone undrafted who worked his way up through playing overseas, the G-league, off the benches without guaranteed deals to take advantage of a situation, which could be with the Bulls. He's never averaged more than 7.7 points for a season. With Zach LaVine recovering from ACL surgery, Holiday could be in position to be a main offensive threat for a developing Bulls team that could surprise, at least with their open style of play. This one, of course, is a lottery like, big time guessing game in who can get noticeably better. Among those I like include Jamal Murray of the Nuggets, though he was a high draft pick, Aaron Gordon of the Magic, Marcus Smart with the changes in Boston, Norman Powell in Toronto, the Spurs Dejounte Murray and the Knicks Willy Hernangomez.
Defensive Player of the Year: Draymond Green, Golden State Warriors
This pretty much goes to Green or Kawhi Leonard in this era with Rudy Gobert raising his hand and yelling, "Me, me!" Patrick Beverley will get some notice and some for Anthony Davis. Tony Allen used to and you can make a case for Avery Bradley. Maybe now Marcus Smart with Bradley and Jae Crowder gone from Boston. Jimmy Butler is going to be asked to defend a lot, and his willingness to do so and give up more offensive responsibility may be the most important element of a Minnesota revival. Leonard and Green are the best in pure defensive terms, Leonard being able to do so on the perimeter and Green more inside despite the height differential. Green is more like Dennis Rodman in his ability to get under and take leverage from big men and get an important rebound. Leonard is more the classic Jordan/Pippen perimeter defender to get on your hot guy and basically get him to give up the ball. I'd say Green this season for his second straight after two in a row for Leonard and then back to Leonard next season. Unless one of these athletic young guys like the Bulls' Kris Dunn or Boston's Jaylen Brown emerges. They'll have the ability if not the credentials. It probably will be quicker for the guys on the better teams as they get noticed in the playoffs.
Sixth Man of the Year: Lou Williams, Los Angeles Clippers
Part of the difficulty at this time is figuring out who is sixth man. Maybe Dwyane Wade in a few months, but J.R. Smith for now. Jamal Crawford is a regular, but with all those guys now in Minnesota is he still sixth? Of course, it was difficult to tell in Houston and Eric Gordon won the vote. Andre Iguodala always gets close and overlooked; he was worthy and skipped over, but now it's probably too late. Perhaps Rudy Gay. But he'll probably start. Manu? Also too late. Again, Norman Powell is hot with Toronto, but maybe he will start. Patrick Patterson was brought in for that role in Oklahoma City, but he comes into the season after surgery. Eric Gordon again? Ryan Anderson? Houston's dynamic could change. Though it's unfair with all the bad threes they can shoot. Plenty of candidates: Jordan Clarkson, various Zellers, various Johnsons in Miami, Terence Ross, Greg Monroe. With Chris Paul gone from the Clippers, the ball finally will be flying around and Lou, who won with the Raptors, should get more than his share.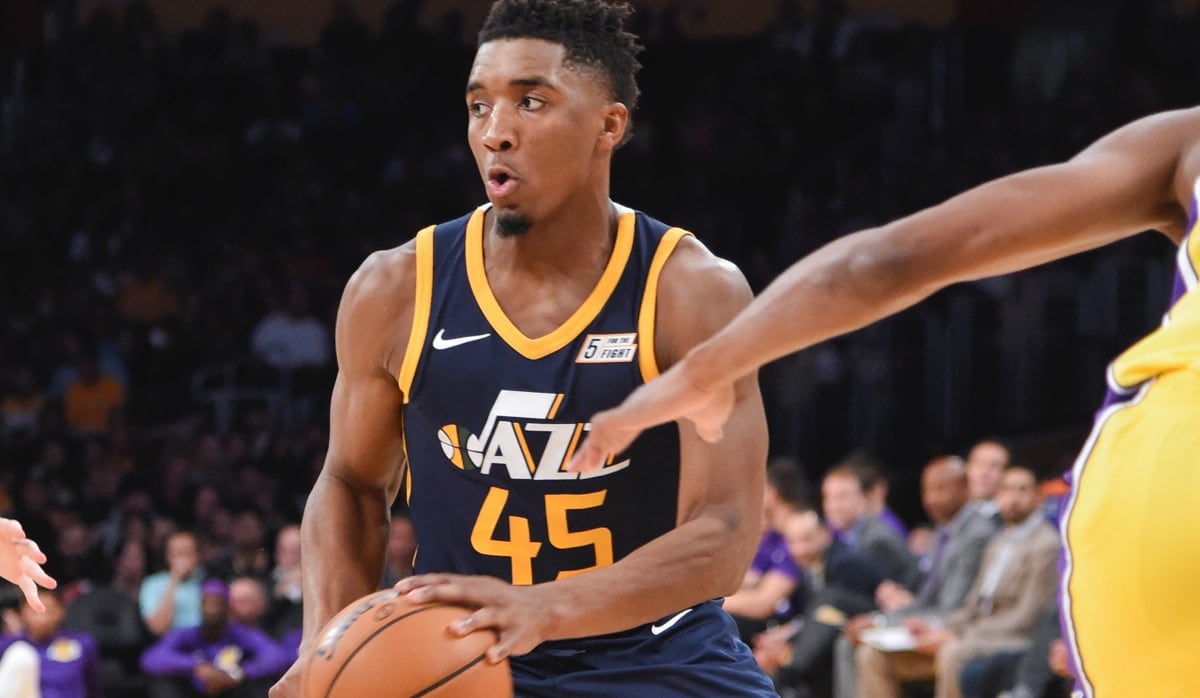 Rookie of the Year: Donovan Mitchell, Utah Jazz
He'd be less of a surprise than Brogdon was this season. I liked him in the draft and there could be opportunity with the Jazz having lost much of their scoring with Gordon Hayward and George Hill. Everyone seems to want someone from the 76ers with Ben Simmons returning. But he and Markelle Fultz may divide votes, and Simmons probably won't score as much. As long as Joel Embiid is around, he'll also get the most notice. Dallas' Dennis Smith Jr. is going to get a lot of opportunity and I can see him as favorite. It's a potentially terrific rookie class with any among Josh Jackson, Jayson Tatum, De'Aaron Fox and even Lauri Markkanen capable of emerging. I'm also intrigued with Portland's Zach Collins. Oh, yes, MVP candidate and Hall of Famer Lonzo Ball. He's the other most popular favorite, though so far teammate Kyle Kuzma has been the Lakers' best rookie. Though Ball has been hurt. Ball isn't that likely a scorer, at least yet.