Can you believe that 2016-17 Bulls season? What was it, 22 different starting lineups? And the most popular one was 13-14. More than 100 games missed for injury. Eighteen different players and a half dozen spending time with the Windy City Bulls. A four-game winning streak the high point, a five-game losing streak the low point. Twelve different players starting games. Twenty –one wins against winning teams; 20 wins against losing teams. Winning the second game of back to backs more times than winning the first. Setting a record for wins in games televised on TNT. Winning eight of 10 on Thursdays and three of 14 on Fridays.
Team turmoil and dysfunction, fines, benchings and a playoff spot on the last day of the regular season.
A shocking and surprising season that is difficult to figure out? Hardly.
That's what happens when you are average, when you finish 41-41, which actually was overachieving of sorts.
Almost every preseason prediction about the Bulls had the team finishing around .500 and just making or missing the playoffs. The odds makers in Las Vegas had the over/under on the Bulls at 38 wins. Hey, you could have provided for retirement forecasting 41 wins.
Excellence, greatness in sports, is consistency, the ability to perform at a high level and succeed regularly despite the vagaries of life, the injuries, the disappointments, the good and bad days. Average produces the unexpected and erratic.
The Bulls were an average team because, essentially, it was Year 1.
It was a wonderful, if ultimately unfulfilling, six-year run in which the Bulls were considered a title contender, or final four, contender, every season. The Bulls averaged 50 wins for those six seasons. And then it was done just last June, Derrick Rose traded, Pau Gasol and Joakim Noah gone as free agents, Kirk Hinrich traded just months before. A team torn apart, E'Twaun Moore and Aaron Brooks let go, Mike Dunleavy traded and then soon Tony Snell.
So it was a new start, though hardly a beginning. Older veterans Rajon Rondo and Dwyane Wade were brought in for short term stability. And they did that even if it seemed as unstable in January as it's been since Dick Motta was threatening to fight his players. But they got it together and they did make the playoffs, which most doubted, and certainly as recently as March. And they shocked the NBA world. At least for a few days in Boston.
It was a season less to ultimately succeed, not that it can ever be a goal, but to begin an undertaking, examining your inventory and determining which among them is worth building with and where additions and changes are necessary.
In that respect, this couldn't have been a better season. There were enough auditions and enough success to make the spring compelling, at least for a bit. There were opportunities for leadership and for retreat, and chances to watch how that was handled by individuals. There wasn't any money spent on strangling contracts that will hinder the team going forward over the next five years. Though that path is hardly clear or certain yet.
Because after all, it's just the beginning.
Grading, as all of us know from our school years, is a very subjective process. There are your tough graders and easy graders, course work that might be ruled an A by some and a C by others. It's never scientific. It's only a broad opinion about behavior and production. Most of us get annual reviews at work. Few of us have them publicized. For which we are grateful.
It's not that way in professional sports. But, after all, these are people whose every action on the job receives instant analysis and critique. Like I tell my colleagues sometimes, finish that sentence with 20,000 people booing you and yelling, 'Verb, you moron, verb."
Anyway, this is my grading standard:
Dwyane Wade is a better player than Paul Zipser, but Paul Zipser came much closer to his potential and expectations this season than did Dwyane Wade. It isn't a level playing field test in sports. You cannot completely be measured by output since roles and duties are different. Some get more chances to score while others are asked to help facilitate their scoring. Some roles are defined, like starting a game and knowing when you will play. Others face serendipity, chance and happenstance, never knowing when and if they will play.
So the standards have to be different because there is no one standard. I'm grading according to how well players performed based on what we expected them to do or not do.
Jimmy Butler
All-Star starter. Gold medal Rio Olympics. Averaged career highs of 23.9 points, 6.2 rebounds and 5.5 assists. Averaged 22.7 in playoffs. Eastern Conference Player of the Week three times. Scored 52 points against Charlotte Jan. 2
He did pretty much all you asked. He raised his game, took over in fourth quarters, made big shots, and kept up his top defense. Basically everything but win. Not that it was totally, or even in great part, his fault. But for the last two seasons, Butler was the acknowledged go to guy on the team and its been .500 since, its poorest two-year stretch since 2010. It's like with Chris Paul. You're among the game's best, but you have to lift your team. Certainly, it wasn't a strong roster. But Butler did in each season have a future Hall of Fame teammate, albeit past his prime. It wasn't an expansion team. It's one reason why the Bulls future and direction remains uncertain.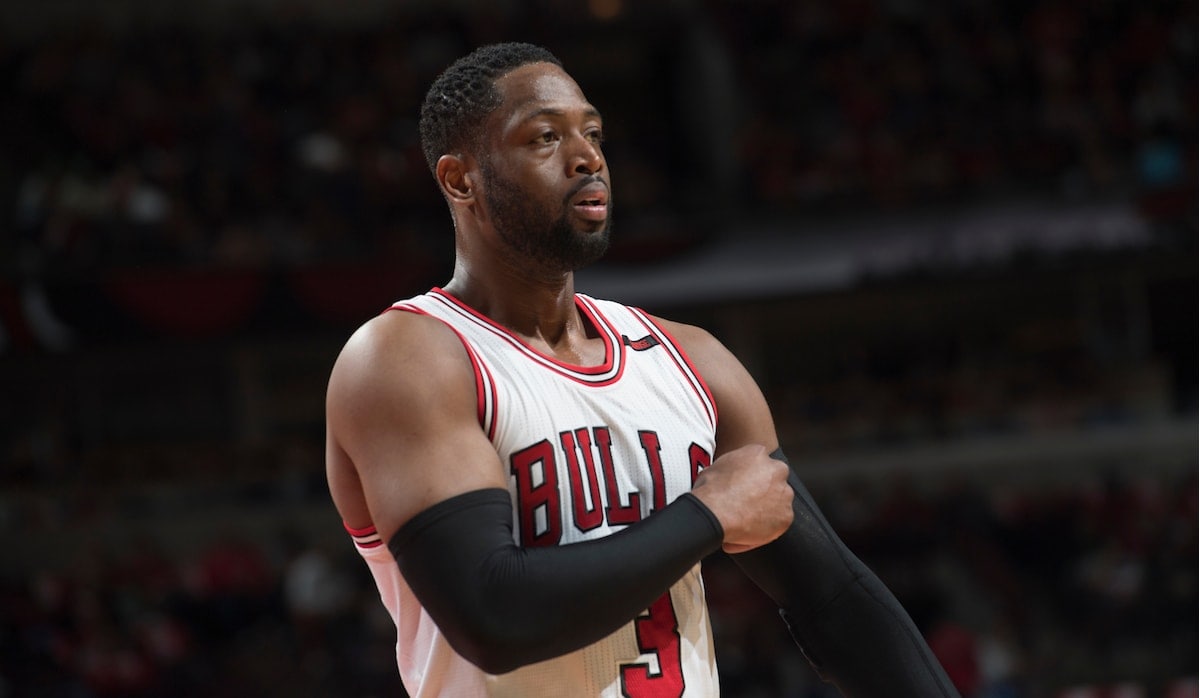 Dwyane Wade
Missed 22 games, including 11 late in season with elbow fracture. Averaged 18.3 points, 4.5 rebounds and 3.8 assists. Scored season high 35 points vs Knicks in November. Averaged 21.1 in February and then had two lowest scoring months in March and April and 15 in playoffs for lowest ever in playoffs. Sat out fives games for rest.
Everyone expected more; perhaps it was unfair given his age and injury history. Maybe it's just not there anymore. It's OK; it happens to everyone. But the leadership was an issue, also. After an encouraging start bringing guys together, Wade almost blew up the team with a questionable condemnation of the young players, especially work habits, when, in fact, Wade worked the least given his many days to rest, rarely practicing and not accompanying the team on trips when he was off. It almost destroyed the season. But Wade is smart and started to get it just before he got hurt in March, lobbying for Rajon Rondo to have more impact after being a Rondo critic early. Upon Wade's return, he settled into a tertiary role and the team was at its best. He probably should see the game like Vince Carter and accept his limitations after an elite career and be a piece instead of a centerpiece. But he still seems to feel the pressure to live up to his name, which is what makes having past superstars problematic.
Rajon Rondo
Averaged 7.8 points, 5.1 rebounds and 6.7 assists. Started 42 of 69 games in fewest starts of career since rookie season. Had five coach did not play games. First Bulls player with 15 assists in six years with 15 against Cavs in March. His 37.6 percent three-point shooting was a career best and led the team this season. Averaged 11.5 points, 10 assists and 8.5 rebounds in two playoff games before being injured. Bulls won both.
Oh, what a strange trip it was, starting, benched, out of the rotation, inactive, a reserve and then a starter again and then the most important player at the end. He belied his reputation as a divisive force as the glue that helped keep the team together amidst midseason debate. He vastly improved his shooting and actually became the regular who had the best three-point shooting percentage. Though playful with media in offering mixed signals, he was a rock for the unsteady young players, a great example with his work habits and not one to make an issue of his inconsistent use given his accomplishments as an All Star and champion.
Robin Lopez
Started 81 games, missing one for fighting suspension. Averaged 10.4 points, 6.4 rebounds and 10th in league in offensive rebounds. Had career long streak of 11 straight games scoring in double figures. Averaged career high 12.7 points in playoffs.
There's only so much he can do, but he did it. He was reliable, missing just one game when he got into a fist fight with Serge Ibaka. Where was he when they played the Bad Boys? He's slow, so he doesn't get to rebounds in space well and can be taken advantage of in pick and roll with the limited mobility. But he goes to the offensive boards as well as any, has a reliable face up shot and curious hook that goes more than you'd expect. Never complains about time; always supportive. Sure, big men in this era are shooting threes, and he isn't. But you couldn't have asked for more.
Nikola Mirotic
Averaged 10.6 points and 5.5 rebounds and shot 34.2 percent on threes. Had 15 starts in 70 games. Averaged 14 points after the All-Star break and 14 points as a starter after nine points pre-All Star. Had eight games scoring at least 20 points with eight double/double games. Four times sat on coach decision. Averaged 8.7 points and shot 28.6 percent on threes in playoffs.
He made progress, though it took much of the season. Losing his potential starting job to Taj Gibson in training camp seemed to set him back. He became more stable in not so much faking and flailing. But it really wasn't until after the Gibson trade and support from Wade and Butler about starting that seemed to give him confidence and led to results. He had a few benching in which he didn't play at all, but remained positive, at least externally. He seemed a bit uncertain with free agency pending. He retained that elusive potential, but maddening inconsistency.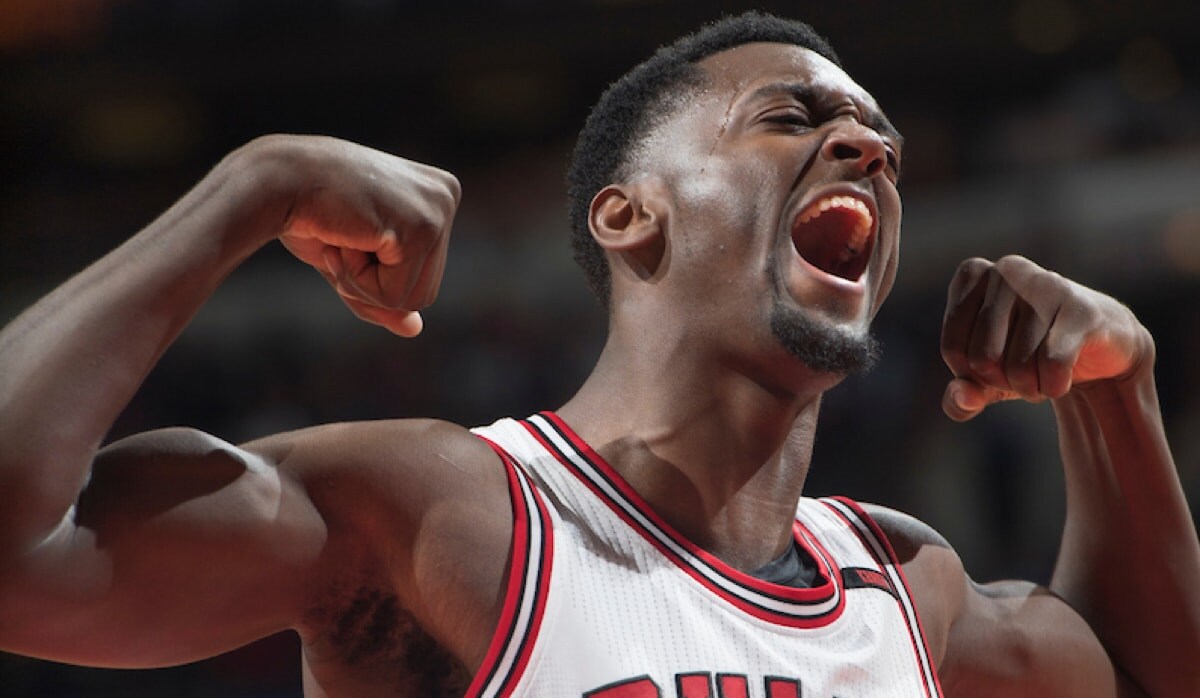 Bobby Portis
Averaged 6.8 points and 4.6 rebounds. Averaged 6.7 in playoffs. Played one game in D-league. Started 13 games, but had coach did not play 18 times. Shot 33 percent on threes. Had career high 22 points against Jazz in March.
He was set back as the team tried to shoe horn him into minutes with no position. So he began the season as a backup at center and didn't respond well. He became hesitant about the duties: Roll, pop, shoot, drive? He broke out verbally first as the voice of the young players in the team meeting in January, standing up for his teammates and gaining widespread respect. His hustle and headlong play finally earned him a regular role after Gibson was traded. He lacks some athleticism, but has the potential to grow with his shooting ability after finally getting some regular playing time.
Paul Zipser
Averaged 5.5 point and 2.8 rebounds. Averaged 7.3 in playoffs. Started 18 games; missed 13 games with injury and illness. Played three games in D-league. Scored career high 21 points in last game of season.
One of the biggest surprised of the draft. Milwaukee's Malcolm Brogdon could be rookie of the year as a second rounder, but Zipser at No. 48 looked like a stash-in-Europe guy or, at best, D-league all star. But he showed impressive poise in spot time and even some starts and a big game in the playoffs. He also has some limitations athletically, but moves well and plays smart, so he can make up for that. He shoots well and plays confidently for someone no one expected.
Jerian Grant
Averaged 5.9 points and shot 36.6 percent on threes. Averaged 3.2 points in playoffs. Started 28 games with 15 games did not play coach decision. Had 17 points and 11 assists against Orlando in April. Played two games in D-league.
He'll have to find a position. The Bulls wanted him to be a point guard, but his shooting was his strength. He got a month of starts with Rondo demoted, but the team staggered in that period. Has a tendency to dribble too much and hold the ball, which didn't work well with Butler and Wade having similar inclinations. Didn't extend himself on defense enough to earn his way back into the playoffs.
Michael Carter-Williams
Averaged 6.6 points and 3.4 rebounds and shot 23.4 percent on threes. Averaged 2.8 points in playoffs. Had to back 20-plus points scoring games in February. Missed 17 games with October bone bruise and knee injury. Six times didn't play by coach decision. Started 19 games. Acquired in trade for Tony Snell in October.
What happened to him? That was a question often asked around the NBA. He was rookie of the year and versatile enough to be compared statistically his first two seasons with players like Grant Hill and Magic Johnson. The trade for Tony Snell looked like a steal. But he got hurt early. His shot remained broken and he had difficulty finishing at the basket. His defense was sometimes excellent, but then he'd have problems with small guards. He was among many with yoyo playing time, but seemed not to respond well.
Denzel Valentine
Averaged 5.1 points and then 1.3 points in playoffs. Shot 35 percent on threes and made at least one in 15 straight games. Career high 19 points against Washington in January. Played in 57 games; 19 games did not play coach decision. Had ankle sprain injuries in November and January.
He got hurt early and lost his place, came back finally and had a few big games, especially almost stealing a win in Washington with half the regulars out. Then he hurt his ankle again and never got back in much. In trying to find his way back on the court, he settled into being a three-point spot up shooter instead of using the ball handling and passing instincts that propelled him in college. There were so many guys holding the ball, especially when Rondo was out, but he settled a bit too much.
Cristiano Felicio
Averaged 4.8 points and 4.7 rebounds. Averaged 3.2 points and 4.3 rebounds in playoffs. Played off bench all 66 games. Did not play coach decision 11 times. Had three double/double games. Played one game in D-league.
He did give the team a different look with his ability and willingness to hedge and trap the pick and roll more than Lopez could. And he did finish strong on rolls at times. But he remained invisible on offense, rarely even looking to attempt a shot and thus giving teams the chance to overload on defense when he played.
Isaiah Canaan
Averaged 4.6 points and then 11.7 points in playoffs with two playoff starts after none all season. Did not play coach decision 29 times; nine times inactive. Season high 17 points in November.
Had a most unusual season with a surprise start in making threes in wins early and then after getting—and missing--a game winner in Denver in November, he went into a three-point slump and basically was dropped from the active rotation for the rest of the season. But he always seemed to remain upbeat and positive, engaged with teammates in practices and on the bench. And then with the playoff loss of Rondo, he became the most aggressive defensive guard and a fearless scorer, which was plenty to ask from a strictly emergency player.
Joffrey Lauvergne
Played 20 games for Bulls after Taj Gibson trade. Averaged 4.5 points for Bulls. Averaged 4.7 in playoffs. Tied season high 17 points with Bulls. Had one start.
Had some moments in important late season games that made you wonder. Shot threes with confidence and showed activity, but often out of control. Could be worth a longer look.
Cameron Payne
Played 11 games for Bulls after Gibson/Doug McDermott trade. Played five games in D-league, three for Windy City Bulls. Had double digit scoring games for Bulls. Played four minutes in playoffs.
Was the last of the point guard auditions as he was worth a chance, a onetime lottery pick playing behind Russell Westbrook. He played more shoot first and was sloppy with the ball. Clearly has the ability to get his shot off, but seemed too anxious to do so and had more success in the D-league.
Anthony Morrow
Played in nine games for Bulls after Gibson trade. Averaged 4.6 points for Bulls and four points in playoffs. Had two double figure scoring games with Bulls. Shot 43 percent on threes with Bulls.
He was a throw-in to equalize the Gibson deal and he understood. He never played early, but constantly worked and then got in for emergency minutes in the playoffs and shot well. Showed the respect for the game of a pro.
Taj Gibson
The eight-year veteran finished the season with the Thunder after the midseason trade. He averaged 11.6 points for the Bulls and then nine points for Oklahoma City and 9.8 in the playoffs. He started 55 games for the Bulls and then 16 of 23 with the Thunder.
He represented the end of an era, the last of those baby Bulls under Vinny Del Negro who grew into contenders. He was having his best season and had developed a reliable mid range shot. He became the voice of the locker room and the ultimate team player. The Bulls decided they had to get something for him given his pending free agency.
Doug McDermott
Played in 44 games with four starts for the Bulls before the trade with Gibson. Averaged 10.2 points for the Bulls and then 6.6 for Oklahoma City with one start in 22 games. Averaged five points in the playoffs.
The Bulls decided he had his chance and had to move on. He tried, but still was troubled defensively. He seemed to feel under pressure and began to force shots, especially at home as he had a far better shooting percentage on the road. There seemed too much expectations for him as a lottery pick. He needed a change of scenery.
R.J. Hunter
Played in three games for the Bulls with one shot and zero points.
Forgot about him, didn't you?
Fred Hoiberg
Team was one game poorer in his second season at 41-41. But made playoffs for first time and had 2-0 lead over No. 1 seed Boston. Lost in six games after starting point guard Rajon Rondo missed last four games. Had 12 new players from last season during season with a major mid-season trade. Only four players remaining from his first season.
Came in for an exceptional amount of criticism despite his team exceeding virtually all expectations for wins and making the playoffs. He had an unusually difficult task in trying to please Hall of Fame level veterans and develop and play non lottery pick rookies and young players while being judged against the best in the conference. He handled that with more professionalism than perhaps anyone ever has. Probably allowed too much rope for some veterans, but as a second year coach it's certainly understandable. Had trouble settling on a rotation, though his players had trouble playing consistently, except perhaps for Butler, Rondo and Gibson, and then Gibson got traded. Clearly a season in which he improved.