Ready to meet your 2017-18 Bulls? OK, not quite all of them yet with Bobby Portis suspended eight games as a result of the Tuesday practice scrimmage fight with Nikola Mirotic. Mirotic sustained severe facial injuries and a concussion and could be out four to six weeks. Point guard Kris Dunn sustained a dislocated finger early in the preseason and remains out, though he could return to play next week. Zach LaVine, considered perhaps the premier part of the three-player package the Bulls acquired in the trade of Jimmy Butler, continues to rehabilitate from ACL surgery. He likely won't play until at least December. Oh, right, point guard Cameron Payne also is out probably until at least mid season after foot surgery.
The Bulls open the season Thursday in Toronto and then return to the United Center Saturday for the home opener against the San Antonio Spurs. Then it's into Cleveland next week with home games against Atlanta and Oklahoma City.
The starting lineup for your Chicago Bulls:
Point Guard: Jerian Grant
The third year guard basically won the training camp portion for the starting job as he nosed out Dunn, who came off the bench to start the preseason. Grant attempted to be more of a playmaker, but it's not his natural game. Though he did lead the team in assists in the preseason when he averaged 8.2 points and six assists. He's not a top penetrator, but he has good range on his shot and shot 42 percent on threes in the preseason. This is his first real chance to run a team to open a season and has been his most aggressive since coming to the Bulls in the Derrick Rose trade.
Shooting Guard: Justin Holiday
The young veteran of about 200 NBA games since 2012 and five teams and twice with the Bulls has been the offensive star of the preseason. The summer free agent averaged 16.7 points per game, five more than second most, and shot 52.8 percent on threes. He led the team in steals and was second in rebounds. He's not a classic finisher or go-to guy, but a player who moves and slashes to fit with the active and open style of play that coach Fred Hoiberg is emphasizing. But when the Bulls need a basket they'll call plays for him until LaVine's return.
Small Forward: Paul Zipser
The second year second round pick was injured early in camp and also sat out a game, but Hoiberg said he is fully recovered. He averaged 6.6 points in the preseason and a pedestrian 35 percent on threes. With Portis and Mirotic out, he'll probably also play some power forward in smaller lineups since he's 6-8. He sometimes holds the ball a bit much, but has good driving moves to the basket. Still, the Bulls are not a group with strong finishers at the basket, where they can get free throws and easy points. So they'll rely on more three point shooting this season and Zipser seems improved from distance.
Power Forward: Lauri Markkanen
Heck of a way to get your first start as an NBA rookie. Though you get the sense he will not be intimidated. The No. 7 overall pick in the draft with the Minnesota pick was the team's second leading scorer in preseason at 11.7 per game and shot 39 percent on threes even after sitting out the start of preseason with a back injury and then shooting one of nine for four points in his first game. He merely said he didn't lack confidence. He's got a beautiful long distance shooting stroke and can take the ball to the basket, though he hasn't been a great rebounder or defender.
Center: Robin Lopez
The 10-year veteran is the rock of the team in his second season with the Bulls. He's one of the best big men mid range shooters in the game and the team's best shot blocker. He's emerged as the leader with Hoiberg anointing him as the only sure starter coming into the season. He's one of the league's top teammates who already has changed his number several times to merely accommodate new teammates. He does whatever is necessary and whatever is asked.
Denzel Valentine
He was the fourth to average double figures in the preseason after Holiday, Markkanen and Lopez, the latter who averaged 11.2 points. Hoiberg tried him some at point guard, but it didn't work out. He can be a secondary ballhandler playing with a point guard, but he did improve a good three-point shot with a tighter arc. He was second to Holiday shooting 47 percent on threes. His defense can be spotty, but he can give the team some additional options on offense and should come off the bench early.
Nikola Mirotic/Bobby Portis
Mirotic averaged 9.7 points starting five of the six games and Portis 9.3 starting one. They both shot 33 percent on threes. Mirotic bulked up some, but primarily was a long distance three-point shooter. Still, Mirotic led the team in free throw attempts, though at fewer than three per game. He went to the basket, though somewhat unruly at times. Portis remained somewhat tentative with his three-point shot and excelled more on the defensive boards. He didn't make the jump in preseason the team expected after a sharp summer of work. Mirotic before the fight was to be the starter when the season began and Portis probably third option after Markkanen.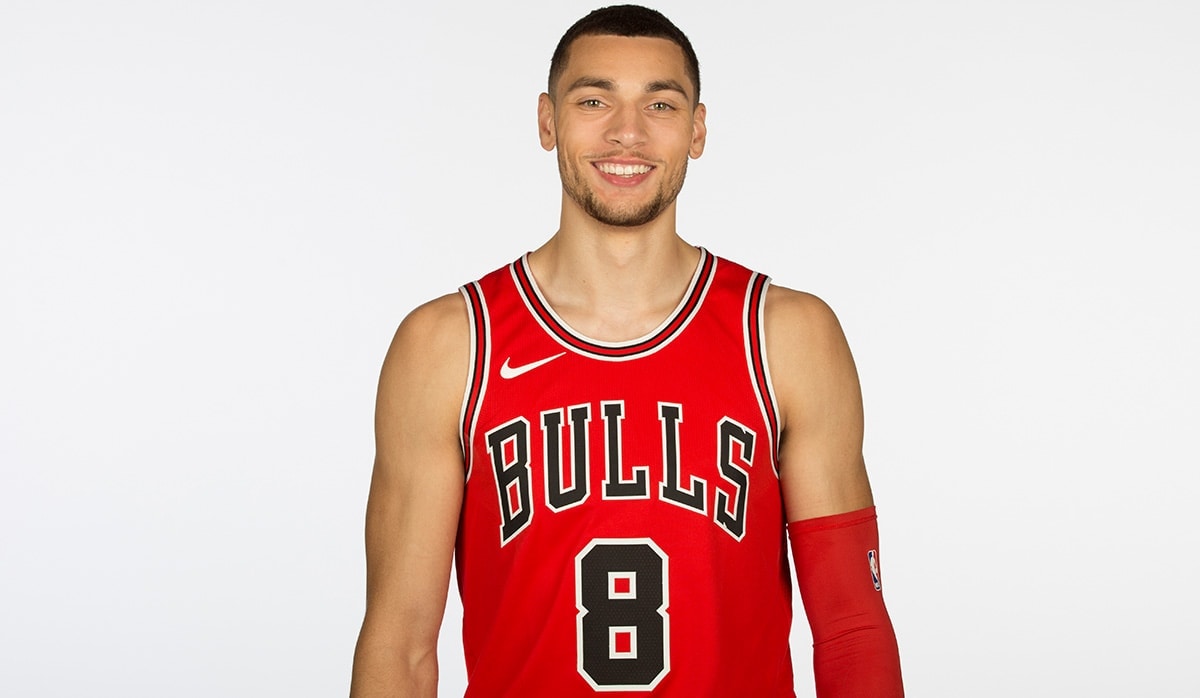 Zach LaVine
He's supposed to be the prize of the Butler trade, the two-time slam dunk champion who wouldn't have been part of the trade if healthy. He suffered the knee injury last February and his return is unknown, though he is said to be ahead of schedule. He was considered perhaps the best athlete in the NBA and the question is whether he can return to that level. He's also a top three-point shooter and a player around whom a team can coalesce and build. Everyone around the Bulls is anxious and excited about his return this season.
Kris Dunn
The athletic point guard hope from the Butler trade started slowly in training camp and was behind Grant. Dunn was playing tentatively. His shot was considered his main concern, but he wasn't being as aggressive. That changed in the third game when he was attacking the rim and defending hard when he was hurt Oct. 6 and missed the rest of the preseason. The estimate was two to four weeks and he's said to be on schedule to return probably late next week. He averaged eight points in the preseason and made two of his three three pointers.
Cristiano Felicio
The backup center from Brazil signed a four-year contract to remain with the Bulls. Backing up Lopez, he averaged 6.5 points and 4.7 rebounds in about 18 minutes in the preseason. He led the team in offensive rebounds, though he remains an uncertain offensive player. He tended to pop out for shots more than rolling at times as he's attempted to develop in the altered offense.
David Nwaba
The waiver pickup has been a pleasant surprise as he's probably been the most aggressive player to attack the basket. He was said to be shooting better in camp from long range, but he attempted just one three pointer in six preseason games. He can get to the free throw line, but shot less than 50 percent. He has been a strong addition defensively.
Ryan Arcidiacono
The slightly built point guard got a chance with the injury to Dunn and has probably run the team the best. He's been known to be a good shooter, but he did not shoot well in preseason, just one of nine on threes and four of 16 overall. Until Dunn returns, he'll remain backup point guard with his tough play.
Antonio Blakeney
He's probably destined for the G-league for now as one of the two-way contract players along with Arcidiacono. He was a sensation in training camp with his uncanny scoring, but he seemed to rush in the preseason and shot just 32 percent overall. He has a unique ability to find a shot whenever he wants, and he often does look for one. But the Bulls could be a scoring challenged team without a true go-to for now and the ability to get to the free throw line. He'll stick with the team for now with the suspension and injuries.
Quincy Pondexter
The veteran small forward didn't play in preseason with a hamstring injury, though the Bulls have been cautious with him since he hasn't played in two years with knee surgeries. The Bulls say he is ready to play now and should be available for the opener. He's a quality three-point shooter who was a throw-in on the deal with New Orleans to add a draft pick. But he could prove useful with the absences and if he can recover from his knee issues.
Kay Felder
The Bulls picked up the diminutive point guard this week after he was traded to Atlanta and released in a financial move. The Cavaliers liked the athletic guard who was a big scorer in college, but ran out of roster spots with the addition of Dwyane Wade. Felder is behind having missed camp, but his potential scoring and aggressive offensive play could prove valuable.
Cameron Payne
The left handed point guard obtained from Oklahoma City in the Taj Gibson/Doug McDermott trade last February sustained another foot injury in the summer and had surgery on the same foot as with a previous surgery. He struggled both after the trade and in summer league and his return is uncertain.