#1. Ben Simmons
Philadelphia: Ben Simmons. How'd they come up with that pick? He's probably where he needs to be, and not because of the cheesesteaks and pretzels. Because he handles the ball and veteran teams are not about to trust a freshman. They have no point guard, not since Iverson, anyway. And he is a heck of a talent.
#2. Brandon Ingram
LA Lakers: Brandon Ingram. Welcome, son. You're replacing Kobe Bryant. Good luck! Not fair, but you're in the NBA now. He's a varied talent, and better shooter than the No. 1 pick, and that's fairly important. But what else are the Lakers about to do with a nursery school roster?
#3. Jaylen Brown
Boston: Jaylen Brown. Could there be a trade? This is where the draft was effectively supposed to start because one and two were considered the top pairing in some order. The surprise, though there cannot truly be before they play in the NBA, is most teams had him as a talent considered out of the top five. He's been regarded as a form of Stanley Johnson, but not quite that good. One of few players to go without an agent as he probably wants to remain independent in case he runs for president without the effect of special interests. Boston supposedly has been desperate not to add another young player to a team of striving role players.
#4. Dragan Bender
Phoenix: Dragan Bender. The surprise is that most teams figured Providence's Kris Dunn was the best talent after the first two. Bender at his best has been described to have some of the attributes of a Toni Kukoc type player. But he rarely played for a weak overseas team. The Suns have plenty of guards, so perhaps it's about position and potential. Or that he played in Israel and can probably deal with the desert heat.
#5. Kris Dunn
Minnesota: Kris Dunn. Tom Thibodeau makes his first pick and was heard yelling at Dunn over the phone, "Get back! Get back!" Considered the top point guard talent in the draft and raises the obvious question about whether there will be a deal for Ricky Rubio. Maybe not right away, but a player who should fit well with their talented young core.
#6. Buddy Hield
New Orleans: Buddy Hield. The shooter at the top of the draft. It's a natural pick for them with Eric Gordon a free agent, not that he ever played much. How good can he be? Heard one top scout say he was a bit better than Jodie Meeks. He better be. Or he'll need to play with one of those Mardi Gras masks.
#7. Jamal Murray
Denver: Jamal Murray. The Kentucky guard is a combo guard scorer whom many of the pros figures would go a bit higher. He pairs up for a sharp young backcourt with Emmanuel Mudiay. Should be fun to watch them get the team into the lottery for another four or five years.
#8. Marquese Chriss
Sacramento (for Phoenix): Marquese Chriss. He was the high riser for the draft during the season. An excellent athlete with star potential who can play both forward position and the reports are he'll be going to the Suns in a trade to go along with Dragan Bender in their latest youth movement. It's now possible that all Americans are refusing to go to Sacramento.
#9. Jakob Poeltl
Toronto: This is said to be all about Bismack Biyombo about to hit the free agent multimillionaire lottery, but not from the Raptors. Poeltl is from Austria and after living in Utah awhile, seems happy to be out of the United States again.
#10. Thon Maker
Milwaukee: Thon Maker. He's been mentioned as perhaps even a second round pick as he's effectively a high school player, a big, skinny, athletic guy from Australia. They were much criticized for taking Giannis Antetokounmpo. So maybe they know. He's been generally regarded as a long term project. But they also took Larry Sanders. Hey, they're getting a new arena. Supposedly will be serving brats.
#11. Domantas Sabonis
Orlando (for Oklahoma City): Domantas Sabonis. The Magic have been heavy in trade talks as they've targeted getting a veteran, which most of the top lottery teams have been trying. So he could be on the move, as well. A good skilled big man prospect.
#12. Taurean Prince
Utah (for Atlanta): Taurean Prince. The Jazz traded the pick earlier in the week to Atlanta in a multiteam deal for Jeff Teague. The Hawks are in transition with questions about retaining Al Horford. Hey, most everyone is watching car racing there, anyway.
#13. Georgios Papagiannis
Phoenix (for Sacramento): Taurean Prince. Who? C'mon. I read all the mock drafts and ate at a Greek restaurant earlier in the week and still never heard of him. This is supposedly for the Kings from the Chriss deal and official confirmation that no American player plans to spend any time with DeMarcus Cousins.
#14. Denzel Valentine
Bulls: Denzel Valentine. Bulls get Denzel. Is considered a heck of an all around player and was amazing in Crimson Tide and Unstoppable. No, the better Denzel. Bulls hope they are sending their team and fans a valentine. He's regarded as the most ready to go player, smart, a leader and all around player who is also a good shooter. The next Draymond Green type from Michigan State. The Bulls can only hope.
#15. Juan Hernangomez
Denver: Juan Hernangomez. Should certainly appeal to Colorado's Spanish population. They select a lot of international players because of the appeal of seeing snow for the first time is considered a strong motivating force.
#16. Guerschon Yabusele
Boston: Guerschon Yabusele. Thought they were interested in one of the other Guerschons. With multiple first round picks probably someone to stash overseas. Red Auerbach, yes, is rolling over in his grave.
#17. Wade Baldwin IV
Memphis: Wade Baldwin. Were said to be limited in budget and apparently only were able to scout in Tennessee this year. They could lose Mike Conley in free agency, so point guard figures. They intend to love him tender.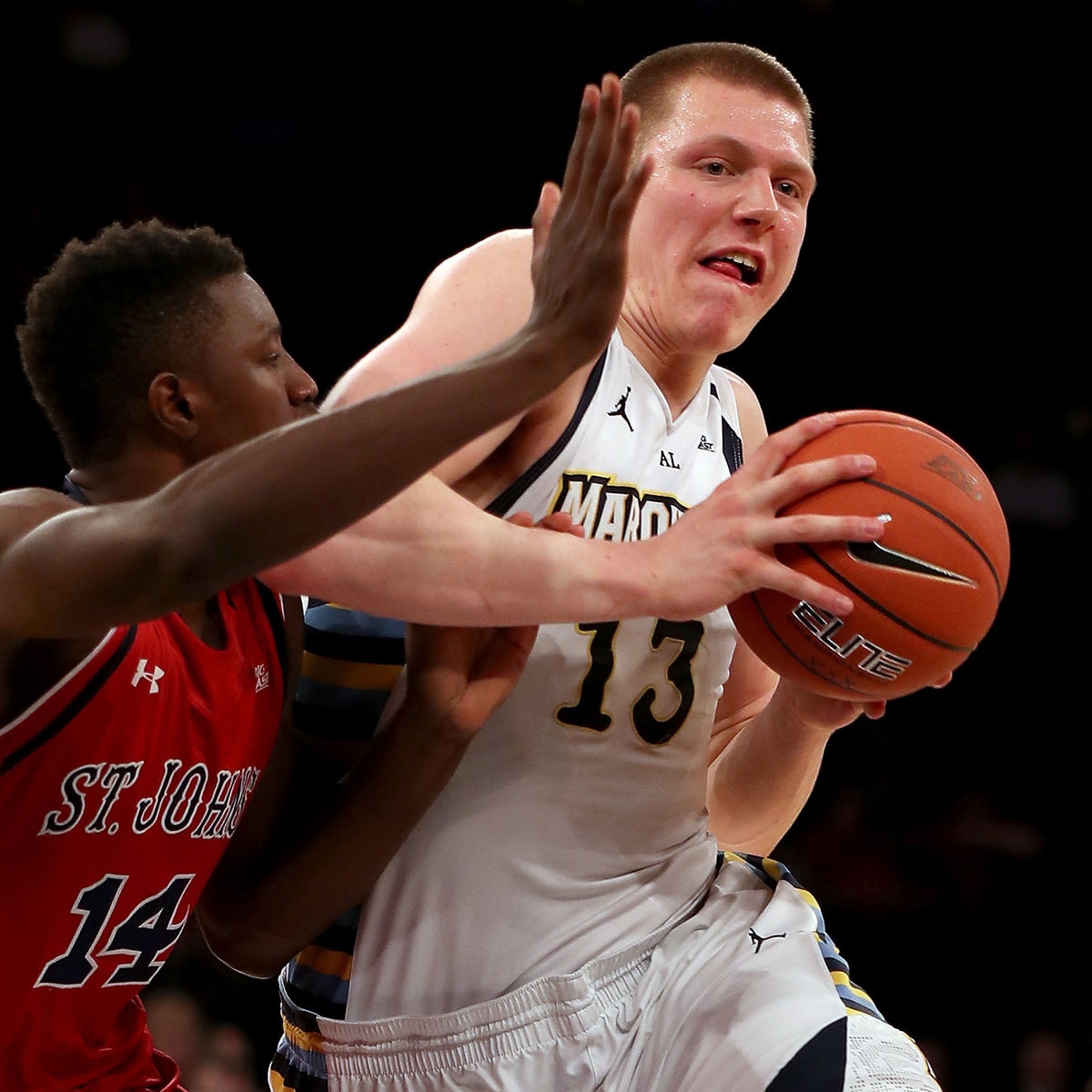 #18. Henry Ellenson
Detroit: Henry Ellenson. Nice pick for them as he was considered a top 10 player among many teams. Good playmaker for a big guy.
#19. Malik Beasley
Denver: Malik Beasley. The Florida State product is a good shooter. They're remaking their roster with young players.
#20. Caris Levert
Indiana: Caris Levert. He goes to Brooklyn from the trade with Indiana that got them Thaddeus Young. He's a talented shooting guard who has had multiple foot injuries that have scared off most teams. Since the Nets plan to be bad they have time to wait.
#21. DeAndre Bembry
Atlanta: DeAndre Bembry. Another all versatile small forward for the Hawks after Prince without a great shot. Not sure what they are up to, but they are just wrapping up spring football practices.
#22. Malachi Richardson
Charlotte (for Sacramento): Goes to Sacramento for old buddy Marco Belinelli. Shooting guard for shooting guard. The Hornets got themselves into the playoffs with a born again three-point shooting game, so may as well keep adding the shooters and another shooting guard. Probably will lose Jeremy Lin in free agency and Jordan is said not to be ready for another return until after next season.
#23. Ante Zizic
Boston: Ante Zizic. What exactly are the Celtics up to. They've supposedly spent the last season chasing veterans because they have so many draft picks and so many similar players without enough veterans or players with star power. So they pick a bunch of young guys and someone to stash overseas. Can they be so smart they've fooled everyone by not doing anything?
#24. Timothe Luwawu
Philadelphia: Timothe Luwawu. From France. An athletic, defensive oriented player who is said to still be upset that the U.S. Founding Fathers who were bunkered in Philadelphia turned on the French after the revolution despite all the help from Lafayette. Hey, it could be.
#25. Brice Johnson
LA Clippers: Brice Johnson. Got a lot of attention in the post season tournament as a senior with a competent mid range game who should help fill out the bench. They denied rumors of trading Blake Griffin, but there are a lot of rumors and they may end up needing power forward depth.
#26. Furkan Korkmaz
Philadelphia: Furkan Korkmaz. The Turkish shooter is a lot tougher than taffy. Regarded as one of the better shooters, and probably a player the 76ers can leave overseas until he develops or until he sees the 76ers and declares to go to college..
#27. Pascal Siakam
Toronto: Pascal Siakam. Another New Mexico collegiate prospect from overseas. Said to idolize New Mexico's Cameron Bairstow. New Mexico State's Randy Brown used to be a member of his fan club.
#28. Skal Labissiere
Phoenix: Skal Labissiere. Among many natives from Haiti named for former Bull Brian Scalabrine, considered a god there.
#29. Dejounte Murray
San Antonio: Dejounte Murray. Nice pick toward the end of the first round, a flashy, dribbling, elusive ball handler and scorer whom Popovich already has started yelling at for his turnovers.
#30. Damian Jones
Golden State: Damian Jones. The big guy had pectoral surgery and will join the team late, continuing in their recent tradition of drafting players who need surgery after Kevon Looney. Curry's wife declares the draft rigged.