The 2022-23 Bulls achieved even if it was underachieving at the end.
There was forceful and ascendent successes, with comfortable victories over title contenders like the Bucks, Celtics, 76ers, Nuggets and Warriors. Unfortunately, the Bulls didn't get to test those theories in the playoffs.
Because there also were curious and confusing defeats to draft lottery denizens like the Rockets, Spurs, Wizards and Hornets. And even more stunning walk-off losses to the Magic, Kings, Wizards, Cavaliers and Hawks.
It all concluded in an unsatisfying 40-42 season, six wins fewer than in 2021-22 and locked out of those playoffs the Bulls were so sure was their destiny. A playoffs despite how the season was going where they believed they could compete because of their success against winning teams, the parity in the league and the happenstance with injuries. With players like Giannis Antetokounmpo and Ja Morant, for example, hurt with favorites already and a Bulls defense much better against Miami than was Milwaukee's more highly regarded.
DeMar DeRozan did repeat as an All-Star and get in the running for Clutch Player of the Year. Ayo Dosunmu was again in the Rising Stars game. Nikola Vučević and Patrick Williams played in every game in credit to themselves and the game. Zach LaVine played through recovery from surgery to move among the elite in the game in the second half of the season with a pair of 40-plus games in one week. Coby White was Bulls most improved in virtually all facets of his game. And the team moved from the brink in a loss that could have defined their season back in December to sweeping the rest of that road trip with back-to-back game-winners. They beat Steph and the Warriors and then won over the French in Paris.
Though much still remains to be considered even if Bulls basketball czar Artūras Karnišovas said at Saturday's post-mortem he believes the arrow continues to point upward and he likes his team's core.
But who'll play point guard with Lonzo Ball uncertain for next season. And is that player even on the roster?
Patrick Williams once was uncertain where he belongs. No more. He says he's a wing player, which leaves a hole at power forward. Unless the Bulls continue with the guard-heavy lineups. Karnišovas said a major issue to address is the offensive boards, which were a weakness because the team played so many guards too often.
If Williams is a small forward in the venerable sense, then who is the shooting guard, LaVine or DeRozan? Or is it more small ball and let the turnovers and transition points attempt to transcend the rebounding disadvantages?
Does White start? Does Williams start? Does Andre Drummond stay? Will the Bulls be able to get into the 2023 draft either through luck or trade? Just what to do about Dalen Terry?
Here's a look at the Bulls 2022-23 roster, their seasons and the outlook.
2022: 24.4 points, 4.6 rebounds, 4.5 assists, .389 threes.
2023: 24.8 points, 4.5 rebounds, 4.2 assists, .375 threes.
LaVine at 28 showed enough with his age, athletic abilities and desire to play through injuries to lead the Bulls going forward. Which doesn't mean just him. Certainly with some high level help. After all, Devin Booker needs Kevin Durant. Can the Bulls add a young, athletic star with three-point abilities to complement LaVine? Or is DeRozan enough? LaVine's pairing with DeRozan borders on the elite. But DeRozan will be 34 years old this season on the final season of his Bulls contract. Are they the path forward? The Bulls have to pick an alpha, and LaVine still looks like the closest. He is signed through 2025-26 with a player option for 2026-27.
"Zach had an unbelievable second half of the season," said Karnišovas. "He's back to healthy Zach. He averaged 27 points a game and was a high-efficiency scorer. Obviously, the example of the Toronto game (30 second-half points); we don't win that game without Zach. He was a huge part of it and the way we won the game in the second half. He's done very well for us. I think the biggest thing for us is to find how this group collectively can find ways to win more games. I think it falls on all of us, players, coaches and front office to figure that out."
"You have to help your team get to the postseason," agreed LaVine. "Just help your team win. I think we understand the type of team we have, the talent we have. But it hasn't been enough the last couple of years to get us over that hump. I don't know if it's a single player (or) multiple people (needed). We have the talent. There was a plan in the beginning (of the season) where I wasn't playing back-to-backs. That went out the window once I started feeling good. I just said, 'I'm going to try to play every game I can.' We're really close on having one of those offenses that's unstoppable. Me and DeMar as a duo; I haven't been more confident with anybody in my life."
2022: 27.9 points, 5.2 rebounds, 4.9 assists, .352 threes
2023: 24.5 points, 4.6 rebounds, 5.1 assists, .324 threes
He's been one of the best players in the NBA the last two seasons if not exactly the model of modern basketball with his mid-range shooting emphasis. But you'd still be comfortable with him as much as any player in the NBA for a game-winning shot even if he didn't have as much success this season. His acquisition in 2021 was one of the Bulls best ever as a free agent type. He's entering his last contract season and said he hasn't discussed an extension. He'll be 34 entering his 15th season, but has been healthy and plays much younger. But unless the Bulls feel they are close to being serious contenders, is he worth more now for the Bulls? Or to a team as a potential final piece for the Bulls then in exchange to recoup draft picks and young players? Another of the big questions.
"Chicago's been everything for me, honestly," said DeRozan. "I can't even find the words of appreciation and love that this organization and these fans have given to me. Just allowing me to be me, allowing me to be the person I always knew I was career wise, and embracing it. It's been amazing. It's a hell of a story, especially with the route I took being in San Antonio three years. Coming here and just kind of helping this organization and this city get back on the map.
"Haven't even scratched the surface of last year with (LaVine) being hurt and me carrying so much of the load and this year him coming off his surgery. By the time he got healthy and got it rolling, I began to deal with my quad (injury). So we haven't been fully ourself and that's the scary part. They said Shaq and Kobe didn't fit; they went on to win. You can question anything about everybody. Thirty-six people have scored more points than me in NBA history. I'm not sitting here saying I don't need to shoot threes. I still try to stay in the confine of me being great at what I am great at and when there are threes I will take them. I always had this vision of my career as I get older. I will continue to expand my game."
2022: 17.6 points, 11 rebounds, 3.2 assists, .314 threes
2023: 17.6 points, 11 rebounds. 3.2 assists, .349 threes
He remarkably had identical seasons, though eye test showed he played better this season. And can do more. He improved on threes and was more effective inside, though his field goal attempts dropped two per game. While Vučević was better with his drop step and post play, the Bulls didn't do a good job finding him often enough. The lack of a point guard probably hurt him the most as a result as well as the paucity of three-point shooting. Also, the Bulls like most teams in the NBA play more outside/inside. But it's a problem for the Bulls without enough three-point shooting. They could have played more inside/outside, but didn't employ Vučević as often. I wouldn't be surprised if Karnišovas' vision for Vučević was as a Nikola Jokic type. Vučević is skilled enough to play like Jokic, if more Jokic-lite, because Vučević can shoot, pass, handle the ball and has strength and clever footwork in the lane. Vučević had big games this season against Jokic, Joel Embiid and Rudy Gobert. But the Bulls use him as a tertiary option almost exclusively. He is an unrestricted free agent going on 33 and his 13th season. He said he'd like to return to the Bulls, but he will test the market. Karnišovas said he wants to resign Vučević.
"The Bulls will have priority," Vučević said. "I would like to stay here. But that's on the front office to decide and work with my agent on the contract part. I'll talk to them about their vision and plan and things like that. Obviously, I'll be a free agent. I'll see what else is out there and test the market. I like my time here and built good relationships with my teammates, coaches, front office, people in the organization and around the city. So a lot of positives here. But we'll see what their plan is and what they decide to do. I think I do fit. It's just took a little time for me to adapt to a new system and my teammates to adapt to playing with me. Sometimes it doesn't happen right away and that's natural. I think this year it showed much better what I'm capable of doing when I'm at my best. I think the more we play together, the better it will be. I feel like I'm a better player just being able to adjust to a whole different system of play, new teammates, new ways, and still be effective without being a No. 1 option, which also shows a lot of growth. I think I'm a much better player than I was when I was 29, 30. And I thought those were my best years. I just feel the way I can impact the game it's made me a better player. I think next year, learning from this year, there's many ways I can still improve."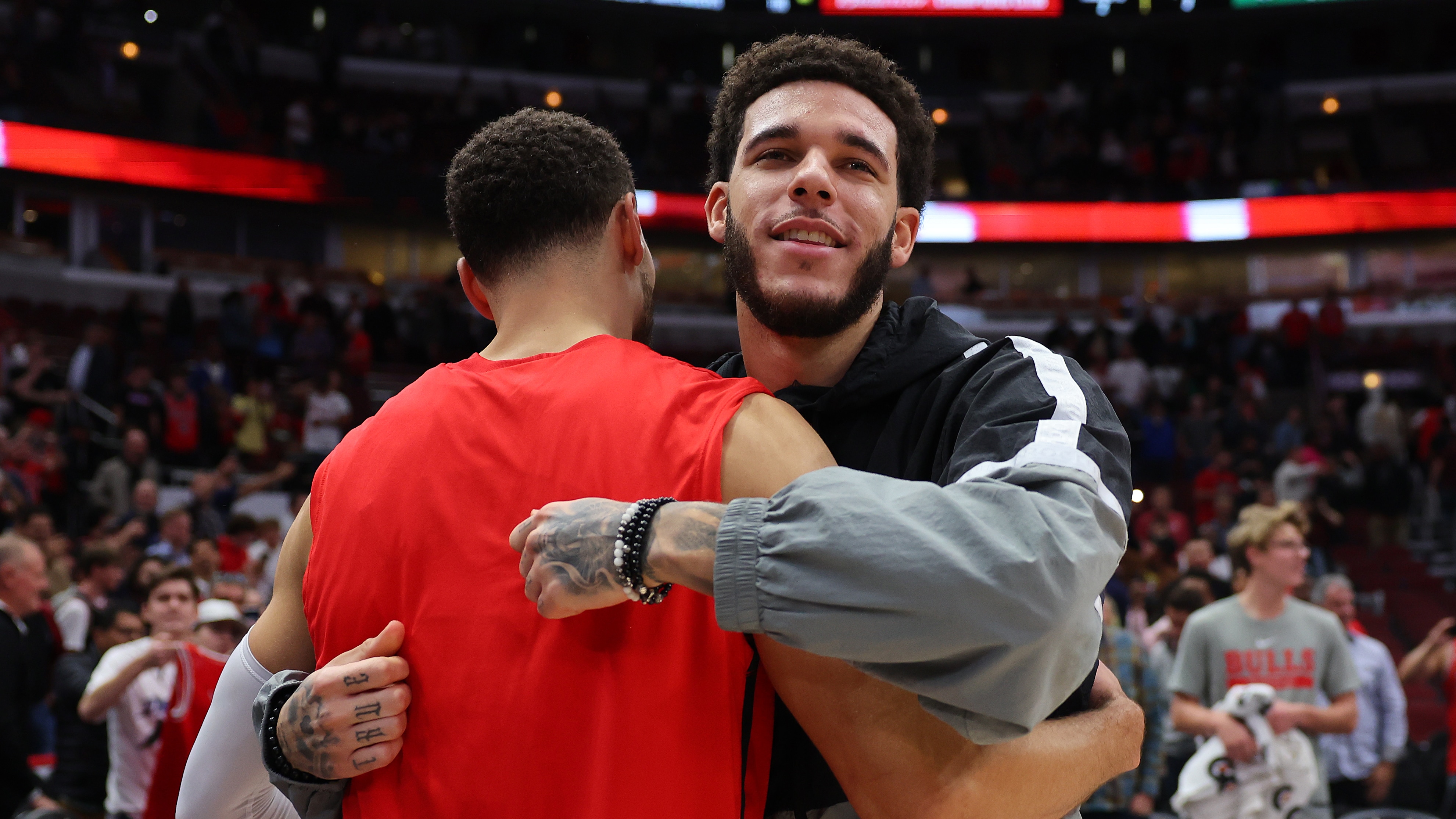 2022: 13.0 points, 5.4 rebounds, 5.1 assists, .423 threes
2023: Did Not Play.
Not that there's closure. With Ball undergoing a third surgery last month and given the mysteries of his condition, Ball has to be considered something of a gamble going forward and the team certainly can't count on him for next season. If this procedure works, it's just a bonus. Though he was not considered part of any so called Big Three, his loss was immense because the team's need in 2021 was a point guard. He was targeted in free agency and led the Bulls to one of the league's best records in the 35 games he played. He hasn't played since, and the Bulls still need a point guard. He is under contract next season and has a player option for 2024-25. Karnišovas said he would not discuss any potential medical replacement circumstances under the salary cap. Karnišovas said he expects an eventual return from Ball, but cannot estimate a timeline.
"I don't have regrets (about not adding a starting point guard last summer) because I had to wait for clarity (on Ball's surgery)," said Karnišovas. "We were going with hopes he was going to play with us and that didn't happen. I had to adjust afterwards. That's how we're going to look at it. I don't know his timeline, but we're going to make adjustments and tweaks to the roster to address that."
"I think it was big (missing Ball)," said LaVine. "You saw how good we were in the beginning of the season last year and how easy it was for us. And then obviously with him going down and us trying to scramble. It makes everybody play a different role than we were supposed to. And then coming into this year, not really having that 100 percent point guard. I think everybody stepped up in a certain way. It was tough for us to have a setback like that. You saw how much better we were after All-Star break when everyone had their solidified roles. Pat (Beverley) came in to play, a veteran point guard, an elite guard that's been in big games and big situations. And we thrived."
2022: 9.0 points, 4.1 rebounds, 0.9 assists .517 threes
2023: 10.2 points, 4.0 rebounds, 1.2 assists, .415 thees.
He played just 17 games in 2021-22 following an early season injury and then played all 82 this season, one of 10 players in the NBA to do so. But he finished the season as a reserve with the Bulls starting defenders Alex Caruso and Patrick Beverley and then basically scoring guards at forwards. Which makes this next season crucial for Williams even just turning 22. He was used as a power forward by the Bulls, but sees himself as a small forward/wing player to shoot and slash to the basket rather than rebound inside. He's a quality defender. If the Bulls have the hopes for him they did as the No. 4 pick in the 2021 draft, it's probably time to start him for the full season at the wing and let him grow. Although he averaged only just more than three attempts per game, he's the most accurate three-point shooter on the team. He needs to double his output. If the Bulls are going to transition forward with a balance of youth and experience, he needs to be a main focus.
"For young guys, it's always consistency," said Karnišovas. "I think he was still trying to figure it out, how to play with Vooch and DeMar and Zach to find his spots. He's our best three-point shooter. He's 21 years old, has an athletic profile for this league and I think he has a bright future. I like his development."
"He got extremely comfortable as the season went on," added DeRozan about Williams. "He's such a raw talent in so many ways and he don't even know it. The more he was in certain situations taking on certain challenges he never wavered or backed down. That shows a lot of character within him. It's about just his mentality and his approach to the game and taking that next step and trying to understand how he can just blossom. I think he's still a caterpillar right now and he's got to be a beautiful butterfly. And as soon as he understands that he's definitely going to take that next step."
2022: 12.7 points, 3.0 rebounds, 2.9 assists, .385 threes.
2023: 9.7 points, 2.9 rebounds, 2.8 assists, .372 threes.
White is the classic case of the statistics that lie and the lake that averages three feet deep; but watch where you step because it's easy to drown. Perhaps better for the Bulls since he is a restricted free agent and if you look at the statistics not a better player. But he is; much, much better. He's become a different player, a more confident pressure shooter, a driver who can create and finish through contact, more physical on defense without being intimidated and with the beginnings of running an offense. So is he the answer at point guard? Or a fixture to be sixth man as the classic combo guard that he was late in the season running the offense off the bench? Until recently, he was moved around more than any other Bulls players as a starter, reserve, point guard, shooting guard, big minutes, small minutes. His role was the least defined. That has to be changed. Yet, he never complains. He said all the expected things about wanting to resign with the team, but will test the market.
"He's a lot more equipped, I'd say, today to be maybe in that (starting point guard) role than he was a few years ago," said Bulls coach Billy Donovan. "I've got a lot of confidence in Coby just the way he's gotten better."
"His drive is incredible, to be honest with you," said DeRozan. "His work ethic is amazing. He gets after it every single day. He just wants it. He loves the game. His passion for the game is there. I love when I see young guys going after it because once it clicks for them its going to be there for them."
"It is new for me, obviously, being a restricted free agent. So I hope it works out for the best," said White. "I love Chicago. I love my teammates. I love the front office. So I would like to be back, but a lot of that's out of my control. It's a business at the end of the day and I understand decisions have to be made. So if I'm back, great. If I'm not, you've got to live with it. I think my whole game has grown throughout this entire season. From defensively, from playmaking, decision making, making shots, making big shots in the fourth. I feel like the thing I'm most proud of is my defense and my voice, my leadership on the court and off the court. My confidence is higher than it's ever been and my belief in myself is higher than it's ever been just by the way this season went. I'm looking forward to another big summer for me and a summer filled with work to take advantage of all the opportunities that come my way.
"I think I'm a guard," said White. "I'm a guard in today's game. There's not many traditional point guards anymore. I can play on the ball. I can play off the ball. I can do a lot of different things and I take pride in being versatile. I don't really look at myself as a traditional point guard. At one point in my career, I tried to be like, 'Get everybody involved, don't worry about myself, try to be that guy.' I struggled a little bit, especially in my second year. I think I just looked in the mirror and said, 'I gotta be who I am.' I feel like just being who I am helps the team in a large way. I feel like I can (be the starting point guard). That's still my goal. That hasn't changed."
2022: 8.8 points, 2.8 rebounds, 3.3 assists, .376 threes
2023: 8.6 points, 2.8 rebounds, 2.6 assists, .312 threes
Although his statistics were similar except for the three-point shooting, Dosunmu took a step back this season after being an emergency starter in 91 games the last two seasons. He fell toward the bottom of the playing rotation after Beverley was signed. He had difficulty with the team needing him to be a point guard and him trying to adjust to that role to help the team as White did — and had similar problems — his first two seasons. He'd shown potential, but he became less assertive and had too many games with little offensive contribution.
Karnišovas talked about the team setting up enough good threes but players often turning them down. Dosunmu was a principal violator. As a second round draft pick, he becomes a restricted free agent with the Bulls' ability to match an offer. Though a larger question becomes a fit with the emergence of White and whether the Bulls will retain Beverley, who became a popular starter for the team when they played their best. And then there's Alex Caruso, too.
"I think it's a good experience for Ayo," said Karnišovas. "I think Ayo's going to be a good player in this league. I think this year the defenses were ready for him and tried to figure him out and he has to make adjustments. I think it's going to be a big offseason for him, but I hope he's here for a long time as well."
2022: 7.4 points, 3.6 rebounds, 4.0 assists, .333 threes
2023: 5.6 points, 2.9 rebounds, 2.9 assists, .364 threes
Another player whose year-to-year statistics belie his play. Caruso has a good chance to be named to an all-defense team the way he was one of the best in the NBA taking charges, getting steals and deflections and playing some of the best scorers in the game. In some respects, the team quietly regards him as a franchise face for the team they'd like to be with his toughness and resolve. With Caruso starting, the Bulls were at their best rating as he led the team in plus/minus. But he's not the classic point guard, not a scorer or shooter. Although he did well offensively in the closing game in Miami. He's got one season left on his contract and then a partial guarantee. His style of play also makes him vulnerable to injury given his size. But he's also the tip of the spear on defense, which made the team so effective with he and Ball. But like with DeRozan, a contending team could view him as a final piece and provide assets for the Bulls. The speculative reports at trade deadline were the Warriors were desperate to acquire him.
2023: 5.8 points, 4.9 rebounds, 3.5 assists, .309 threes
He played 22 games for the Bulls after being acquired as a free agent after a buyout from the Orlando Magic following the trade with the Lakers. A Chicago native, his play was inspiring for the team and gave the team a point guard to organize the offense for the first time since Ball's injury. Goran Dragić played that role at times, but was released. He is a free agent and likely wants to return to the Bulls, which he repeated has been a career and childhood goal. Though his role might change and be reduced if the team adds a point guard in the summer. And there could be a backlog fit with Caruso and Dosunmu if they remain. Beverley is tough and demanding on teammates, the kind of locker room and floor presence the team doesn't have. He's also popular among his teammates. He could seek a bigger role elsewhere, but he's also 35. The Bulls are close to the luxury tax and might not have space for a resigning with so many other free agents on the roster.
2023: 6.0 points, 6.6 rebounds, 0.5 assists, .000 threes
The mystery man and the mystery of the season has been the limited playing time for Drummond. At times he's looked dominant, only to remain out of the game. It's been clear coach Billy Donovan prefers a style of play built on smaller players who can switch defensively on the perimeter and create turnovers and get in transition. Drummond doesn't fit that and averaged about 12 minutes per game. But he has been a supportive teammate. He has a player option for next season, which it would be a surprise if he takes given his limited role. Although there is the possibility of Vučević leaving as a free agent. If he does, Drummond could be an ideal fit as a defensive-oriented starting center and perhaps with creative maneuvers, which Karnišovas was adept at in the summer of 2021, the Bulls could fill a power forward vacancy given Drummond's lesser salary.
2022: 5.6 points, 3.3 rebounds, 0.6 assists, .328 threes
2023: 5.0 points, 2.4 rebounds, 0.5 assists, .338 threes
He has a player option for next season that he is expected to exercise as a utility role player. He often plays center in Donovan's small ball lineups, though he played fewer games this season, outside the rotation at times. He's an enthusiastic teammate and has one of the best plus/minus ratios on the team with still explosive athletic ability.
2022: 7.2 points, 4.2 rebounds, 0.9 assists, .356 threes
2023: 5.2 points, 2.8 rebounds, 0.7 assists, .371 threes
He missed most of the second half of the season after a knee procedure and is an unrestricted free agent. He was one of Donovan's favorite players and a fan favorite for his hustling play in starting 45 games last season at power forward. He had one start this season. He's and active, aggressive role player, which the Bulls like with players that include Jones Jr, Caruso and lately Beverley. But that has to be balanced against a limited offense and shooting that is common with each.
2023: 2.2 points, 1.0 rebounds, 0.6 assists, .259 threes
The 2022 first round draft choice was 13th on the team in minutes played and rarely in games when the result wasn't already decided. It was a disappointing season since the Bulls still don't know anything about Terry. Or if and how he can contribute. Summer League and the offseason will be crucial for his ability to eventually have a place with the team. He didn't show much offense when he played, but did demonstrate the hustle and work. But the Bulls perhaps have an excess of those type of players. His future with the team may depend on what he can add to his game this summer.
They've been Carlik Jones, Justin Lewis, Marko Simonović and Terry Taylor. Jones would seem to have the best opportunity to make the team as this season's G League MVP and a true point guard who can run a team and score. His size at barely six foot and maybe 170 pounds probably concerns the Bulls. But he's a hard-nosed competitor. He probably deserves a chance. It might be the end of the road for Simonović, a second round pick in 2020. He wasn't even getting chances at the end of decided games. Lewis is returning from injury and Taylor probably needs G League experience.
The contents of this page have not been reviewed or endorsed by the Chicago Bulls. All opinions expressed by Sam Smith are solely his own and do not reflect the opinions of the Chicago Bulls or its Basketball Operations staff, parent company, partners, or sponsors. His sources are not known to the Bulls and he has no special access to information beyond the access and privileges that go along with being an NBA accredited member of the media.