Guess who's joining the Bulls? No, guess.
No, not him. No, not her. You'll never guess. Give up?
Nearly thirty years after being replaced as Bulls coach after leading the team to its first conference finals appearance in 14 years, Collins is returning to the organization as Senior Advisor of Basketball Operations.
With actually plenty of precedent, both in this era of the NBA and in Bulls history.
Collins will serve as a mentor/consultant/advisor to all facets of the Bulls organization, the coaching staff and management as well as sponsorship and marketing.
It's a tribute to Collins' lifetime in basketball as an Olympian, four-time All-Star player, coach with more than 400 NBA wins for four teams, team executive and broadcaster who was honored by the Naismith Basketball Hall of Fame.
Collins will create a new role in the Bulls organization with his wide variety of skills and knowledge. Collins also will be a player/coach/management advisor in the model of former NBA greats like Jerry West, now with the Clippers, Wayne Embry with the Toronto Raptors and Rod Thorn now with the Milwaukee Bucks.
But before you ask, no, it's not to—ever—have a full time coaching, management or executive position with the organization. Collins gave up his current role as an ESPN analyst to get back not only to the give and take of basketball, but to help the rebuilding of the Bulls organization. Collins has remained close over the years with Bulls managing partner Jerry Reinsdorf and maintains a residence in Chicago with son Chris coaching basketball at Northwestern. In his new role, Doug Collins will no longer work with or have contact with Northwestern players.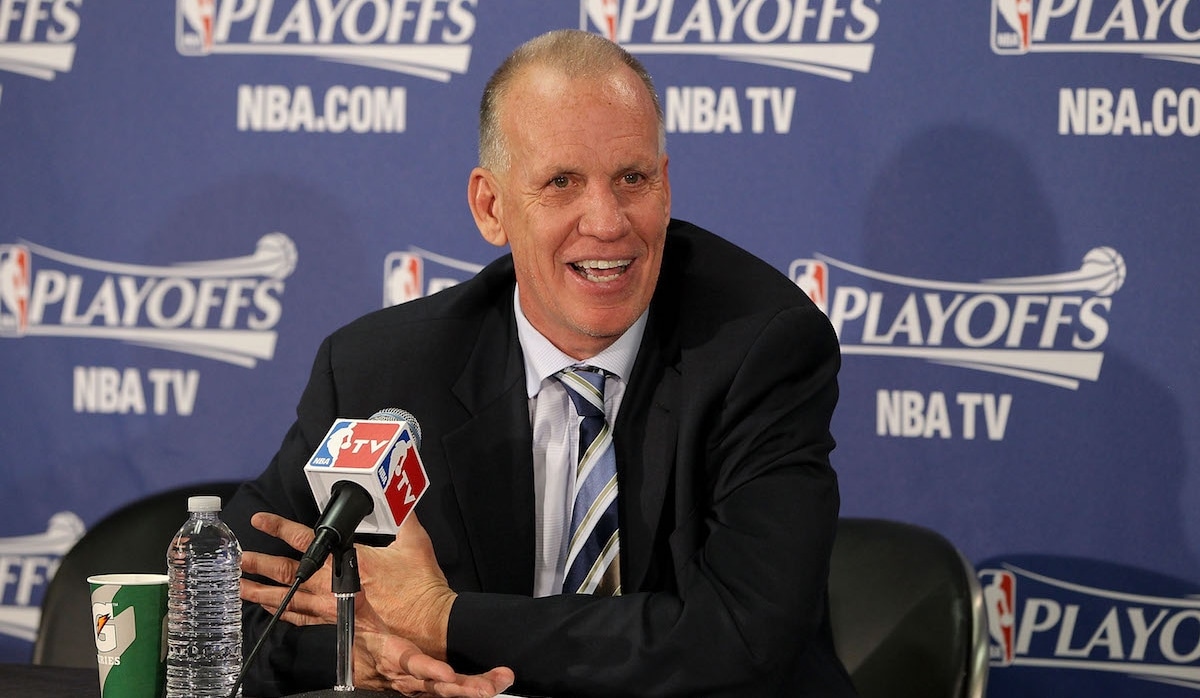 So before you ask, no, Doug isn't going to be a coach in waiting or executive in waiting. Or managing partner in waiting, or....
Not even if Mitch Trubisky says it's time.
If every member of the Bulls organization won the Powerball lottery jackpot and resigned the same day, Collins would not be in consideration for any fulltime position. Collins, now 66, made it clear to Bulls management he is finished being a fulltime coach or team executive.
But having someone on staff of Collins' reputation, depth of basketball knowledge and experience is potentially a major boost to the team's rebuilding efforts.
There have been better players and more successful executives. But perhaps no one in the history of the game more than Collins can claim a greater level of success, sophistication and depth of experience. That Collins is willing to again work for the Bulls is a testament to his character and an unusually valuable resource in the team's plans for moving forward.
Collins has experienced a spectacular career in basketball from such humble beginnings, a small town Southern Illinois kid who attended Illinois State when it wasn't a Division 1 university. He was an academic all-American and is in the GTE Academic Hall of Fame. And then was on the verge of being an Olympic hero in the tragic 1972 games. Collins converted what should have been the gold medal winning free throws in the final game over Russia before officials continued to replay the closing seconds until the Russians could win. The U.S. players never accepted their silver medals.
Collins went on to be the No. 1 pick in the 1973 NBA draft for the Philadelphia 76ers, coming off an all-time worst 9-73 record. The 76ers improved by 16 games in Collins' rookie season and four years later were in the NBA Finals.
Collins is one of the premier franchise turnaround experts in NBA history, which undoubtedly was among the appeals to the Bulls in going through their own hopeful turnaround.
In Collins' first season coaching the Bulls in 1986-87, they won 10 more games than the previous season. When Collins later coached the Detroit Pistons and Washington Wizards, each won 18 more games than the previous season in the first seasons under Collins. In his first season coaching the 76ers in 2010-11, the team won 14 more games than the previous season and in his second season the 76ers made the conference semifinals for the first time in nine years.
Collins also was the effective general manager of the Pistons when he was coach and was instrumental in both the immediate success with 100 wins in his first two seasons coaching, but also deftly creating salary cap space for free agent acquisitions after his departure.
The wiry 6-6 Collins was a four-time NBA All-Star shooting guard with the 76ers in an eight-year career cut short by foot and knee injuries. Collins averaged 17.9 points for his career, but was a clutch player who averaged more than 21 points per game in 32 playoff games. He also was a career 50 percent shooter who raised that to 53 percent in the playoffs while helping the 76ers to the NBA Finals in 1977 and 1980. He had retired by the time they won in 1983.
Collins was doing some part time coaching at Arizona State and mostly TV work when Krause spotted him and brought him to the Bulls as head coach in 1986 when Collins was just 35 years old. The Bulls improved by 10 games in each of Collins first two seasons coaching, winning 50 games in 1987-88 for the first time since 1973-74 and then making the conference finals in 1988-89 and losing in six games to the eventual champion Pistons.
Internal issues led to a change with Phil Jackson taking over as head coach in 1989-90. The Bulls went on to win six titles in the 1990s, but Reinsdorf never forgot what he called Collins setting the Bulls on the right path. Reinsdorf presented Collins championship watches after each of the titles.
As Collins did in reuniting with Michael Jordan when Jordan returned to play basketball for the Wizards in 2001, Collins returns to the organization that he first parted with as coach but with which he always has remained connected. Bulls executive vice president John Paxson long has sought out Collins for guidance.
Collins got back into NBA coaching in 1995, six years after departing the Bulls. By his second season in Detroit, he had the Pistons on the way to 54 wins and he was coach of the Eastern Conference team at the All-Star game. Collins also was the top basketball executive and then became one of the elite basketball analysts for NBC and TNT around that stint coaching the Wizards. The Basketball Hall of Fame in 2009 honored Collins for his broadcasting excellence. Collins also was the primary analyst for NBC for several Olympics and long an informal advisor to many players who have sought him out over the years.
But Collins love for the game often was unfulfilled merely watching and commenting. He's always been someone to help produce results. The Bulls are counting on his voice in the background in helping point them in the right direction: Back to the top.