The Bulls post All-Star break winning streak still is going strong... just not outside the United States.
Because the Bulls Tuesday came out on the short end — on the scoreboard and roster measurements, so more literally than figuratively — in a detrimental 104-98 loss to the Toronto Raptors.
It was perhaps less injurious to the team's pride being outrebounded by a dozen with 20 turnovers that led to 23 more Toronto field goal attempts than to the Bulls post season hopes. The Bulls, 28-34, remained in 11th place in the Eastern Conference and also lost the season tiebreaker to the ninth place Raptors. Washington remains a game and a half ahead of the Bulls with 20 games left and the Indiana Pacers a half game behind.
The Bulls close this short trip in Detroit Wednesday.
Nikola Vučević led the Bulls with 23 points, but just five rebounds. Zach LaVine had 17 points and DeMar DeRozan 13. Ayo Dosunmu with 10 was the only other Bulls player to score in double figures.
"I was pretty pleased with the way we guarded," said Bulls coach Billy Donovan. "There were some opportunities where we let the ball come into the post too easy and we need to do a better job there. But I thought the guys battled and competed; we held them down. It was a low scoring game and we did get hurt, no question, on the glass. There were loose balls, some rotational blockouts. Clearly there were (some) where they were bigger, stronger, more physical and more athletic and were able to play above us; that happened.
"But it's hard to have a good offensive night when you turn it over (20) times," said Donovan. "I thought the fact they took 23 more shots than we did, it's hard to put up points. We just didn't execute as well as we needed to."
The Raptors are an unusual team to play because other than point guard Fred VanVleet the Raptors play a quartet of long armed players at least 6-8. Which became even more problematic for the post All-Star Bulls, who now play even smaller starting Alex Caruso and new addition Patrick Beverley.
The result was the Raptors dominating the Bulls on the backboards, especially down the stretch in a close game with five crucial offensive rebounds in the last four minutes that enabled the Raptors both to maintain pivotal possessions and then score when it still was a five-point game with four minutes left.
"Nineteen (Toronto) offensive rebounds and (20) turnovers and to lose a game by six, eight points, I've been in this league a long time and that's pretty impressive," insisted Beverley. "Get some more shots up. I don't know, box out, get three more rebounds, 16 instead of 19, and we win this game by eight points. I'm not worried, I'm excited. I was very anxious to see the locker room after a loss, see what I'm dealing with. So I'm excited."
It's more so what Donovan is dealing with in doubling down — OK, pun intended — in downsizing the starting lineup for defensive emphasis. It looked good with Beverley in his contract buyout coming in and adding the populist energy that helped lead to the two defense-oriented wins last week.
Everyone likes defense. It comes with the slogans like, "Defense wins championships." And no one in the stands hold up signs or chants "O-ffense."
But offense is the modern NBA, like it or not. Many of us don't, but the NBA doesn't really care.
The Bulls are swimming against that current. You better be able to throw the ball in this ocean.
The NBA changed the rules to basically eliminate contact on the perimeter while permitting more inside. Three-point shooting has thus become the fashion. League-wide scoring average is the highest in decades and within four points per game of the all-time high of 118 per game. League-wide offensive efficiency is on pace to break the all-time record. Team scoring average is up more than 15 points per game in the last decade. Players scoring 40 in a game is routine. There already have been multiple 70-point games this season.
It's true that scoring decreases in the playoffs. But the Bulls appear to be attempting something somewhat unprecedented for this era.
It's perhaps how many of us wish the NBA would play. It's just not the way the game is trending these days.
So it was somewhat surprising to hear Beverley's solution after the Raptors game.
"I told the guys after the game, I feel like DeMar and Zach, they need to shoot the ball a little more for us to beat a team that we need to beat, especially in the playoffs,'' said Beverley. "The goal is not to get to the playoffs. The goal is to get to the playoffs and compete. Not just to go there and be a wash rag for another team. Not even only that, but we had 15 turnovers with the first unit. I think I was the leading rebounder in the first unit. That's unacceptable. The first unit has to be better, and we will."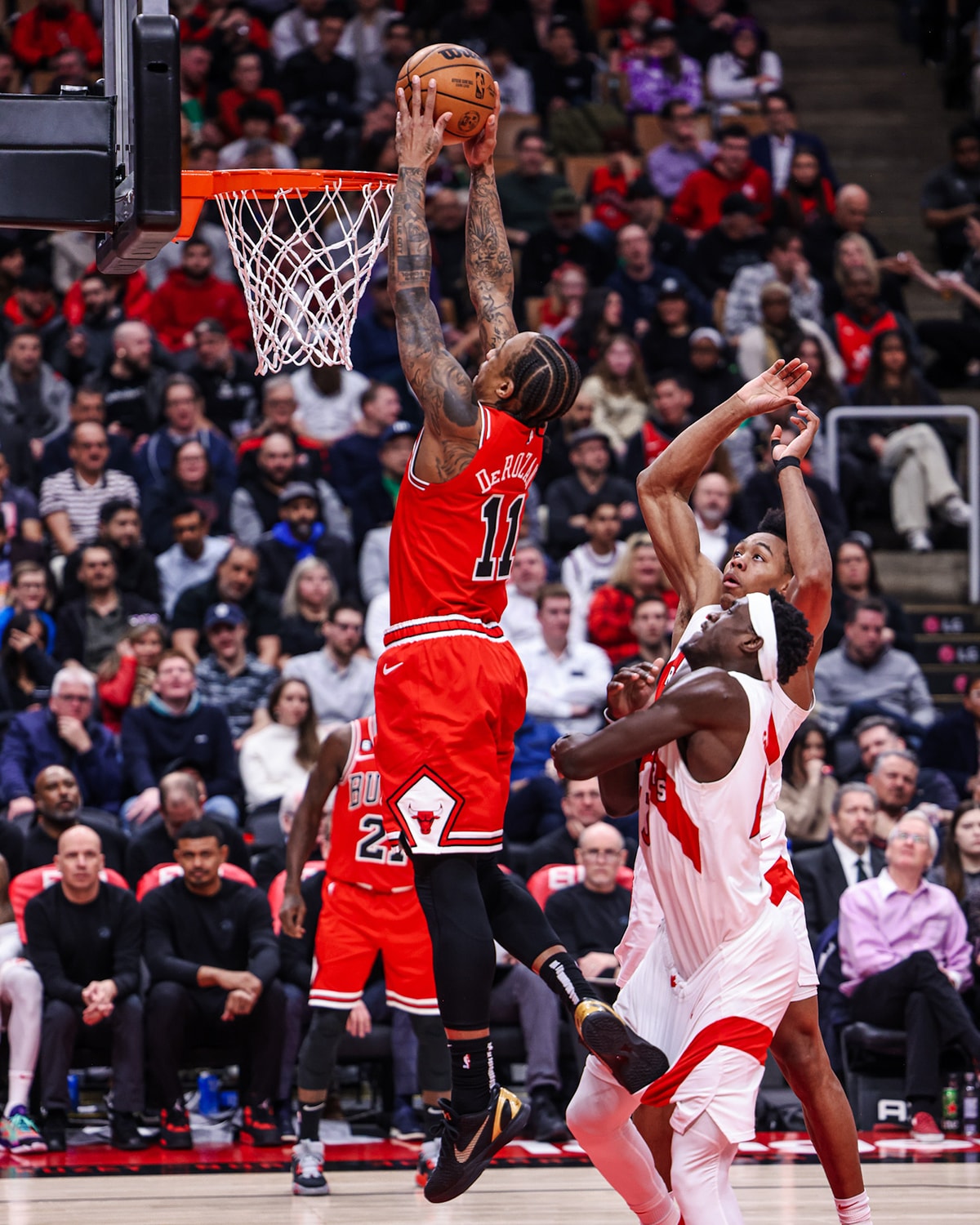 Assuming the Bulls can afford to continue with that unit.
Donovan has said since moving Dosunmu and Patrick Williams to the second unit he will continue to monitor situations and matchup possibilities.
The main reason DeRozan and LaVine Tuesday didn't attempt more shots was because Caruso and Beverley, particularly Beverley, were reluctant to shoot. So the Raptors continually dropped off them to send help and double teams to DeRozan, LaVine and Vučević. Toronto is one of the better teams at that because their wing players are so long armed and quick that they can close more quickly on shooters.
So take the end of the second quarter when the Bulls went ahead 42-38 in another slower paced game the Bulls prefer with their defensive identity. Beverley got a pass in the left corner and was open for a three. He turned down the shot and then began to dribble along the baseline and the 24-second clock expired. Then he fouled Scottie Barnes dribbling side to side with seconds left and Toronto got free throws and a 6-2 close to get within 46-44 at halftime.
Beverley walked away from another three early in the third quarter when the Bulls went ahead 58-50 to start the half, and then he air-balled a three the next possession rushing a bit as it seemed like he was urged, or felt obligated, to shoot. He wasn't alone, but the hesitancy of others to shoot as well made the shots by LaVine, DeRozan and Vučević much more difficult.
Toronto also came out to start the game with 6-9 Pascal Siakam posting up Caruso for a 13-6 Raptors start and then, of course, the jumble of late fourth quarter offensive rebounds when the Bulls went back to their starters. It is an impressive and fun group to watch and appreciate when they are defeating the screens and closing the paint like they did against the Nets and Wizards last week. But the Bulls Tuesday did shoot 52 percent and 40 percent on threes. And lost.
"With the way we were trying to play defense…we knew we were going to have to bring help to certain matchups," Donovan conceded. "At some point we're going to have to look at the matchup piece of it.
"A little bit maybe with that (starting) lineup," said Donovan. "But I thought the rebounding was an issue for our whole team; I don't want to isolate those guys. I didn't think we took care of the ball well enough if you combine the turnovers with the rebounding. And some of those were long rebounds, so it wasn't like we got overwhelmed. There were a lot of loose balls they came down with and we did not.
"The group is really incredibly unselfish and they'll make the extra pass and they'll move the ball," Donovan added about shots being passes up. "We've got to be better in executing the pass on point and on time where it is supposed to be. There were so many times we threw passes to guys who were open that took them out of shots, down low or up high and by the time they caught it there was a close out."
Which is the unfortunate situation of being without a true point guard with Lonzo Ball lost for the season. The Bulls Tuesday released point guard Goran Dragić, so with a roster opening perhaps they will add another buyout player before the Wednesday night deadline for playoff eligibility. Though if a player hasn't been on a roster this season, he can be added anytime and be eligible for the playoffs.
Beverley is trying, but it's also not his natural position. So after some unsteady possessions to start the game in which the Raptors were dropping off Caruso and Beverley, LaVine went back to bringing the ball up to try to spread out the defense. LaVine had some nice assists, but the Raptors players also are good with their hands and forced Vučević into an unusual six turnovers by crowding him in the post. With Toronto's size and the help, it also makes it more difficult for DeRozan to get off his shots.
"What hurt us tonight was our turnovers and on the offensive the glass,'' Vučević agreed. "They had pretty much the size across the board except at the five; that's what they are best at. We didn't do a good enough job tonight of boxing them out and grabbing the ball. We talked about it before the game, and just didn't execute it and we had turnovers, too. So (on offense) play with a little more pace, get downhill, more drive and kick and try to get more threes. We have to play that way, but sometimes we get too stagnant or slow. And against a team like Toronto it's hard because they have so much length and you have to move it around and they cover a lot of ground."
Still, the Bulls, predictably, were spirited and relentless. They haven't been a team that gives in, and Beverley adds to that stubbornness factor.
So they came back in the first quarter to trail 24-23 after one. And with that late second quarter 10-0 run with five straight Vučević points and LaVine setting up Caruso for a three-point play, the Bulls led by two at halftime.
Toronto, with a smart deal to add center Jakob Poeltl, has won eight of 10 to move past the Bulls, who now have lost five straight on the road. The teams had split this season, but the Bulls had won six of the last seven before this season against the Raptors.
Siakam led Toronto Tuesday with 20 points, and VanVleet returning from injury shot just one of 11, mostly against Beverley. But VanVleet repeatedly ran Beverley into screens in a pick and roll with Poeltl that produced at least four easy layups. VanVleet had nine assists, also forcing switches that got Andre Drummond trying unsuccessfully to defend threes.
Still, the Bulls were in position leading 72-70 to start the fourth quarter. And with a powerful Drummond slam dunk after a Patrick Williams steal, and then a Dosunmu fast break layup after a Williams block, the Bulls twice early in the fourth quarter nosed ahead by a point.
But the game finally and fatally turned against the Bulls with a 7-0 Raptors run after the Bulls led 82-81 with 8:33 left. A Thad Young steal led to a fast break layup and then Toronto had blocks against Dosunmu, DeRozan, Drummond and Coby White on four straight possessions before Siakam flew in off the wing for a powerful slam dunk and 88-82 Toronto lead with seven minutes left.
The Raptors aren't a good shooting team, so they signed Will Barton on a buyout Tuesday. But suddenly they finally began making shots, Gary Trent and Barnes with threes, O.G. Anunoby with another dunk beating the Bulls off the dribble. And then all those offensive rebounds to thwart the Bulls like a long-armed prize fighter holding off a wild swinging opponent who couldn't get close enough.
"We play hard as hell," said Beverley. "We got key rebounds when we needed to, but not in the fourth quarter. We've got to shoot the ball a little bit more; it's about getting more attempts up. You play Toronto, everybody is saying the same thing, offensive rebounding. That's what they do. We did what we had to do to win this game; we just came up short. Now we get to respond back tomorrow."
Fortunately, Detroit is part of the United States. It still is, right?
The contents of this page have not been reviewed or endorsed by the Chicago Bulls. All opinions expressed by Sam Smith are solely his own and do not reflect the opinions of the Chicago Bulls or its Basketball Operations staff, parent company, partners, or sponsors. His sources are not known to the Bulls and he has no special access to information beyond the access and privileges that go along with being an NBA accredited member of the media.