There's a lot that can happen in one second.
Four babies are born and two people die every second, the Earth travels 18 1/2 miles, which means you're nineteen miles from where you were a second ago. And without exact change. A bee flaps it's wings some 200 times, though you still need air conditioning in the summer. There's also 550 hot dogs consumed in the U.S. every second, and not all by Joey Chestnut.
And if you happen to be the Bulls, you figured that you'd lost to the Atlanta Hawks after Trae Young made a 20 footer for a 121-119 overtime lead as the Bulls called time with a second left. Until DeMar DeRozan with a half second left made all three free throws after Bogdan Bogdanović fouled him on a fading back-to-the-basket three-point attempt that, as Einstein would have observed, two things are infinite, the universe and human stupidity. And Einstein wasn't sure about the universe.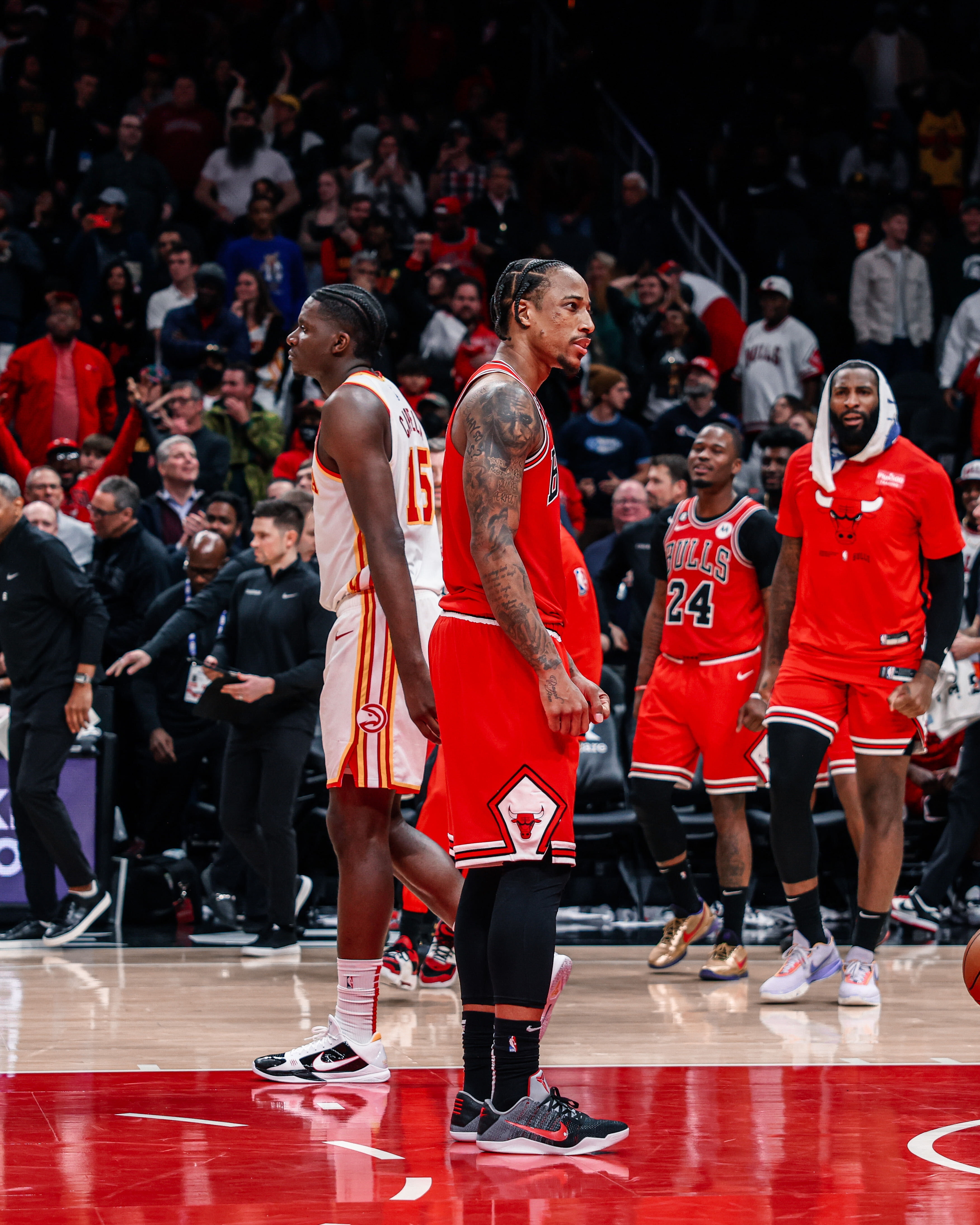 And though it wasn't really stupid on anyone's part, Hawks rookie A.J. Griffin on an inbounds lob with a half second left faked Derrick Jones Jr. in a back door seal cut, and then caught and eased in the winning basket to hand the Bulls a 123-122 overtime loss to the Atlanta Hawks.
"It's not over until it's over," agreed DeRozan. "I had a coach tell me that until the clock hits zero, zero, zero, it ain't over. They made a hell of play, a bucket; just one of them games you shake their hand. They got it."
After the Hawks had it at the end of regulation.
Before the Bulls had it also at the end of regulation; and then they didn't.
There's always a lot to unpack in these kinds of games with 30 ties and lead changes and the uncanny three lead changes in the last two seconds of overtime. As entertaining as they can be, they are just as excruciating and infuriating for the loser as they are uplifting and emotional for the winner.
How do we love sports? Let us count the ways.
This was a game the Hawks had no business winning with 85 percent free throw shooter Jones on the free throw line with four tenths of a second left in regulation shooting two free throws to win the game. The second one hit front rim and bounced away.
This was a game the Bulls had no business winning after they let Trae Young walk into a 20 footer with 2.1 seconds left in overtime for a 121-119 lead.
This was a game the Hawks had no business winning after Bogdanović, who off the bench was their leading scorer with 28 points, fouled DeRozan taking an off balance, fading, Cameron Payne sideways facing desperation shot with a half second left in overtime. Like someone, maybe Yogi said, far be it to let common sense get in the way of stupidity. Even with the officials freezing DeRozan after he tied the game with the first two free throws while checking for substitutions—or if room service still was open now that the game was going long—DeRozan converted the third for a one-point Bulls lead with a half second left.
When it became a game the Bulls had no business winning when rookie No. 16 pick Griffin faked Jones, who was having his best game of the season, and took an inbounds lob pass with a half push curl into the basket for the improbable, unlikely—they're yelling unbelievable again on TV like they do for most dunks—winner for the Hawks.
"We switched everything," Jones explained. "I did take my eye off the ball for a second."
Which was just so cruel with the Bulls' record falling to 11-15 and denying them their first three-game winning streak of the season in rallying (no surprise there) from a 12-point third quarter deficit in something of an echo chamber of their season. Dig out of the deep hole, fight back valiantly... until something crazy sends them tumbling back down the standings.
"We got down and fought our way back, and there were a lot of crazy plays there at the end," Bulls coach Billy Donovan noticed.
Though no one's ready to settle for becoming inured to that result.
"Tonight was a big game for us to get two games away from .500," said DeRozan, who led the Bulls with 34 points, 13 rebounds and eight assists, if not as many miracles anymore. "We've got to chip away at this thing. We dug ourselves a hole and now we've made it difficult on ourselves, so every single game is extremely important. And that's how we've got to approach it, mentally, physically, emotionally."
The Bulls also got 21 points from Zach LaVine on an efficient nine of 16 shooting, but seven turnovers as he was drafted for point guard duty with Alex Caruso home with a back issue and Ayo Dosunmu leaving in the second quarter with an abdominal injury. Both appear minor. Javonte Green did return and started the second half for Dosunmu, who was starting the game for Caruso.
Jones and Andre Drummond each had 14 points in their best games of the season, Drummond also with nine rebounds and five steals in 16 venomous minutes. Nikola Vučević totaled 13 points and eight rebounds, but in the pattern of late wasn't as much involved after halftime.
Which again raised the contradiction that Donovan has been trying to master into the second season with this group. DeRozan, and LaVine to a somewhat lesser extent, often carry the Bulls to magical victories because of their brilliant individual talents. And especially last season, DeRozan was remarkable in saving the team as much as any player in the league did for his team. But that's not a sustainable formula against team oriented basketball.
It appeared to rear its head again Sunday in the loss to Atlanta, which of course would have put a smile on its face of not for the Hawks' amazing last play. Still, Donovan noticed it was isolation after isolation early, and then again down the stretch, three straight empty possessions without a pass after the Bulls took a 112-110 lead when DeRozan opened the overtime with a basket.
But in that subsequent sequence the Hawks got ahead by five points. LaVine answered brilliantly with a pair of dynamic driving scores on basically handoffs from DeRozan. And then after the best pass of the overtime, a Coby White three coming on a Jones assist to tie the game with 22.8 seconds left, it was Trae Young breaking the tie with 2.1 seconds left. And then DeMar pulling off another miracle with five tenths of a second left... until it wasn't any longer.
Which Donovan reminded was what he was talking about when he surprised everyone last January after the Bulls had won nine straight. Donovan said he didn't like what he was seeing. The arc of spirited competition doesn't always bend toward a just conclusion.
"That's the consistency part for our team," said Donovan. "I know I keep saying the same thing: We get unbelievable ball movement offensively last night (against Dallas), and then we come back and (need to) play to that identity and... we didn't pass or move the ball enough.
"DeMar last year was making these heroic game winning shots," Donovan noted. "And you know what now hasn't happened? That was one of my points last year when we won eight or nine in a row and I said, 'Listen, I can see where this is going.' This game has been a lot like some of the games this entire season where yes, it gets down to the final minute, overtime. But we are digging ourselves out of a double-digit hole. And at that point in time anything can happen. And some of the fortunes of DeMar throwing a shot in like he did last year and some of the 39, 40-point performances carrying us, it's hard to live like that. You've got to live by trying to establish a team and group identity of how we've got to play. We just don't have margin for error to say it's December 12th and it's OK."
Well, there are four months remaining, and the Bulls are just four games out of fourth place in the conference.
"Like I've been saying, I don't see a lot of teams that can stick with us if we play like that from the beginning," said Jones. "Just go to figure it out."
I'll check, but it feels like I've been writing that one a lot this season.
So the paradox seems to be the Bulls will always have a chance because they have DeRozan and LaVine. But then are they also missing the point? And, of course, missing the Point, this season's missing catalyst for change. Lonzo, where oh where?
It wasn't just the ball and player movement that Donovan has been assiduously preaching. That brief three-point hegemony the Bulls enjoyed in the first of the back to back Saturday at home against Dallas, predictably, disappeared Sunday as the Bulls reverted to a seven for 27. And even as Young was just two of eight and 19-year-old Griffin, the son of former Bulls player and assistant Adrian Griffin, was two for 11 before his second buzzer beating game winner of the season, the Hawks made 13 threes. Bogdanović, especially in the first half before Jones applied defensive handcuffs, made six threes on his own. He was a hero until he was the villain until he was forgotten amidst the rush to celebrate Griffin.
All in a very long second.
It's the remarkable thing about the NBA how often these things come down to that.
Especially with so much to this game, the Bulls and Hawks both missing regulars and desperately amidst preseason expectations trying to get themselves back in position to match them.
Atlanta was without starters John Collins and Dejounte Murray while the Bulls backcourt was compromised without Caruso and then Dosunmu. Goran Dragić didn't seem to be moving adroitly in the second of the back to back, though LaVine played almost 40 minutes in the second straight after it was suggested earlier this season he'd be rested in such games.
The start was choppy for both teams, though the Bulls starters were adept enough early with Vučević scoring eight first quarter points and the Bulls ahead 27-22 after one when White banked in a half court shot at the close. He had 12 points and made four of the Bulls seven threes.
Bogdanović found the openings in the second quarter while the Bulls, as Donovan noted and perhaps lured some by an Atlanta zone defense, settled into their complacency with individual play. Dosunmu was hurt late in the quarter getting called for an offensive foul and falling on Young's knee. Atlanta led 58-50 at halftime.
Green started the second half for Dosunmu with LaVine taking over more facilitating. LaVine can be clever with the ball, but it also tends to take him away from his offense. The Bulls were having success showing late help and traps on Young, who is a terrific passer and had 14 assists. The Bulls fell behind a dozen midway through the third quarter before a reserve group led by Drummond and Jones finally energized the team into a one-point deficit early in the fourth quarter.
And then, as Holmes would say, the game was on. OK, he said something about a foot, but they didn't have hoop then.
DeRozan had a dozen in the fourth quarter, but the surprise was the in-and-out-of-the-rotation Jones with nine points.
There were seven lead changes and ties in the fourth quarter and seven more in the overtime. Donovan won a critical officials' challenge with 8.7 seconds left in regulation when White was called for a foul on an attempted steal from Griffin with Atlanta ahead 110-109. Because the Bulls got possession during the foul call, the Bulls got the ball. Jones then rose up among three Hawks players to grab DeRozan's miss and was fouled with .04 left in the game. Two free throws to win. He made the first.
He stood shocked after he missed the second.
And then again under the rim when Griffin finished the win.
"The first play (when the Hawks called a second timeout with .5 in overtime) we did a really good job," Donovan explained. "It was a back screen lob and we took it away (with a switch). Then the next time (after another timeout) was kind of a misdirection where Trae was coming off a stagger to pull everybody up (to the free throw line)."
Apparently after the Bulls denied that first play, Hawks assistant Joe Prunty, according to an analytical web site Half Court Hoops, persuaded Hawks coach Nate McMillan to try a similar back door inbounds lob play that beat the Bulls and Derrick Rose on a baseline stop-and-cut-back, back door cut in the 2015 playoffs when Prunty was a Bucks assistant. The Bulls did go on to win that series.
"Sometimes it's hard with point five to get a catch and shoot, so the feeling was, who was going to go back door?" said Donovan. "I feel bad for DJ on the play because he played so well and was a big part of why we got back in the game. We switched and he back cut him, kind of lost vision of the ball. The guy (Jalen Johnson with one point) threw a great pass and he (Griffin) spun around and shot it in, so give them credit for making a play."
Something you've just got to second the way things are going now for the Bulls.
The contents of this page have not been reviewed or endorsed by the Chicago Bulls. All opinions expressed by Sam Smith are solely his own and do not reflect the opinions of the Chicago Bulls or its Basketball Operations staff, parent company, partners, or sponsors. His sources are not known to the Bulls and he has no special access to information beyond the access and privileges that go along with being an NBA accredited member of the media.