Maybe this is when the Bulls are better, when little is expected, when everyone has dismissed them and moved on, when they've left the basketball world wondering again just who are those guys.
Those guys are the unpredicta-Bulls, who Sunday lost their second consecutive home game to the Boston Celtics, this time 104-95, to see the first round playoff series tied at 2-2. Now having surrendered the rare two road victories and home court advantage, the Bulls go to Boston Wednesday for Game 5, again given little chance of success.
"They got what, two out of three at home?" asked Jimmy Butler, who was fabulous in this biggest game with 33 points, nine assists and five rebounds in almost 46 minutes. "We have to go in and play hard on the road; we've done that. It's a different time now, 2-2. We'll be OK. We can't hang our heads that we lost two at home. We have to go battle on the road and two of the next three games, home, away whatever. We've got to win two."
Simple as that, but now the most difficult of tasks is ahead as the Bulls walked into a wild punch after the Celtics were woozy with a figurative hooping eight-count. Those two Bulls wins in Boston were a near knockout. Only three teams in NBA history recovered from losing the first two at home to win a playoff series. But now it's the Bulls reeling and trying to hold on with Rajon Rondo's fractured thumb and two numbing losses.
"One of these slugfest series," said Dwyane Wade. "No one could project it would be this way, the players neither. We look forward to Game 5. There's more life left in playoff basketball and that should excite everyone after they get the nasty taste out of their mouth from losing."
Other than Butler's 33 points, the Bulls struggled to find offense and then did so in the most unlikely place from rarely used guard Isaiah Canaan with 13 points and good, physical defense on Boston star Isaiah Thomas. Thomas had 33 points and was brilliant in the pivotal third quarter stretch after the Bulls recovered from a 20-point deficit to take a 65-63 lead.
Canaan needed a breather after rarely playing the last two months and Thomas took off. The Celtics regained a double digit lead and then fought off every Bulls fourth quarter run.
"We don't come out with any energy in the first quarter," agreed Butler of the identical 14-4 deficits five minutes in two straight games. "We had plenty of energy in that second half. If we start at the beginning of the game like we do to get out of that hole we'll probably be up or at least we wouldn't be down that much.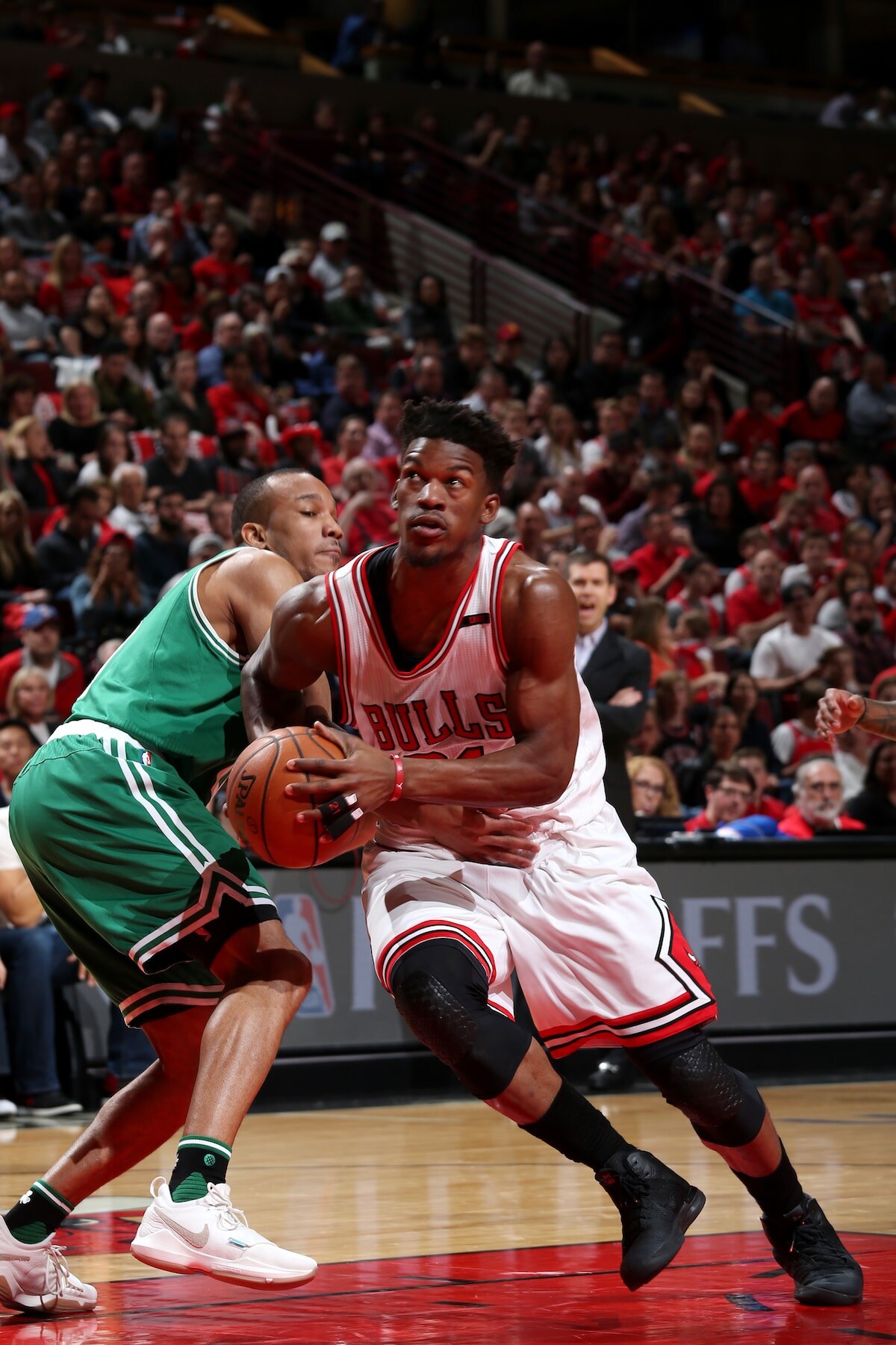 Mostly that was again the weak switching on defense, Boston dictating mismatches and then taking advantage of the Bulls less athletic players with Thomas' drives to the basket. Though the Bulls countered as much since their plan was to force Boston into equal switches and attack the tiny Thomas. Butler did it well in getting 19 of 23 free throws after zero in Game 3. But, again, the early deficit with the casual beginning was too much to overcome.
The Bulls again didn't go into Robin Lopez early, settling for jump shots and awkward drives against Boston's livelier pressure. It remained confounding how after two spectacular road wins the Bulls could be so lifeless back home to start consecutive games.
"I don't know about the slow starts," said Wade, who had 11 points. "Everyone is prepared, everyone is ready. It's not that no one is. Give them credit. Offensively, they came out moving the ball, doing things. We have to go back and look at different ways to guard them. They're kind of in the flow of the way we are guarding them. That's what happens in a series. They're kind of moving us around and getting the shots they want, so we have to go back and see how we can change some things to keep them from getting those big leads we had to work so hard to come back from."
Boston's small game again was effective with Gerald Green making a pair of early threes. The Bulls looked almost out of it, falling behind 41-21 on two more Green threes to open the second quarter. That's when Canaan doubled Marcus (not so) Smart, stripping away the ball for a layup. Smart then went to take the ball out of bounds, pushing Butler and creating what passes as an NBA fight these days. Butler and Smart got technical fouls. But call him Marcus Stupid because it was clearly the waking of sleeping dogs thing as the crowd and the Bulls finally got into the game. Nikola Mirotic made a pair of threes, Butler pounded his way to the basket and the Bulls trailed 57-46 at halftime. They were leading about seven minutes later before Thomas saved his team.
But Butler had a post game warning for Smart, and we'll see where that leads Wednesday.
"As far as the Marcus Smart situation goes, he's a great actor," said Butler. "Acting tough, that's what he does. I don't think he's about that life, so he needs to calm down. I'm the wrong guy to get into my face. He needed to take it somewhere else because I'm not the one for that.
"That's the first time; last time, too," Butler warned. "We're not going to sit here and get in each other faces like that. He needs to calm it down."
The Bulls need to figure some things out as well. The Celtics looked like they took their pick and roll with Thomas and Al Horford out a bit higher to give Thomas more running room and better angles. Getting switches onto the likes of non athletic players like Mirotic, Paul Zipser and Lopez was troublesome for the Bulls. Though the Bulls didn't go back to Lopez in the fourth quarter when Boston shut off some Bulls rallies with a rebounding edge. Lopez had a big third quarter as the Bulls, at least, finally got him in some rolling action with Butler even if they didn't post him inside early against the lighter Horford.
The Bulls did close with Bobby Portis having a strong offensive finish, but without Lopez the Bulls were smaller down the stretch. Plus, Wade had a tough close when it's usually where the Bulls expect help from him.
"It's the next one," Wade said about the task ahead. "It's a challenge in Game 1, a challenge in Game 2, Game 3, Game 4; that's the playoffs. Just like we were guaranteed nothing when we came home, it guarantees them nothing. We have to go there and play better basketball than we played here. We have two days to prepare. Try to get a game plan to give us a chance on the road.