So what's that called again? You know, when you have more points than the other guys, when everyone's having fun and smiling, their stride a bit bouncier, the shower warmer and the beer colder? Give me a second. It's right on the tip of my tongue. We've mentioned it before as vague as it seems at times. I know, I know, wait...
A win, and a win for the Bulls, a little doubter for a change 113-103 margin Tuesday over the Miami Heat at a time when with four consecutive losses and some grim murmuring about glum murmuring, it was as welcome as Miami in December.
It happened to be the second straight Bulls win this season to clinch the season series over the once vaunted Heat, but more significantly a prominent defensive effort at a time following the blowout losses to the Knicks and Timberwolves that a polarizing chill appeared to some to be paralyzing the team.
Hey, they're now 6-1 against Miami, Brooklyn, Boston and Milwaukee.
Not so much before Tuesday when led by Nikola Vučević with 29 points and 12 rebounds, 24 points for DeMar DeRozan, 21 points and a game-high seven assists from Zach LaVine and 14 off the bench from Coby White, the Bulls started effectively with a double digit first quarter lead, controlled much of the game actually with their repeated defensive efforts and then pulled away with a 17-2 third quarter run that pretty much chilled the Miami Lukewarm.
"It was good to get the win, that positive feeling especially after that tough, terrible loss in Minnesota the way we played," said Vučević. "It was needed; hopefully we can learn from this and start to play consistently. Obviously, we were very disappointed with our effort Sunday; it's one thing to lose, but to lose the way we did to sum up in one word: Embarrassing.
"We just wanted to rebound from that, play better, show a little more competitiveness, a little more heart; I thought we did that," Vučević added. "We did what we had to do. Obviously, they were shorthanded. But it was a good win for us to get back in the winning column; hopefully, it gives us positive energy moving forward. Hopefully, it's a good lesson for us and we can start something good."
That would be to continue Wednesday in Atlanta and Friday in New York to end this four-game road trip that was starting to feel like trying to cross a bridge during a magnitude eight quake. There was a 6.4 shaker in California Tuesday. The cracks in the Bulls foundation were looking deeper with that tumultuous defeat Sunday in Minnesota.
Th aftershocks followed the team south with a tranche of seismic media reports suggesting deep cracks in the tectonic plates of the team's core.
Yes, I may have been spending too much time around DeRozan and his clever parables and metaphors. Mine, I'll admit, was getting a bit strained.
DeMar's, too, as he offered a take postgame on reports of a tumultuous Minnesota team halftime session Sunday and then some sourced stuff about internal strains in the organization with much directed toward LaVine.
"Every great relationship is a work in progress," DeRozan said after the game when asked about he and LaVine. "You've got to go through the good and the bad; not necessarily saying the bad is a bad thing; it just comes with it. I've never seen nobody in a long term relationship be all smiles and giggles every single day.
"Sometimes you have to go through things to make that marriage even better at the end of the day; that's all it is," DeRozan said as he began to line up a moral. "The first couple of days with a person is always awesome; then sometimes if somebody orders the wrong meal and don't like it, you've got to talk about it and fix it."
Then even DeRozan began laughing.
"I'm just trying to put a story together," he said.
A win puts together a lot of things, especially after being 11-18 before Tuesday. Much easier afterward to digest and dismiss. Much like the alleged internal discord, which Vučević basically discarded as the rare time media actually knew what was going on with a team.
"Nothing that happened was a big deal," Vučević insisted. "In professional sport, in the NBA or any professional league, arguments with your teammates, that's a part of it. If you are sensitive and soft (it can lead to more). But if you care about winning and care about doing the right thing, something goes on and guys argue it comes from a good place; it's never personal.
"I don't think that's going to be the case here," Vučević said about any lingering issues. "Guys talk and respond and that's just part of it. If you are in competitive sports that's going to happen, heat of the moment, things are not going well, losing streak, things are going to happen. I saw it (media reports) before the game and I was surprised it came out and people made a big deal about it. It happens a lot, it's happened to me a lot of times, I've been around it a lot of times; you move on."
It's somewhat easier for the Bulls to do so with one of their better performances of the season, and no better time for it after giving up an historic 150 points to the Timberwolves.
The defensive rotations were sharp, the help the helper thing that's often mentioned, the playing for each other stuff that was referred to more often after Sunday's loss. It wasn't so much in the box score where the Heat had more steals and offensive rebounds. It was in the coverages, running Miami's chukkers off their relentless three-point shooting game, fighting through and over screens, forcing the extra pass, which is a good thing when they don't want to make another.
"I thought the guys' effort defensively was great tonight," said Bulls coach Billy Donovan. "They all flew around and covered for each other. I give the guys a lot of credit the way we came out and defended, and that's what we have to do. We're not the longest team, the most athletic team or fastest team, but we've got to cover for each other. And I thought tonight their ability to have each others' backs and flying around and scrambling, I felt like the effort was there.
"We have to play like that defensively," Donovan emphasized. "I know Miami had some guys out, but I thought the way we competed and played was how we need to. Tonight I thought we covered for each other really well."
Yes, the shorthanded thing.
Bam Adebayo had 27 points, 12 rebounds and six assists and Tyler Herro 19 points for Miami. But the Bulls chased Miami into 15 of 44 on threes in a lineup without three starters and no one close to being a point guard. Victor Oladipo started there for the first time in years with the new poster man for load management, Jimmy Butler, out with a tummy ache. We may be seeing the end of Butler, all those workouts and long minutes perhaps bringing his career to a premature end.
Butler has missed about 40 percent of the Heat games without having a serious injury. Also out was Kyle Lowry with soreness, though the way he moves lately it could be osteoarthritis. A third starter, Caleb Martin, also was out along with sixth man Gabe Vincent. And they'd just come off three off days. That famed Heat culture appears to be more petri dish of fungi lately.
The Bulls were grateful. At this point any way to get more points was a point well taken.
That's because Donovan at his regular pregame session with reporters was greeted with a series of questions about a, let's say, enthusiastic halftime session among the players in Minnesota. And then a report LaVine was not on the same page, as that cliche goes, with the front office and not playing well with others named DeRozan.
"I was not in there (at halftime in Minnesota)," Donovan said. "I heard the same thing you (reporters) did. But we were in our coaches' room, so I wasn't aware of everything that was said. But I heard that there was some confrontation, which I think, to me, personally, is healthy. That needs to go on, in my opinion. What was said, I have no idea. I think our chemistry in terms of guys' relationships and guys liking each other is very, very good. I think they've all got very very good relationships. When we're traveling or with each other, shootarounds and stuff, people interact, there's communication. I think people genuinely like each other. But I think it's a totally different situation when you're stepping in between the lines and you've gotta be able to rely on each other. And I think that maybe some of it is them pointing out to each other where they need help, where they need guys to be. And I think the accountability internally, player wise, is a good thing."
After the win, which is generally how these things go, everyone just said that's how those things go.
"We're in this together and sometimes you need those conversations from top to bottom and you get through it," said LaVine. 'Everybody should be frustrated. I'm glad we got the win today to try to get back on track."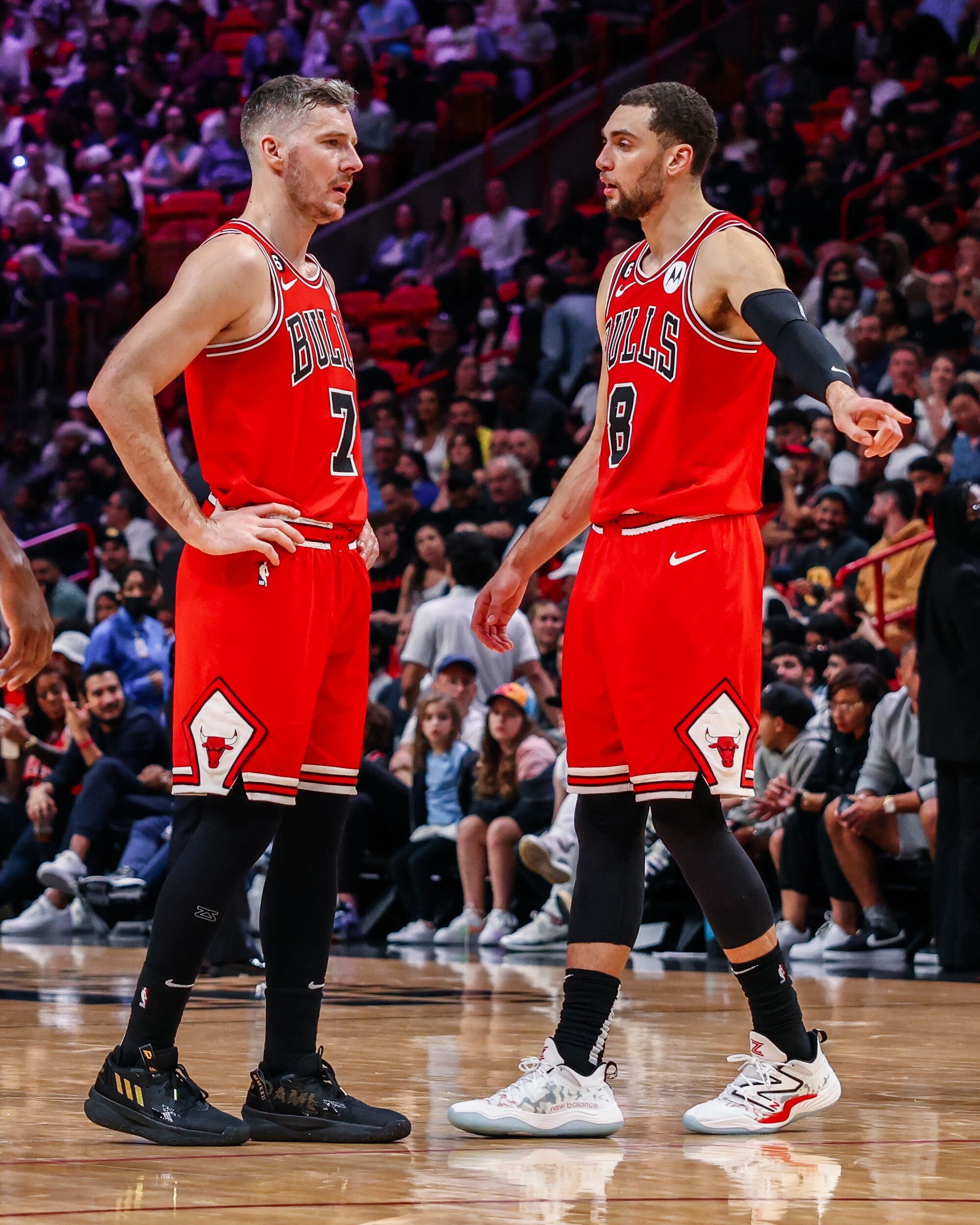 "It ain't like nobody threw blows or chairs or anything," said DeRozan. "To have any type of confrontation is just a true sign of a competitor. When you want to win and things aren't going right, a sense of frustration kicks in. You're around aggressive (people) all day. It's gotta come out, especially when you're struggling. That's all that was."
Whatever it was or wasn't, the Bulls certainly responded.
Miami isn't what we've become accustomed to with the Heat, who have been to the Finals and had the East's best record the last few seasons with a tough guy mentality and the multiple defensive efforts they claim above others. The problem is you need defensive oriented players for that, and the Heat now have very few, especially with Butler only an occasional participant.
So they mostly run around searching out threes. Their defensive game is predicated on switching in the belief everyone is a good defender, so it doesn't matter. Psst, not many good defenders anymore.
So the Bulls, who don't do those things often enough, took advantage of the repeated defensive switches that left a smaller player on Vučević inside. Vučević scored the Bulls first eight points, making it 8-7 Vooch, and the Bulls were off and running.
LaVine with 11 first quarter points answered the challenge to the doubters with three consecutive three pointers and all those points within five Bulls possessions leading to a 31-21 Bulls lead after one quarter. It was the Bulls best defensive quarter of the season.
The second quarter quickly became an uh oh, here were go again, it seemed, if the Heat were lemurs being a conspiracy of them. A conspiracy against Bulls success? Fortunately in the end, the Heat would just be kittens on this night, an intrigue of them at an intriguing time for the Bulls.
That brutal Bulls second quarter start with seven empty possessions and 10 of 12 with those turnovers Donovan decried enabled Miami to stretch out to a 41-35 lead and 57-52 at halftime.
There were no reports of halftime skirmishes, but the late editions aren't out yet. Are there still late editions? Get me rectify!
The Bulls quickly did that with a wave that smothered the Heat, Alex Caruso with a three and lots of activity. This time when he yelled to follow him over those screens they followed. The ball moved swiftly in gentle arcs, poetically almost. Vučević made a three, DeRozan faked and burrowed his way to the free throw line, Vooch rolled and the Bulls rocked on a 17-2 run and 82-67 lead as LaVine found Vučević open in the corners.
"It's not just making a pass," explained Vučević in a bit of a tutorial to media. 'It's about if we run something and you are supposed to screen, set the screen. If you are supposed to cut off the screen, make sure you do it correctly. If you are supposed to be in the corner, space correctly. All that goes into it; not just the simple pass. It's a lot of little things that don't show up that makes a team play the right way.
"What has to be in your mind is to do your part," said Vučević. "To help the next guy whether that's setting a screen to get the other guy open or giving help being in the gap on a drive. All of that goes into it and when you don't do it throughout the course of the game, it takes the energy out of the team. Those are mistakes and (if you make them) it makes it seem like you don't care; it leads to a game like we had in Minnesota. We weren't doing our jobs, we weren't there to help each other, we weren't playing together on the offensive end. It's a lot of little things we haven't always done and we did tonight."
Donovan, if not overtly, acknowledged the urgency by editing his rotation some. Andre Drummond was looking at another no show until Derrick Jones Jr. sustained an ankle sprain in the third quarter. Goran Dragić's playing time was extended as he closed the game.
And close it the Bulls did, outworking and outhustling the Miami players to loose balls, to second shots, though mismatches. It was a mismatch in Miami, and it was the Heat this time the ones who were sweating. It was the fourth time this season the Bulls so called Big Three each scored at least 20 points. And more importantly at a most important time came up big.
The contents of this page have not been reviewed or endorsed by the Chicago Bulls. All opinions expressed by Sam Smith are solely his own and do not reflect the opinions of the Chicago Bulls or its Basketball Operations staff, parent company, partners, or sponsors. His sources are not known to the Bulls and he has no special access to information beyond the access and privileges that go along with being an NBA accredited member of the media.