"(Lauri Markkanen is a) great player. I was just thinking about me and him together playing on the court would be definitely a killer. - Wendell Carter Jr."
This is a big draft for the Bulls.
It's also a draft of mostly bigs.
Could the Bulls find their destination at the intersection of size and need?
"I could really see myself with them," seven figure Mohamed Bamba said about playing with the Bulls. "Lauri (Markkanen), he's a really good three-point shooter. He stretches the floor, which gives me a lot of room to operate in the mid-post and low-post area. Obviously, I have to do my diligence to get stronger and better in those areas. But I think we'd play well. I'm super competitive. They'll get somebody who wants to win and wants to learn."
"I probably became more of a Bulls fan messing around with Jack (Hoiberg)," Michigan State's 6-11 Jaren Jackson Jr. said about his roommate, the son of the Bulls coach. "Everyone's going to say they're the best; everyone wants to be a No. 1 pick. I have confidence in myself and in my abilities."
"(Lauri Markkanen is a) great player," said 6-10 Wendell Carter Jr. "I was just thinking about me and him together playing on the court would be definitely a killer."
Guards have been the dominant players in the NBA draft in recent years and among the top rookies. Either Ben Simmons or Donovan Mitchell will be Rookie of the Year this year, both guards. It would make it the ninth year in the last 12 the top rookie was a guard. And Kevin Durant plays like a guard. Going back to Derrick Rose in 2008, the No. 1 overall pick has been a guard six times.
But this year, there's not likely a point guard in the top five in the draft and four of the top five picks could be big forwards or centers. There are possibilities a big wing player like Missouri's Michael Porter Jr. could wedge his way into the top five, which would mean one of the highly regarded big men could fall to the Bulls position at No. 7 in the draft.
Coming off a 25-win season, it's not like the Bulls are in great position to be selective by need. With Markkanen, Zach LaVine and Kris Dunn from the Jimmy Butler trade last year, the Bulls' biggest starting lineup vacancy is at small forward. But with Robin Lopez going into his final contract season and not in the modern day mode of versatile big men, the Bulls also need a young big man.
Particularly someone who can complement the seven foot Markkanen.
It's likely one and perhaps two among Bamba, Jackson and Carter will be available when the Bulls draft. All three are regarded as multifaceted big men who can shoot, particularly Jackson, elite rim protectors like Bamba or adaptable like Duke's Carter, the latter who played the ultimate teammate to highly ranked Marvin Bagley and audacious Grayson Allen.
The ongoing consensus is that Arizona big man DeAndre Ayton, Duke's Bagley and Luka Doncic from Slovenia are in some order the top three players in the draft. Porter could make it a foursome if his health and workouts are without issues.
That could set up a run on big men with Dallas selecting No. 5, Orlando at No. 6 and the Bulls at No. 7. The Mavericks do need a big man, but the Magic most need a guard. Point guards Trea Young and Collin Sexton are regarded as the top two point guards and possibilities for the Magic.
The Bulls often have been linked to Villanova's Mikal Bridges because he fills the small forward position need, though he skipped the draft combine. But could the Bulls afford to pass on a big man who could be an inside anchor for a decade? Wing players seem to often be available in drafts. But not often skilled big men?
Is it time for the Bulls to step up? Or just pick upward?
Mohamed Bamba
Bamba, at 7-1 with shoes and with a wingspan of arms stretched out at almost eight feet, is the giant of the group. He's been most likened to Utah's Rudy Gobert with his ability to be a defensive force. Though all the big guys now get questioned about whether they could remain on the court in critical times since so many teams downsize to use smaller players who need to switch out to guard three-point shooters.
Of course, you also could try to make the other team defend your guy who basically can touch the rim without jumping. Good luck on that switch, Steph.
Bamba was both in New York City to parents from the Ivory Coast. He was the classic AAU voyager who bounced through several prep schools and high schools before one season with the U. of Texas. He wasn't a big scorer as much as a defensive presence. He's unusually articulate for a kid who just turned 20, charming the media at the Draft Combine at Quest Multisport.
"I'd say my biggest strength right now—one word to summarize it all — is my presence," Bamba said. "Both offensively and defensively, the presence I have is pretty profound. As far as weaknesses, one specific thing I need to work on is playing lower. When you play lower, you tend to be more explosive and finish through contact. That's something I've been working on. I don't think the comparisons (to Gobert) come because of just the wingspan. There are a lot of lengthy guys in the league you can compare me to. I think what people see when they compare me to Rudy is my presence. It's a very similar effect, our switchabilty, the way I protect the rim, being that elite rim protector. One difference between me and any other prospect in this class is if I'm plugged into the NBA right now — I don't really want to be cocky when I say this — I really feel like I can be one of the best rim protectors in the league as a rookie. I feel I should be the No. 1 pick.
There are questions about all the players, and with Bamba it's been his so called "motor," the willingness to always play hard. Bamba dismissed that notion.
"I think the biggest misconception about my game is my love for it," he said. "This is what I want to do. I owe this thing my life. There's no other way around it. This is what I want to do for the next 20 years of my life."
Jaren Jackson Jr.
Jackson is almost as long as Bamba with a seven and a half foot wingspan and also a standing reach of more than nine feet. He is from Indiana and one of the youngest players in the draft since he doesn't turn 19 until September. He's just over 6-11 with shoes and in the modern vein as a 40 percent three-point shooter in college while also being a top shot blocker and defender. He's been generally rated just slightly higher than Bamba and Carter, but perhaps with longer to develop because of his age. He was a roommate with Jack Hoiberg, a walk-on at Michigan State and talked about having pillow fights with Jack. Yes, they're teenagers.
Like Bamba, Jackson was charming and witty, quipping with reporters about how many questions they had, greeting all with thanks for talking to him.
These are job interviews for these players, so they are coached and on their best behavior. But Jackson came across as both sincere and serious.
"You see where (the NBA game) is going with three-point shooting, fast paced, everything is kind of a switch," Jackson noted as it was clear he'd been watching a lot of NBA. "You have to be able to move a little bit, be nimble on your feet. You have to be quick.
"With teams right now in the conference finals you can see there's a lot of spacing," he said. "You have to be able to handle the ball; you can't be a liability on defense or offense in terms of shooting. I feel I can space the floor and get my teammates involved. You do anything hard, you are going to be success. Being a two-way player is hard in the NBA, but I am going to work on both sides."
Jackson said he was enjoying the entire process and then with a wink, added, "I'm just going to smile and talk to you guys."
Wendell Carter Jr.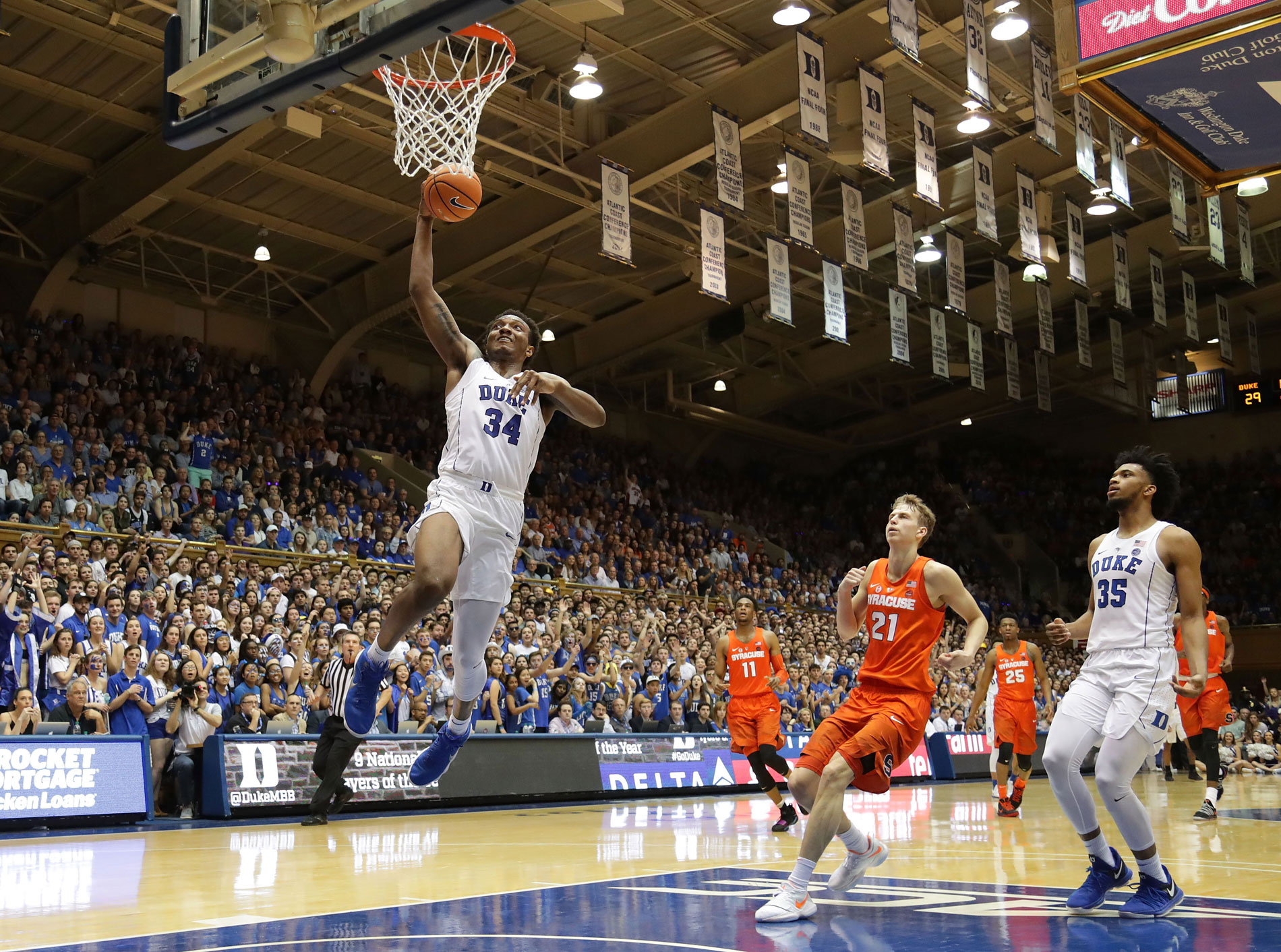 Carter is the classic other guy, the one who was next to the famed dunking Bagley. He's a bit smaller than Bamba and Jackson, about 6-10 with still an impressive 7-5 wingspan that rivaled Jackson. His mother and father were both college basketball players and he was one of the top student athletes in the nation who eventually chose Duke over Harvard. Even surrounded by offensive teammates, he quietly averaged about 14 points and shot 41 percent on threes as the ultimate teammate, sacrificing his own fame for the good of the whole. He's been likened to an Al Horford type, but said he's also heard LaMarcus Aldridge comparisons. He's not the top athlete, but agile, capable and versatile.
His mother, Kylia, actually, was more famous lately for controversial comments recently at an NCAA commission, likening the student-athlete system slavery. Carter responded deftly, saying, "My mom is my mom; she has her opinions and doesn't mind sharing some of them. Certain aspects I do agree with her; certain aspects I need to get more information about it. A lot of people probably thought what she was saying were players were slaves and coaches were slave owners; that's not what she was saying at all."
She was merely in a more provocative way repeating the common refrain lately about the way colleges take advantage of the so called student athletes by signing billion dollar TV contracts and pushing the players to almost exclusive sports careers in college as opposed to any academics.
Carter was more soft spoken than Bamba and Jackson, but direct and mature for having just turned 19.
"I'm pretty versatile as a player," he said. "I just find a way to fit into the team. I'm a winner. There's no more true centers anymore; you want to have people who are versatile and can shoot from outside and guard the perimeter and that's something I've been working on. Whatever system I come into I automatically buy in. The coaches want to win and I want to. So whatever they ask me to do whether it's rebounding and blocking shots and setting good picks, I'm ready to do that to just win."
Everyone says that sort of thing, especially in interviews. But Carter actually did so, a regular 22 points and 13 rebounds per game high school star who settled into the supporting role for Bagley.
"It was (difficult) at first," he admitted about the role change. "But I knew what I could do, how I could affect the game without necessarily scoring the ball. So I did these things, I did these things very exceptionally. I found a way to stand out without putting the ball in the basket. It allowed me to show I am able to play, make big plays and still maintain my own.
"I come in and try to outwork those in front of me," he said. "That's the beauty of the beast, come into a system, players in front of you have been there and know what it takes, but learn and let the best man win."
June 21 is the NBA draft. Will it be a big day for the Bulls?