Ashley Marie: I've noticed the fanbase — including myself (and rightfully so) — were heartbroken during the team's Play-In loss to Miami. I've also noticed the comparisons between Zach LaVine and Jimmy Butler, which I find a bit unfair. I agree that Jimmy was a great addition to the Bulls and admire his success with Miami Heat, but I want to give Zach his flowers, too. He's one of my favorite players and he put the Bulls on his back during the Raptors game. He's achieved so much with this franchise beforehand. I can tell he adores the city, the organization and the fans that come with it. I hope he stays with us for years to come.
Sam: I hope so, also. Zach, as I've discussed before, has an unusually ambivalent relationship with the Chicago sports community that despite his talent and acknowledgements — multiple-time All-Star and Slam Dunk winner while being among the league leaders in scoring and shooting — fans always seem to find a reason to diminish what he means to the team. Miami's success in the playoffs again has fostered a comparison as if it's just Jimmy Butler or Zach; even if LaVine was the main part of the Butler trade. It's true that if not for Zach's performance against Toronto, there would have been no Bulls game in Miami. Zach did have a poor shooting game in the loss to Miami. But he didn't also have a Max Strus making seven threes. Jimmy and Bam in that game were a combined 12-for-36. Which isn't so much the point; make or miss league and all that. Zach is the closest player the Bulls have to what the NBA is today, shooting, athleticism, positional size and the ability to make plays off the dribble and draw fouls. Often people don't appreciate what they have until it's gone. Zach has averaged 25.1 points on just under 40% shooting while rarely missing games the last five years. Good luck replacing that in today's NBA.
Rocky Rosado: I have a couple of trade proposals to jump start the bulls rebuild:
Trade one:
(Draft Day trade) DeMar DeRozan to Lakers for Mo Bamba, Malik Beasley , #17 pick
Trade Two:
Bulls trade Zach LaVine, Andre Drummond, Derrick Jones Jr, Portland's '24 1st round pick to Portland for PG/SG Anfernee Simons, #3 pick, #23 pick via NYK
Trade Three:
Alex Caruso, Lonzo Ball, Derrick Jones Jr, Heavily Protected future 1R pick to Charlotte for Gordon Hayward, Kai Jones, #27 pick
Sam: I don't see that much there I care for. As we've discussed, DeMar won't push for it, but he's made it clear where he'd like to continue his career. That first one is a lot of spare parts, though I am intrigued my Beasley. He fell out of their playoff rotation, but he can make threes. Supposedly the Lakers will pick up a team option, but I'd be interested if I were the Bulls if the Lakers don't or maybe in trade. Portland's No. 3 remains the apple of the Bulls fan's eye, and there was a report the other day (I'm skeptical) the Hornets are enamored with Brandon Miller because Scoot Henderson shot poorly the last part of his season. Drummond has a player option so he can't be traded and Portland gave up a first round pick just so the Bulls would take Jones Jr. Not enough there for them giving up Simons. Players get their own rooms on the road, though I guess Charlotte could save money if Lonzo offers a bunk bed with LaMelo. But a perpetually injured Gordon Hayward doesn't lead much anywhere. I'm still open for suggestions. Hopefully, the Bulls are, also.
Kurt Payne: Everybody seems preoccupied with making changes to the top of the roster. To me, several factors drive the trade winds. Teams that thought they were capable not making the playoffs, new GM, new head coach, teams not going as far as they thought they should in the playoffs, disgruntled super stars, a roster that got another year older without getting any better. And most of them cross over. But let's hold off on that until many of those categories expand a little more after the Finals and closer to the draft. What I want to look at is the end of the Bulls bench, past the first two rows of the depth chart. Since the Bulls have no draft picks, yet until the 7 big trades, so where are they going to get some reserves? Could the 13-15 spots on the roster be guys who are just as good as 2nd round picks? Carlik Jones as the 3rd PG. MVP of even the G League is something. In the 4-5 minutes he played at the end of the year he looked like he belonged on the floor. Terry Taylor got some NBA experience with the Pacers, at the end of the year in nothing minutes what I saw was a guy who knew how to find his way to get in position for a rebound. Didn't get them all but seemed to understand where to get to. A PF waiting for a door to open. Justin Lewis was injured almost all year, would the Bulls be keeping him around if they didn't think he could play when healthy? Could he shoot his way onto the floor based on practice? I like the idea of having some youth and potential down at the end of the bench instead of some Dragić, Marko, space holders.
Sam: I've also been a fan of Carlik Jones because he fits the profile of an actual NBA point guard, someone who can shoot off the dribble, play pick-and-roll and run an offense. Size, it seems, is the concern. The larger issue could be the way teams are built and whom they choose. Jones probably should have played late in the season when Dosunmu was struggling. But the Bulls invested in Dosunmu with a draft pick and not Jones. What generally happens is teams have a stake in some players succeeding more than others because they either drafted them or are paying them more. So they get more opportunity; and opportunity, as we know in life, is the base for success. Perhaps that's what Miami's success will help change. They play so many undrafted players that it may open the eyes of some teams to give those players more of a chance. Of course, the other big issue is not everyone can play and coaches tend not to much use the last four or five guys on the roster. So it is difficult for some of these players to show what they have, which the G League is for. Carlik has shown there. The Bulls let Max Strus go after his ACL injury, so maybe Lewis makes a nice return from his major injury. Credit to the Bulls for giving him another look with a two-way deal. You do need to balance your roster with some youth. But coaches often tend not to trust them as much as the veterans. It's a delicate balance, but it's not necessarily going to affect the balance of power.
Mitch Metz: Is everyone going back to Houston for one more payday? I saw this: Patrick Beverley asked if he really thinks James Harden is going to back to Houston & is there any chance of you reuniting with him back in Houston? He said there's a very high chance of both going back.
Sam: It sounds a bit like it could be a negotiating ploy, and we've seen comments about Beverley's idea of his worth. I doubt it matches what the Bulls believe. But you can't blame Beverley on what could be his last NBA contract. Players need to maximize economically. I assume the Bulls would like to have him back, but as a reserve, and reserves don't make that much. It sounds like he's still chasing some starter money.
Mike Sutera: With the Lakers loss there was a report one option for Los Angeles is to trade for high-profile point guard to team with LeBron James and Anthony Davis. One player the team has had internal discussion about is Trae Young of the Atlanta Hawks. Young is set to make $40 million next season. In what world do do the Lakers have assets to trade for Trae Young? Other then AD they have nothing remotely interesting to offer teams and have no picks besides one this upcoming draft.
Sam: Sounds like LeBron the GM at work. He's a smart guy, but it never seems he understands the salary cap and team payroll ramifications. But I can't blame him since it's always about right now. Especially at 38 (no, he's not retiring, but it is a good tack to deflect attention). After his Westbrook-inspired mess when he pushed for Westbrook until it didn't work and then explained he's not involved in personnel, he backed off and the Lakers made some terrific midseason moves. But now you get the sense he's back on the job with all the rumors about Kyrie Irving to LA. LeBron apparently still believes in the Big Three concept. If Dallas won't give Irving big money for multiple years — and you'd have to wonder why they would — then it could be possible in LA; if also on a short deal. Maybe year to year with LeBron. The Hawks are expected to be an active team this summer given another unsatisfying season. But they'd need a haul to move on from the popular Young. The Lakers roster is filled with free agents (only James, Davis and Max Christie are guaranteed for next season). So between that and national TV sports network programming mostly built around WWLD (What Will LeBron Do), there's plenty of possibilities to come.
Ateeq Ahmed: Can't believe the Lakers were swept. I thought they would play well enough to get one game. Denver is on a mission. Credit to them for building through the draft. I think their only notable acquisition was Gordon, via trade. Jokić, Murray and Porter Jr. were all drafted. They filled the roster with solid role players like Caldwell Pope and vets like Jeff Green. I know we can't count Miami out but this Nuggets team looks legit.
Sam: I feel like Denver is a popular choice, especially with Jokić because he's so much fun to watch with his skill and toughness combination and entertaining to listen to. It also seems to be a team that doesn't complain on every call and isn't acting like seals and flopping all over the place. There's a lot to like in their game; though Miami post-LeBron isn't much for complaining, either. Butler is very unusual among stars for accepting the game as it comes. The games with the Lakers were all close despite the sweep; though it still counts as a sweep. The Nuggets also also a great example of how luck and good fortune tend to transcend a plan and preparation. Jokić obviously makes everything go for them. He famously was a second round pick at No. 41. But the best proof of them having no idea was they had two first round picks that year (they were the Bulls 16 and 19 in the Doug McDermott draft). And Denver used one for a center in Nurkić, whom they initially had splitting time and starts with Jokić. To their credit, they figured it out and added a group that fit with Jokić (though almost everyone does the way he plays). The NBA made it extremely difficult for the ABA teams allowed in from the merger. The Spurs with good fortune landing David Robinson and then Tim Duncan are the only one among the four to have won a title. Denver's a good story.
Guy Danilowitz: Watching Jokić best LeBron reminded me of 1991 Jordan over Magic - passing of the torch between two greats at different positions?
Sam: I didn't see it that way as great as Jokić is and that he'll be the MVP leader to begin next season. But Jokić never will be the face of the NBA because he lacks the video game elements that has merged with the NBA marketing over the years, featuring dunking and three-point shooting and spectacular plays off the dribble. It's often breathtaking to see what Jokić does with his passing, his positioning and innate intelligence about the game. I guess it could change some after these playoffs. But his jersey was not top 10 in sales this season and he's not among the two dozen or so NBA players who have their own signature sneaker. Though from what I've seen during my trips to Europe, I can see Jokić having a signature sandal with socks.
Samantha Kay: Watching the playoffs this year has made me think of what Giannis said about failure. His analogy between aiming for success and Michael Jordan's diligence resonated with me as I thought about the Bulls this season. Even though our season came to a disappointing end, I don't see it as a failure and am hopeful for a successful 2023-24 run.
Sam: I also didn't really see the Bulls season as a failure since it was sort of a knife's edge to where they'd be and what they could do without Lonzo Ball. I suspected once he said in training camp he couldn't climb stairs that his season was lost. But the team belief at the time was he'd be able to play by All-Star break. So the team felt obligated to give him a chance, and you have to accept that. Given that, the Bulls probably were lined up as a play-in team, and then they won a rare play-in road game and barely lost another. So coming off a 46-win season that was below .500 after Ball was hurt, it was difficult to expect much more than they achieved. And they did make the close of the season exciting. But I believe they understand that isn't enough. Which is why given what they now know about Lonzo I can see some significant changes. I'd push back on the Bucks and Giannis, meanwhile, because all they talked about was being a championship team. And then with an elite MVP candidate (who did miss a few playoff games) to lose like they did in the first round and at home, and especially with big late game meltdowns, made it a failure for them. Management obviously agreed by firing the coach.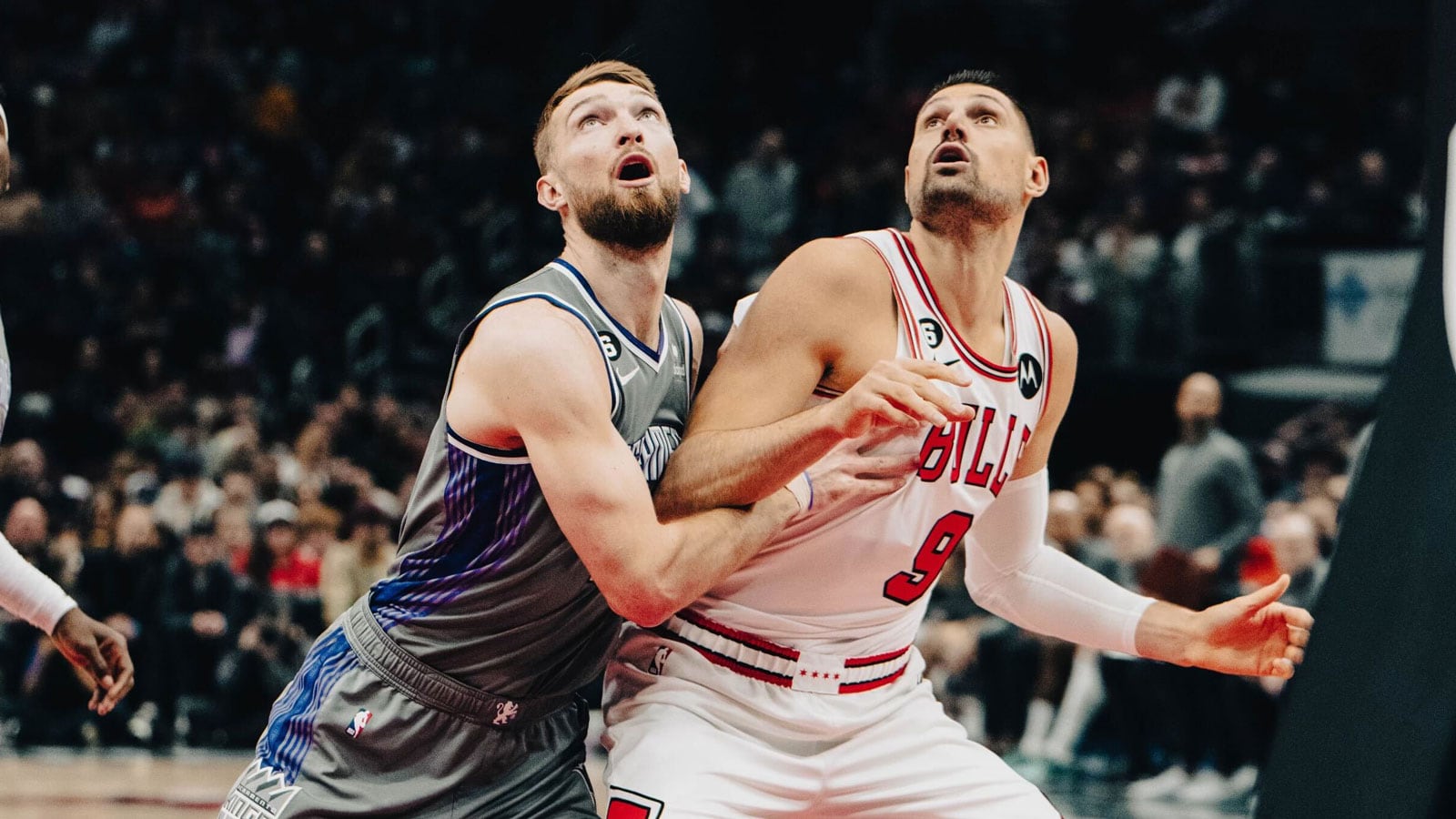 Brodie Larsh: I think Vučević signing with another team outright is a nightmare scenario that the Bulls really couldn't recover from before next season. I feel the two biggest threats with enough cap space to "steal" him away are Orlando and San Antonio. Houston with Harden... maybe, but I think they like Şengün. Obvious ties to Orlando and has stated he'd love to play there again someday. They seem like they may be at the point to bring in a good veteran and make a playoff run (i.e. Zach LaVine to the Magic rumors circulating). As good as WCJ is, Vooch would start and WCJ would be the primary back up big for him and Paolo. San Antonio has ton of cap space and could few him as the perfect mentor for Wemby. Their games can co-exist on the floor as Wemby does a lot on the perimeter.
Sam: I wouldn't worry about the Spurs. With Wembanyama they'll just have to open the doors to create excitement with everyone just wanting to see him. They don't need to play for anything next season but another high draft pick. I'd also be concerned about Orlando. I think Vučević still has a home there. Of course, most of these guys have several. I believe the Bulls really want to retain Vučević. But as good as Wendell Carter Jr. has been, he's not a center. And as you note Vučević loved Orlando and they have the ability to get cap room. Orlando seemed anxious to move him a few years ago. But they have solidified since and seem in good position to make a playoff push now. They probably could use a veteran. There figure to be some centers on the market; Minnesota has two and Towns has been rumored with the Knicks for awhile. But the Magic have two lottery picks, and that should draw interest. Maybe someone like Nurkić? It will be something to watch. I still like the idea of the Bulls playing through Vučević, which would make him more valuable to the Bulls. Play through him like Denver does with Jokić and surround him with shooters, which the Bulls do have in LaVine, White and Williams. And then maybe the Bulls need one catch-and-shoot guy instead of two. How the Bulls play could also determine Vučević's future interest.
Art Alenik: Scoot Henderson has a distinctive "D-Rose look" to him. He's fast & strong and he loves to dunk. He has a nice touch in the midrange and around the hoop. His 3-pt. % with Ignite wasn't so great, but his form looks good, so I think he'll develop decent 3-pt. range. He's a score-first guy, but his court vision seems pretty good as well. I loved his interviews. He says he's NBA-ready despite his youth and sees himself as a team leader and a defensive asset. In temperament, he's the polar opposite of Patrick Williams. He may or may not be Rookie of the Year (I think he will be.), but he'll never disappear on the court. So the question is, 'Is there anything the Bulls can do to get this guy?' What would we have to pay Charlotte to draft him for us? Or if Charlotte is set on Miller, what would Portland want for their #3 pick? I would consider anyone but Zach (who they will both ask for first). In the end, I doubt we can get him. But I'd definitely make a few calls.
Sam: I suspect that's both the plan and the eventual disappointment.
Bruce Roberts: I am a 76-year-old long-time Bulls fan and want to express my appreciation for Artūras' approach to team building. He has a tough job in the super competitive world of the NBA. I believe we are close to being a contender. Lonzo Ball's injury really hurt us. I am a physician and am pessimistic Ball will be able to play NBA level basketball again. I would love to be proven wrong but a careful look at the outcome data for knee cartridge replacement is not promising. Artūras picked a player in Ball with the perfect skill set to make us a legitimate contender only to be undermined by a bad knee. I am hoping an incremental improvement in our defense, particularly at the end of games, will gets us to be more competitive. I love our big three and am pleased with Patrick Williams' progress. There is opportunity for us to improve if Artūras can pull off the right moves. I recommend you for the Bulls President of Basketball Operations. Artūras seems like a good second choice.
Sam: I like the way you think. I do believe I can tutor him appropriately having been around more championship teams. That said, as good as he did in the construction of a team with a chance to do something in 2021, that was a surprise with not too much pressure given where the Bulls were and how welcome his group's presence was. Now there's pressure, especially with, as you note, the pessimism surrounding Ball. It's a big summer for the franchise because, as Miami and even the Lakers have shown, there's so much parity now in the NBA that you don't have to dream very hard to envision yourself at least in the conference finals. A lot of teams are basically saying the same thing. The team building moves, which Denver has done well, could be the fulcrum for the balance of power next season. The super team era is over depending on what Wembanyama becomes. The opportunity seems to be there.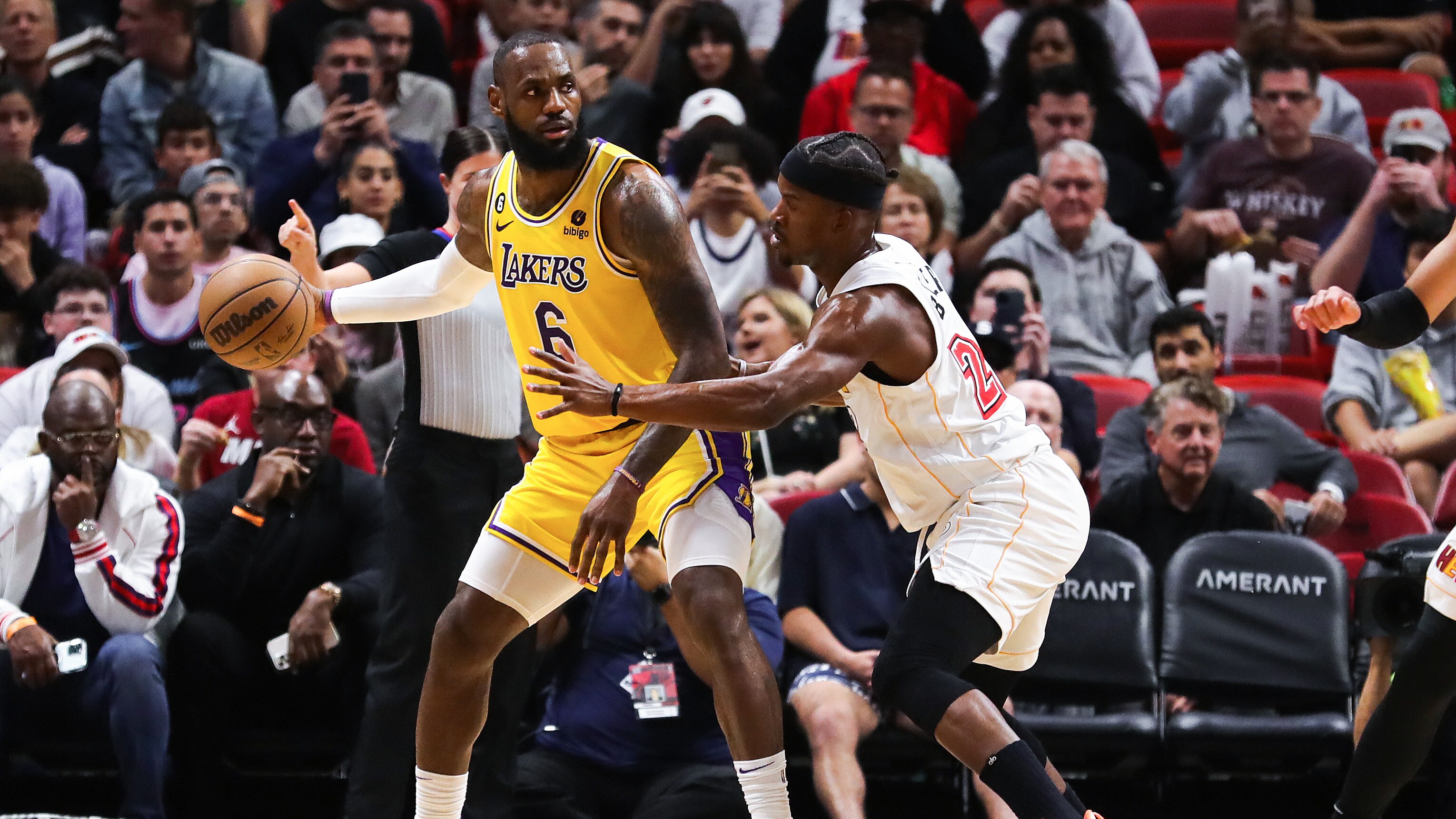 Josh Redman: What LeBron did with this bad Lakers team is one of his greatest career achievements. An almost 40-point triple-double in the western conference finals elimination game should remove any doubt that LeBron is one of the top 5 players of all time and I'd argue the 2nd greatest behind only MJ. Davis' poor showing and inability to limit Jokić solidifies that his inclusion in the top 75 is a joke. Will be interesting to see what the Lakers do with Russell after essentially benching him. They definitely found a gem in Reaves. Hopefully Bulls can find such a contributor with an undrafted free agent after the draft.
Sam: It would seem like the Lakers will move on from Russell after he was benched in the conference finals. He is a point guard and I cannot imagine his market will be very big, but I'd probably pass if I were the Bulls. I did joke that at last what the Lakers' sweep meant was we could postpone the GOAT debate for another season. LeBron was exceptional, but no surprise you could see him wear down at the end of some of those games some, especially avoiding playing much defense. Losing confidence in Davis? Trade? Back home to Chicago for Zach and DeMar? Nah. Davis probably was overrated for that poll because he's not by nature an aggressive person/player. But I expect him to remain with the Lakers. It looks like one more year there for LeBron if they can't make a run to the Finals. Maybe because LeBron must have promised someone on the Bulls he was coming in 2010 because they were so sure he'll want to finish in Chicago. Hey, Michael finished in Washington. The Bulls figure to have room for Bronny. Finally uniting Rose and LeBron, if very late in their careers? C'mon, you never say never in the NBA.
The contents of this page have not been reviewed or endorsed by the Chicago Bulls. All opinions expressed by Sam Smith are solely his own and do not reflect the opinions of the Chicago Bulls or its Basketball Operations staff, parent company, partners, or sponsors. His sources are not known to the Bulls and he has no special access to information beyond the access and privileges that go along with being an NBA accredited member of the media.