Russell Westbrook's been simply fantastic throughout his NBA career and what he's doing this year is just unbelievable averaging near triple double. I predict he'll be the scoring champ this year as well. In the meantime, DRose has gone through major surgeries on both knees and will never be the same player again. This reminds me of 1984 draft. Are we now the new Portland Blazers?
Bambi Choy
Sam: Well, that's pretty harsh. It's easy to do the draft seven or eight years after, and yes, looking at it today Westbrook would be the No. 1 pick. Though let's not get carried away here. Rose was the league MVP, and until his ACL injury at the end of his fourth season he was the best player from that draft. That was really a two-player draft at the time of Rose and Michael Beasley. Rose even has said he thought right up until the day of the draft he was going to Miami. Rose was not such a no brainer at the time to everyone.
Beasley looked like he was going to be Kevin Durant; maybe healthier. Beasley played with and matched Durant on some AAU teams and was an amazing scorer at Kansas State. He averaged more than Durant did in college. They had similar NCAA tournament experiences playing in the same conference.
Back to '84. That was a one-player draft with Hakeem Olajuwon and then Jordan probably second best, and Portland went for need. Actually, I thought Oklahoma City in the Westbrook year would take center Brook Lopez, who fell to 10th. It still would have been a good pick. No offense to Westbrook, but it seems pretty clear by now Durant left in part because he didn't want to play with him any more. And Oklahoma City let James Harden go to accommodate Westbrook as point guard even though he's not really a point guard. He is a fabulous player, but coming out of college the scouts had no idea where he would play and being selected No. 4 was a bit of a surprise and reach at the time. Kudos to the Thunder, they saw what many did not. The drama of that draft was the O.J. Mayo/Kevin Love pick and swap, which seemed a coup for Memphis first. Portland's bad luck was the 2007 draft when they made the right pick everyone agreed about with Greg Oden and Durant fell to the Supersonics/Thunder. It's unfair to second guess drafts like that, especially now with players so young. Beasley projected every bit as good as Durant. DeAndre Jordan and Goran Dragic were second round picks in Rose's year. Was that 25 mistakes? I have my doubts whether you can have ultimate success with Westbrook as your main player the way he plays with that manic fury. It's impressive and he rolls up great stats, but I don't believe it translates into any sort of serious contention without a Durant or Harden. And where are they getting one now?
Everyone gave a lot of credit to Jerian Grant's defense on Damian Lillard, and I agree that he played Lillard tight all night. But as I watched the game on DVR it seemed to me that the excellent defense had a lot to do with how well Taj and Robin Lopez rotated to stop Lillard and the other wings when they beat their men. What was great about Lillard was how stoutly he switched to the Blazer big left by Taj or Robin to protect the rim. Physically, Jerian Grant looks a lot like D.Wade and has a similar combination of speed and strength. The team defense was impressive in Portland, though it helped that most of their shooters were stone cold in the first half.
Kirk Landers
Sam: Yes, defense looks a lot better when they miss. And they did have shots they could make, but the Bulls also applied pressure they don't often see, and it does make a difference when you pick up players at midcourt or even before. I still do not get why teams won't do that with Stephen Curry. He's going to make shots, but it's a long game, as we are told, and you tire them when you have to work an extra eight seconds and 40 minutes into the game they may miss a shot with weaker legs they might not otherwise miss. You can't quantify that, which is probably why coaches don't insist.
Defense as we are always told is a team sport, so that's exactly what Taj and Lopez were supposed to do. Lopez isn't as aggressive in pick and roll defense, but he was against his old team. And then was again against Utah. He's quietly been a very reliable defensive presence, which he always has been. But he changes teams so much, I think, because he hates the mascots so much. Sorry, just wanted to make sure you still were reading. He isn't that athletic in movement, which is one reason the Bulls have gone to more switching, that their centers don't hedge and recover as well. But Lopez also is relentless inside, especially on this trip with second chance points and protecting the paint with his size. Defensively, he's a fine addition. Both he and Taj are active, and those few feet of extra pressure are important. Though Grant obviously cannot run offense and pass like Rondo, with those young legs that also didn't have an ACL surgery he can get up and bother lead guards. He did so again in Utah in a poor shooting game. And no pros really like that. They can beat it unlike many college players, but it disrupts the offense. Plus, reserves don't play as many minutes.
I remember when Rick Pitino came to Boston and he said he was pressuring full court for 48 minutes and the players said, well, sorry Rick, but you'll have to come up with something else. In college they have to listen, or once did until one and done. I understand you can't ask Jimmy Butler or Wade to do that, but you can have guys like Grant or Portis or Valentine do it. I've wondered why pros don't ask kids to come in and pressure for four minutes a half. Of course, they then can become free agents and leave. Anyway, Grant didn't play great in summer league or to start the season after a strong finish to last season with the Knicks. So there were questions. No, he's no Dwyane Wade. But he is a scorer and with that defensive component and some consistency he could prove an excellent acquisition from the Derrick Rose trade.
It appears to me that the level headed leadership of Dwayne Wade is the biggest factor in the Bulls success. How Wade is bringing out the best in Butler is nothing short of brilliant. Wade also has the rest of the team following both Butler and Hoiberg's lead. We seem to have a real team's team on our hands. Do you think I am being too optimistic?
Tom Pappalardo
Sam: It's a better start than I figured. You are correct about Wade. We all knew how talented he was and that he was tough, a big game player and a team guy the way he did the amazing and basically turned the Heat over to accommodate James, something that basically never happens in the NBA when it is "your" team. But Wade has surprised me in being better than that. He was the missing piece with a confidence that emboldens others, an obvious leadership that doesn't have to be stated. As I wrote about Jimmy and propelling himself into superstar status, I also believe Wade has had a lot to do with it by allowing Jimmy to relax and play, which is who he is. Media and fans tend to force leadership on players if they are among the best on the team. True leadership cannot be taught. Either you are or you are not. It's no shame. Most great players weren't.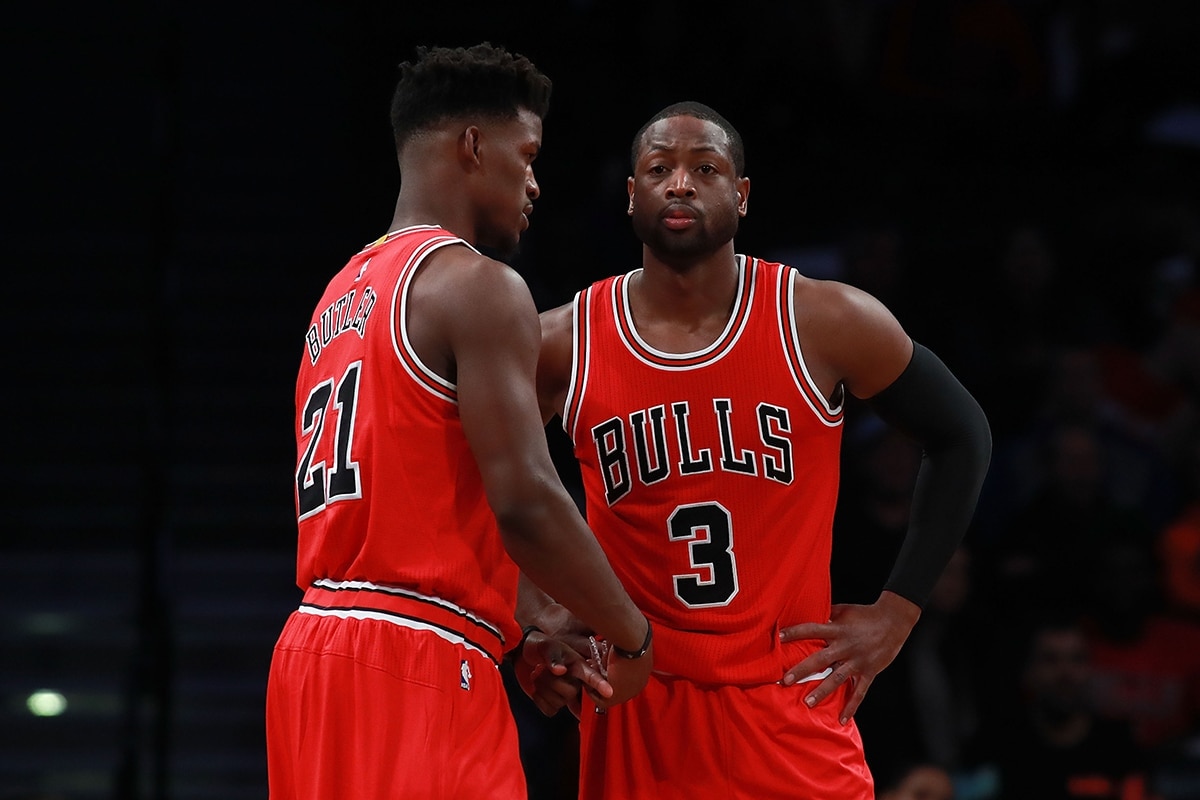 Wade's a natural, with teammates, media, fans, management; he seems to have a genuine decency about him, aware of others. He talks to you, but he's confident in what he is and can do and the way the game should be played. Having that kind of person around relaxes everyone and gives them confidence. He won't take over a game like he once could, but he is there to direct Jimmy to do so. It seems hardly a coincidence Jimmy is playing by far the best he ever has along with coach Fred Hoiberg managing the rotation and playing time for everyone so deftly. And then again Hoiberg talked after the Utah game of the way Wade took it upon himself to lecture and condemn the team after things they worked on in the shootaround were ignored. Coaches love that. There just are so few players who will do it. It's what's called having a player who polices the locker room. Jordan did it. Magic did it. Bird. Not many. Someone good enough and accomplished enough that not only everyone knows they've been there, but who is willing to take on that responsibility without being asked.
Really, ask yourself. How many people do that at your job. It's not an easy thing to do and despite the talk of leaders, there are at most a hand full in the entire NBA; most teams don't have them. The Bulls have a real one. It's effect is immeasurable. Which is why the analytics guys hate them. They have asked about the Bulls: Are there enough scorers? Can they play that mid range game in this wide open NBA? Will the depth handle key injuries? Can they sustain? There remain enough questions, but they look like much more of a contender than anyone suggested last month.
Jerian Grant is really fast. I had no idea. Very impressive. I'm starting to understand why management kept him and Canaan instead of Dinwiddie. They are a good drive & kick combo.
Ateeq Ahmed
Sam: You never can count on everyone being healthy, but if Grant can be that physical, pressuring scoring guard when McDermott and Rondo return, that gives the Bulls impressive depth with the return next month of Michael Carter-Williams. Guys will have to sit again, but that Grant even as you can tell being upset about being inactive hung in there and contributed is a good sign going forward given we know the vagaries of NBA life and absences.
Snell is starting for the Bucks and they showed up well against the Hawks. His stat line wasn't that bad. There is still hope. I wonder how many fans he has besides me. So Bulls get outrebounded, out shot from the field. Win the TO battle. Win the game. Central Division has the best record in the NBA.
William Kochneff
Sam: Though they have lost four of five; we're not blaming Tony. He's getting big minutes starting, which does surprise me, and nobody wishes him ill. He treated everyone well and was well liked. In eight games this month he's averaging 30 minutes and has had four double figure scoring games. But he's averaging only about nine points overall and shooting about 30 percent on threes. Again, it's tough to tell when they are kids. He has the size and skills; he played with Kawhi Leonard in high school and Snell was not quite the scorer but as highly regarded. Many thought he'd be better. You don't know what's inside them until they play for you. Mostly, it was time for him to go. Even though Carter-Williams hasn't played much with injury, the Bulls will get a long look at him when he returns next month and with his size and defensive potential he could be a good fit moving forward. Yes, how about that mighty Central Division. The East is back!
Darrell Walker brings NBA experience and new attitude to Clark Atlanta University as a coach. How come Phil didn't have him on the staff.
Mike Sutera
Sam: Good for Walker, who is an excellent basketball man. Good for Clark. They got a real coach. It seemed like Phil brought in Rambis, with whom he is close, but the coach generally selects the staff. Walker's hiring at the Division II college exposes the dirty little secret about college basketball and another example of colleges not caring as much for the athlete. Darrell is a Chicago native and tried like heck to get a coaching job with one of the Illinois and Chicago area colleges. So have other Chicago pros, like Eddie Johnson and Mark Aguirre. You'd think it would be a no brainer. Walker played for a Bulls championship team, was one of the grittiest, smartest players as a pro, was a head coach and assistant in the NBA. The best league in the world. Yet, he was told no, not qualified enough, over and over. You never coached in college. OK, now he's coaching in college.
>Who do you think top flight college players want to learn from? Someone who talked strategy with Michael Jordan and Phil Jackson and coached against them? Or John Groce? But the college sports departments seem scared of bringing in pros. Will it expose their lack of depth about the game? Threaten their Napoleonic hold over the community and program? Wouldn't it make sense if you want to recruit players of such talent to play in the NBA that they'd be interested in hearing from and working for former players who were there and know how it all works? I'm sure many current college coaches are qualified, though it is amazing how little about fundamental basketball and the NBA most rookies know. How is it so few former pros and even guys who coached in the NBA can get jobs in college? You'd think the institutions that sell themselves as about education would want the best, the brightest and the most experienced. Too bad for, yes once again, the students.
So now the Spurs coach decides to give the public a lecture on how to treat people?
For decades, he's belittled and attempted to embarrass reporters. He did and continues to do it at press conferences and during games with sideline reporters. He talks about behavior and role models? He should look in the mirror.
Matt Adler
Sam: Seriously, he's not very serious. It's an act; always has been. He loves the grumpy old man thing. It really evolved to that as he was when I got to know him an embattled coach trying to hang on, beaten up in the media even locally in San Antonio when he replaced Bob Hill with David Robinson out that season after 50-win type seasons. That after as GM he traded Rodman for Will Perdue to help rebuild the Bulls. So he kept quiet as he was maybe a few games from being fired at one time. Then in a rush championships and suddenly genius and he's laughing about it as he didn't change one thing and he went from idiot to irreplaceable. He is a realist about the absurdity of sports. He's really an unusually kind hearted guy. I've treasured that I've gotten to know him well, but he gives me as much grief as anyone. It's really a verbal competition with him. He loves it when you come back at him. But you see with Craig Sager, with some of the sideline reporters when they really are having trouble how he tries to bail them out. He calls Craig all the time. He's incredibly generous. No one ever pays for a meal he's at. And he loves good wine. He sends people around the NBA bottles of wine all the time. I've seen him at fan functions greet and engage with everyone, listening to their stories, complimenting them. But don't let anyone know. It's still his secret.
You were right about that New York media huh? Vultures are circling Phil now.
Lebron though, this is like a master class, "Selling the call..Media Edition"
Wesley Davis
Sam: Phil's sure been the punching bag this week. It's not often you feel sorry for Phil Jackson or see him as the underdog, but it's been that kind of week. Someone has to say a word of support and I'm volunteering. There certainly are many in the New York media who would like to see Phil fail. It's as I know being a native a combination of resentment of success (not being theirs), a natural New York nature of self assurance/resentment, that you are no better than me—and what are you looking at!--and it being much more interesting to sit back and watch others fight, a media spectator sport. Nowhere is journalism, or what often passes for it there, more pronounced in telling someone what someone said or might have said to provoke a reaction and then condemning them for that reaction.
Ah, but I must not get all misty in reminiscing about my media roots. The national media also did it's share of piling on as well, I noticed. Hey, 'Bron, we've got your back. This latest kerfuffle comes amidst another of those stream of conscious interviews Phil does occasionally, which is why his friends tell him not to do them too often. Phil has this weakness of being unable to have a governor on his fleeting thoughts. So he occasionally wanders into areas better left marked off, like when he once ruminated about Kobe purposely getting behind in games in high school to keep from being bored. So in an interview with ESPN about the Knicks and the triangle offense he wandered into LeBron James and his acolytes—I'm not certain which word they prefer using here lately—and noted a slang reference, posse, which has been much used and accepted over the years until Tuesday when LeBron basically accused Jackson of being a racist.
Abraham Lincoln in the waning days of the divisive Civil War was anxious to return the rebellious confederates to citizen status as quickly as possible without recriminations in order to heal the wounds and do what he set out to do, which was preserve and sustain the Republic. Barack Obama, as painful as he noted it was for his side to lose and to Donald Trump of all people, has been statesmanlike following the bitter election since he understands protecting and preserving the Republic transcends the status and feeling of any one person. Phil Jackson is no racist; far from one, a longtime Civil Rights advocate in the 60's and Civil Rights marcher, roommate of Walt Frazier; his senior staffers with the Knicks are top black executives. He was bringing teammates to Native American reservations 50 years ago to help and educate when no one else would consider it. He's been a serious and committed worker for decades in mentoring programs in the cross sections of our society. Of course, so has LeBron James. But LeBron says he cannot imagine what Jackson says in private if he says "posse" in reference to LeBron's adjuncts in public. Wow, that's a damning charge.
I doubt Phil had any intention of demeaning LeBron's business colleagues and probably doesn't even know them all. They deserve credit and have worked hard, I'm sure. What probably most upset them enough to attack Phil was his observation of LeBron wanting special treatment. It's an observation; Phil openly said Jordan got special treatment. Remember, he said the pretty girl got kissed. I didn't take it as an accusation other than an observation. And perhaps more toward how Pat Riley runs things and why maybe there was a split there with Wade leaving. Just ruminating on the events around the NBA. I doubt it was intended to insult anyone. His mind isn't exactly linear. I'll admit I didn't know posse was another negative connotation to some. Yes, I know, another old white guy. But, hey, I've got a flip phone. What? They're not using them anymore?
Here's my history on this: The etymology of posse is from posse comitatus, basically a long held common law power of the community (the good people) to come together and seek out the law breakers for the good of the many. In old West lore, it's the sheriff getting together a group of helpful, decent citizens to track down the malefactors. Posse connotes strength in numbers and righteousness in history. The 19th Century Posse Comitatus Act in the U.S. was in some sense a compromise with the end of Reconstruction; it can be argued about its limitation on voting rights in the South. But it also was used by President Eisenhower to desegregate Little Rock public schools. All that history may prove boring, but the point is posse in the general mainstream has not been to denigrate race. Phil loves to pore over words, break them down, analyze their meaning and use them inside out. He'd often ruminate about the root of words. I can't say for sure, but my guess is he used it with Steve Kerr as the rest of us would back then and say Steve was heading out with his "posse" of Jud Buechler, Luc Longley and sometimes Toni Kukoc. Even Dennis Rodman at times when Phil would suggest they add Dennis in his more morose times. I don't believe it ever occurred to Phil—we haven't spoken since before his comments—that he was demeaning LeBron or his associates.
Perhaps LeBron doesn't like Phil Jackson. No problem. From what I can gather it's not an exclusive club. LeBron also knows a lot of people don't like him. But such an inflammatory accusation of racism, especially in this sensitive time given the recent presidential race, only stirs up the media in one of those New York specialties: Let's-stand-back-and-see-which-one-kills-the-other. Then we have another story and an ugly one. Perhaps it's inappropriate not to be aware of language that might prove offensive, even if it hadn't generally been a point of emphasis previously. But perhaps it's also inappropriate to suggest to the court of public opinion that someone is a racist when that also hadn't been apparent to others and without basis.
Do you personally think that Phil meant his comments regarding Lebron James' friends to be bigoted? I do not, and assume you feel the same way. I read Jordan Rules and enough articles growing up as a kid in the Jordan era to know that bigotry has to be the furthest belief system from Phil's mind; I personally think that he was using the opportunity to bring attention to the superstar-fueled culture currently inhabited by sports executives who came up in a different era as players and coaches.
What I really can't understand is that nearly everyone in NBA media are heeding the call of Lebron James in questioning Phil's attitudes on race. James is a tremendous success, but he either has the thinnest of skins and the most calculating of minds, or is incredibly insulated to the point of delusion. Furthermore, as a black man, I find it ludicrous that a multimillionaire many times over would choose these comments as a battleground for a discussion on race. Of course wealthy blacks can be discriminated against, but this isn't one of those situations.
I assume that Phil, being in his 70's, used a term that was popular during the Bulls' first championship run and became embedded in his mind. What person of a certain age doesn't remember Arsenio Hall affectionately referring to his audience as his "posse" in the early nineties? There doesn't have to be a negative connotation just because it's coming from the mouth of a septuagenarian of a different race. I hope that media reach out to former Bulls and Lakers players and personnel to get a different perspective besides the one being pedaled by Lebron, his friends (can't use posse), and Carmelo Anthony of all people.
Terrell Bryant
Sam: I'd answered previously, but got your email as I was about to send it in to the Bulls for publication. I appreciate the perspective. You seem too well informed and sensitive to be a member of the sports media.