I know its one game, but Lauri just relegated either Mirotic or Portis to the bench. They have to give this kid 30+mpg for his development.
Rocky Rosado
Ok that first half was a disaster. Denzel and Jerian are not play makers. Thank God for Felder. Lauri had a solid debut after some first quarter jitters. Has long ways 2 go but I was impressed. In the 2nd qt there was like two or three straight plays with Chris getting the ball on the perimeter, he should never be out there. Pondexter looked terrible like most in the 1st half but than looked respectable in the 2nd. I would like to see Felder and Bakeney together in the next game. Valentine should be like CJ and do nothing but be a spot up shooter.
Bob Ding
There's been this debate among the media members at times of where the team will have more trouble, at least now with the injuries and suspension. I've said offense and others, like my colleague Bill Wennington as we discussed it at halftime Thursday, have said defense. First, I believe there never has been a young team in the history of the NBA to play good defense. So that seems like a lot to ask. And the way Hoiberg wants to play, faster with more scoring, it's that much tougher to play defense and keep scores low. People mistake low scores for defense. Thibodeau played slowly with a lot of isolation. That produces lower scores. The NBA is going the other way; Golden State is the ultimate example. Sure, they defend, too. But that's why they win 70 games. Now you have to have scoring because teams are going to put offensive bursts on you at times and no one can stop them all. So I agree that I wouldn't mind seeing more of Blakeney to take a look since he's going to have some of those games where the shots finally do go in. You can't measure statistics when a guy gets in for five minutes all the time with a shot or two.
I just read about the Portis/Mirotic incident. I think Portis has to go. Off the team, no 2nd chances. I only know what was reported, but trash talk is just talk. A punch to the face that breaks a jaw, causes a concussion, and requires surgery is unacceptable. No suspension. He's done. There have to be huge consequences. Mirotic has basically no chance now to prove himself the year. I don't care if he charged him or whatever, you just can't do that to a teammate. No matter what happens there's going to be bad blood. Of course I don't know who's siding with who in the locker room, but I have to hope most people realize that walking away or a tackle or something would have been the more adult thing to do. I'm so disappointed in him. What's you opinion?
Grant Moja
Now, I'm not minimizing the attack or damage done to Mirotic, but you give a guy who has had an exemplary record a chance. Also, don't be fooled by this teammate chemistry thing. No one works perfectly with everyone in the office. It's your professional responsibility to do your best at your job and I'm confident both can do that even if I doubt they will ever talk much again. Perhaps I'm wrong about that, but we'll see. I'm not sure what exactly led up to all this, but the accepted "trash talk," to me, also is a huge issue that somehow is routinely accepted. I believe it has a lot to do with the violence that occurs in our society. I don't see how just because you are in a game you can separate out when someone is calling you names, insulting your level of play, rubbing in excellence. It's unseemly to me, and unnecessary. That it leads to violence on occasion should hardly be a surprise. If someone is demeaning you during an NBA game isn't that you at your job? How is that different from someone in your office repeatedly calling you incompetent in front of everyone? I've heard alternate versions of who was trash talking, who was bumping, who was warning, and, after all, that's between the two and hardly unusual in a competitive scrimmage, especially with players fighting for playing time and their futures with contracts since neither is guaranteed beyond this season.
Whatever the circumstances, yes, I agree, Bobby did need to pull his punch.
I expected the Bulls were expected to be a team with some fight in them but this is not what I had in mind.
Guy Danilowitz
If reports are accurate in regards to the Portis/Mirotic incident, I have a few questions:
1. Will Mirotic be fined/suspended for his part in the incident? (Please don't tell me surgery and recovery should suffice - especially if he was the aggressor.)
2. Where were the coaches and teammates when all this was going on?
3. What does this mean for Portis' future?
Anthony Reed
It's basically a cheap shot second guess to suggest someone should have stopped it. Coaches routinely love to see guys go at it hard. That never gets broken up, and especially with two guys with a history of it, why would you now? And, plus, Mirotic, if anything, has been known in the NBA for his lack of aggressiveness. How could anyone seriously believe they were under attack from Nikola Mirotic? As for Bobby, people forget. Ron Artest beat up fans. So did Stephen Jackson, now a TV commentator. Jermaine O'Neal tried to kill a guy on the court. They all went on to productive periods and Artest is now said to be coaching material and beloved. Bobby will be fine. It was bad, sure, but we are talking about one punch in a split second. Bobby's basketball issue is he seems to have not advanced as a player despite a serious work commitment. That would be a problem for his future in the NBA.
It appears that the Portis swing on Niko was an act of frustration. Apparently Portis worked very hard over the summer in an attempt to win the starting 4 spot. Suddenly it looks like he is #3 at power forward as Niko is selected to start because of "chemistry" and the rook will get serious minutes. As you may recall, I have long preferred Bobbie over Niko because of his effort, skill and basketball IQ. There is a chance this ends Bobbie's future as a Bull which would be sad. Fighting is unacceptable especially against a team mate but there is something to be said for spirit of which Niko has not shown any to these eyes. We don't as yet know the circumstances of the unacceptable swing but it obviously was a mad Portis
John Petersen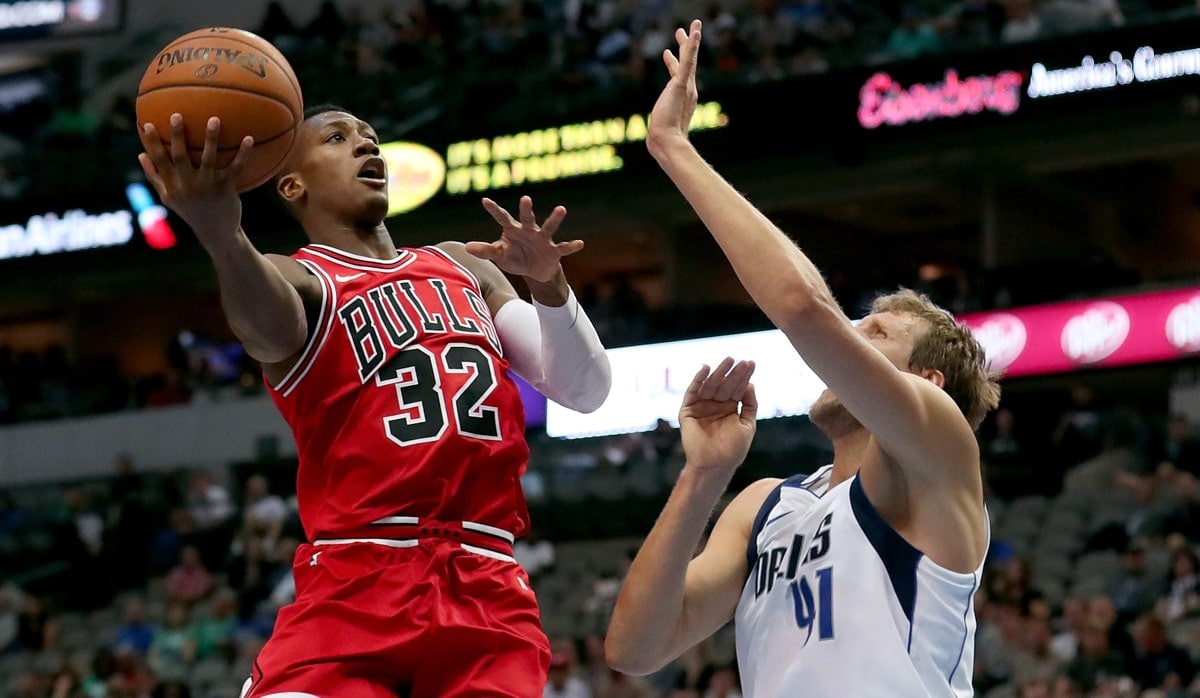 Wish I could get to see Dunn sooner. Not expecting greatness right away. Expecting tentative play right away. He needs to find a big he can trust. Then if he can bond with one of these youngsters, you have the makings of a trap. When he gets out into the open floor, promptly to the rim young man but keep the peripheral vision going for the wings slipping baseline under the guy picking up the ball. And know where are your spot up guys. Then get them the ball. Practice your touch, pass them open.
Pete Zievers
One of the disadvantages super teams have like the Cavs & Warriors is that they have to let go potential diamonds lost in the hay (players) because of cap room or simply no availability on the current roster for them. On the other hand, rebuilding teams like the Bulls can take advantage of those opportunities. Therefore, what do you think about the Kay Felder Signing ?. Reports say he's a good shooter and above average defender in spite of his size (5-10). Do you see him as a potential Nate Robinson type of player on this Bulls team?
Randall Sanders
What's with the Spurs starting lineup; looks terrible. Yes Did you see the Bucks have been shopping Henson. Henson only has a yr after this. Its not a bad deal and he is still young. Interested?
Mike Sutera
Popovich was specific in the way he dealt with Aldridge and said he was all wrong. He is unique, and unique means there aren't many ever like that. Red Auerbach was. Some others. I'm not sure there are any others like that currently working in the NBA. These are generational specialists, like Jordan or Bird or Russell or Oscar. I saw those rumors about Henson, which still are rumors for now. I believe he has two years after this at about $10 million a year. I'm fairly sure the Bulls are not pursuing those sorts of players unless they are star types. The Bulls seem to be holding cap room for now to perhaps take on a contract that gets them a good draft pick. Where they are now, that seems to make the most sense.
How about:
BULLS - Tyson Chandler, Jared Dudley, Troy Daniels, 2018 1st overall pick.
SUNS - Robin Lopez, Kris Dunn, Cristiano Felicio, Bobby Portis, 2018 2nd round pick.
Tom Plonowski
Playoffs is a reach for Orlando. You should place a big wager in Vegas if you truly believe that. 32.5 wins o/u. Miami is 44.5. I wouldn't bet either line. It reminds me of your Pelicans third in the West prediction a couple of years ago. I saw the Magic in Milwaukee last year. Jonathon Simmons and Terrance Ross minus Ibaka are not bringing 12 more wins.
Jake Henry
Thunder at #2 in the West? Wow. I just don't see how those three guys are going to fit together, though they of course are all very talented. But I'm not sure Westbrook and Anthony could stop Paul Zipser if they double-teamed him. And now Paul George is going to go from being the number one option virtually his entire career to the third option on offense and the only one of their big three who's expected to play defense? There's too much talent there for them to be bad, but I see more of a four or five seed. I was surprised how high you have Minnesota. I have faith in Thibs, at least for a few years at a time, and Butler certainly will help. But we haven't seen Butler be great on an above-average team yet. Do you think he can play enough team ball? Offensively his greatest strength is one-on-one, though who was he passing to on the Bulls the last couple of years? Seems like he'll need to play more team-oriented offense if the Wolves are going to improve that drastically. Will he be open to deferring to Towns and passing to Wiggins?
Cameron Watkins
I am a basketball fan first and a Bulls fan second so my interest this year is in watching how an implosion might occur in a franchise. I enjoyed Hoiberg's shoot 3's when you are open and move the ball around offense. Stark contrast to the T'Wolves last night where Butler was actually walking up the court without the ball. Wait he used to do that here. I will confess the Portis/Mirotic kerfuffle has made this almost to the stage of a can't turn away car crash. Yes fights happen frequently. Yes teammates don't like each other. Yes fighting for playing time. But putting someone in the hospital is a bit of overkill. Yes they are gigantic human beings but really. Just as I never realized Asik was a less than perfect teammate until he left, I'm sure there are two sides to this story.
The more interesting story is: Is this another example of Holberg coaching like he has college kids instead of grown men? In watching an implosion, there is generally not much left. Are Holberg and GarPax getting to close to the widening gyre???
Greg Young
Turning and turning in the widening gyre
The falcon cannot hear the falconer;
Things fall apart; the centre cannot hold;
Mere anarchy is loosed upon the world,
The blood-dimmed tide is loosed, and everywhere
The ceremony of innocence is drowned;
The best lack all conviction, while the worst
Are full of passionate intensity.
Surely some revelation is at hand.
Wait, that isn't about this coming Bulls season, is it?