Sampled Dunn some more. Yep. Passed way better on the glide after separation. Gets where he wants with his left hand, but likes to distribute off his right hand. Letting him get downhill on you is a mistake. Sets up his assists with his mid-range
game. That can in general work, and it works for him lately. The one exceptional thing that Dunn does is press coverage beyond the arc. Don't know if he's indifferent about it, but when he lights it up, it's hard to remember someone that's
nastier. He's not as deft as Cheeks or as cunning as Bruce Bowen. He lacks Richard Hamilton's endless energy. He's got hands like Clyde. The thing I like about him is that he plays over his feet and is reaching less. On Zion Williamson, ESPN sure
adores him. He's what happens when they're catching their breath from the LBJ tape loops. I'm not a believer. Look. He's unusual. Really, really small sample size we're talking about though. Marcus Fizer was a big dude, too. Not saying he's anyone
but Zion Williamson, but who exactly is that? history says good chance some guy outplays him that's taken twelve positions after he comes off the board. Does anybody ever look at these re-draft web pages and put things together? So, agree that
it's wait and see if he's got knife and fork disease, for starters. Tractor Traylor became Aircraft Carrier. That happens, too.
Over the history of the franchise, the Bulls have produced some really good teams. Outside of the championship teams, they were a few seasons where they made a playoff run and could have possibly gotten to the Finals to win it. The teams that
stand out to me are the '75, 89', 94' and '11 teams. What is your rank on Bulls teams that could have won that 7th?
I miss the Jordan years especially the every other night aspect of the playoffs. What a blessing that was and what farther from it we are now.
I am a John Paxson fan. I loved the Notre Dame teams he played on. Basketball was awesome then. Besides the 3 point line, posse's, and skyrocketing salaries what do you think has been the biggest change in the NBA from then to now?
PS. Is it time for Jerry to blow this whole thing up and fire everybody? Paxson, Gar, Boylen, etc. The kids are getting so traumatized they might never recover.
No one is talking about Jaylen Brown to Chicago. Why? He's perfect for us. While everyone's all high on Zion Williamson, we should unprotect our first-round pick to the Celtics right away. Get in the ear of the organization for me, would you,
please? You've got to love Kris Dunn, Zach LaVine, Jaylen Brown, Lauri Markkanen, and Wendell Carter Jr. as a starting five, right?
I get that "rebuilds take time", that we've had horrific luck with games missed due to injury, eyebrow-raising hires like Jabari, a coaching and seemingly a philosophy change. But, looking at the Hawks game, it seemed that the biggest
difference between the teams (leaving aside Trey Young is the real deal) is that the Hawks were playing together. They moved on offense and defense as a unit; they were playing for each other. The Bulls are simply not doing this, maybe at all. I
don't think "Kris comes down, partially brushes his man off a screen, ducks into the lane, and tosses up a 13 footer" constitutes team play. I would say the same thing about Zach's (Boylen-encouraged, granted) assault on the basket
lately -- especially when, as expected, he attracts a crowd, and then fails to dish off.
I give a bit more credit to the play that frees Lauri for a time-after-time wide-open 3. I'm confident that, the more they run that play, the better Lauri will shoot it, and the less open he will find himself. But that would be basketball. I'd
expect Lauri and the team to make adjustments to how they set up the freeing-up to lure the defender farther away from him, or for him to roll to the basket instead. Over and over again, we see a Bull receive a pass, his defender "get up into
him" as both Thibs and Fred used to say, and rattle him, ... and we see that Bull back off, pass back further out, essentially cave to the pressure. Isn't it fundamental basketball that when a guy crowds you on defense, you blow past him --
the two most likely results being an open path to the basket or a foul? Why don't we ever see this? Why do we keep seeing the Bulls big man defending a pick-and-roll, sag off the guard instead of showing hard? Why do we keep seeing opposing
players swoop in for offensive rebounds. Is this just going to take longer for this group to gel?
Most people seem to think the Bulls will waive Carmelo Anthony in order for him to become a free agent before the trade deadline. But, since the Lakers are supposedly so interested in acquiring his services, shouldn't the Bulls try to trade him
instead and get something out of the deal? After all, the Lakers are in desperate need of shooters and we are talking about a potential HOF here -in steep decline, I know - but still. If not the Lakers, what other teams would be interested in Melo
and would also be willing to trade some interesting players to the Bulls? Or should play Melo now that parker is out. We have nothing to lose.
What do you think if the Bulls could sign Kemba (3-4yrs, 25-30 mil per or more) and DeMarcus (1yr, 20-25mil 2nd year team option ). Could it work? Would the players take those offers? Would this make them contenders in the Eastern Conference? I
love adding a true alpha and closer in Kemba and with DeMarcus a true alpha in talent. DeMarcus's obvious health and attitude risks are mitigated.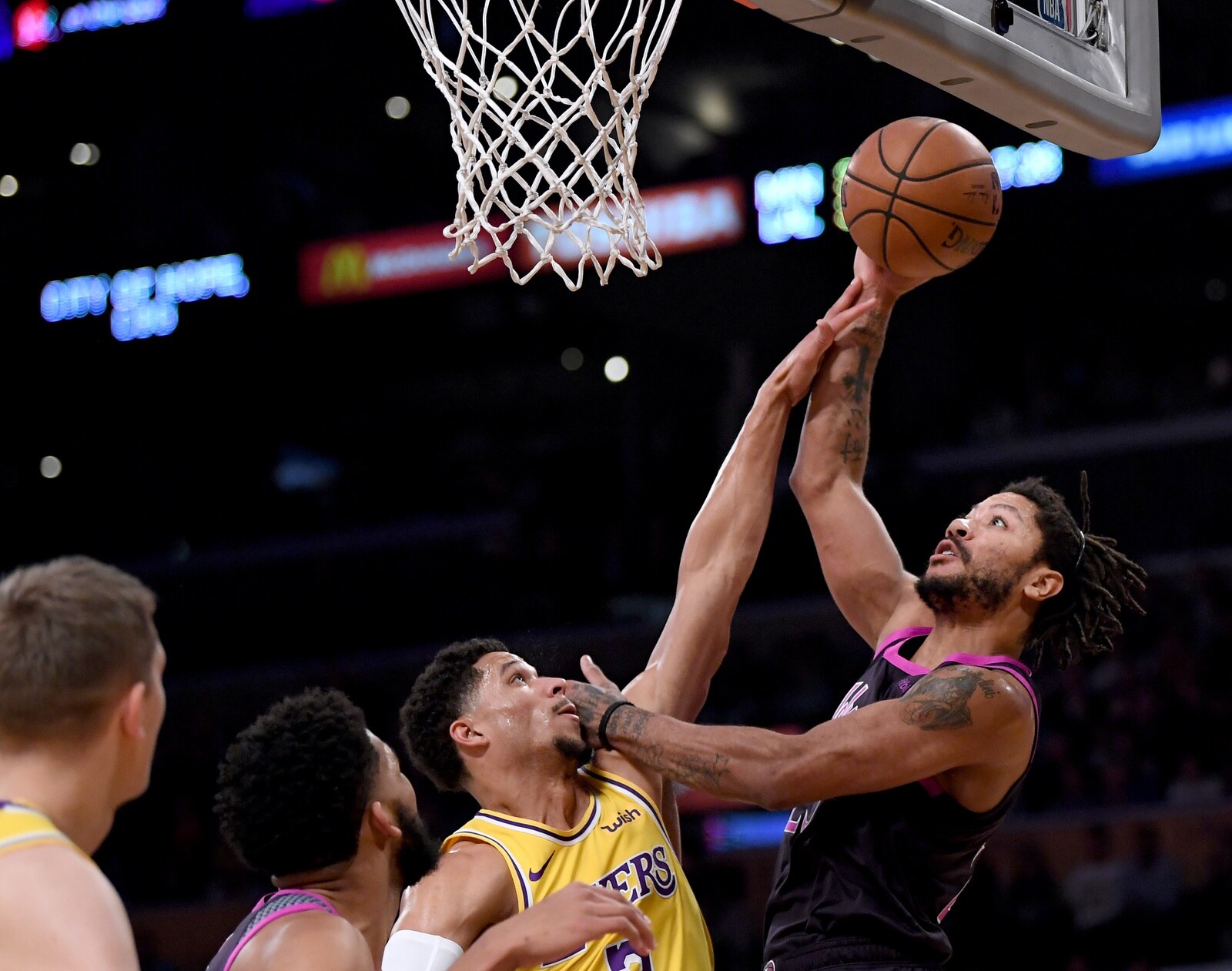 I know you have answered this question at least 50 times but, do you think the Bulls have a chance of re-signing Derrick Rose? I think his game now would work with Zach and Markennen. less pressure not having to carry or be the face of the
franchise. I think he can be a good veteran piece to take this young Bulls team.
I flipped on the Atlanta game just to check the score and it was disgusting. That's how the Cleveland game was, too, even though we won. I've been reading comments by Bulls fans today about why the team lost, and for once, I'd have to say almost
everyone is right. The Bulls lost because they did everything badly. Atlanta won because they did a couple things adequately. All in all, it looked like a YMCA pickup game with tall players.
Rather than blame these performances on the coach or management, I'm stuck on the idea that there's some good talent here, but our guys really just don't know how to play the game at the NBA level yet. It's not because they're dumb or the coach
is incompetent or they lack talent. The key players are young and haven't figured it out yet. I wouldn't give up on them yet, though I do think those of you who have to go to every game and stay to the end should get combat pay. Meanwhile, I'm
hoping they can pick up another player along the way who can prove to be a catalyst for their talent to emerge.
I am 81 years old and have been reading you [it seems], the entire time. Every week, I can't wait for Friday to get your latest views. But, your "Ask Sam" columns are too long. They have too much good stuff; they take me too long to
read. Have you ever considered doing two columns a week, each about half as long?
In your column you wrote that Jordan was a good interview pre-championships. Did fame change him? I thought he kind of got arrogant after the 2nd or 3rd championship and was definitely different after he came back. Didn't seem like the practical
joker/love of the game same guy as when he first arrived. But I live near the Jupiter/Palm Beach, Florida. A few months back, I dropped my wife off at the movies and parked the car. I'm walking along this quiet sidewalk to the theatre and in front
of me is this 6 foot 6 guy lifting his knee to kick his wife in the butt several times. Both laughing. Just having fun. I passed them up and sure enough it was MJ. Kind of an odd reminder that athletes are just humans. Nice to see that he hadn't
lost that jokester side and it was authentic.