There's an old joke about the man going to the doctor. Man moves his arm around and tells the doctor it hurts when he does that. "Then don't do that," says the doctor. I was reminded of that hearing Dwyane Wade Friday after the Bulls 103-91 loss to the Charlotte Hornets.
"I'm not mad at the shots we are getting," said Wade. "We're just not making enough of them. Some of them they are tough, some of them are forced; every team takes those. I'm not mad at the majority. We're just not making enough of them at this point in the season. I feel like our offense is good enough to score and we just haven't scored enough."
So there you have it. Just score more.
No, it's not a joke, and it's perhaps more enlightened in some respects. Yes, there's the how and how to and what to do. But what it comes down to in the end is getting the ball in the basket, and the Bulls just haven't been doing enough of it lately.
The Bulls failed to get to 40 percent shooting against the Hornets, the third time in the last four games they've shot exactly 40 percent or lower. The Bulls got a big game from Jimmy Butler with 26 points on 11 of 19 shooting. But Wade, playing after a migraine headache had him disabled much of the day, was five of 16 for 12 points. Doug McDermott and Nikola Mirotic, both productive off the bench, were, nonetheless, a combined 10 for 28 for 26 points with a double/double for Mirotic. Not to put it on Wade, but without some second big time scorer, it's difficult to win these games.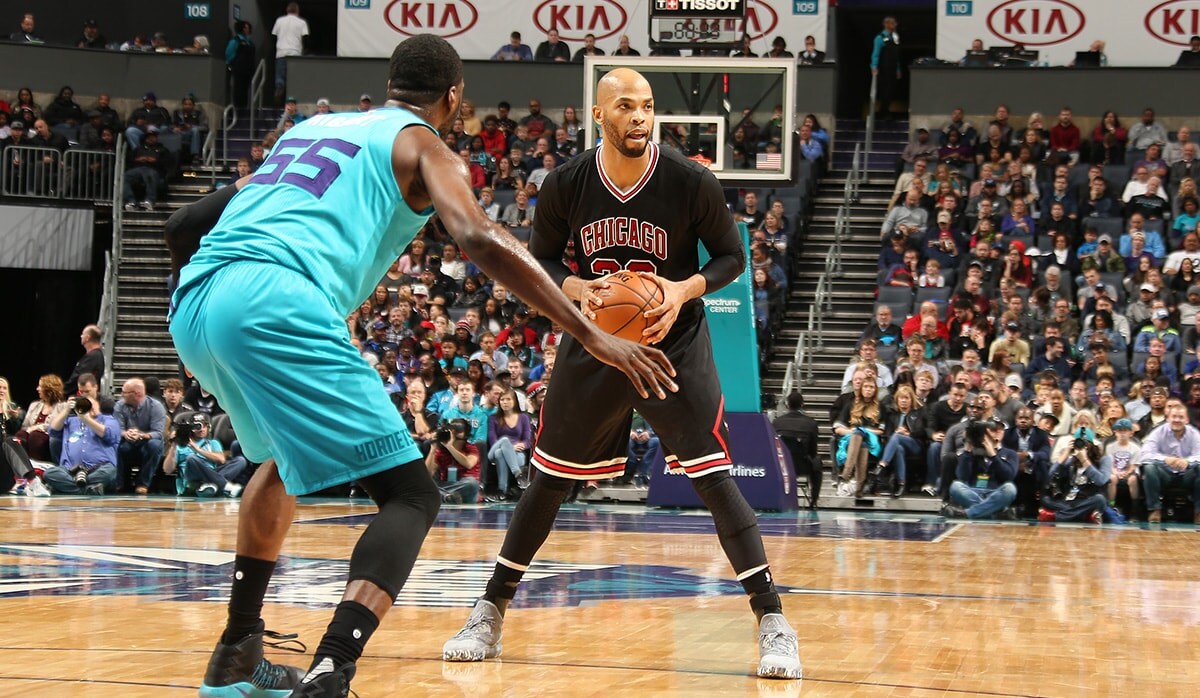 There wasn't enough there to match 20 points each from Nicholas Batum and Kemba Walker, another backcourt/perimeter team outscoring the Bulls. Batum had a triple double. And then there was barely enough to finish as frustration crept in—not only for the fans—as Taj Gibson and Robin Lopez both were ejected with 38.1 seconds left.
"It was pretty contentious," observed the usually laid back Lopez. "Tempers flared a little bit. Basketball's a passionate game. I play with passion."
Lopez had six points and nine rebounds and Gibson had 10 points. Both were frustrated by what they saw as a pattern not only of inequity, but dangerously letting the game get out of control with extracurricular activity. Gibson said that was the message he delivered that earned him a second technical foul and ejection.
"They (officials) got to get a hold of the game; can't let the game out of hand like that," said Gibson. "Guys throwing elbows and cheap shots, got to do a better job; that's all I said. People will get hurt."
Lopez basically took out two guys as Marvin Williams came to set a cross screen on Lopez with Cody Zeller stepping out. Zeller had been tormenting the Bulls all game with screens and then rolling to the rim. Lopez, who'd gotten a technical foul about a minute earlier, almost simultaneously elbowed Williams while delivering a forearm to Zeller, flattening Williams. It evolved into the milling around sort of NBA melee. Lopez received an automatic ejection with a flagrant foul level-2. With the officials going to examine the replay, Gibson offered his helpful officiating school advice. It wasn't taken well and he left for the locker room.
It was 98-89 Charlotte at the time, so the Bulls weren't about to win the game at that point, anyway.
Which was the bigger problem.
The Bulls fell to below .500 for the first time this season at 14-15. Charlotte, with owner Michael Jordan sitting courtside and pumping his fist in approval, went to 17-13. It was the Bulls eighth loss in their last 11 games with a Christmas Day game Sunday in San Antonio. And then a return for the third in four nights to face the Indiana Pacers Monday.
It's become a brutal month of December for the Bulls after the exhilarating times of the first month, 10-6 and surprising many in the NBA with their high scoring and rough defense.
But it's been a painful slide these last few weeks with the huge blown home lead against Minnesota, the blowout losses to the Bucks and Mavericks mixed in with gutty wins over the Cavaliers and Spurs.
The Bulls Friday played hard and defended aggressively. Rajon Rondo did a good job controlling the explosive Walker and Frank Kaminsky needed 14 shots for 13 points off the bench as the Bulls bench had a 30-29 edge. The Bulls outrebounded the Hornets and had 17 offensive rebounds, fighting hard on the boards, which cost them some in transition again as Charlotte had 18 fast break points.
But again the Bulls were there, trailing by three late in the third quarter after a pair of McDermott threes and by six with about four minutes left after a pair of Gibson bully ball plays through Zeller and a fancy McDermott reverse driving layup.
The Hornets came out of a timeout with, of all things, a jump shot for poor shooter Michael Kidd-Gilchrist. And he made it for a 90-82 Hornets lead with 3:57 left. The turning point play probably came next when Batum missed a three. Rondo got the long rebound at the free throw line and threw ahead 60 feet to Lopez, who had gone out to contest Batum and continued running. Lopez caught the ball ahead of the defense with Batum retreating furiously. Lopez went to lay the ball in to get the Bulls within six. But Batum caught him from behind and blocked the ball. Walker the other way then beat Lopez baseline for a reverse and 92-82 Charlotte lead with 3:12 left.
The crowd was roaring and too much to come back from for the Bulls at the mostly deliberate pace Charlotte plays. McDermott made a tough lean in jumper with 2:51 left. Lopez blocked Williams driving. But the ball went to Batum, who fired to Walker on the left wing with a second on the shot clock and he made a three for the 11-point lead with under two minutes remaining. Butler made a three. But Lopez got his technical foul, kept talking to the officials and you just knew some more stuff was coming.
Though just before the brouhaha Wade penetrated and passed to McDermott in the short left corner three space. Which McDermott had just vacated to rebound seeing Wade going to the basket.
"Every game we have there's moments, pretty much besides the Milwaukee game at Chicago, there's moments where we are doing things the right way on both ends and then there's moments where we're not on both ends," said Wade. "It's just not enough consistency. We have to get to the point where we decide to be, as a team, more consistent in what we do, in our coverages, in the way we run our offense. We have to get back in transition and make them see as many defenders as possible. We make small mistakes. Most small mistakes in this league can tear you up; we did that tonight. They were able to capitalize off it. We played good D overall; it just wasn't good enough."
Wade also backed off his observation of the other night that perhaps the play calling wasn't visionary combined with a general lack of execution.
"Going back and watching the film of the last game, sometimes when you're out there you think you might see something," said Wade. "But then when you go watch the film you see something a little different. The way you eliminate (the dry spells) is to get more stops; we haven't gotten as many stops as we need in the fourth."
And so, again, some good parts wasted.
"I thought our competitive spirit was good tonight," said coach Fred Hoiberg. "The second quarter, obviously, we lost our rhythm in a big way (outscored 26-14). It allowed them to take a lead after us getting up by eight. To allow them to take the momentum into halftime was a tough quarter. We came out and again, I thought, we fought. We got out and played with a good pace. After getting down double digits in the fourth, we cut that thing back and gave ourselves a chance to win. Then obviously things unraveled at the end."
The Bulls had led 26-22 after one quarter with a boost from Mirotic. But with Mirotic and Wade a combined three of 12 in the second quarter with a stretch of 11 straight misses and more than six minutes without scoring, it was all the Bulls could do to remain within 48-40 at halftime. Led by Butler, the Bulls quickly regained the lead in the third quarter, but then gave it up to trail 75-67 after three with Lopez struggling with the quickness of Zeller and Kaminsky. Then with another sub-40 percent shooting fourth quarter, Wade and Mirotic a combined three of 12, the Bulls lost the fourth quarter even holding the Hornets to 38 percent shooting.
"We got Taj some good early touches in the post, coming down in transition, got us going a little bit," said Hoiberg of the fourth quarter. "That opened up things on the outside; obviously important for Doug out there knocking down shots. Niko missed a couple of wide open ones that were created for him that we'll take any day of the week with him the way he's playing right now. Unfortunately that second quarter again; it just got (us) out of rhythm, out of sorts. We need to play with that kind of pace to give ourselves a chance to win in the fourth quarter."
Just a shot; that's all they want.