The Bulls Wednesday gave up a 10-point lead in the last three minutes to lose 119-114 to the Atlanta Hawks even as Jimmy Butler scored 40 points and Dwyane added 33.
But that wasn't even close to the bad part.
That came perhaps a half hour later in the Bulls locker room when Wade delivered a blistering indictment of the team's apparent commitment to performance and success, seconded by Butler as they echoed each other's comments.
"It just doesn't mean enough to guys around here to want to win ball games," Wade said, speaking mostly in a conversational tone, the words doing the screaming. "It pisses me off, but I can't be frustrated and I can't care too much for these guys; they've got to care for themselves. We have to do better.
"I've never had that problem (no heart)," Wade said when asked if that was the issue. "They have to figure that out as individuals. Guys have to look at themselves in the mirror and say, 'Do you really care enough? Are you putting everything into this for your teammates and for yourself?' I would say no, but guys have to look themselves in the mirror and see if they are doing that. My thing is, if you are going to shoot those (late game) shots you better have made those shots lots of times and you better have put the work in; I don't see that enough.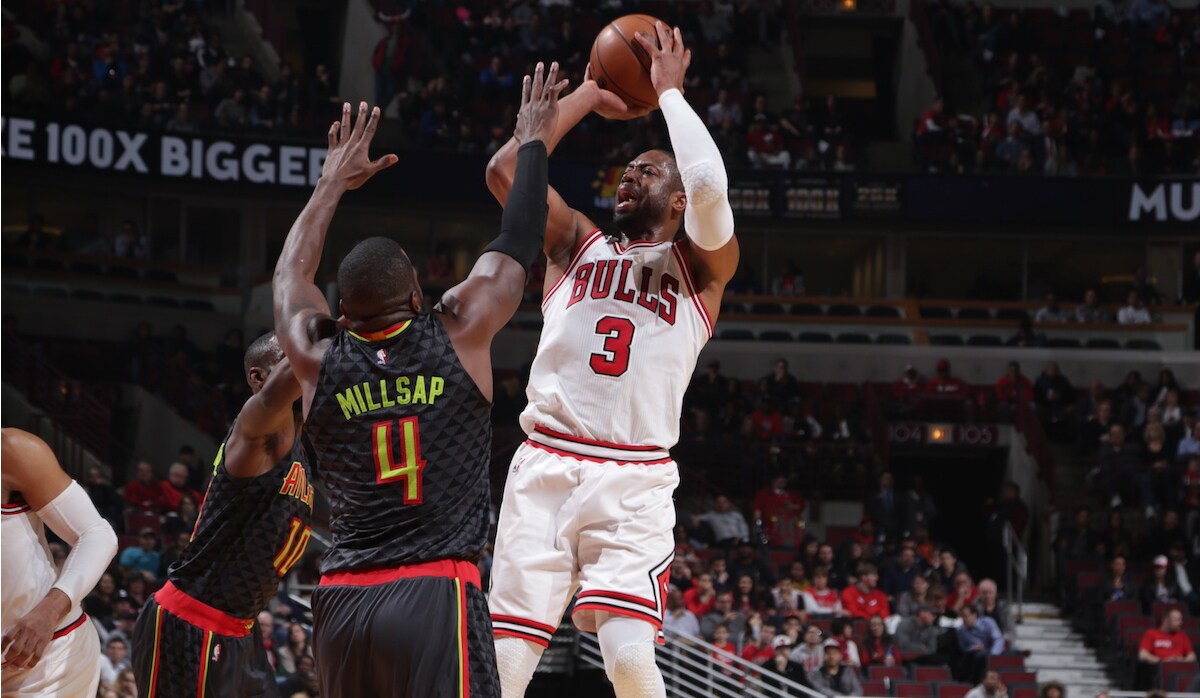 "I wish I could say that everyone in here is going to go home and not eat tonight," said Wade. "I can't say that. I wish I could, but I don't know if it hurts enough. Games like this are supposed to hurt you; you aren't supposed to sleep, no one is willing to talk to nobody. I don't know if that's in the guys in this locker room. Hopefully they can prove me wrong, but I will challenge them to see if losses like this hurt. We can play bad, we can miss shots, but we are having too many of these lapses. We are having too many of these losses; it just can't be acceptable. If you want to do something besides have an NBA jersey on and make some money, that's all we're doing around here.
"I'm not at home with people, but I don't know if I see enough guys who really, really want it," Wade continued. "It has to hurt them. I'm 35 years old; I have three championships. It shouldn't hurt me more than it hurts these young guys; they have to want it. If they don't want it, we'll show up, play Friday, hopefully we win. If we don't, then we go out to dinner again, keep it going until the season is over. It has to change, it has to hurt inside to lose games like this, this should (really) hurt.
"It's about finding a way to win games," said Wade. "Coach put the ball in my and Jimmy's hands a lot to make plays, make shots. That's our job. For the majority of the season we've done it when it counted, when we needed to. I can look at Jimmy and say Jimmy is doing his job; I think Jimmy can look at me and say Dwayne is doing his job. I don't know if we are going to keep going down the line and being able to say that. It's not about the talent; everyone is in this league for a reason. It's more than talent. I tell my son that all the time, talent alone is not going to make you a great player. There are other things that help you become a good player, a solid player, a player a team can count on.
"You see our lineup," noted Wade. "There's a lot of shuffling around; coach doesn't feel he can count on that many guys right now; that can't be. There are guys waiting for their opportunities and hopefully when they get them they step up and do the job that needs to be done. I want good for these guys; I'm here and trying to help these guys. But also it comes a time where I can't want it for you; same conversation I had with my kids. It's not every place on the team. The guys know who they are. A game like that, this point of the season, you just don't lose it."
It was difficult for anyone to say much after that with so many jaws having to be picked up off the floor.
It was an astonishing, and in some ways, risky, all or nothing, soliloquy from Wade. It was a devastating loss the way the Bulls played basically one of their better games for 45 minutes, outplaying a good Atlanta team throughout, and then giving it up in a sudden barrage of three-pointers, the Hawks an uncanny 17 of 30 threes for the game.
The Bulls, falling to 23-24, were so close to a victory that would have moved them into sixth place in the rocky Eastern Conference. As it is, they're still in eighth place.
Wade missed a 20 footer with 1:50 left and there was an open Paul Zipser three with 1:25 left. The Hawks took their first lead of the game after that with 1:12 left when Dennis Schroder beat Taj Gibson for a layup when the Bulls switched on the play. Butler then had a 17 footer go in and out with a minute left. Butler willed his way to the basket for a short bank shot to tie the game at 112 with 44.3 seconds left. The Bulls then lost Dwight Howard, which is not that easy to do, as the Hawks continued to move the ball beautifully. Howard dunked for a 114-112 Atlanta lead with 34 seconds left. The Bulls came out of a timeout with Wade circling along the baseline and firing outside for a Nikola Mirotic three with 25.3 seconds left that missed.
The Bulls then had to purposely foul. Butler tried a three, complained he was fouled, which it seemed he was, though there was no call. Game basically over with Robin Lopez picking up a technical foul amidst the team's late game frustration.
Likely if one of those threes goes, the Bulls survive. Butler and Wade were a combined eight of 14 for 21 points in the fourth quarter. The rest of the team was a combined five of 13 for 10 points. The Hawks had a 19-4 close to the game and 51.8 percent overall shooting. No Bulls player had more than three assists. Atlanta had 29 assists to 18 for the Bulls.
"The story of our year, over and over again, same thing," said Butler. "It's not the first time we've seen this; not the first time we've done it. (Guys) just got to care; end of the day do whatever it takes to help the team win. You play your role to the T; be a star in your role. That's how you win in this league. You have to embrace what this team, what this organization needs for you to do on either end of the floor. On top of everything else, play every possession like it's your last. We don't play hard all the time; it's very disappointing.
"If you are not pissed off after you lose there's something wrong; this is your job, this is what you are supposed to love to do and I don't think that everybody looks at it that way," Butler went on. "I want to play with guys who care, who play hard, who want to do well for this organization, who want to win games. Do whatever it takes; just win. Who cares who shot it. When we're winning everybody looks great, everybody is doing what they are supposed to be doing. I don't think that's happening right now.
"I understand if you have an open shot take it, but playing in a game like that offensively you have to get the ball to your best players; that's just how the game goes," Butler said. "Let it come down on my shoulders or D-Wade's shoulders. Let us be the reason why. I understand if you are open you have to shoot, but at a time and place when a guy is making shots like he was and I was, I feel like everything was going in."
It's a risky path Wade was taking. It can be the kind of diatribe that is motivation from a man who is a proven winner, among the most respected players in the NBA, if not the history of the game, a winner who knows both individual responsibility and giving up yourself for the good of the group.
But even as Wade, and Butler, didn't single out anyone individually, his polemic could be viewed as pointing fingers, driving a stake through the heart of the team with so many games left and so much current uncertainty regarding the roster and rotation.
It may come to be looked back upon as the turning point of the season in many ways.
Or just one emotional night and game in a season filled with them.
Well, you can't say they're dull.
It was an energetic game for the Bulls that looked like the end of a six-game losing streak to Atlanta. The Bulls were good with the ball, just seven turnovers to equal a season low, outrebounding Atlanta 42-39 and even scoring more fast break points than the usually fast paced Hawks. The Bulls got 10 points from Doug McDermott, the only other Bulls player in double figures, as he added a pair of three pointers. Cristiano Felicio had a nice fourth quarter start with a pair of scores and Gibson, who missed a three with 3:57 left, led the team with 10 rebounds and a game high five offensive rebounds. The Hawks even with Howard had a total of six offensive rebounds.
The Bulls led 29-22 after a 9-3 start, 59-51 at halftime and 83-78 after three quarters. Wade, despite playing in the second of a back to back, was electrifying with 20 first half points on nine of 12 shooting. Butler took the scoring baton on the third quarter with 13 points, and then the Bulls began to stretch it out in the fourth, a pair of Wade driving jumpers for a 102-91 Bulls lead with 5:12 left, Wade with a little shoulder shimmy and body English after each. Butler just moments earlier had knocked in a wild degree of difficulty three falling down for a four-point play, Butler on the floor asking if the shot went in. It seemed these two could do anything. There were good vibrations.
But they stunningly turned to quivering for the Bulls as the Hawks trailing 110-100 with 3:02 left, came out of a timeout with a quick three on top from Paul Millsap, who had 21 points. Schroder would have 24. Butler dropped the ball off to Robin Lopez on a drive. Lopez spun and lost the ball. The Hawks ran and threw ahead for a Kent Bazemore three. He missed, but got his own rebound and threw to an open Schroder in the left corner and he made a three. Suddenly, it was 110-106 with 2:15 left. Wade missed the right wing jumper badly with the Hawks helping on both he and Butler. The Hawks had a great five-pass sequence with a Bazemore touch pass to Tim Hardaway in the left corner leading to the third Atlanta three in just over a minute.
"That's what we talked about coming out of the timeout, we can't give them threes," said Bulls coach Fred Hoiberg. "The first one they ran a good play, set a flair, five-on-four, and Millsap hit a shot. Robin was stripped on a pick-and-roll and a dump-off, came down in transition, made a couple of extra passes, and hit a corner three. Then the last one they got it in transition. You've got to get back in those situations and make them take twos. Obviously, it's very disappointing to have a 10-point lead with three minutes to go and not find a way to get a win.The two tough things in this business are find a way to get over big emotional wins and tough demoralizing losses like we had tonight. You have to find a way to put it behind us and bounce back with a good effort on Friday."
Which happens to be against Wade's former team, the Miami Heat, who have won five straight.
"Those three threes obviously hurt, but we still should have won," said Wade. "I don't know what happened. You continue to be in this kind of situation and lose games like this, everyone don't care enough. It's got to mean that much to you to want to win and it doesn't.
"I've always been a person who tries to seize the moment because tomorrow is not promised to any one of us in this game of basketball," said Wade. "You're one wrong move away from never playing again; it has to mean that much to you. This is one portion of our life where we don't get this back. For me, I've always tried to do whatever I could and at least go home at night and not feel I left anything on the table. That's the mentality you have to have. Can (everyone) look at themselves in the mirror and say, 'I gave everything I had, that team just beat our butt. Let's come back in Friday and try to get a win.' I don't think we can all say that."
Is this the crucible for the Bulls? Do they survive and thrive? Or will they crumble?