Dwyane Wade Saturday stayed home to rest. His teammates went to Dallas, but this is a unified, one-for-all, all-for one Bulls team. So perhaps in support they also decided to take it easy as well. And so returned the multiple personality Bulls. Friday in the victory over defending champion Cleveland that personality was much more appealing.
Against the NBA's worst team Saturday, the Bulls were dominated from start to finish, outhustled, outmuscled and outshot in an outhouse of a game, a 107-82 Mavericks victory.
Look, they are trying, and they are as baffled, and it is still the first quarter of the season with a team filled with new faces and roles. So their frustration is as sincere as everyone's watching.
"Just have to string together wins," said Jimmy Butler, who led the Bulls with 26 points and nine rebounds, making 10 of 12 free throws. "I know we will bounce back. We have to stop losing ones we are supposed to win. It's tough to keep doing that, have a good comeback victory and the following night it doesn't go as well. What can we say? The same things we always do, learn from it, study, get better."
Just moving on. The Bulls fell to 11-8 while Dallas, coming into the game last in the NBA in scoring, shooting, rebounding and assists, climbed to 29th in the standings at 4-15.
"It's on everybody," assured Butler as critics fingers pointed more toward the bench these days "I don't think anybody played well tonight. We didn't do what we were supposed to do on either end of the floor. We didn't play with energy on either end of the floor. We didn't execute on either end of the floor. The game got out of hand really quickly, and unfortunately this time we couldn't dig ourselves out of a hole."
It was only a grave the Bulls dug early, falling behind 13-2 six minutes into the game, getting within six points for a few minutes in the second quarter, but then basically trailing by double digits the rest of the game and by 20 points or more much of the second half.
The Bulls in being one of the positive surprise teams in the NBA this season have had excellent stretches and moments, the 4-2 road trip, the convincing win over the Cavaliers. But there have been equally confusing times, namely the home losses to the Knicks and Lakers. But this one was even more perplexing against a team that failed to score 100 points in 10 of its previous 11 games and was playing without its best player, Dirk Nowitzki.
Dallas got 26 points from Wesley Matthews and 22 points from Harrison Barnes. Deron Williams had 15 assists while Dwight Powell and Dorian Finney-Smith combined for 28 points.
More significantly, the Mavs equaled the Bulls in rebounds and won on the offensive boards where the Bulls lead the league, 14-11. The Mavs had 31 assists to nine for the Bulls. Geez, nine! Dallas made 13 threes, seven of 11 for Matthews to three for the Bulls. The Bulls committed 20 turnovers that led to 24 Dallas points and had one point credited on fast breaks.
There was plenty of blame to spread around, more, as it turned out, than the ball.
"They came out and threw the first punch and kept throwing and we could just never recover from that," agreed Bulls coach Fred Hoiberg. "Last night was obviously how we need to play. We had over 30 assists last night. We did expend a ton of energy last night. But you hope at some point you catch your second wind, fight back and give yourself a chance to win. We couldn't get a loose ball. Offensive rebounds obviously were a huge issue. The last couple of games we've lost—the Lakers, tonight—they were first to the floor getting those loose balls. It was one of those nights where we're dribbling the ball off our foot, couldn't get our hands on a rebound; they were tipping it out. One of those nights and we just never recovered from it."
It was the usual just one game. But if the Bulls are to celebrate their possibilities the way they played against the Cavaliers, they also have to acknowledge their concerns the way they played in Dallas. Yes, it was the second of a back to back and without Wade, who stayed back in Chicago to rest. But the other time this season Wade judiciously—and appropriately—took a game rest in the second of a back to back, the Bulls beat a hungry Lakers team in Los Angeles.
This was a Mavs team that's played perhaps the poorest in the NBA this season, losing to the Cavs by 38, to the Knicks, Grizzlies and Jazz each by 16, to the Magic, eight straight recently.
Butler was correct in that it was everybody since the starters got behind double digits quickly and Butler got a second foul five minutes in, though trailing 11-2 at the time. So Hoiberg went quickly and unusually to Isaiah Canaan, Denzel Valentine and Jerian Grant midway through the first quarter. An energy boost from the reserves; it was a reasonable idea and relatively common tactic with teams that come out lethargically.
But the issues with the reserves continued as the Bulls fell further behind 23-6 and then 29-18 after one quarter.
Nikola Mirotic started for the absent Wade with Butler moving to the backcourt.
Mirotic was zero for four in 13 minutes and only played three minutes after halftime. He is shooting six of 27 the last four games. Isaiah Canaan had 10 points Saturday on four of six shooting, but he is 13 for 38 the last five games. Grant since his strong game against Damian Lillard in Portland is shooting eight of 26.
"Right now we're just struggling with the bench group to get the ball in the basket," agreed Hoiberg. "To just give us a lift when we need it."
Hoiberg tried everyone Saturday with Cristiano Felicio playing double figure minutes for the first time since Nov. 5 and Paul Zipser playing for the second time since Nov. 7. Valentine played at least 20 minutes for the second time this season. That group got some good news as Doug McDermott is expected to practice with the D-league Windy City Bulls and perhaps play with the Bulls early next week after concussion issues. Though Michael Carter-Williams remains out. McDermott has been the consistent double digit scorer coming off the bench. The Bulls desperately need those points.
"Those guys are key pieces to our bench," acknowledged Hoiberg. "They were playing very good early. Doug had 25 points against Indiana; Michael's a guy who plays with great energy, can defend multiple positions, gives you another playmaker. Sure, those guys being out has affected our bench. We have to keep fighting, keep battling, regroup, get ready for this upcoming back to back. Just one of those nights when nothing seemed to go right."
The reserves were only outscored 31-28 by the Dallas bench, so there, indeed, was plenty of blame to spread around. Robin Lopez had 15 points and seven rebounds and Taj Gibson had 11 points, though the Bulls didn't seem as committed to going inside to the duo as they were against Cleveland. It was probably Rajon Rondo's toughest game as a Bull with two points, two rebounds, two assists and five turnovers. Though when the starters were stale, there still wasn't enough backup.
"We've been a pretty good first quarter team; tonight we weren't. We win as a team; we lose as a team," Rondo reiterated.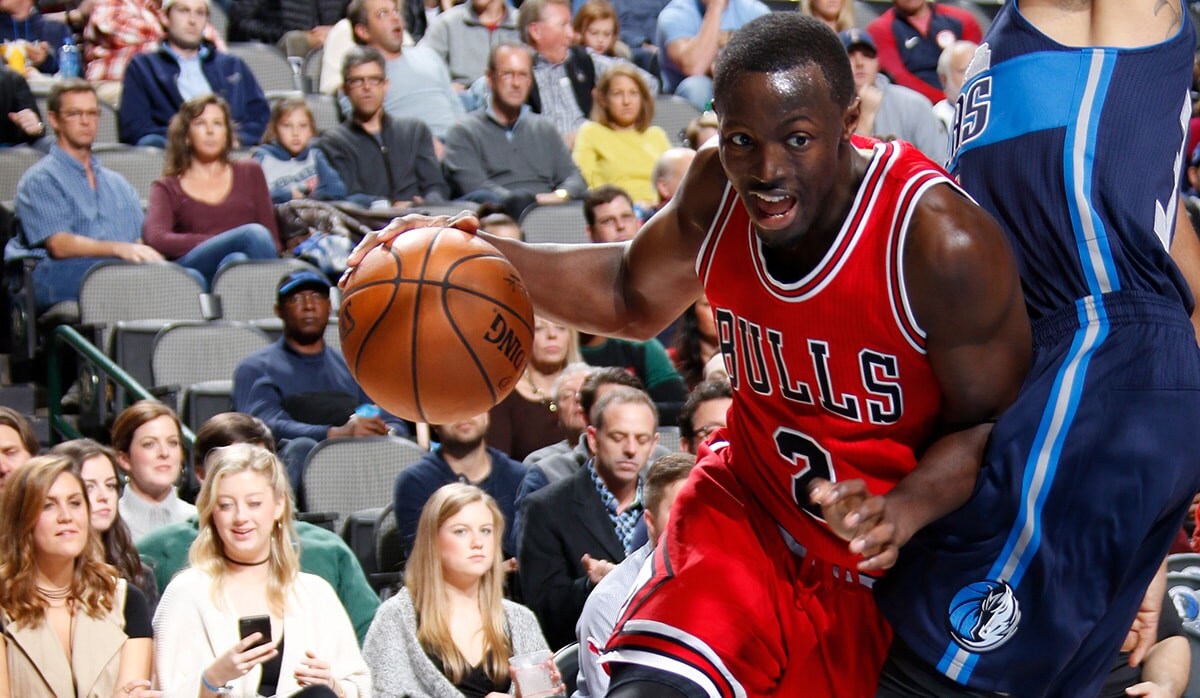 That start shooting one of eight with four turnovers led to Dallas' largest lead of the season six minutes into the game. Those sorts of things give a struggling team confidence. The shots seem to come easier after that. Grant gave the Bulls a few scores in the second quarter with Lopez converting second shots to seem to make it a game, the Bulls trailing 45-39 with four minutes left in the fist half. But three consecutive Dallas possessions with second and third shots led to a 10-3 run and 57-45 Mavs halftime lead. The starters went right back into the hole to open the third quarter, Dallas with a 10-4 run for a 67-49 lead as Hoiberg went back to the reserves three minutes in.
"It's a roller coaster," said Rondo. "But that's part of it; it's adversity, 10 new guys continuing to grow and find a way to get wins."
The reserves couldn't generate much and then Butler took it upon himself, ramming his way to the basket for six straight points. Perhaps symbolic of the game for the Bulls was Butler basically being bear hugged on a drive and breaking through for a layup without a foul call. Butler complained, was called for a technical and then had to go to the bench for first aid as he was grabbed and mauled so much on the drive he started bleeding heavily.
Dallas led 82-66 after three quarters, and Hoiberg went with five deep bench guys to open the fourth. They knocked the deficit down to 12 with 9:39 left. But as Hoiberg signaled the starters to get back in, that group gave up five quick points. The Bulls were trailing 91-74 with seven minutes left and Matthews banged in two quick threes to deny hope.
"Yeah, (I have) a lot of confidence in the young guys," said Butler, the starters consistently standing up for their teammates. "But I think they need to have more confidence in themselves than we can put in them. That's all it comes down to. We have some really good players, but they have to believe it first before anyone else can. We need everybody. We have to make sure we're closer than anything. We are all we have."