They were great days, great days with great guys, great experiences, and just a lot of fun. That's how Joakim Noah says he remembers those nine years in Chicago, growing up in the NBA, but never really losing the little kid in him. The wine in the sauna, the late nights in the city, shoulder to shoulder with the fans he loved, whose disappointments he understood as they were his own, whose elation he cherished.
"I really don't know what to expect (about his first return to Chicago as a New York Knick)," Noah said earlier this week after Knicks practice. "I just want to compete and have fun; the UC will always be special to me; the Bulls always will be special to me.
"I always felt there was a special relationship; I always have love for Chicago," said Noah. "Even though I didn't grow up there, I feel like Chicago is always going to be a part of me. I'm not the type of guy to talk (about the end); it's not my style. But it's the truth: At the end of the day I have no regrets. I gave everything on the court, the city showed me a lot of love and I tried to give the same.
"What stands out to be honest is the locker room," said Noah. "The years in the sauna with my teammates after big games, drinking wine, on the plane with my teammates. Going out after big wins. I'll never forget some of those nights with my teammates. To me that's how you're in the community, in the streets. We were young and wild and free and played hard and celebrated. My teammates know what I'm talking about. We had great guys and we had a great time together.
We had a great time on and off the court; we played hard and we celebrated."
That's life to Joakim Noah, a life of giving all he has everywhere he goes.
Though last season ended ruefully for that team, even more so for Noah after playing just 29 games and his season ending with shoulder surgery, Noah says he has nothing but wonderful memories of the birth and maturation of his pro career. Don't believe what you hear in some places, he says. It was a terrific group that did a lot and grew up together.
They had brilliant highs, leading the NBA in wins consecutive seasons, a run to the Eastern Conference finals, a 2011-12 season when they thought it was theirs and not only was Derrick Rose injured, but Noah shortly thereafter. It's mostly forgotten, but Noah's absence was as critical. He was the guy who thumbed his nose at LeBron James and the supposed elite, who backed it up with a Defensive Player of the Year award, a top five place in MVP voting, a seventh game win so brilliant in 2013 many in the organization from the championship years consider it one of the greatest individual performances in franchise history.
There was Noah's heartfelt overture to fans after Luol Deng was traded and what the meaning of the relationship was, his historic assist and energy games that defied conventional basketball knowledge. The wild haired kid in the white seersucker suit on draft day evolved into a community treasure with a giving foundation and personal appeals to end violence.
His personal highlights were many, and most remember his coming out party with the steal from Paul Pierce in the 2009 triple overtime first round playoff game, the decisive flush of exultation. The Bulls would lose that seventh game, but begin a run that endeared that bunch of kids to the community.
"That Boston series really set the tone," said Noah. "Not even just that play with me. You see some of these young guys (on that team). They haven't played in the playoffs and you don't understand what it's about until you feel that intensity, feel that type of energy. That series not only was it fun and special to be a part of, but set the tone for his (Derrick Rose's) career and my career as well."
Those careers are in New York now. Rose's and Noah's Knicks visit the Bulls Friday. And Noah sounds much like Dwyane Wade does with the Bulls now, grateful for everything he accomplished and enjoyed before with his draft team, but thrilled to live out his childhood fantasy, wear the jersey he imagined himself in during all those games growing up.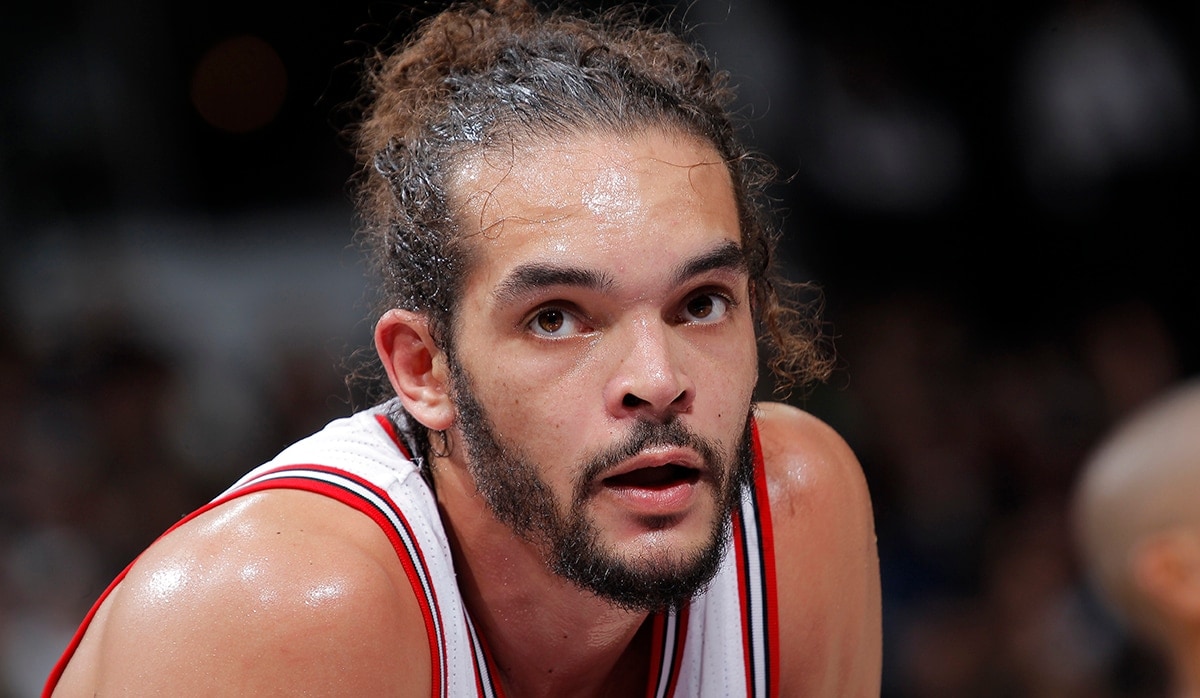 "It's a blessing for me to be able to play for your childhood dream team," said Noah. "It always was my childhood dream since I was six years old to wear this uniform; to finally wear it is special. I never took playing in Madison Square Garden for granted and now to be playing in that building is special for me."
Noah is introduced in New York as being from "Hell's Kitchen," the West Side neighborhood near Madison Square Garden where he was raised. He now lives west of the Garden near the Hudson River and walks to games, likely the only NBA player who does so. But Joakim Noah often was the only NBA player who looked like he did, did what he did and said what he did.
He understood last season it was time, and so it was no real shock he was moving on when Rose was traded and the Bulls got Robin Lopez in the trade. That it would be to the Knicks was a dream.
"When Robin got traded for Derrick I knew there was an opening for a job," Noah said.
He's actually cultivated a relationship with Phil Jackson, though never believing it would come to working together in New York. Always the adventurer and the traveling truth seeker, Noah during the 2011-12 lockout asked Jackson if he could visit him in Montana and absorb some of that championship wisdom. The Bulls had just lost in the conference finals and Noah felt they were on the verge even after losing in five games to Miami. Seek out the Zen Master. It even was in the mountains.
"I think it happened to me years ago when I went to visit Phil in Montana," said Noah. "He wasn't with the Knicks yet. I went to go visit him. I got to spend time with him and four years later here we are. My father used to make me read his books when I was a kid. I always was a big fan and was blessed enough to build a small relationship. When we played the Lakers I would go and pay my respects.
"I was excited (last summer) because I knew at that point it was going to be a new chapter in my life," Noah said. "The way the year went down and the year before (with the coaching change), I think everybody knew it was time for change. I think everybody had a year to digest that. Then I was injured. Nobody knows what would have happened if I wasn't injured; it's easy to speculate now. Overall, it's unbelievable how important chemistry is. I'm happy here. I know we have a lot of work to do. This is a healthy group and from what I'm seeing with the Bulls they seem to be a happy and healthy group, too, so I'm happy for them."
Joakim Noah is returning for a visit, but he'll always have a place to stay in the hearts of the city.