There may have been better debuts in a Bulls uniform than Wendell Carter Jr., who Saturday put up 16 points, nine rebounds, five blocks, two steals and hit two of three on 3-pointers in the Bulls 86-81 Summer League victory over the Cleveland Cavaliers.
But it's difficult to think of many.
Bulls management may want to stay in Las Vegas the way they are getting jackpots with 7s, last year with Lauri Markkanen No. 7 in the NBA draft as part of the Jimmy Butler trade, and this year at No. 7 Carter Jr., who was arguably the most impressive rookie player in this opening weekend of the summer games.
"For a 19-year-old kid to play with that poise is mind boggling," marveled Bulls assistant Randy Brown, who is coaching the summer squad. "The two threes he made were huge and the two-handed rebound he made at the end of the game; haven't seen anything like that in a long time. The kid is relentless, unselfish; he doesn't mind moving the ball. Nothing fazes this kid. I told him in the (late game) timeout, 'Wendell, we need you to get this rebound.' And he grabs it with two hands in traffic. Something we haven't had on our team in a long time, a guy who can control the paint like that."
The soft-spoken Carter was nothing short of a screaming revelation before a full house in the Thomas & Mack Center on the UNLV campus. The sellout crowd hung in after the feature game of the night, the Suns and No. 1 pick Deandre Ayton against the Kings and No. 2 selection Marvin Bagley, Carter Jr's Duke teammate.
Carter was overshadowed by the springy Bagley in college, accepting the front court support role and enabling Bagley to excel. Carter had been Duke's top front court recruit, but Bagley reclassified late, casting a bit of a shadow on Carter's excellence. Carter insisted if it were in the interests of team success, he was all in.
But Carter also promised his game would expand in the NBA, and the first returns were extraordinary.
From winning the opening tip to a quick score on a short jumper to open the game to a pair of stunning blocks early, including one on seven footer Ante Zizic in which Carter caught the ball, to defensive pressures against guards on switches to a specular close after the Bulls in the fourth quarter fell behind with a crucial steal, finishing a pick and roll and a three after tipping an offensive rebound to himself, Carter was the story of the day.
It was one excellent play after the next, Carter's stoic expression rarely changing as he dove to tie up opponents and then win the jump ball on one end and then was catching neat pocket passes from fellow rookie Chandler Hutchison on the other.
"That dude," marveled Hutchison, "there's a reason he's here and got the recognition he did. He plays really hard. Defensively, I thought he was spectacular. He surprised me on that end; blocking shots, being a force, rebounding the ball."
Hutchison had his own terrific premier with 13 points and six of eight on free throws as he frequently drove to the basket. He's still a little weak as a finisher at 6-7 and a bit under 200 pounds. But he is remarkably fluid in the open court, early in the game taking a rebound and driving full court with a curling finish that gave you a Scottie Pippen flashback. Hutchison had just two assists, but more because teammates weren't ready for his adept passing while flying down the court. Late in the game with Carter aware of how much Hutchison could do with the ball, the two connected on a marvelous pick and roll with Carter scoring on Hutchison's slick pocket pass.
"We haven't had a guy like this in a long time, also, who can get out and run," said Brown. "He's athletic enough, smart enough, doesn't take bad shots, is coachable. Doesn't make a lot of mistakes, plays both ends, doesn't take plays off."
The Bulls didn't much in Saturday's opener, either.
Antonio Blakeney led the team with 25 points. Backcourt mate Ryan Arcidiacono added 10 points. Bruising Jarnell Stokes off the bench had eight points in 11 minutes. Zizic had 25 points and 11 rebounds for the Cavs and rookie Collin Sexton had 14 points.
Bulls free agent guard Zach LaVine sat courtside for the Sacramento and then Bulls game, the Bulls weighing a Kings restricted free agent offer to LaVine. LaVine wore a white outfit with diamonds.
But the real jewels were Carter and Hutchison.
The Bulls jumped out ahead with Carter's back to back blocks stunning the crowd. Blakeney was hot scoring and the Bulls led 21-16 after one quarter and 47-39 at halftime. Carter remained in the middle with strong rebounding and a soft face up jump shot.
"I went out there and played my game, not trying to force anything," said Carter. "People say the first game you'll be nervous, but I just tried to stay in the middle and have fun. This NBA game, the court is a lot bigger; it's one on one most of the time. I'm going to be able to showcase a lot more things as I get bigger, stronger, and a better pro."
Bigger and stronger? Carter already is about 6-10 and 260 pounds and is unusually physical for a teenage player.
Even bigger and stronger, Carter was asked.
The Bulls drifted in the third quarter after taking a 15-point lead with some uncertain play and five turnovers from Blakeney. The Cavs then took a lead early in the fourth quarter. So Brown brought back his starters with Blakeney, Arcidiacono, Carter, Hutchison and Loyola's Donte Ingram, the latter who had a quiet game with five points and four rebounds.
And though he doesn't say much, it was a noisy close by Carter. There was that roll and score on a pass from Hutchison on the pick play. Carter then stole an inbounds pass after he was called for a questionable foul. It was a quiet intensity to succeed. Earlier in the game after Zizic drove by Carter on a spin move, Carter came right back with the play of the game, pinning a Zizic layup attempt and catching the ball to start a break.
"I'm always going to make a play if something bad happens," said Carter. "If it's making a shot or getting a rebound, the last rebound of the game, I just want to help my team win in whatever way I can. It's something I've been working on, not letting the past affect me, learning from it and moving on."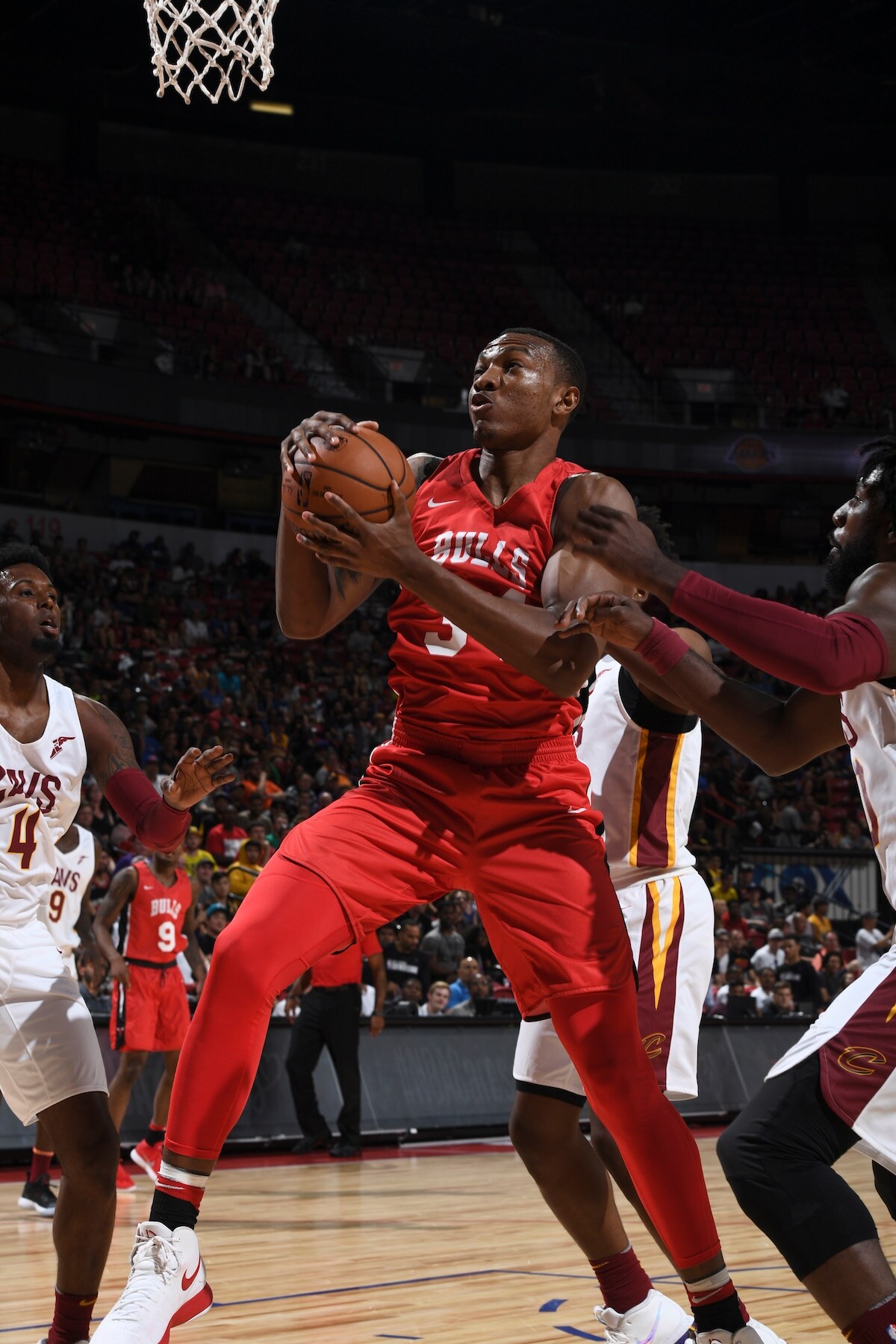 There's the "just Summer League" disclaimer, but here was this kid making every big play. And amidst 15,000 very loud and active fans. Carter tipped a miss to himself for that three, then a tie-up and winning the jump, all crucial plays that enabled the Bulls to get that first win.
Which means a lot less than seeing what this past season and this draft appears to have yielded, two bright, aggressive, talented players who make winning plays.
"I'm all about getting my teammates (involved) out there," said Carter. "If the ball gets to me in open spots, spots I like to take the shots, I try not to force anything and be a great defender. The blocks? It's more fight. If you want to do it, you can do it. It's a will to fight for it."
The Bulls might have found themselves a winner.