It was early in the fourth quarter of a game that was slipping away, looking like a Boston massacre, the Celtics driving forth to start the fourth quarter for an 86-70 lead over the Bulls. Time out. This was no tea party. Bodies were flying around like saucers. Cut to a few words from Dwyane Wade.
"I think D. Wade said it best in the huddle in the fourth quarter," related Jimmy Butler. "Keeping the cuss words out, but he said we have a lot of fighters on this team. We do. We didn't give up, we kept playing to the end."
And the Bulls almost, almost did steal one in playing right to the end Wednesday, Nikola Mirotic shooting a pair of free throws with 1:36 left in the game and the Celtics clinging to a 101-100 lead. Both rimmed in and out. Isaiah Thomas with 23 points hit a driving scoop shot, Rajon Rondo missed and then the Bulls playing small down the stretch could not grab a crucial defensive rebound and the Celtics with another possession went on to close out the 107-100 win.
Butler had 23 points and nine rebounds and Mirotic off the bench had 17 points and was three of six on threes, eight of 11 from the free throw line. Wade added 15 points and Rondo had 12 points and 10 rebounds in the Bulls 49-39 rebounding advantage. In the end, the Bulls could not overcome 14 Celtics three pointers, especially four in the third quarter by Celtics big man Amir Johnson, who had averaged five made per season in his 11 years coming into this season. Then he made four in one quarter. Johnson with 23 points overall made all four of his attempts in the third, nearly outscoring the Bulls with 16 points to their 18 in the quarter. It left the Bulls with their second significant double digit deficit of the game after falling behind 36-25 in the first quarter.
No one welcomed the defeat to fall to 3-1 on the season. But the relentless comebacks in a game in which the Celtics were controlling the tempo and stifling the Bulls ball movement was testament to the mettle, the steely conviction that immediately defines this Bulls team. Never give in; never give up. Defy the odds. Earlier in the day at team practice, Wade had urged his teammates, "Let's make it 4-0; shock the world." They didn't get there, but that leadership speaks less of one game than a season ahead. Never going down without the effort. You don't turn your back on that; opponents better not.
"I like the fight of this team," emphasized Wade. "We gave ourselves a chance to win and that's at the end of the day on the road all you can ask for; there are some things we can clean up, continue to get better at. Overall, I liked the effort we put out there. Keep fighting, keep plugging away. We had guys who came in, Jerian Grant came in and did a great job in the second quarter, Denzel (Valentine) gave us minutes and Bobby (Portis) came in and played big for us. Our bench was big for us in giving us an opportunity to come back."
"Good test for our first tough road game," Wade added. "There are not too many tougher places to play than here. I've been in this gym before where they came out and played the same way and we lost by a lot. We can nit pick everything, but we won't; just have better effort and take care of the ball more. I said this coming out of preseason: I didn't know a lot about what was going to happen, but I knew this team had fight. I saw that early in preseason. More times than not you play that way you are going to win more games than you are going to lose.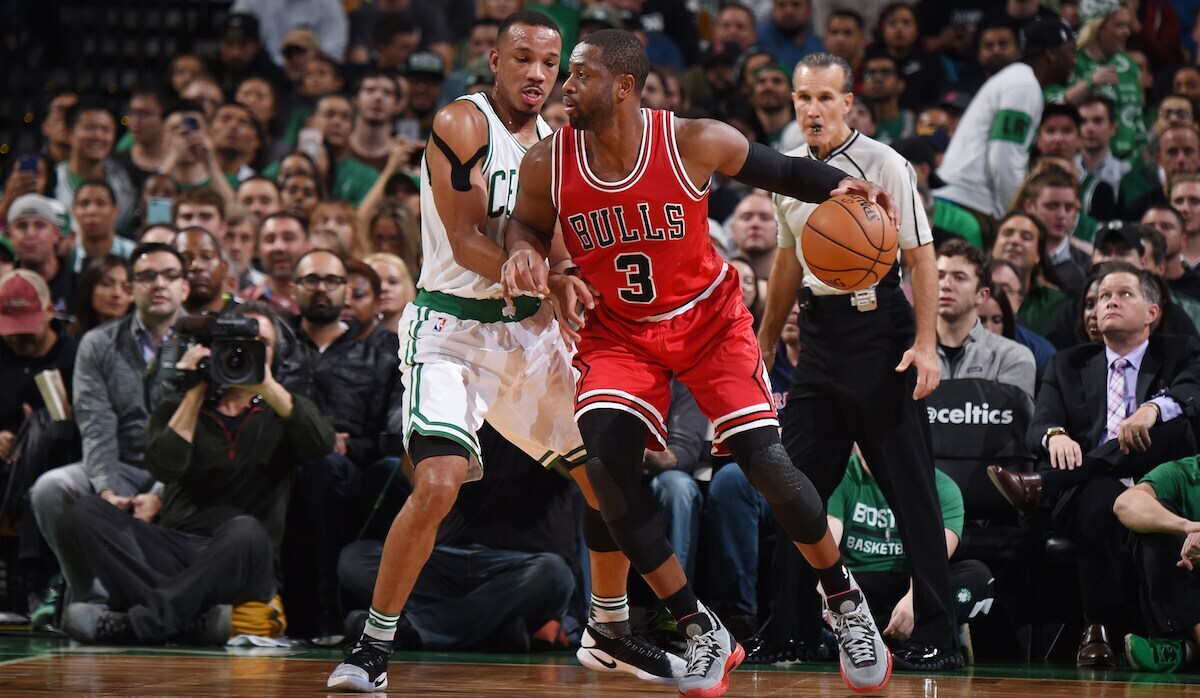 "You see a team get smacked and fade away and then you see a team get smacked and they want to keep getting smacked and get in your face," Wade went on. "That's the kind of group we have. That's what I liked about this team from afar when we first got together. I know we have some tough guys. The style we play some nights is not going to be pretty; we're going to have to get in there and grind it out and gut some out, but I like this team."
And so the Bulls move on to Friday's homecoming game for Derrick Rose and Joakim Noah and the 1-3 Knicks. It figures to be an enthusiastic beginning, and then business.
"We have a job to do no matter what team steps into the United Center," said Butler. "We're trying to win; we want to win as many of these games as we can."
Even Wednesday's loss shouldn't lessen much enthusiasm about that.
Yes, the Celtics were without injured Al Horford, and Jae Crowder sprained his ankle and went out for the game in the first half after a fast start. But the Bulls were without Doug McDermott, still not cleared to play after a minor concussion in Monday's win in Brooklyn. Michael Carter-Williams is out with a knee injury.
There also were some debts to pay after a physical game in Chicago in the Bulls opener last week with a win over the Celtics. Crowder and Butler exchanged some bumps then and Crowder later told Boston media the Celtics were "punked." The Celtics did deliver some shots not exactly at the basket at times, Mirotic taking the brunt of one as Jonas Jerebko ran through him on a three-point attempt.
"They were the tougher team tonight," admitted Butler.
Though mostly they were the better shooting, the Bulls a bit slow in their defensive rotations to start as well as getting out to shooters. Especially Johnson in that third quarter, though the scouting report had him to be played as a driver.
"It was tough because the scouting report did not have that," said Gibson. "I could hear the coaching staff saying slow up (so he doesn't drive past). But he hit those shots. I'll definitely be ready next time."
Johnson's first three attempts from distance were wide open, the fourth with Gibson coming up on him.
"You don't disrespect a guy, but those are shots you want," said Wade. "You play the odds and obviously it's the NBA, but I don't know if we expected the big fella to hit four threes, go four for four. Obviously we gave him the first two; after that you have to be aware. When a player gets going he gets going. The fourth one he didn't even follow through and it went in."
Sometimes you're the bug after being the windshield.
After that unlikely barrage with the Celtics leading 81-70 after three quarters, coach Fred Hoiberg went most of the fourth quarter with Wade, Mirotic, Butler, Isaiah Canaan and Bobby Portis, a first time lineup and especially to close the game.
"They obviously got off to the hot start," noted Hoiberg of the Celtics six first quarter threes. "A strength of ours the first three games of the season (has been) holding our first three opponents to 20 points each in the first quarter; allowed 36 tonight. We weren't valuing the possessions. One of the Celtics big strengths is turning teams over and capitalizing on them. That happened tonight (19 turnovers with six early that started a 14-4 Celtics first quarter run after a 10-5 Bulls start). We fought to get back in the game in the fourth quarter.
"Obviously you don't account for Amir Johnson knocking down four threes," agreed Hoiberg. "His first one our hands were down; you go out and contest that shot maybe it's different the rest of the game. Our contests weren't as urgent as they have been. I thought we gave them too many dare (you to make them) shots. That was the lineup that got us back into the game. So we stayed with it. We had a chance, had an opportunity to take the lead with some free throws late and didn't do it. Then a couple of key possessions where we didn't track the rebound down."
So the end of the three-game winning streak.
But they are taking responsibility and looking forward.
"Lot of miscommunication, lot of lazy switches, and they made shots," noted Butler. "If you are making shots you are going to be tough to beat. We still can't give guys what we call dare shots; we should have switched up some coverages. We should have talked it out on the floor whether we were showing or switching. That has to be on the players to recognize that guy just hit two in a row and we have to get out there and put a hand up. That's on us; we'll be better."
It looks like they will this time.