Is it that same old Bulls story? Bobby Portis inside, Bobby Portis outside, Bobby Portis pumping up the crowd and carrying the Bulls? But what about Bobby's supporting cast in the Bulls Thursday 116-115 loss to the Philadelphia 76ers?
Sounds a bit Jordanesque. But for one night — and the Bulls hope there will be more, but it's hard to believe there's another of these — Portis had probably the best game of his life. No, not just this season or in his three-year Bulls career. No one could find evidence, though Portis said afterward these sorts of games were common for him, that in college or high school Portis ever had a game like he did Thursday with 38 points, 11 more than his NBA career high, along with six of nine three pointers. And then what would have been the magic moment, a short bank shot with a second left to win the game. But even with a mismatch on a beautiful out of bounds play after the 76ers recovered from a five-point deficit with less than a minute to play, Portis' hero clock struck midnight. The shoe didn't fit.
"I think I should have just went up and not dribbled," lamented Portis. "I had T.J. McConnell on me. If I can go back I would have went up the first time off the glass. I don't know why I dribbled. At the same time, we still got another look with Denzel."
Denzel Valentine's desperation follow missed. It would have erased his fatal in bounds pass mistake seconds earlier to allow the 76ers to come back to the eventual result.
"We have to close out games better, probably 8, 9, 10, 11, 12 games this year we had the game and didn't close it out," said Portis.
We heard that lament often earlier in the season, and the message that if the team plays as hard as it did Thursday it will win a lot of games. But perhaps never like this with Portis' astounding game. He did have support with 23 points from Zach LaVine and a career high 21 points from David Nwaba. Kris Dunn and Lauri Markkanen could never get much going, combining for eight points and three of 19 shooting overall.
It was mostly an extraordinary game from the reserves, though with the team's mandate to play young players the last 25 games—Robin Lopez, Justin Holiday and Jerian Grant didn't play—it's not clear who is a starter or reserve for this stretch.
The core players of LaVine, Markkanen and Dunn are starting now along with Nwaba and Cristiano Felicio. Bulls coach Fred Hoiberg said that unit will remain the same for the three-game road trip that starts in Minnesota Saturday with the rematch with Jimmy Butler.
Nwaba was equally terrific with also nine rebounds and three of three on three pointers despite being known as a poor shooter. But the starters were mostly dominated by Ben Simmons, who made the winning free throws with 5.6 seconds left, with 32 points and 11 assists and Joel Embiid with 30 points, 13 rebounds, five assists and four blocks.
The Bulls may have had eight of the ten best players on the floor; the 76ers just had numbers 1 and 2.
Led by Portis, it was the Bulls reserves who turned what looked like a rout with the Bulls trailing 25-7 to start into one of the most entertaining games of the season, an up and down, fast paced shootout in which the Bulls made 18 three pointers and the 76ers shot 51 percent. Even with the brilliant play of Embiid and Simmons, the Bulls led in rebounding, including 18-9 in second chance points, had more assists and threes. But the 76ers had a whopping edge with 35 free throws shot to 15 for the Bulls, Nwaba fouling out on some questionable calls, and then Simmons, shooting 56 percent on free throws, making two for the win.
It came for the Bulls in the most unfortunate way after a LaVine three appeared to cinch the game with 1:02 left for a 115-110 lead.
Robert Covington missed a quick jumper and it seemed all the Bulls needed to do was run out the clock, maybe make one more basket.
But "Money" Portis missed a long two and Simmons blew down the court, missed and then followed his own miss. The Bulls still leading by three got the clock under 24 seconds when LaVine missed. Portis still everywhere got the ball, but missed the follow. Still, it was just 12.5 seconds left and a three-point Bulls lead.
"The plan was to foul," said Hoiberg. "You've obviously got a lot of shooters out on the floor, including their bigs. So we played the foul game; they didn't have any timeouts left." J.J. Redick made two free throws with eight seconds left to bring the 76ers within 115-114. Make some free throws and go home happy.
"Unfortunately," added Hoiberg, "we couldn't inbound the ball."
Denzel Valentine, who is a good passer, took the ball out along the left sideline. He was making an inbounds pass to LaVine he and Hoiberg said they did routinely and never had issues with. Until, well, you know, Thursday.
"Ten games in the past (using that play) someone popped to the right and it's been wide open," said Valentine. "Embiid made a heck of a play and I have to live and learn. I made a huge mistake and I take full responsibility for it. Had I called a timeout we could have drawn a new play. If coach is trusting me and putting the ball in my hands — and I have shown in the past I can make the right play — I made a huge mistake that cost us a ball game and I have to learn and be smarter."
Embiid overplayed, stole the pass and got the ball to Simmons, who made the free throws and Portis was out of miracles.
"It happens," shrugged Hoiberg. "You execute the foul; hopefully you make two. Just keep the foul game going. Obviously, we didn't get it in. Give them credit for making a good play."
But it was perhaps the ideal game, at least for the most cynical.
The Bulls played a terrific, high spirited, high energy, competitive game against one of the hottest teams in the conference with their best players playing their best. And then the Bulls, now 20-38, also lost, thus assuring their ongoing odds for the draft lottery and the top picks. That was the view of many with the benching of Lopez, Holiday and Grant in favor of players like Felicio and Cameron Payne.
Actually, all but Felicio played well as Felicio had an ugly, team worst minus-20 on the plus/minus chart. Much criticized Payne had a team best plus-17 for his time on the court with seven points and seven assists. He ran the team well and was able to get good shots, though he was just one of five on threes. He looked good in his return from surgery. Markkanen and Dunn appeared not to be ready after their Los Angeles All-Star activities. Noah Vonleh with seven rebounds in 17 minutes showed impressive strength rebounding and was second best to Payne with a plus-14.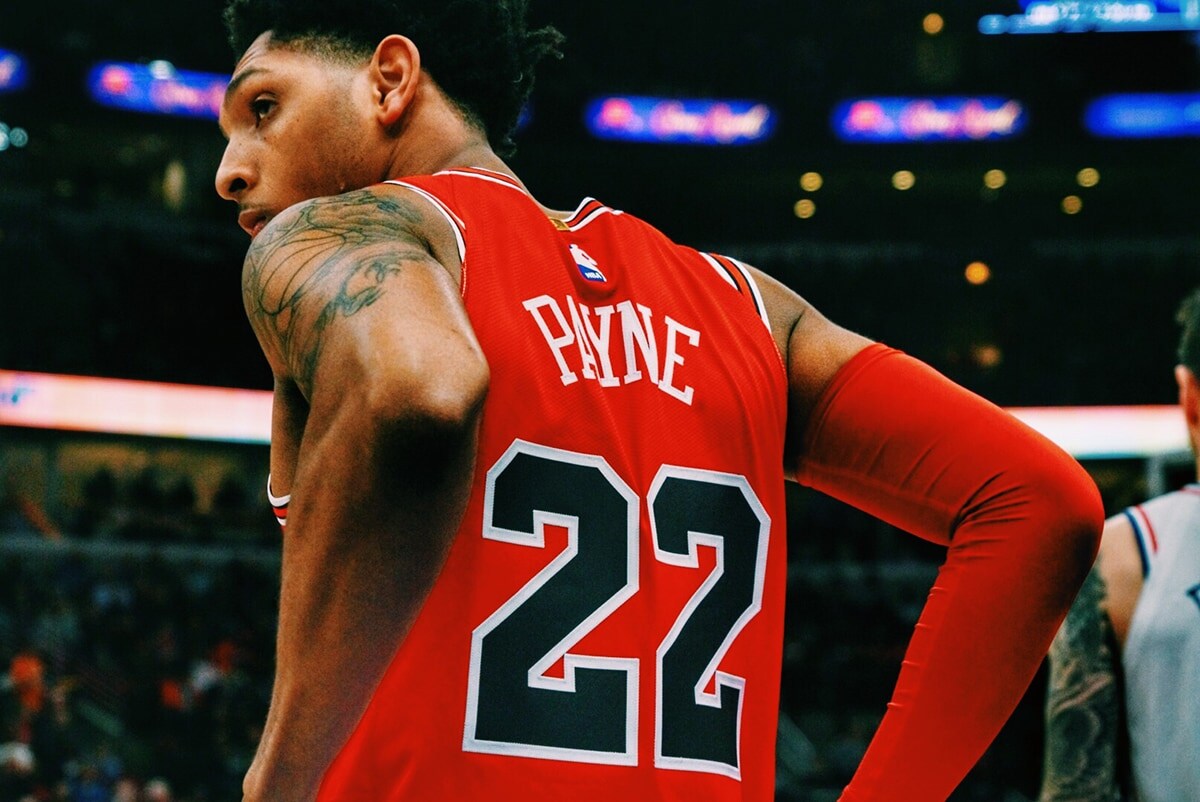 It was, despite the loss, a mostly welcome game for the Bulls with the fierce comeback led by Nwaba to start in the first quarter with dunks, steals and three-point shooting and then Portis' four threes and 14 points in the second quarter. It even was a multi-flex night for Portis with one dash into the stands to urge on the fans.
"I'm an emotional player," Portis noted. "I flex a lot, try to get the crowd in with the antics; something I've been doing all my life, trying to get the crowd involved. I feel like with the second unit it is my unit to try to help the team score. I like that role. Just me believing in myself. I've always been a guy not highly talked about; always had people doubting me. But I believe in myself and my abilities."
Perhaps not quite like that, but Portis in a game high 34 minutes seems to have grown confident and comfortable shooting threes. Heck, when he's out there's it tough to even get the ball away from him these days a year after he was so shaken with everyone yelling at him last season he rarely even took open shots.
"I couldn't be happier the way we went out played and competed," said Hoiberg, though admitting there was room for another "happy" with a win.
"Bobby was unbelievable tonight," Hoiberg added. "Bobby just continues to improve. He's a confident kid that goes out and plays with a ton of swagger and toughness. He's tenacious on the glass. He's getting the crowd into the game, flexing his muscles. It's been fun to see him shooting the ball without any hesitation. Where he was a couple years ago, he didn't have that kind of confidence from behind the arc. You look ahead at the lineups, you can put he and Lauri together. You saw the lineups with he and Niko [Mirotić], how well they played. Now you get him and Lauri out there. It gives you two guys that can stretch the floor and space it, two guys that can rebound, two guys that can put it on the floor. It's exciting to think about when Kris gets his rhythm back. Zach is getting his legs, playing very well. And then you got David, Denzel, Justin, whoever it is out there at the three spot. A lot of positives."
It didn't appear like Hoiberg would be saying that with the lineup change that looked to some suspiciously like giving up and the Bulls dominated early by 76ers three-point shooting, six in the quarter, four in the first three minutes. But Nwaba with his tenacious defense and driving play was all over the court before handing off the scoring baton to Portis to get the Bulls within 33-29 after one quarter. Game on.
"Whatever minutes I do get, just try to go out and play hard whether it shows on the stat sheet or not," said Nwaba.
The Bulls were doing it against the 76ers, a 40-point second quarter with both teams shooting 60 percent to lead 69-67 at halftime. It was a rocking good time with the teams firing back and forth at one another, big shots, big plays. The Bulls starters stumbled out of the gate again to start the third quarter, falling behind 82-77 before Portis and Nwaba again got the Bulls within 93-91 after three quarters.
It was Portis early in the fourth quarter in running up that 58-19 Bulls bench margin. He made a three and followed that with a full court race for a score after Payne stripped Embiid and it was a three-point play, Portis not stopping until he was several rows up in the stands, waving, shouting, gesturing. That gave the Bulls a 101-100 lead with 8:35 left, Portis with another dozen points in the fourth quarter. LaVine made the big shot down the stretch, and then the Bulls needed just one good inbounds pass. Sounds simple. So it was mistakes of youth and closing and learning experiences, and a lot of stuff they talked about since October.
"As I talked to our guys about, were not talking wins and losses," Hoiberg admitted. "We're talking about going out and competing and playing hard and this gives us another opportunity to learn. If we go out with the fighting spirit we're going to be in games; we're going to have a chance."
They had a heck of a chance; Bobby Portis had a heck of a game. That's pretty good for these days.