Dwyane Wade and Jimmy Butler got their guys Monday, the Bulls stars combining for 60 points to outpace the dynamic Portland Trailblazers backcourt duo of Damian Lillard and C.J. McCollum with 54 points. But especially without the suspended Rajon Rondo, the Bulls didn't have quite enough otherwise and lost 112-110, their fifth loss in the last eight games.
"They came out and played very well," said Wade, who had 34 points, one fewer than his season high. "We played their game. You play their game, they're better at their game than us; it's as simple as that. It was an offensive battle and they are better at that game than we are. No excuses; we lost the game on our home floor and now we have to go on the road and try to win one."
Rondo will return Tuesday, but it's a tough assignment with the Bulls finishing four games in five nights, so far 1-2 after the glorious home win over the Cleveland Cavaliers. So the Bulls hit the quarter pole of the NBA steeplechase, the so called first analysis where teams have an idea for who they are. The Bulls are 11-9, currently on a pace for 44-45 wins as they've remained one of the top rebounding teams but have fallen toward the bottom third in scoring and certainly don't move the ball as well without Rondo.
The Bulls outrebounded the Trailblazers 50-38, but had just 16 assists and only Wade and Butler among the starters scoring in double figures. Nikola Mirotic broke a slump off the bench with a season high 18 points. But without Rondo distributing, the Bulls didn't take advantage of the inside as much and fell into that shootout with the higher scoring Trailblazers. It was a formula for defeat. A late desperate run from a 10-point deficit with six minutes left that included a Butler three with a tenth of a second left to make the final closer not only wasn't enough, but indicated the Bulls didn't have quite enough.
Doug McDermott and Michael Carter-Williams remained out, though McDermott went to the D-league Windy City Bulls for practices and could play later this week. Carter-Williams was having his injured wrist reexamined Tuesday. Rondo rejoins the team Tuesday in Detroit, and the players were anxious to support him and welcome his return.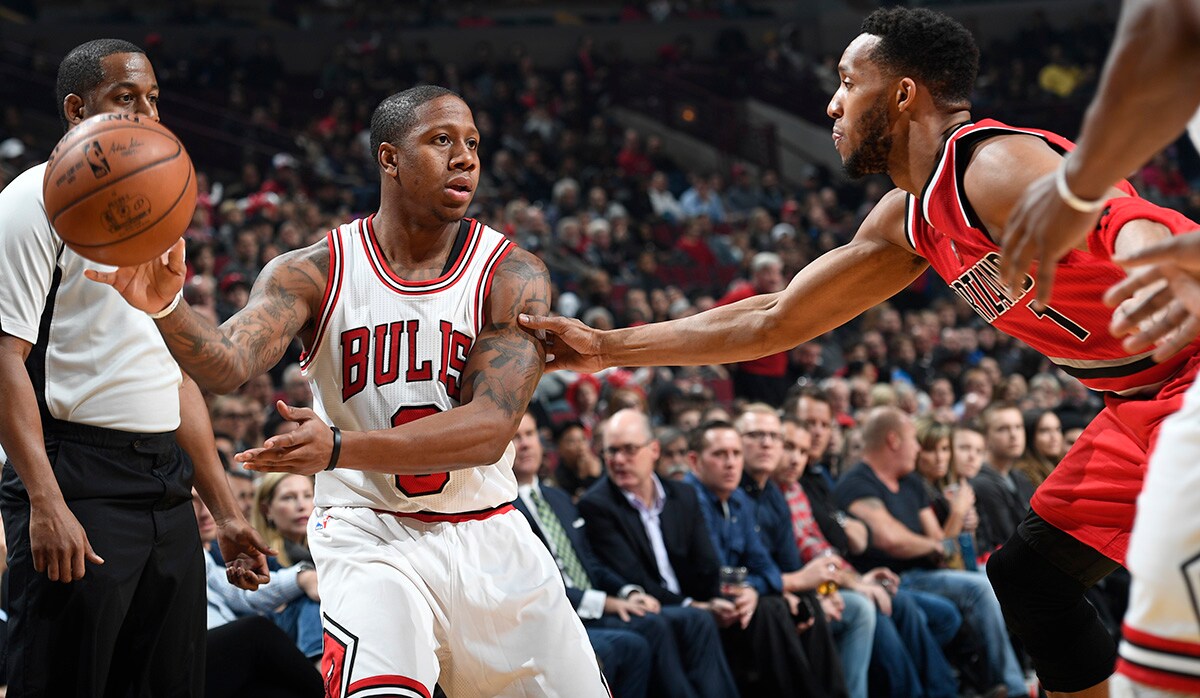 "He's going to have fresh legs tomorrow," Wade said hopefully about Rondo. "Whatever happened, the organization took care of it; us as players, we support each other, we back each other. This is an emotional game. Guys have emotional moments. They handled it the way they thought it was best and we move on. There are times you are glad you are a player and you can stay out of it. My job is to support my teammate and reach out to him and make sure he in good spirits, make sure he knew his teammates have his back. It's not my job to make those kinds of decisions. That's what those guys get paid the big bucks for in the front office. It's their organization and they are doing a good job of running it and they did what they needed. Our job is to say let's go, let's play. He understands."
The Bulls released a statement saying Rondo was suspended for one game for detrimental actions. He was said to have apologized and attended a team function Sunday. Apparently, Rondo got into a confrontation with an assistant coach during Saturday's game. Rondo has a reputation that has involved some incidents, but it sounded like this was more competitive, Rondo merely upset the team was losing badly and not competing well and didn't want to leave the game when early substitutions were made. He felt he could help.
"He wants these guys, this organization, this team to be successful and he's a winner," said Butler. "I know he was working out today, staying in rhythm. We need him. He knows that and we'll be glad to see his face on the plane."
More so on the basketball court where the loss to the Trailblazers showed just how fragile the Bulls makeup can be with yet another regular out.
Jerian Grant, who had his best game of the season last month in Portland against all-NBA player Lillard, probably was in for it as Lillard was not about to be embarrassed by a young player twice. He rolled over Grant from the start while backcourt mate McCollum joined in, limiting the help for Grant.
Their play enabled the Trailblazers to blaze off to a 23-16 start. And though the Bulls led 32-29 after one quarter, it was not their kind of dance.
"Offense has never been a problem this entire season," insisted Butler. "It's always been on the other end of the floor. Everyone wants to talk about offense, fast pace, shooting threes, getting to the line; nobody is worried about that. We're going to win games on the opposite end of the floor; if we are going to guard, rebound, get to the 50/50 balls."
The second quarter proved the eventual doom as only Butler and Wade among the starters scored, the other three with one shot in more than 16 minutes combined. Portland scored 36 points to take a 65-57 halftime lead with both teams shooting more than 53 percent. The Bulls, especially at home, need to batter teams into submission on the boards and on the interior. But Portland outrebounded the Bulls in the first half and Gibson and Robin Lopez combined for five field goal attempts in more than 30 minutes combined in the first half.
"Defensively the way he (Rondo) picks up," Wade noted about Rondo's importance. "He kind of starts everything for us, determines how the defensive pressure is going to go. I think defensively we really missed his ability to get after guys and rebound the ball. He's a big part of what we do. We have him tomorrow going into Detroit where we need to get a win; it's not going to be easy, but at least we are going in as full as we've been of late having our point guard."
The Bulls did some good things, attempting 38 free throws (13 for Wade) to 18 for the Trailblazers and running up a 26-9 advantage in fast break points. Isaiah Canaan added some nice hustle with 10 points, but Grant was one of seven for five points and Denzel Valentine was zero for five on threes and had two points in 22 minutes. Hoiberg said despite the back to back Wade will play Tuesday. They need him.
After that pop-a-shot first half, Butler said he asked to defend Lillard, who as a result had a relatively quiet second half with four of 12 shooting and a minus 11 on the plus/minus rating. It probably was against coach Fred Hoiberg's better judgment, but he had to change someone the way Lillard was chewing up the Bulls backcourt.
"You have to be careful with Jimmy," Hoiberg said when asked about the second half defensive switch. "He carries so much of our load offensively; it can take away his legs. Especially a guy like Lillard (who) you have to pick up at half court, try to put pressure on him and make him feel you. Jimmy is going to go out and battle whoever you put him on. McCollum in the first half did an excellent job as well and we had to slow him down by keeping Jimmy on him as well."
Butler isn't about to shrink from a challenge like taking on Lillard. But Hoiberg's worst fears were realized when Butler had zero field goals in the fourth quarter until that last throw away three. Wade was just one of six in the fourth. And after getting burned by Evan Turner off the Portland bench to start the fourth, the Bulls couldn't make up that deficit.
They got within 106-101 with 2:30 left. But Lillard scored. Butler matched that barging in for a pair of free throws. Wade blocked a Lillard drive helping and Lillard and Allen Crabbe missed threes. But the Bulls had little left as Butler missed a three, Mirotic missed a 20 footer and Wade missed a three. With Portland holding a five-point lead now with under 24 seconds, all the Bulls could do was foul and the Trailblazers made their free throws.
"In the third quarter we came out with a better effort," said Wade. "Just not being aggressive defensively; just being there and letting them get to their spots. You let C.J. and Dame get to their spots (in the first half), that's why they are the top scoring backcourt in the league. You play a team and beat them on their home court and give it right back, that's tough. We've done that twice so far with the Lakers and Portland. As the season goes on we hopefully grow into the team we want to be and understand we can't do that."
Wade was brilliant against Portland, crossing over defenders 10 years younger and more athletic, flying into the crowd to save loose balls when others stood and watched. His competitiveness is a thing of beauty and as the Dallas game suggested, badly needed. While Butler continues to provide simple excellence. But can they be counted on—heck, asked--to do that much that often? Lopez had 14 rebounds, and the bench overall was competitive, trailing Portland's just 32-30. But this margin of error the Bulls have relying so much on Wade, coming off a rest day, and Butler isn't a formula for a long season. At 20 games, teams begin to know who they are. Given the absences of two key reserves and so many new players, it's perhaps a longer apprenticeship look for this Bulls team. They're in a demanding stretch now with the double back to back and the Spurs on national TV Thursday.
"Like I said when we won the first three and then lost the next three, I said there would be a stretch like this again and here we go; it's here," said Wade. "Highs and lows (in the first 20 games). It's been great at times, and at times it's been just OK. It hasn't been terrible at all. Our season is what our record is; we are 11-9. We've played good enough to be two games over .500. We have to play better basketball. We have 62 games left. In this next 20 games or so we have to play better that we did in this 20 or so. Just continue to improve as the season goes on. That's all we can do."