Really, LeBron, you're bringing that weak stuff into the United Center to play this Bulls team?
OK, no, it wasn't quite like that Friday in the Bulls 111-105 victory over the Cleveland Cavaliers.
"Great game for us," agreed Dwyane Wade. "It's in our building and you are supposed to win here, but for us, a team trying to come together, it was a good win."
That's actually more realistic perspective, for it was a lively game, a fun night for fans with James arriving in full Chicago Cubs uniform to pay off his wager with Wade about the World Series, and, surprisingly, leaving with a third consecutive loss in a game James said coming in was important for the defending champion Cavaliers to win. It was a game in which the Bulls were clearly the superior team, and at just about every position.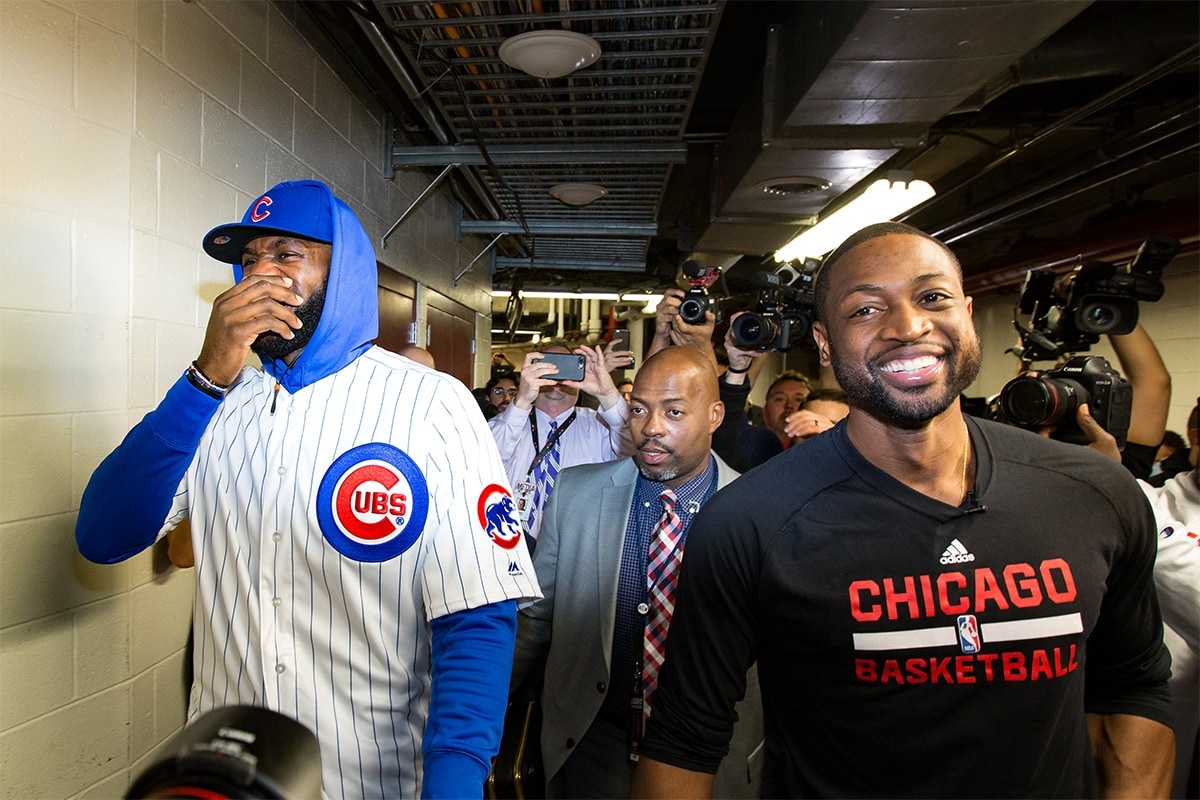 Rajon Rondo with his first triple double with the Bulls of 15 points, 12 assists and 11 rebounds took out Kyrie Irving with aggressive play; Taj Gibson with 23 points and 11 rebounds and Robin Lopez with 10 points and five rebounds, a career best double digit scoring streak of 10 straight games, pushed the Cavs all over the place, the Bulls with a monstrous 78 points in the paint and a 49-33 rebounding advantage. And Wade and Butler, the latter with a team high 26 points, eight rebounds, six assists and a league equaling 12th straight game of at least 20 points, kept James from taking over. James had 27 points and 13 assists, but eight turnovers.
"All of their starting five beat us tonight," agreed Cavs coach Tyron Lue, losing a third straight game for the first time as Cavs coach. "They out toughed us and beat us one on one."
He forgot to mention out coached, also, as the Bulls were a step ahead strategically all game. They battered Kevin Love early when the Cavs tried to hide Love on Lopez. Later when the Cavs went to their big man shooting lineup with Channing Frye instead of Tristan Thompson, the Bulls continued to control the boards and score inside and on putbacks, Gibson relentlessly powering inside.
The Cavs are a pretty poor defensive team these days, not nearly the frightening, transition offensive team James played with in Miami with Wade. Now, James plays more like a point guard, trying to create penetration and then fanning the ball out to three-point shooters. The Cavs came in second in the league to Houston in three-point attempts with 35 per game and shooting almost 40 percent on those threes.
But they were just 10 of 26 on threes so that even the Bulls typical three of 18 on threes—Rondo one of one—wasn't fatal as the Bulls were smart in not over helping to James and staying on shooters.
Not that the Cavs shouldn't be at least the Eastern Conference favorites given they have the brilliant James. But going long stretches as they do with three-point shooting lineups that include poor defenders like Love and Frye and at best an average defender like Kyrie Irving, the Cavs suddenly become more vulnerable if you don't overreact to James.
Of course, easier said than done, and even being mostly outplayed, especially in the second half, the Cavs still were within 103-99 on a Love three with 4:07 left.
Wade then missed a fading bank shot against James, and then Love missed another three, scoring a modest 15 points in 42 minutes. Irving had 20 points on nine of 21 shooting. Butler rebounded and went all the way, crashing easily through the porous Cavs basket protection for a pair of free throws for a 105-99 lead with 3:22 left.
James then made a heck of an inside pass to Irving for a layup. But Wade then faced up against his buddy and former championship teammate, dribbled several times and drove past James for a layup and 107-101 Bulls lead with 3:04 left.
Certainly a Bulls team with their fourth straight over the Cavs in the United Center.
"D. Wade turned into the 23, 24, 25 year old D. Wade," said Butler. "He can still guard, disrupt people's shots, rebound, get out in transition. He was telling me it's a different game when you are going against a team like that; it brings the best out of everybody. I think we know what we are capable of when we play basketball the right way and do what we are supposed to do on both ends of the floor. If we play Chicago Bulls basketball we are going to win games."
Then in something of a surprise, but also a relief, perhaps most for Nikola Mirotic, the slumping forward who shot one of nine for the game, made two of the biggest defensive plays of the game. First with James going against Wade, Mirotic dropped off Frye popping outside and stripped the ball away from James with 2:30 left when James tried to spin.
Mirotic then missed a jumper, but Wade with 1:58 left beat J.R. Smith and Frye inside for an offensive rebound and reverse layup for a 109-101 lead with 1:58 left. It was about over. James threw away a pass to Frye with Mirotic closing off the angle with Frye rolling to the basket. And then after a Butler miss with 1:34 left, Mirotic closed on Irving, stayed down, and blocked Irving's corner three with 1:11 left, forcing a 24-second violation and, effectively, the end for the Cavs.
"LeBron, he's that dude," said Gibson. "I'm happy to be able to say for the most of my career I was able to play big games against him. He came in with the Cubs jersey, all fun and laugh. But like I told everybody, he's coming in here and we have to play him; we have no time to laugh and play around. That guy's been here many years and shut us down to try to go to the promised land. You want to go out and show what you and your team are capable of doing and it's good for us to try to set a statement in the East."
It's one game, and just starting December, the Bulls playing the first of four in five nights. So Wade will skip Saturday's game in Dallas to rest. Doug McDermott remains out with his concussion, though he is close to practicing, while Michael Carter-Williams also is out with his knee and wrist issues. Hoiberg toned it down to about a seven-player rotation with Mirotic and Isaiah Canaan getting the only significant bench time.
The Bulls are 11-7 while the Cavs are 13-5, and still do have the conference's best player.
But the Bulls showed at least in this small sample there is a reasonable way to play and defeat this Cavs team. They have virtually no rim protection and are vulnerable on the boards and against inside scoring. Most everyone in the NBA doesn't do that anymore, so maybe in some respects the Bulls can be their kryptonite, the team that wants to beat you up, to beat you down, a physical team, and perhaps as significantly, a team with two players, Wade and Rondo, who have played and succeeded in games of equal magnitude, who have won championships, who never shrink from the moment.
As good as the Bulls were before injuries struck Derrick Rose and Joakim Noah, they never had those guys who have been there, done that.
It was clear Friday with the way Rondo commanded the game, the way Wade took every challenge from James and went right back at him.
"We played in the biggest games there are," acknowledged Wade. "You have to lead the way. We have a lot of young guys who depend on us and they look to us as leaders, and we have to do a job and tonight we did that job; it makes it easier on guys when we come out with that kind of intensity, that focus."
That edge, which Gibson delivered, shooting 10 of 13 with a crushing physical display and 18 first half points.
"The whole year I've been going in the paint, but tonight my teammates made an emphasis for me to attack the paint," said Gibson. "Robin attacked the paint. That's the way we've been playing all year; nothing has changed. We tried to take advantage of the mismatches. Rondo stepped in big. We put the work in and Fred's been doing a hell of a job early in the season. But the man running the team other than the head coach has been Rondo; Rondo has been setting up plays, being a great leader and it shows on the court. He's like a quarterback the way he always gathers the huddle, always sees what's going on in the game, always pushing it. I know he got a lot of criticism before the year; a lot of people talked about negatives. But he's been showing me nothing but great stuff on and off the court. He's always inspiring. He's one of those guys you always want to go to war with; he's in the huddle and every time down the court, a foul, a scuffle, he's always going to have your back and that's the kind of player I want to play with."
Knowing the Cavs were desperate for a win after two straight losses and also playing that third of four, the Bulls did a good job holding off an early Cavs rush, a 31-24 Cleveland lead eight minutes in with James streaking down court. The Bulls closed within 33-30 after that hectic first quarter and trailed just 60-59 at halftime. They were like a boxer firing those body blows early to weaken the legs and go for the knockout late with the legs fading.
It seemed to work precisely that way as the Bulls opened the third quarter with a 15-6 run with Lopez going over Love in a bad Cavs matchup there, banging for those second shots against the smaller Cavs and Rondo driving. More so, Rondo was all over Irving, barely allowing him breathing space. Rondo isn't the brilliant defender he was in Boston. But as a veteran he gets the benefit and can get away with the holding and pushing and grabbing a young player cannot. Finesse scorers like Irving hate that stuff. Irving was zero for three on threes despite leading the team with 106 attempts this season and 43 percent on threes.
"I was really proud of the guys, how they came out," said Hoiberg. "Those (Cavs) guys were on a mission; they came out with some fire, flying up the floor and I thought we did a good job staying in the game. We wanted to get Robin and Taj established early. Taj the aggressiveness he was showing; I thought Rondo was great all night long, getting the guys out pushing. You could hear him yelling "Run with me.' Wade and Jimmy were getting out and running the wings and our bigs were doing a good job sealing with good post position."
The Bulls led 88-80 going into the fourth quarter and then got big plays from their big guys, Butler being run over by James on an obvious offensive foul that wasn't called and then running right back. Don't mess with Tomball. Butler drove right at Richard Jefferson and over a helping James for a short jumper and then on the nest possession took a pass from Rondo and sliced down the lane over Frye for two free throws. That sequence gave the Bulls a 101-94 lead with 6:16 left.
There was Rondo getting inside both Jefferson and Iman Shumpert for an offensive rebound and putback on a Mirotic miss with 8:08 left for a 94-89 lead. The Bulls simply would not let the Cavs make the big plays.
And then Wade made more big ones on offense down the stretch.
"Tonight it was all about finding a way to win," said Wade. "No egos involved at all, just a total team effort, a good way to win. Myself, Jimmy, Rondo, our starters really did the job for us; we executed better down the stretch. Of all the top teams in the league, we are ones who haven't played together. So we are continuing to learn."
Don't be fooled; it wasn't just another game. It was a game the Cavs believed they needed to win. They came out with the force of a desperate team. It hardly suggests yet the Bulls are their match or rival; but it does demonstrate that the gap between the Cavs and the rest isn't quite as insurmountable as everyone has suggested.