So just who are the Bulls going to select with the No. 7 pick in the NBA draft Thursday?
It's down to about 48 hours now with the serious discussion about where players will fall and whether there are trades to be made. Though there's often discussion about teams trading down and others up or into the draft, there rarely is much movement into the top five of a draft. That's about where the break is in this draft.
It's almost certain in some order with DeAndre Ayton expected to go to Phoenix at No. 1 that the top four picks will be Ayton, Luka Doncic from Slovenia, Duke's Marvin Bagley III and Jaren Jackson Jr. from Michigan State.
Then there's a group of perhaps a half dozen or more players who could be selected anywhere from No. 5 to the end of the draft lottery. The way teams prepare for the draft is they make a list in order of their preferred choices and then cross off names as they are selected. When their number comes up, they basically select the top name not crossed off.
So I'll do the same for No. 7.
This is my list and not the Bulls. I've made a point not to consult with anyone in management about their preferences, though they wouldn't tell me, anyway. Draft preferences are guarded much better than state secrets. No way WikiLeaks ever gets a team's draft order. I believe Mohamed Bamba also is selected before the Bulls draft, but there are scenarios in which he is not. So I'll include him on my list.
Here's my order of selection for the Bulls at No. 7.
1. Mohamed Bamba, Texas, Center.
I'm not that excited because he doesn't have much offense. But he just turned 20 and has that amazing size and reach and length and pretty good athletic ability. He wasn't a dominant player in college in not the greatest conference, which is a bit concerning. And there were more questions during the season about his willingness to compete all game. Still, he has the most upside potential for a safe pick who isn't going to fail.
2. Wendell Carter Jr., Duke, Center
Duke center. I'm not a big risk taker. When I'm in Las Vegas, I calculate if what I gamble could change my life and generally then go use the money to buy a new golf driver. Carter looks like he's going to be a very good NBA player. He competes hard, is versatile for a big man, can shoot and will work to rebound and is a good teammate. He won't be that exciting and isn't that big at 6-9 without shoes. But I heard he'll get to wear some in the games. He'll be in the Al Horford/Elton Brand mold, which isn't a bad mold. Not the kind to build your team around, but the point is it's a team and he'll fit in and make it better.
3. Trae Young, Oklahoma, Guard.
OK, I'll maybe try one slot machine. There are some who say Young could be a bust and the Bulls do have a high lottery pick point guard in Kris Dunn. But I don't see bust with a player who basically averaged 30 points wherever he played. Yes, I know he's about 6-1 and probably would lose in arm wrestling to me. But since it's about team, he does basically what no one on the Bulls does and which they beg for constantly, which is pass and move the ball and open the court. He took most of his threes from behind the NBA three-point line in college and loves to look ahead, move the ball, pass, pass, pass, move, move, move. It's what the NBA is about these days and the Bulls never have been able to do. Mostly because of personnel, but here's a chance to change that. Sure, he's a poor defender, but the Bulls need to get some offense to get into this century. He can play in a three-guard rotation with Dunn and Zach LaVine since many teams play multiple ball handlers. And the Bulls desperately need someone looking more for Lauri Markkanen, which didn't happen enough before. Young would.
4. Kevin Knox, Kentucky, Forward
He's my risk choice. The 6-8 forward with the seven-foot wingspan generally isn't mentioned in the top seven or eight in most mock drafts, which basically means nothing since in three years the top 10 will be very different. I read a Tobias Harris comparison, though at 18 I see some Scottie Pippen there. He can shoot some, goes to the basket, is long. He's not much of a playmaker yet, which became the strength of Pippen. Though when Pippen was a freshman in college he was getting his assists by handling out towels in the locker room to the varsity players at a nowhere program on a work/study grant and not even a basketball player. Knox strikes me as the kind of long, wing athlete with developing shooting range who is less of a risk to bust out, but who projects as perhaps a star. But surely a very good player.
5. Michael Porter Jr., Missouri, Forward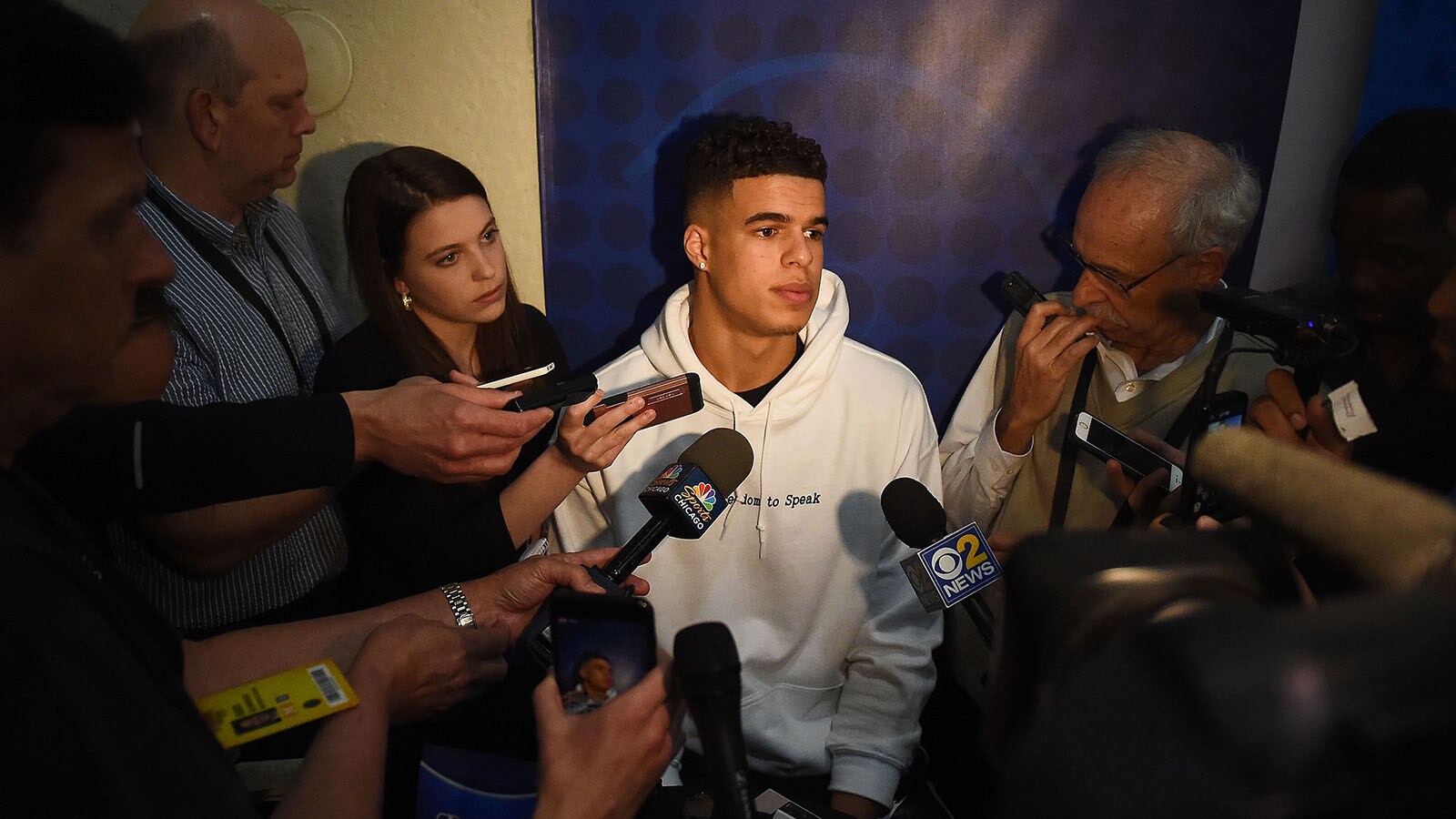 I'd be too scared to take the risk. Plus, he'd have to be a superstar to make sense for the Bulls since he doesn't seem to fit at all with anyone they have. Maybe with Robin Lopez. Porter was considered by many the No. 1 pick for this draft coming into college last season. So what a break for the Bulls? He needs back surgery, which scares off teams and he falls to No. 7 and the Bulls get a shot at a star without losing 70 games? It sounds good, but after the Derrick Rose dramatics and now Zach LaVine coming off his own ACL surgery, are you ready for a guy who needed back surgery at 19? I know, Pippen did after his rookie season and he had a Hall of Fame career. The reports are Porter has checked out OK from his physical, though he hasn't worked out for teams. It's one thing to be ready now. But for 82 games? Porter has a great shot with amazing size and the Bulls surely need a small forward scorer. He seems like a gift and the favorite of many fans for the Bulls, who, of course, then would threaten never to watch a game again if he fails. There were these rumblings about doesn't play well with friends, but I take that more with Porter as an isolation sort of player whose favorite shot is the next time he gets the ball. With Dunn and LaVine, that could be a troublesome mix. Porter is well regarded, but no one says he's LeBron. There are too many good players at No. 7, it seems to me, to take that kind of risk on a player who probably is 80 percent sure of not having back problems again and being able to sustain an NBA season. I hate that 20 percent.
6. Mikal Bridges, Villanova, Forward
You hear a lot about him being that 3 and D guy, which I was at one time. You mean not three Ds in sophomore year? Bridges seems safe to me with a low ceiling. Not necessarily because he's one of the older players in the draft. More because he's not particularly adept at handling the ball and attacking the basket. The Bulls sure could use a player who can catch and shoot threes and take the toughest defensive assignments and lead a team defensive unit. Defensive inconsistency was a big issue last season I know the Bulls want to correct. He'd go a long way toward helping there and seems like a reliable NBA player. I wouldn't be upset if they drafted him, but even on his better days he looks like a nice complementary player.
7. Collin Sexton, Alabama, Guard
I really don't see the Bulls selecting him because he's only a fair shooter and not much of a passer. He seems somewhat like Toronto's Kyle Lowry, a tough, physical, hard nosed player who probably will scare everyone in the locker room. Lowry came from nowhere in the draft to being an All-Star. Sexton is basically the same size as Trae Young, though we know who would win the fight if the NBA ever allowed that sort of thing. He is an attacking player who plays better in big games against the top opponents. He'll do well in the NBA and in the backcourt with Dunn could prove an intriguing defensive duo. I expect him to have good games, though more likely against the Bulls.