It's probably pretty cool to be Dwyane Wade. Three NBA championships and a career that will get him immediately into the Basketball Hall of Fame. Regarded in the same sentence with Michael Jordan for shooting guards. Famous actress wife, sharp and handsome kids, worthwhile and admirable charitable endeavors. Cool D-Wade nickname, though I preferred when he was known as "Pookie." Hey, he even has LeBron's phone number.
But then you get into the playoffs at age 35 after 14 tough years in the NBA, 11 playoffs with 166 playoff games. And some great ones, especially last season when he carried the Miami Heat to the seventh game of the conference semifinals to the shock of everyone around the NBA. The truly great ones raise their production in the playoff despite lower scores and fewer possessions. After averaging 19 points in the regular season and shooting 16 percent on threes, Wade in the 2016 playoffs averaged 21.4 points and shot 52 percent on threes.
He was Dwyane Wade again, big shots, big plays; guys, just follow my lead.
But as the Bulls Sunday open their 2017 playoffs 5:30 p.m. in Boston against the top seeded Celtics, some important questions for the Bulls and for Wade are whether he has to be that Dwyane Wade for the Bulls to have success, whether he can be that Dwyane Wade. And whether he and the basketball world see him as that Dwyane Wade.
"Players who have that type of experience have that type of responsibility, of doing a little more this time of year," acknowledged Bulls coach Fred Hoiberg. "We had a little stretch to finish out the season, winning seven of nine. Now we've got to continue on and do the things that gave us some success. You can't completely change the way you do things. But you have to lean on your guys who've been through this experience. That was the biggest thing with Dwyane getting back. He's won a lot of games for us in the fourth quarters when the game slows down. It's a great luxury to have."
So for the Bulls and Wade, it's perhaps also a delicate balancing act against the Celtics.
The Bulls had most of the success in their season closing run to the regular season with Wade out with an elbow fracture. Wade made an unexpected return for the last three games, though two of which were barely contested with Orlando and Brooklyn playing out losing seasons. So Wade just tried to gain a head start on conditioning and timing with his teammates.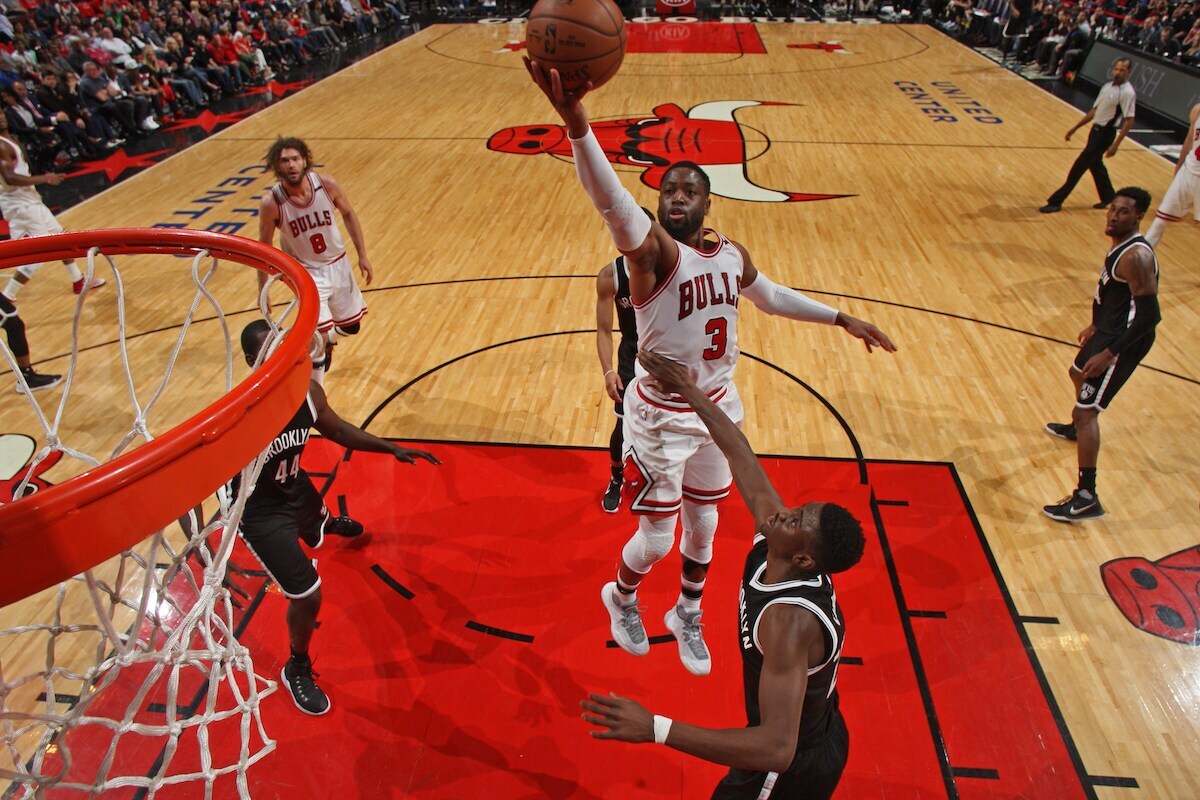 He was instrumental when the turnaround began in lobbing for Rajon Rondo and Nikola Mirotic, both of whom were vital to the finish of the season that enabled the Bulls to reach the playoffs at 41-41. Rondo, by the way, has been in 94 playoff games, those two with 260 games of playoff experience.
But now does Wade step aside more and be a support? But can he when you are Dwyane Wade? And don't the Bulls as an underdog expected by few to win need Wade's experience, Wade's calm under pressure and Wade's brilliance as a closer and big shot maker?
And so begins the playoff game of basketball chess.
Wade's perhaps not truly the king anymore. But he's certainly able to be the knight with the surprise moves.
It's the true advantage the Bulls hold over the Celtics.
Many of the principal Celtics players have not won a playoff series in the last four years, including star scorer Isaiah Thomas, who never has been on a winning playoff team. If experience matters most—or more—in the playoffs, then the Bulls should be favored.
The Celtics haven't won a playoff series since 2012 when Wade's Heat beat them in the Eastern Conference finals. Since then, Boston is 4-12 in three playoff series, losing all three in the first round. The pressure is on the top seed.
The Bulls have young players, their bench accounting for fewer than 20 playoff games combined. But they have the most veterans who have been there.
"That's what it's about for the young guys, talk to the guys who've been through it," said Hoiberg. "You're going to hit the adversity every game. You've got to handle it the right way, fight through it. We had some good leads in the two wins against Boston. They fought back."
Of course, it's experience added to talent. The Celtics have more talent with a deeper roster, though the Bulls have the best player in the series in Jimmy Butler, who was an All-Star starter. Plus, the Bulls start former Celtics NBA champion Rondo, who doesn't say much. But has to harbor some unpleasant feelings about being shipped out to Dallas and beginning a rough period of his career. Rondo is known in Boston for excelling in big games, and they'll be big in his first chance to play his former team in the playoffs.
"Both teams won on their home court," Rondo offered when asked after the Brooklyn game about playing in Boston. "They say the first team to win on the road, that's when the playoffs start. So looking forward to getting out and trying to get one of these two in Boston. I'm with the Bulls now. I just want to go out there and win. My only focus is to get the win."
Asked about the Celtics, Rondo said: "You have to take care of the ball. They are great at creating turnovers. And scoring off their turnovers. Take care of the ball, limit their threes and play hard. We're playing pretty good, but we're not where we need to be to win a championship. Build and continue to learn from our mistakes and grow. Try to always critique ourselves to get better. We've played very well (the last few weeks) with one another and moved the ball."
That will have to continue and Rondo's experience has to be a factor. It is, in part, why he and Wade are with the Bulls for a combined more than $30 million.
"(He's) still (in) a little bit of pain in that wrist," Hoiberg acknowledged. "I thought he battled through it. I thought he gave us great energy (in his return after missing three games with a sprained wrist). I thought our pace picked back up with him in the lineup; it was great to have him back."
Certainly Butler will be the fulcrum of the Bulls success. Nikola Mirotic is likely the X-factor with his three-point shooting since the team's style changed following the trade of Taj Gibson and Mirotic starting. Robin Lopez is always reliable as a physical interior presence.
So how much does Wade have left? How much does he have to have left? How much of a difference can he make? He may be the one who makes more things possible.
I liked what former Pacers' star Reggie Miller said on the Turner Sports media playoff conference call. Miller has been where Wade is.
Wade played just 60 games this season through a combination of earlier season rest and later season distress. He averaged his fewest points since his rookie season in 2003-04, but he got a head start on the playoffs with those three games back and straight ahead is perhaps his most classic rival, the Celtics. The Bulls call the playoffs seeing red. He's seen his share of green.
"We're going to continue to push the minutes up (for Wade)," said Hoiberg. "We had a goal of about 28 the last game if we needed him. He was in there a little longer than he normally would've been just to try to get him a little bit of a rhythm. He's continuing to come back from injury. It was an injury with his arm and he was given full clearance for that. It's more now, especially after getting the three games, of how he's feeling from a conditioning standpoint. We know we can get him the ball in the fourth quarter and he can create a shot for himself or a teammate. It's great to have a guy who has championship experience like he has and be able to give him the ball and create something good.
"He's the guy with the most playoff experience on this roster," said Hoiberg. "He'll be a guy we lean on. He's done it in every different situation possible in the playoffs, Games 1 through 7 and taking over late in games when it matters most."
Does he have one more special spring in him?