Zach LaVine's return Saturday was a triumph even more than the Bulls 107-105 victory over the Detroit Pistons. LaVine with 14 points in just 19 minutes was cool, calm and confident. He looked the healthiest in the locker room: No ice bucket, no soreness, no protective wraps. He strode confidently into the cold.
So the Bulls at 16-27 finally are whole and ready to restart facing the Miami Heat Monday in the Martin Luther King Day matinee in the United Center?
This season that's been about change with the coming of the LaVine, Kris Dunn and Lauri Markkanen era appears more stable, if not settled. The race to the bottom appears altered with the expedited development of Dunn and Markkanen. But it's still more about next season or the season after than this 40-game sprint to the conclusion.
Monday marks the day players signed late in the preseason become eligible for trade. There have been rumors about Nikola Mirotic for weeks. Though if there's a position beginning to groan over the weight of depth, it's the backcourt.
LaVine stepped in as starting shooting guard, though with limited playing time at least for the next few weeks. It's resulted in Denzel Valentine moving to the second unit.
Valentine was gracious about his demotion meeting with media Sunday even as he was coming off a pair of career best games before LaVine's return.
"First off, Zach is a great addition to our team," Valentine said. "He's going to make us better. Obviously, my role has changed. All I can do is control what I can control, play as hard as I can when I get in. I feel like if I come in and do my job, I don't think my minutes are going to change that much. Everybody in the guard rotation is going to have his minutes changed. I'll do whatever it takes to help the team win."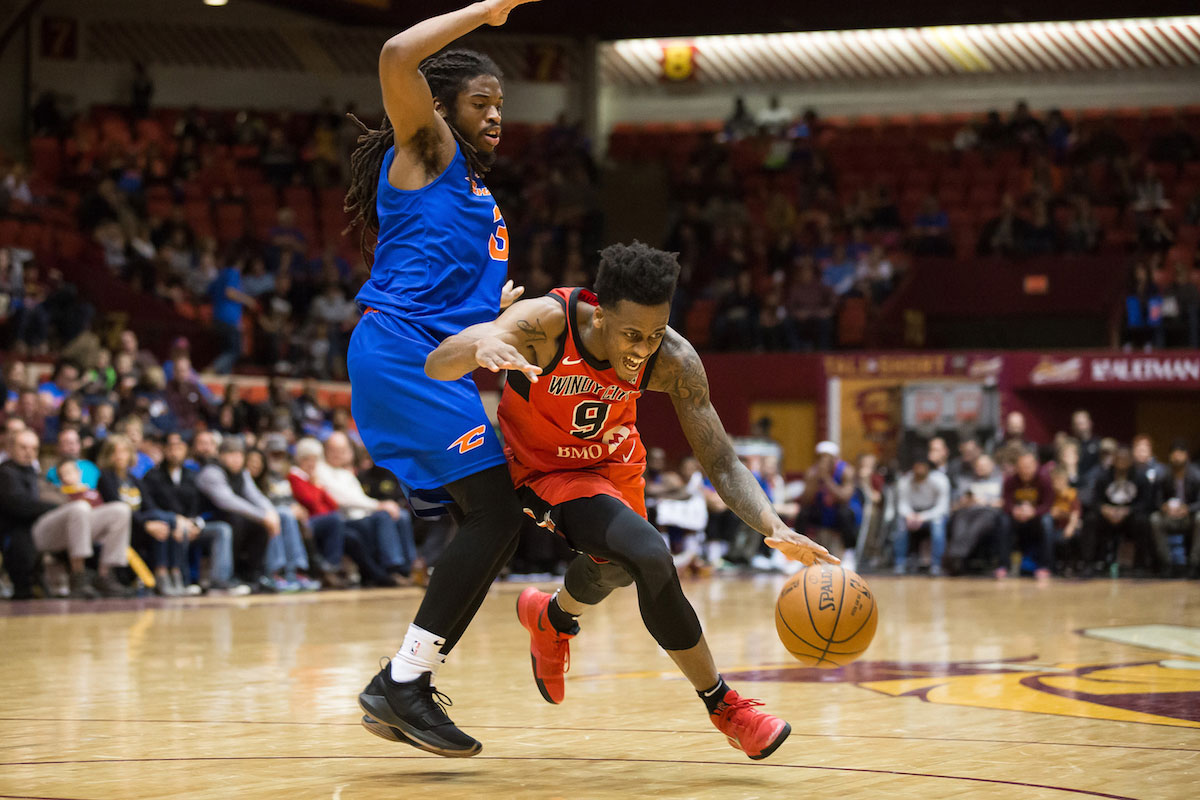 And lurking is arguably the greatest player in G-league history.
Antonio Blakeney continues to amaze in the G-league, this past weekend earning first team honors in the four-day G-league showcase event for NBA teams. Blakeney had a 42-point game in the showcase. In regular season G-league play, he is averaging an all-time league best 35 points per game while shooting just under 40 percent on threes. The distances and basket sizes are the same as in the NBA. Blakeney's scoring average is four points per game more than the all-time G-league one season scoring average league record.
The 6-4 Blakeney, a college teammate of the 76ers' Ben Simmons, is on a two-way contract with the Bulls, which enables him to play in the NBA 45 days in one season. He averaged 7.1 points in 11 games with the Bulls earlier this season after being the outstanding player in training camp practices.
"Antonio since he's been sent to the G-league is putting up unbelievable numbers, averaging about 36 a game," noted Bulls coach Fred Hoiberg. "Obviously, he's in a featured role at that level, but he did get some really good experience when he was up. We still think he has a tremendous future at this level. So continue to work on the things he hasn't had a lot of work on in his career and continue to get him ready at some point to make a big impact."
Blakeney is perhaps the best pure shooting guard on the roster. It seems likely he'll get a return look this season.
And likely so will Cameron Payne. Yes, remember him?
"The good thing with Cam is he's been cleared to up his activity," said Hoiberg. "It's really the beginning of the process to get his work load increased. But he's still a ways away."
Payne was acquired from the Thunder by the Bulls in the trading deadline deal last year for Taj Gibson and Doug McDermott, neither of whom is with the Thunder. Payne suffered a broken foot again last summer, but the Bulls picked up his option for next season and seem determined to give him a longer look.
It was a rough start in Chicago for Payne, caught amidst the disappointment of trading the popular Gibson and the guard competition last season between Rajon Rondo and Dwayne Wade. Payne played briefly for the Bulls and not well, but was mostly inactive or in the G-league.
He reinjured his previously broken foot after Summer League, but he's confident he can make his way with the Bulls even as he knew he was hardly a community favorite.
"They definitely were on me hard," Payne said with a smile about home boos, though with no hard feelings.
"It affected me good and bad," he said. "I like to use it as fuel when people talk bad about me. It pushed me every day because if nobody talked bad about me when I was young, I probably wouldn't be here. I was always too small to play. So I use that and put that chip on my shoulder. No one really gave me that fair opportunity like a lot of other guys, so it was fuel.
"It was tough because you never knew waking up that morning what was going on," the 6-3 left handed conceded. "Getting pulled out, back in, pulled out, back in; that's just the NBA. You just have to be well prepared every night because you never know when your time will come. It's a team thing and making it to the playoffs was an accomplishment. So me not being in there, me in and out, it didn't matter as long as we made the playoffs; I was grateful. When you wake up and get to go to the gym and work there's nothing to be mad about. You are doing something a lot of people can't get an opportunity to do. I'm blessed every morning."
Payne said he feels better than after the previous surgery and the doctors have assured him he won't have issues again.
"I want to come and bring energy," Payne says. "I feel that's one thing we lack some nights, and if we bring it every night I feel we can win a lot more games. Zach is going to give us a lot more energy; that quick burst of his is going be huge for our team.
"I feel like everyone, one through 15, will get an opportunity," said Payne. "So hopefully when I get back I can get an opportunity and make the best of it."
The Bulls have won two straight, big shots and play to close wins against the Knicks and Pistons and last week in Dallas. The Bulls have won three of five after losing three straight. Which was just after winning 10 of 12. So Hoiberg emphasizes the cliche, just the next game.
"There are so many rumors in this era with social media and all the chat rooms—are chat rooms still a thing?—with everything going on. So you have to worry about what you can control," said Hoiberg. "Having (NBA) playing experience and being able to talk to the guys about that when there were so many rumors going around—my name wasn't really thrown out there in a lot in trades unless it was to fill a salary or something like that– just go out and do your job and keep trying to get yourself prepared and try to help the team go out and win games. Our guys know, especially the last couple of years, 99 percent of these rumors are false. They've done a good job of staying focused and just trying to go out and compete."
Who said this was going to be a boring season?