Bobby Portis never lost confidence, never doubted. And as a result, the Bulls suddenly are in position with a 1-0 series lead to shock the Boston Celtics in their first round playoff series.
Sure, Jimmy Butler was clutch with 15 fourth quarter points and the clinching free throws and Robin Lopez was dominant with 11 rebounds, eight offensive in the Bulls 53-36 rebounding advantage. But it was a Bulls 35-22 bench edge led by Portis' eight for 10 shooting and 19 points that proved decisive.
Portis' poise was enviable, if also unlikely given what he's endured in a season of rarely playing, 18 DNP-coach decisions, including the home opener against Boston, another 15 games of so called garbage time, playing fewer than 10 minutes in mop up, late game situations. Yet, the humble 6-11 forward who still says, "Sir" when answering questions from media, worked and worked, competed and competed, was a model of effort despite the disappointment and frustration.
Dwyane Wade even credited the reserves for such a tough practice Friday that it got the attention of the starters and proved crucial in their preparation for Game 1.
"Tonight was Bobby's night," Wade noted. "Give credit to our team, our second unit. The first day of practice after we made the playoffs, we came in on Friday and they tore our butts off. They came out and gave us a taste of what we were going to see tonight from a defensive pressure standpoint. That's how you win games, when it's a whole team involved.
"It was a great sign," said Wade. "They got to the gym before us. The coaches got the plays down from Boston, knew what to run. When we got there (they) were able to help us talking about the plays and how we were going to defend it and when we started scrimmaging they tore us up. Like playoff atmosphere. The coaches had the crowd (noise) on loud in there. we were competing; it was good. It let us know this was not the regular season; it's not going to be easy. I (also credit) Denzel (Valentine), Cam (Payne), (Paul) Zipser, Cris (Felicio); all those guys on the second unit were out there and get a lot of credit for this win, too."
Portis and the reserves have been making those statements, often behind closed doors, all season. They haven't always been effective or efficient, but they don't back down. Perhaps this Bulls team isn't as close as it might be, but the level of respect is there. It may have begun that gloomy night after the January blown lead loss to Atlanta, the season's low point. There were accusations about who was competing at the proper level. Wade, Butler and Rajon Rondo crossed verbal and social media swords. But it was the reserves, especially Portis, who personified the competitiveness.
That subsequent team meeting was fiery. Portis was among several reserves who spoke sharply. Criticize our games if you like, was the message, but don't tell us we don't work. We're here at midnight and we're not even playing. The barbs were intense, but the message resonated. These guys will be there.
"He was the one of our new young guys who hasn't had any playoff experience (who) I wasn't worried about," Hoiberg said about Portis. "He's going to go out there and play with unbelievable confidence. He's going to play with swagger."
There were big shots all game from Portis, a three early in the second quarter to give the Bulls a five-point lead; earlier handling the ball on the break for an assist to Cristiano Felicio. Key jumpers in the third quarter after Boston regained the lead and then a tip-in on a Wade miss in the fourth before a three and a huge 18 footer with 1:18 left that gave the Bulls a nine-point lead, and thus just enough to hold off the desperate Celtics.
And, of yeah, the huge block on Jae Crowder with 2:49 left and the Bulls hanging onto a 97-92 lead. Portis raised his arms in a pantomime of showing off his muscles to the delight of teammates.
"I feel that is going to be my little signature thing," Portis said with a laugh. "Me and Ligs (equipment chief John Ligmanowski), every day I come in he always does that. We've been doing that since the summer league. That was big (block), helping the team. Just trying to do whatever I can, give great energy off the bench; just go out there and work as hard as I can."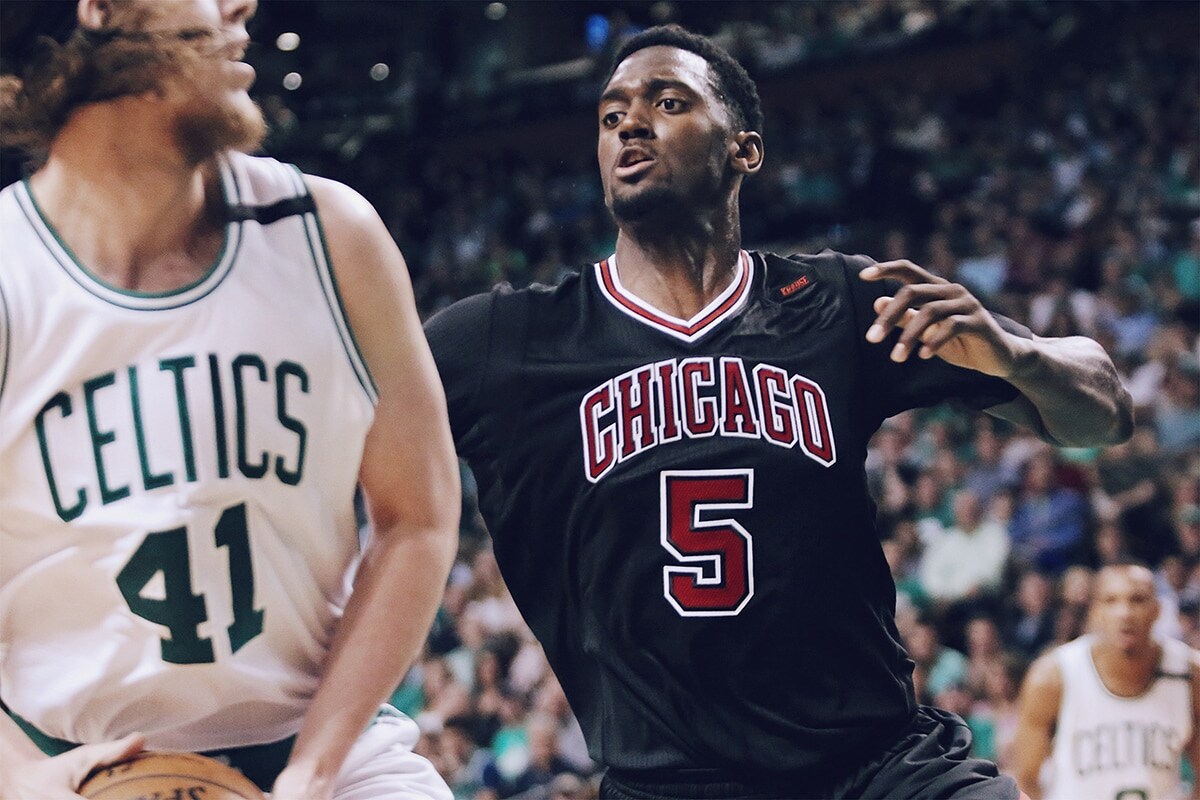 It's a credit to Portis not only that he continues to do so, but that with all the disappointment in his second season of being eased out of a role to accommodate others that he never wavered, never hesitated, never backed off, even when there was implied criticism. He worked at it, and had one of the biggest first playoff games in franchise history.
"I'm a very confident basketball player, but I credit the guys who passed me the ball and had confidence in me to shoot the ball," said Portis. "I prepared the whole season even through the ups and downs. Just talking to guys, believing in God, listening to my mom, listening to guys telling me to stay ready; that helped me out a lot. At the same time, I still put the work in to stay ready and I felt that's what I put in my hard work for."
It would have been easy to give up. Or give in.
In 11 of the first 17 games, Portis played 11 minutes or fewer. Then in December in 17 games, he had 10 DNPs and four games of 10 minutes or fewer. It continued into January with seven DNP's, and it wasn't until February that he began to enjoy a regular role. When Nikola Mirotic's aim was off Sunday with one of nine shooting, Hoiberg came back with Portis in Mirotic's usual spot, a key late adjustment that trumped Boston coach Brad Stevens' late moves. Portis had eight fourth quarter points; the entire Boston bench had nine.
"I feel like not just offense, my defense is coming along tremendously," said Portis. "It's one thing I really work on and I feel it helps me as an all around basketball player. Just staying in the gym and working hard and talking to (assistant) coach Pete (Myers) a lot. He helped me through this process. He's been big for me; he's been like a father of the team for me. It's been fun to play."
And then not a moment of hesitation on that jumper with 1:18 left that sent fans to the exits, though the Celtics scared the Bulls with some frantic late game play.
"I was going to take (that shot) regardless because Kelly Olynyk helped (off) a lot and I was open," Portis said evenly. "So I was going to shoot it when Dwyane passed it to me. I shot the ball and it felt good when it went down seeing everybody happy, jumping up and down and happy for me and the team. I had fun out there."
So did the Bulls thanks in large part to Bobby Portis never losing faith.