The news Thursday was the Bulls traded highly regarded veteran Taj Gibson and shooting specialist Doug McDermott to the Oklahoma City Thunder for youngsters Cameron Payne, a point guard, center Joffrey Lauvergne and veteran shooter Anthony Morrow.
It was a Bulls move toward the future since Gibson, who will be 32 in June, will be a free agent this summer, and McDermott hasn't excelled to the Bulls expectations in his third season. The Thunder believe the two, even with Gibson as a so called rental player who may not resign with them, can help them avoid a first round playoff series with Golden State and perhaps enable a playoff run.
The Bulls get two young players not much used by the Thunder, point guard Payne the 14th pick in the 2015 draft and 6-11 Lauvergne from France. Morrow was a former league three-point shooting champion who mostly fills out the financial requirements for he trade.
Though perhaps the bigger news was no news, that nothing came of rumors the Bulls could trade All-Star Jimmy Butler for perhaps draft picks. Bulls vice president John Paxson reiterated there was no serious and specific talks involving Butler. The Bulls did trade for a young point guard, and if a team were going for a rebuilding into this coming draft, the target would be a point guard with the high lottery pick.
So the Bulls open the so called second half of the season, the stretch run to the playoffs one game under .500. They're home against Phoenix Friday and then in Cleveland Saturday, and the priority now, said Paxson and general manager Gar Forman, was to further evaluate young players like Payne and Lauvergne. Though more so likely power forward starter Bobby Portis, rookie Denzel Valentine, who'll get minutes McDermott had at wing, as well as players like Cristiano Felicio, Paul Zipser, Jerian Grant and Michael Carter-Williams. Nikola Mirotic looks like he'll have to work his way back into the rotation or a larger role.
With Butler, Dwyane Wade, Robin Lopez and Rajon Rondo, the Bulls at 28-29 still believe they have the core of players to remain competitive and make a playoff run this season. Though the priority is moving forward with young players with Butler, at least for now, in some form of rebuilding, retrenching, retooling or makeover of the franchise over the coming seasons.
So the Thursday trade, which was generally considered minor in an NBA sense, became a backdrop for a media session on the state of the franchise and its direction.
Here are some highlights from Paxson and Forman.
Paxson on the deal: "We feel this is consistent with what we talked about last year. As we redevelop this roster, the chance to get younger is important to us. The point guard position in particular is a key position in this league. A couple years ago when Cam Payne came out in the draft, we were very, very high on him. We see him as a young guy that's going to develop and get better. He's had an injury this year where he broke his foot and he just came back to play these last 20 games. He's getting back into shape. He hasn't played all that well to this point, but he needs time and he needs minutes. Joffrey Lauvergne is a big who can stretch the floor to some degree. He's a very tough kid who plays hard and one of those guys you don't like playing against because he's always around the ball and playing hard. Cam is 22. Joffrey is 25. For us, the ability to get some young bodies in this building and look at the future is important for us. This move allows Bobby Portis to get a significant role in the rotation. And it allows Denzel Valentine to get a significant role in the rotation. When you're trying to develop and build a team with young players, you need them to get on the floor. They'll play significant roles for us."
Paxson on Butler rumors: "People call all the time. The important thing for us is if we are ever in a position where we are going to rebuild completely, you have to have a certainty in terms of what you're getting back. If you're going to go that route, you want high draft picks. And there has to be a certainty to those draft picks. I can tell you there was nothing remotely close to anybody calling us about Jimmy Butler.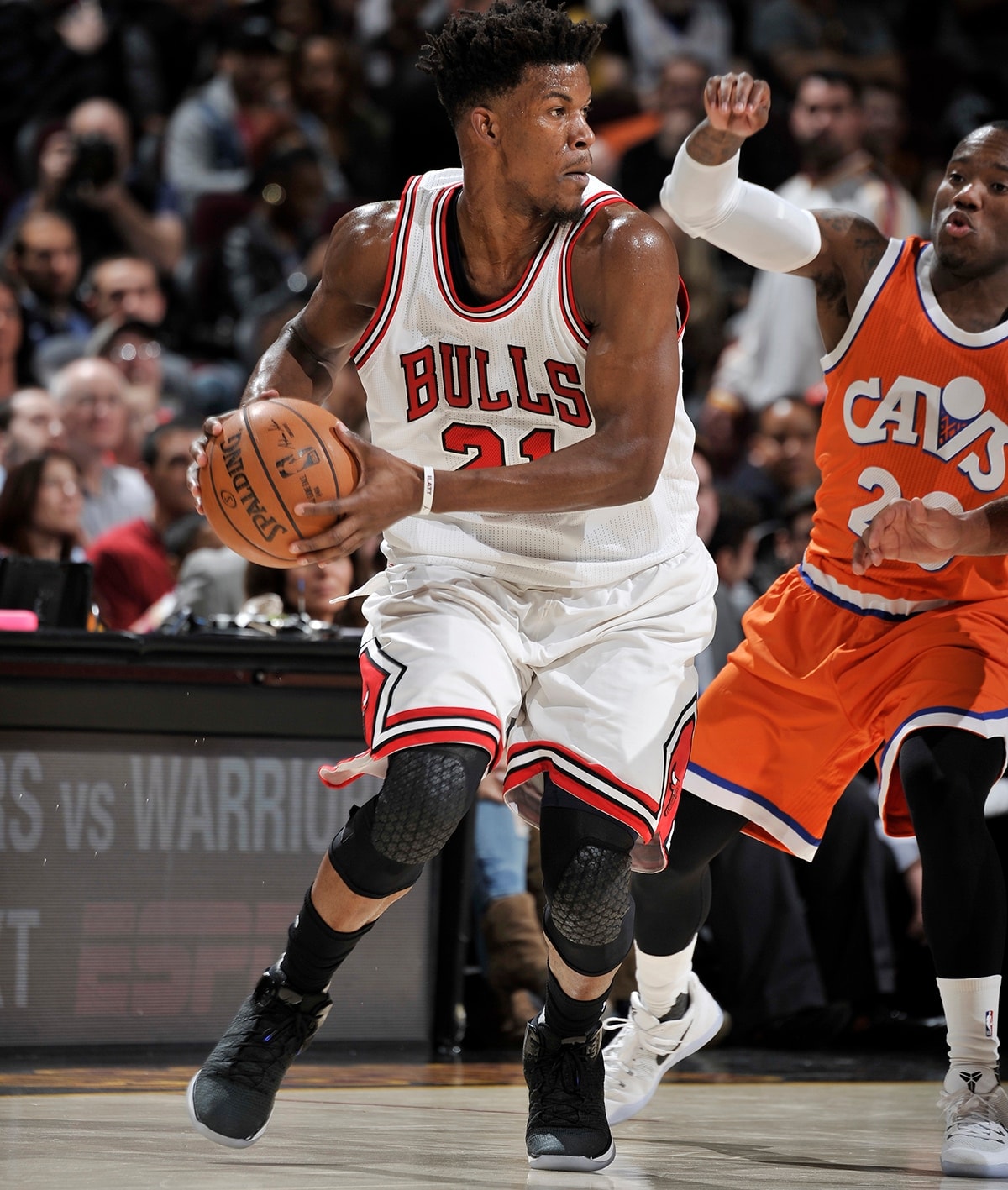 Paxson on Team Plans: "We're not hamstrung with contracts that go out with older players. Unless you're tearing it down completely and want all young players, it's going to be a process. It's piece by piece, step by step. Today is another step in that process where we brought on two more young players that we like and we're going to see what they can add to our team."
Paxson on the Same Page: "This is one of the things I'm probably most discouraged by the narrative that's out there. We're an organization. Jerry, Michael, Gar and I are the decision makers. You can get behind closed doors and discuss things. You can disagree, you can agree, you can debate, you can argue. But the thing that we've always done is, when we walk out and make a decision as an organization, we align as an organization. To make the leap from debate to division and saying that like Gar and I aren't working together well or whatever, it's wrong. It's just a false narrative."
Paxson on commitment: "We cry when Derrick got hurt and we had a really good team and our MVP player went down. That's part of the business. We sign him to a long-term deal, he gets hurt. Blows out his knee. He's not the same player. And so we have to try to manage that situation. And we did, for however many years. I love our fan base. I played here, I respect them, but I know personally, I'm not a quitter. I'm not gonna quit, I'm gonna see this through, and we're gonna fight. We're taking steps, and we're trying to get better to do it in a way that's, maybe it's methodical, but we're not gonna go out here and try to reinvent things. We've got a plan in place. We're gonna get some of our young guys minutes to play and see how they can grow as a team. And we'll see if they can make significant impacts and become a better basketball team. We do have a plan and it's one that's agreed upon by Jerry, Michael, Gar and myself.
Paxson on coach Fred Hoiberg: "Fred's a different personality. He's more laid back. A lot of our guys have actually responded to that. I can go back to training camp practices where I thought he had a much better presence with our players. Fred is growing and evolving. I think our players like him. I think they see him as someone who did play the game and knows what they're going through. And I've seen growth in an area of him in games where he's trying to manage matchups a little differently than he did last year. We're one game below .500, we've got a very difficult schedule coming up after this break that will tell us a lot. But when you look long term like we do, the development of these young guys is really important to us."
Forman on Payne: "I think he's got a real feel and an instinct for the game, very crafty. He's a guy that is skilled. He can handle, he can pass it. In college, he shot it well. Hasn't shot it as well this year, but a guy that likes to compete and is instinctual. I think he's a guy that makes teammates better. We thought he was a very talented young man.''
Forman on going forward: "We've been pretty consistent with that we were going to turn this roster over, it was going to take time. The goal was to get younger, to obtain assets. We've got all of our first round picks. It's important to set yourself up to have a level of (financial) flexibility into the future if you're a team that is building, as we are. We all wish we could snap our fingers and it happens overnight. But the reality is it takes time. It takes time to redo a roster, it takes time to set yourself up, to take advantage of opportunities, and I think that's what we're in the process of doing. We're in the process of retooling our roster, of getting younger, of setting ourselves up with a level of flexibility when there's some major spending, long-term spending going on, where when the time is right we'll have the opportunity to take advantage of some of those situations and continue to make jumps as far as building this roster up. We had such a level of success and going younger and starting this process knew we'd take a step back. There is a plan in place to continue to get younger, add to this roster and put ourselves in position take advantage of opportunities when they come. We didn't add long term salaries, so we are in a position of flexibility and continue to add pieces, and that is one of the things we did today."
Forman on this season: "Obviously, when you're out here and you're competing, you know you want to have success, and you want to win. We said that was part of our plan also, to not sink to the very bottom. That we wanted to have a level of professionalism, be able to compete. I think it's important for our guys to have an opportunity to compete for a playoff spot, for these young guys. Like John said, we've got a tough schedule coming up, but we're optimistic that our guys will continue to compete.''
Forman on Rondo: "Right now I anticipate him being on our roster.''