Who is
Trail Cat?
Blaze the Trail Cat joined the Trail Blazer family back in 2002 and has been the team's biggest fan ever since. Born in the towering pines of the Oregon Cascades, Blaze was always a little different from the other cubs, with unique two-toned silver fur ears, a tail that looks like blazing flames and a heart-shaped nose..
He loved his life in the mountains, but always felt there was something else out there for him. So, one day, he set off on a journey through the woods and eventually found himself on the steps of the Oregon Humane Society. The staff there had never seen anything like him, but he was so playful, energetic and friendly they knew Blaze needed a good home.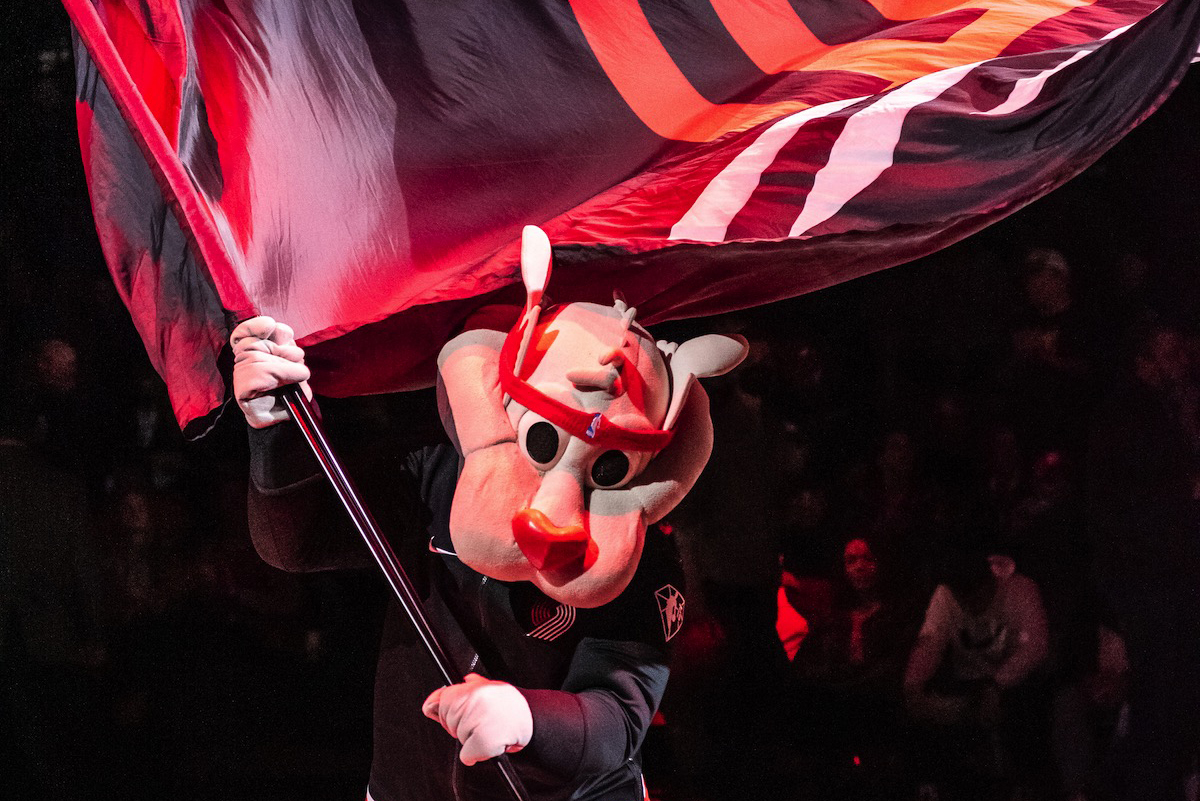 The Trail Blazers heard about this frisky feline and knew right away that they wanted to adopt him and make him the team's first-ever mascot. Blaze instantly felt at home with the Trail Blazers and quickly became a basketball fan and the team's biggest supporter.. His love for the team and Rip City has only grown over the years and Blaze loves nothing more than to be at Moda Center with the best fans in the NBA! Outside of Moda Center, Blaze likes to spend time outdoors - which is where he found his new best friend, Douglas Fur!
Who is
?
Our very own Big Foot lives within Portland's city limits in Forest Park. Forest Park is the largest urban forest in the United States and is made up of 5,200 beautiful acres of land. The forest is blanketed by Douglas Fir trees, including Oregon's largest tree standing 242ft tall, and serves as a thriving habitat for over 100 species of mammals and more than 100 types of birds.
The first reports of a wild hairy beast-like creature in Oregon date back to 1904. Since then, there have been thousands of reported sightings, none of which could be verified with factual evidence except for the popular Big Foot that frequented Trail Blazers games in the mid-80's.
Our Big Foot has remained elusive and undetected by humans for decades by carefully navigating the over 80 miles of hiking trails throughout Forest Park while naturally blending in with other un-shaven local hikers, and explorers camouflaged in local hipster, outdoorsy, Northwest attire....That is until now when our very own Blaze the Trail Cat finally found his new best friend, Douglas Fur, and introduced him to Rip City and the game of basketball!
Blaze & Doug's Favorite Places
Select a Mascot to Learn More
REQUEST A BLAZERS MASCOT FOR YOUR NEXT EVENT!
Blaze is an integral part of the Trail Blazers' community programs and serves as a team ambassador making appearances around Oregon, SW Washington and around the world! When he's not at Trail Blazers' games, Blaze loves jumping in his custom-made Blaze van and getting out in the community to visit with other Trail Blazers fans. Whether he's at a school assembly, birthday party, grand opening, parade, charity run, ribbon cutting ceremony or a surprise visit, Blaze is always the life of the party!
Want to book Blaze for your next event? Contact us today!
Request Now!