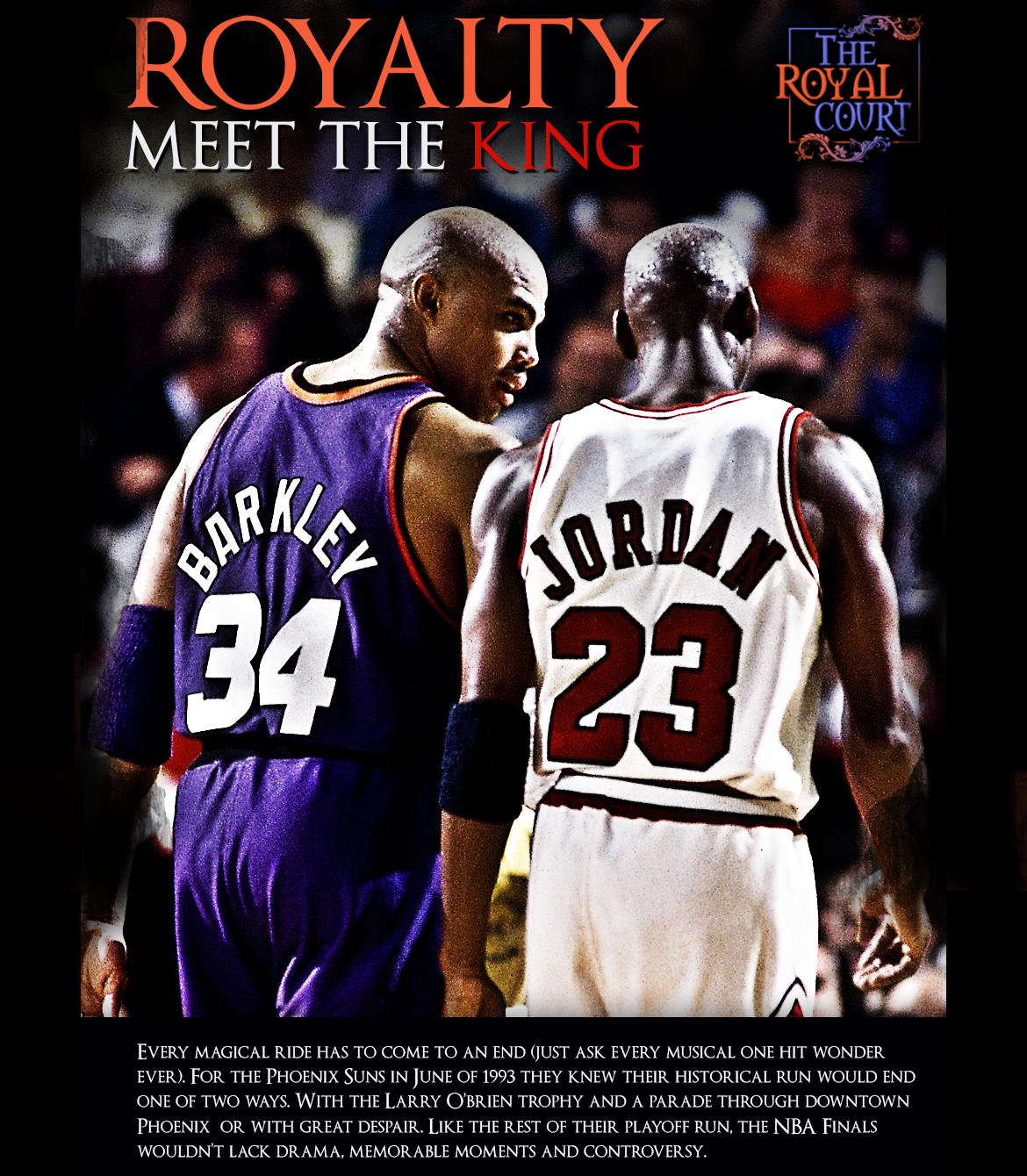 June 9, 1993 – Suns show nerves in 100-92 Game 1 loss to two-time champion Bulls at America West Arena. Michael Jordan scores 14 of 31 points in the fourth quarter.
---
Majerle: I don't think we were overconfident. Any time you played Michael and the Bulls you're not going in overconfident. We had never been in that situation before and Chicago had. They came out and they played well and stung us early. We didn't play very well and we didn't protect our home court.
Michael Jordan: We hung in there. We knew we gave away the momentum when we were up 18-20 points. They got the momentum going into half. We established ourselves in the second half. We were able to fight off their surges. One thing that happened with Phoenix is this is their first time in the finals. They may have been a little too hyped.
---
June 11, 1993 – Suns first ever to lose opening two games of Finals at home by falling 111-108 to Bulls. Barkley and Jordan score 42 points each, but Bulls forward Scottie Pippen sways game with triple-double.
---
Johnson: Winning 62 games during the regular season and fending off three elimination games against the Lakers and one against the Sonics makes for a very confident team. We had done it before and we believed we could do it again. We had every opportunity to win Game 2, but let it slip through our grasp.
Ainge: I remember our team kind of being booed for losing two games at home. If that is the case, that is pretty sad. KJ certainly wasn't the reason why we were 0-2. Horace Grant came out and torched us in the first two games. That was ridiculous.
Johnson: On the flight to Chicago for game three of the Finals, Coach Westphal took me aside and informed me I'd be guarding Michael Jordan for the next couple of games. Not exactly what you want to hear after coming off two losses in Phoenix and where I felt I could have played much better.
---
June 13, 1993 – Down by two in third overtime of Game 3, Majerle makes Finals-record sixth three-pointer to start 9-0 run that carries Suns to 129-121 win in 3-hour, 20-minute marathon at Chicago Stadium that closes series to 2-1.
---
Ainge: I remember having a chance to win it in regulation or one of the overtimes with a (good) look. But I remember that was an exciting game, a lot going on. I remember KJ playing really well.
Johnson: Without a doubt it was the most physically and mentally draining game I've ever been a part of. Everyone on the team played with passion and energy, and we pulled out a win in perhaps one of the greatest games in NBA Finals history.
Majerle: I think I played 59 minutes (laughs). It was an awesome game. Like I said before, the momentum changed. One guy would come down and hit a shot, then another guy on the other end would come down hit a big shot. A couple of misses here, a couple of misses there. It was just one of those classic games that I'll never forget and am so glad I was a part of.
Jordan: We were focused on the sweep but we didn't do the things we needed to sweep. Like taking the ball hard to the hole.
Barkley: Damn! Michael shot 43 times. [He made only 19.] That's unbelievable. He's gonna be icing his elbow too.
Chambers: I don't think that you could ever have a better game than that game. You had great players and great teams playing as hard as they could possibly play with every play meaning so much. It was just incredible to have the game go on for that many minutes. I think some of the guys played more than 50 minutes.
Bulls' Center Scott Williams: Fantastic game. One of the best games I've ever played in, without a doubt, even coming out on the losing side of it. It was just a special moment. The two teams were just kind of fighting like dogs. Every little possession was so important, so magnified. It seemed like our crowd was behind us, but it just seemed like the energy expended seemed to zap us out for our guys as the game went on. I remember I logged 48 minutes in that game. It was the most minutes I've ever played in my career in one ball game. Just being a part of something like that is truly a memorable moment.
---
June 16, 1993 – With Game 4 hanging in the balance and the Suns down two points with :33 seconds to go, KJ has inbounds pass go through his fingers, Bulls' point guard B.J. Armstrong grabs the ball, feeds to Jordan who hits the game-sealing bucket. Chicago wins at home 111-105 win that leaves Suns one loss from elimination. Jordan scores 55, second-most ever in Finals.
---
June 18, 1993 – Suns pull out 108-98 win that sends Finals back to America West Arena; Richard Dumas makes 12 of 14 shots, scores 25 points; Barkley proclaims, "We saved the city," referring to fear of rioting in Chicago if Bulls had won series in Game 5. At Sky Harbor International Airport, police estimate crowd of 12,000 greets team at 2:30 a.m. when charter jet arrives.
---
Frank Johnson: The past couple of nights we read in papers and saw on TV all the reports on how the city was preparing for riots if the Bulls won. We feel we saved the city.
Majerle: When we heard all about how they've got to protect the city when they win it, that was our rallying cry.
Barkley: They've got the national guard out. I found that very presumptuous. We saved the city. We've got to win two more games-and we will. I really believe in destiny. We are destined to be world champions. God wants us to win a world championship.
Majerle: I remember we should have won the second game there. We had a chance to win it and we let that one slip away, and they were talking about how they were going to celebrate after that third game in Chicago and how the city was going to be torn apart (in riots). They were boarding up the windows with plywood and everything. Charles said we were going to save the city and that's exactly what we did. We came out and played great and got the sixth game back here in Phoenix.
Chambers: There would have been a big party (had the Bulls won). I guess before when they'd won they had all kinds of looting and fires, and all kinds of stuff going on. It was just Chuck saying the one-liners that everybody thinks and he really took some pressure off everybody to go back home, and do what we needed to do.
---
June 20, 1993 – Heading into the final minute of Game 6 at home the Suns have four-point lead. They appear on way their way to Game 7. The Bulls cut it to two and have ball with :14 seconds to play. On inbound play, ball winds up in hands of John Paxson behind three-point line, who swishes shot that gives Bulls third straight title and shatters Suns' dreams 99-98. Series ends 640 points for Bulls, 640 for Suns.
---
Chambers: It was frustrating for me because I came out of the game with three minutes to go and we were up six points. That was just Paul's philosophy a lot that season where when we had enough points he wanted to put in players who he felt played better defense, and unfortunately from that point on we didn't score and they did, and we lost the game.
Barkley: Little did I know God was wearing No. 23.
Majerle: It is a nightmare to still think about it. We were up two and we were in the huddle. I remember saying, "anything but a three and this thing goes into overtime, and we could win it in overtime and then we got a Game 7 here on Sunday." The last words out of everybody's mouth was, "No threes." It just happened that the ball got down to Horace Grant and Horace had a wide open six to eight-footer, and Danny Ainge went down to try to discourage it. (Grant) turned around and found (John) Paxson who had a wide open three. As soon as he let it go I was underneath the basket and I saw it was going in and it was just a sickening feeling.
Westphal: It was just a spread court situation. They just tried to take it to the basket and Mark West had to leave Horace Grant to go help on the penetration. Danny Ainge thought he might be able to pick the pass off. Instead of throwing it to Grant he turned passed it back to Paxson who was wide open. Seemed like that ball was in the air for about an hour. He made the shot. It's a great shot. You have to give him credit. Young kids dream about that shot. John Paxson got to live it out.
Ainge: What happened was, coming out we didn't want to give up a three, obviously, and my assignment was Paxson. Charles went for the steal on Scottie (Pippen) out at about the hash mark. As he went for the steal, Pippen went driving down the middle of the lane. I saw Pippen driving and I didn't want to let him just kick it to Paxson, but as I saw him kick it to Grant, I thought I could get to Grant and foul him before he got an easy dunk. And Grant just kicked it out and I went, "Oh, no, what was I thinking?" But yeah, it was just a completely instinctive play that caused me lots of pain. Lots and lots of pain.
Johnson: I thought this last game was a great game. I thought it could have went either way. They got a pretty big cushion in the first three quarters. We hung in there and cut the lead down in the fourth quarter. They just made some big shots when they needed it. Certainly they deserve it. You have to give them credit.
---