Goran Dragic, Slovenia Ready to Host EuroBasket 2013
For the next two-and-a-half weeks, the biggest basketball tournament in Europe will call Slovenia home.
The southern European country, which lies between Italy, Austria and Hungary, has been home to Suns point guard Goran Dragic for much longer. Before he was a playmaker in Phoenix, Dragic woke up at 3:00 a.m. in the morning to watch the best basketball players on the planet.
Now the best basketball players in Europe are coming to his home country, where Dragic – now a starting NBA point guard in his own right – will serve as the marquee face of host Slovenia.
"Everybody is excited, including me," Dragic said. "My friends, people of Slovenia. This is a huge deal for us, having the Euroapean championship at home."
The five-year NBA veteran has enjoyed every minute of the lead-up to the tournament itself. International competition offers an on-court opportunity to bond with friends and countrymen, one that Dragic has enjoyed enough to share various scenes of his time overseas on Twitter.
Bus rides, practices, candid moments and everything in between form the national team experience, one made more special by the team's "host" status.
"It's a lot of fun, especially this year because we went only for two games outside of our country," Dragic said. "All the preparation games we had in our country, so it's a different situation for us. Even when we're driving, the whole bus is green, it says Slovenia, so everybody recognizes us. A lot of those teammates we played together when we were 16, 17, 18 years old. We know each other from back then."
The history between Dragic and his teammates figures to give the home team a boost in the chemistry department. Many of them were on the Slovenian national team that won gold in the2004 FIBA Europe Under-20 Championship. They also took home the gold from the 2007 Stankovic Contental Champions' Cup, beating out competition that included teams from the United States and China.
The experience has shown in pre-tournament "friendlies" leading up to Eurobasket 2013. Slovenia played 12 such exhibitions after a lengthy training camp, winning 11 of those games while keeping playing time fairly even in order to keep stars like Dragic and fellow NBA talent Bostjan Nachbar fresh for when the real games commence.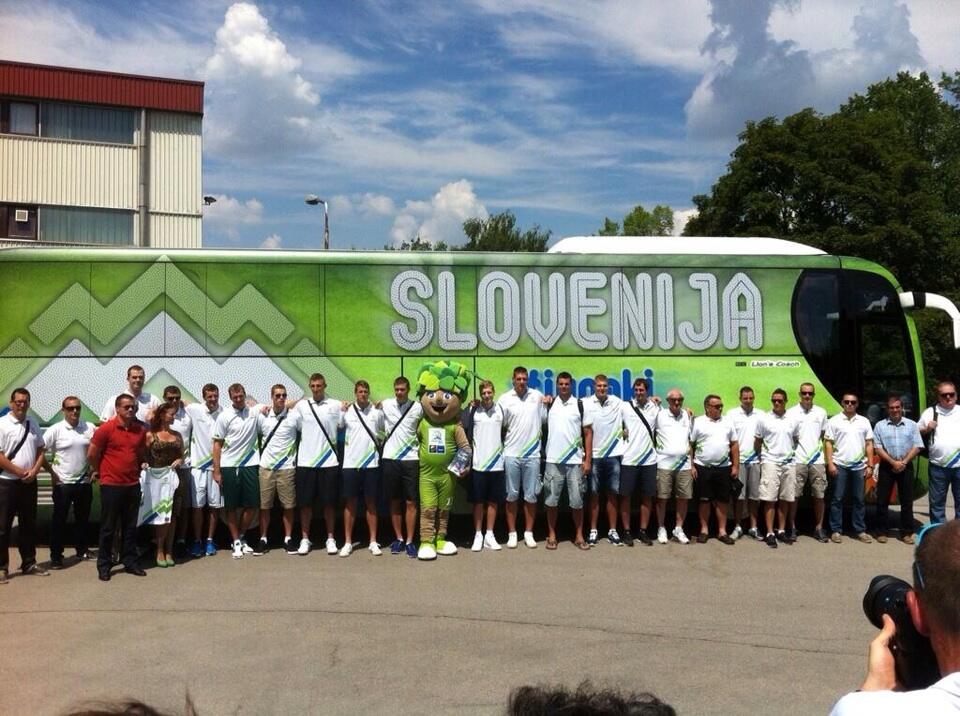 All but two of the exhibition games took place in Slovenia, further preparing the team for the highs and pressures they'll face when constantly playing in front of an amped home crowd.
Dragic feels the preparation has paid off.
"We have had good results so far," Dragic said. "Me and my teammates and coaches, we try to calm down a little bit. When the real games start, it's going to be a different story. We have a good team, we have a good chance to make a good result. Training camp was awesome for us to prepare."
Calm and preparation will be key in front of high-energy crowds and in the high-octane flow of European basketball. With national colors instead of league and team logos on their jerseys, players tend to compete with a frenetic edge to their respective games.
Dragic also said the style of play goes hand-in-hand with the increased intensity found in international basketball.
"I don't know what it is," he said. "Different games. It's only 40 minutes long. It's a lot of more aggressive game. The referees don't call fouls, there's a lot more contact. I don't know how to explain it, but it's just a different game. Every coach in Europe expects you to play like American college, full court press, hard defense and try to play a different game from different teams."
Whatever the result, the Phoenix Sun and Slovenian native figures to enjoy the time with his friends in his home country, playing the sport he grew up watching, practicing and, ultimately, representing in Slovenia.
"Everybody's playing in Russia, Greece, the NBA, so we don't have a lot of time to see each other," Dragic said. "Now it's a great opportunity to play for the same national team and try to make a good result."