Wroten: "Everywhere I Go, People Ask Me About The Crossover"
For those of us who are products of the Internet Age, it's hard to comprehend that just 28 years ago, a handful of NBA playoff games each year were shown on tape delay. It would similarly perplex someone living in 1986 if they were told that by 2014, we would be able to watch live games on devices that fit neatly in our pockets. Indeed, technology has changed the NBA, and the rise of social media has only exaggerated that change.
One month ago, Sixers guard Tony Wroten experienced the power of the internet firsthand. In the opening contest of the Seattle Basketball Pro-Am on July 5, the 21-year-old guard dropped a game-high 53 points. But while his impressive debut wowed the hometown crowd, one moment in particular caught the attention of basketball fans across the globe.
•••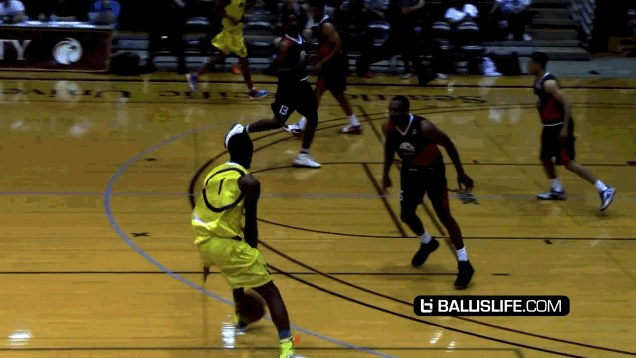 "It happened so fast, that I shocked myself, really." – Tony Wroten
••• 
After the game, Wroten took a shower and got changed. He didn't think much of the move at the time, but it wasn't long before his phone was inundated with texts and mentions on Twitter.
Word of his God Shammgod-inspired crossover had begun to spread throughout Seattle's basketball community, and early the next morning, BallIsLife posted a video of the move featuring multiple angles and a slow-motion replay to YouTube. Within hours, basketball fans across the globe had taken notice.
The crossover was featured on SportsCenter's Top-10 Plays, and countless blogs re-posted the video. One hilarious Vine showing a user's reaction to move has garnered nearly 1.5 million views to date, and numerous others have racked up hundreds of thousands more.
"People were telling me the next day, 'This is worldwide, it's going international,'" Wroten said. "Now everywhere I go, people ask me about the crossover."
That includes Sixers CEO Scott O'Neil, who made a point of seeking out Wroten at last week's Beach Bash in Avalon, NJ to tell him that it was one of the most impressive crossovers he had ever seen.
.@ScottONeil congratulates @TWroten_LOE on his epic Shammgod crossover at the @SeattleProAm pic.twitter.com/2rKDihZ8wr

— Philadelphia 76ers (@Sixers) August 2, 2014
Beginning Friday, the Washington alum is holding his second-annual Tony Wroten Skills Academy at his alma mater, Garfield High School, in Seattle. 
"Every little kid who signed up for the camp asked me to teach them the Shammgod Crossover, so I'm pretty sure that's all I'm going to be doing there," he said, laughing.
But beyond the flashy no-look passes and ankle-loosening crossovers Wroten is putting on display in Seattle, the young guard is working hard to return to the Sixers this fall a more complete player.
"I want to be a more vocal leader and also be a leader by example," Wroten said of his goals for next season. "In this league, every good point guard, every great point guard, is a leader. I'm just working out every day trying to get better and better."
The former 25th-overall pick is entering his third NBA season and his second with the Sixers. Last year, he averaged 13.0 points (42.7 FG%), 3.2 rebounds, and 3.0 assists in just under 25 minutes per game.