Spotlight: Michael Carter-Williams
Posted: June 25, 2013
Three months after nearly losing everything in a house fire, Syracuse's Michael Carter-Williams is holding nothing back, as he prepares for the 2013 NBA Draft.
Hailing from Hamilton, Massachusetts, the 21-year-old point guard's work ethic and disciplined approach have always led to success on the court.
After transferring to St. Andrew's (a Rhode Island-based boarding school) during his sophomore year of high school, Carter-Williams began putting up impressive numbers both on and off the court.
While scoring an impressive 2,260 career points at St. Andrew's, the lanky 6'6" point guard made the prestigious school's honor roll in five consecutive semesters.
During his senior season, he averaged 23.2 points, 8.3 rebounds, and 5.5 assists per game. More impressively, he earned 2011 All-American honors from McDonald's, Jordan Brand, and SLAM Magazine.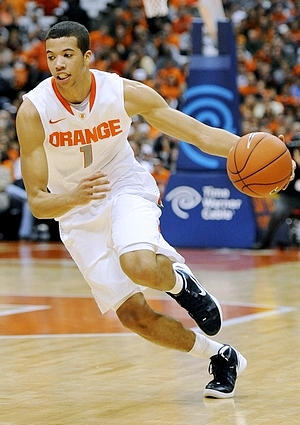 Coming out of high school, Carter-Williams was on a high that, unfortunately, wouldn't last as long as he'd hoped.
In his first year at Syracuse, he was stuck behind more experienced guards Scoop Jardine, Brandon Triche, and Dion Waiters. His collegiate debut came on November 12, 2011, against Fordham University. Coming off the bench, Carter-Williams posted just four points and two assists in 18 minutes.
He finished his freshman campaign with averages of 2.7 points (43.1 FG%), 2.1 assists, and 1.5 rebounds in 10.3 minutes per game. But despite a lack of playing time, Carter-Williams used his freshman season to grow accustomed to the pace of the college game.
When he returned for his sophomore season, he looked like a completely different player.
"In terms of the game, I'm a smart player out there. I can pass the ball really well and get everyone involved," he said, speaking to Sixers.com at the 2013 NBA Draft Combine.
And getting everyone involved is exactly what he did for the Orange.
After not posting any double-doubles during his freshman season with Syracuse, Carter-Williams had eight in the 2012-13 regular season, six of which came in consecutive games (November 30-December 17).
After leading Syracuse to a 26-9 record and a #4 seed, the savvy point man headed to San Jose, California, along with the rest of his team for the opening round of the 2013 NCAA Tournament.
After demolishing 13-seeded Montana 81-34, the Orange faced the 12-seeded California Golden Bears. While Carter-Williams fought to secure a 66-60 Syracuse win in that game, his mother was in the stands, distraught because of news she had just received from her husband back home.
On March 23, just around tip-off of the Syracuse-Cal game, Carter-Williams' family home in Hamilton, Massachusetts caught on fire. 
With eighteen family members watching him play live at the HP Pavilion in San Jose, only his stepfather and two twin brothers were in the house when the fire broke out. Luckily, all three managed to escape safely. 
Unfortunately, the blaze took with it family photos, numerous valuables, personal records, and the majority of Carter-Williams' impressive memorabilia. His family managed to save one of his 1,000-point basketballs and a couple trophies, but the rest could not be salvaged in time.
"We've told Michael to focus on basketball," Mandy Carter-Zegarowski (Michael's mother) told Syracuse University reporters after the fire. "Things are fine, everyone is healthy."
And that's exactly what he's done. 
"I've [been working out with] C.J. McCollum," Carter-Williams told Sixers.com of his preparation for the draft. "I'm learning things from him and he's learning things from me."
Praising fellow potential draftees at last month's NBA Draft Combine, he saved special admiration for a legend whose career he has tried to emulate. 
"I remember growing up and modeling my game after Jason Kidd," he told DraftExpress.com at the combine. "Of course, our games are a little bit different but he's a winner and I like to win."
Mixing hard work, determination, leadership in his pursuit of a lifelong dream, Carter-Williams hopes to not only prove he belongs at the top of this year's class, but to also help lift his family up in a time of darkness.
For an in-depth look at this year's draft, including dynamic prospect profiles, frequently updated rankings, mock drafts from around the web, and more, check out the 2013 SIXERS.COM DRAFT CENTER