Sixers 2008 Draft Center
Draft Workout: JaVale McGee, C.J. Giles, Callistus Eziukwu
June 6, 2008
The Philadelphia 76ers held their first pre-draft workout on Friday at the Philadelphia College of Osteopathic Medicine (PCOM), bringing Nevada center JaVale McGee, Oregon State center C.J. Giles and Grand Valley State forward Callistus Eziukwu. Leading up to the June 26th NBA Draft, the Sixers will hold various workouts with multiple draft prospects in order to get a better look at their individual talents and personalities to see if both would be a match with the team's needs and chemistry.
Sixers President and General Manager Ed Stefanski joined Senior Vice President and Assistant General Manager Tony DiLeo, Director of Player Personnel Courtney Witte, Head Coach Maurice Cheeks and his entire staff, among others, at Friday'sworkout.
"All three guys are athletic guys, shot-blockers," DiLeo said. "They all fit into the way we want to play and the way we have been playing."
From Good Stock
Having a parent who played basketball on the professional or collegiate level usually helps players prepare better because they understand the experiences and learn what is needed to be successful.
McGee was blessed enough to have both parents play professional basketball. His father, George, played college basketball at Illinois and was a second-round selection of the Portland Trailblazers in 1985. His mother, Pamela, was an All-American who led USC to NCAA titles in 1983 and 1984 before playing and coaching in the WNBA.
"It helped me a lot because they knew exactly what to tell me and what to do and what not to do," McGee said. "I just followed what they said and here I am."
McGee wasn't necessarily on the radar after his freshman season at Nevada, when he only averaged 3.3 points and 2.2 rebounds per game. But after working hard last summer, McGee became a force in his sophomore year, upping his per game averages to 14.1 points, 7.2 rebounds, and 2.79 blocks. He earned second-team All-WAC and was named to the All-WAC Defensive Team.
"We knew a lot about McGee, looking at him and his length, his athleticism and his skill set," DiLeo said. "He still is a ways away as far as filling out his body and getting stronger, but he is one of those players who you look at and say he has a lot of potential."
As for the NBA, McGee is confident that his skill set isn't the only reason that team's have him on the map going into the upcoming draft.
"I believe it's because of my height," McGee said. "If I was 6-10 and had the same abilities I probably wouldn't be as high. But since I am a seven-footer, and I can block shots, and I can shoot, and I can dribble, and I am real athletic, that projects me higher."
Currently, draft experts and scouts have McGee going somewhere in the top 20, and many consider him a top-five center.
Starting Fresh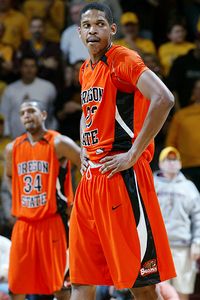 Giles was considered one of the top high school talents in the nation. He graduated from Rainier Beach High School in Seattle, Wash. in 2004 where he averaged 17 points, 12 rebounds, and six blocked shots per game as a senior. He was runner-up for state player of the year and was named the 2004 Seattle Metro MVP.
However, his success was a little too much and came a little too fast. After stints at Kansas University and Oregon State, Giles is in the draft and trying to prove that the mis-steps he had as a young man are not a reflection on the person he has become.
"Ultimately I learned from that, and I know that if I worry about right now and this hour, this time right now," Giles said. "Ultimately the choices I make now will play out pretty well in the future.
"I just need to show people my real character and just show people who I really am. To come in everyday with a smile and just show them who I am."
DiLeo said the Sixers understand Giles' history, but wanted to see the player for themselves before making any decisions.
"Bringing them in here for an individual workout, that's the advantage you get to sit down with them, you get to see them eye-to-eye, you get to talk to them," DiLeo said. "There are a lot of things out there that you don't know if they are true or not, and we do a lot of investigations and background checks."
DiLeo says that by the end of the whole process they will have a better idea of what kind of player Giles is.
"He is very talented, played at one of the best schools in the country. Athletic, shot-blocker, energy, his offensive game has improved over the years, he is intriguing, that's one of the reasons we brought him in."
Giles certainly has the talent to make an impression on NBA teams. He just hopes that he can get a fresh start and show that he has changed his ways.
"Showing is a lot more effective. Just show them that I am outgoing and supportive of players who I am competing for a job with, it will go a long way," Giles said. "I think I am one of those guys who learned things from what I did in the past and learned from it to know what I have to do in the future to have success."
Long Shot
The third player the Sixers brought in on Friday is little-known Callistus Eziukwu from Grand Valley State, a Division II school. Eziukwu (pronounced E-ZOO-KOO) is considered a long shot to make any NBA team, but the Sixers brought him in because of his athleticism and shot-blocking skills.
Eziukwu was named to the All-GLIAC First Team and All-Defensive Team this season after averaging 12.9 points, 7.2 rebounds, and 2.2 blocks per game. It was the second consecutive year that Eziukwu earned both honors.
Although he knows he is a long shot, Callistus is ready for the challenge.
"Guys in this league are bigger than me, stronger, and can jump higher," he said. "The good thing is that not a lot of guys know who I am so hopefully I can surprise some people."
After working out for his first NBA team, Eziukwu knows he has to keep on working if he is to reach his dream of playing in the NBA.
"It gave me a good idea of where I am and what I need to work on. I am not that far off. I just have to get back and keep working even harder."
But just having the opportunity to go to training camp to compete for a roster spot would be an honor for Eziukwu.
"It would mean a lot to know that all the hard work paid off."