127
24 - 46
127
29 - 42
Tip-Off:

7:30PM PST
Tuesday, March 25, 2014
STAPLES Center, Los Angeles, CA
96
29 - 42
Lakers Drop 51 in 3rd Quarter, Blast Knicks 127-96
By Greg Beacham on March 25, 2014

LOS ANGELES (AP) Xavier Henry scored 22 points, Nick Young hit five 3-pointers while scoring 20 points, and the Los Angeles Lakers dropped a franchise-record 51 points in the third quarter of their 127-96 victory over the New York Knicks on Tuesday night.

Kent Bazemore scored 18 points as the Lakers won consecutive games for the first time in more than three weeks with a phenomenal offensive effort against the Knicks, who have lost two straight after an eight-game winning streak.

Knicks President Phil Jackson watched his new team and his former club from a luxury suite high above the court.

Carmelo Anthony scored 29 points for the Knicks, who couldn't stop the Lakers' patchwork roster from hitting 18 3-pointers in the opener of New York's five-game West Coast road trip.

Young hit five 3-pointers, and Jodie Meeks added four as Los Angeles finished one 3-pointer shy of the single-game club record.

With their postseason hopes hanging by a thread that gets thinner each day, the Knicks played the worst defensive quarter in the history of a franchise that once allowed Wilt Chamberlain to score 100 points. New York dropped three games behind Atlanta for the eighth playoff spot in the Eastern Conference.

Jackson's fiancee, Lakers executive Jeanie Buss, watched from the second row. The 11-time NBA champion coach arrived late at the building where he won five titles with the Lakers, who declined to re-hire him early last season, infuriating much of their fan base.
But the Lakers never had an offensive quarter under Jackson to match their 51-point effort for Mike D'Antoni, the former Knicks coach who got the Lakers' job over Jackson.

The Lakers stretched their eight-point halftime lead to 30 by making 19 of their 26 shots in the third, including six 3-pointers. Nine players contributed a field goal to the spree, including nine points from Chris Kaman in his first game action in March.

With Pau Gasol sidelined by vertigo, Kaman had 13 points and nine rebounds. Steve Nash also sat out for the 17th time in the Lakers' last 18 games.

Henry excelled despite a torn ligament in his left wrist, playing through the injury to his shooting hand.

Tim Hardaway Jr. scored 17 points and Amare Stoudemire had 16 in the Knicks' seventh straight road loss to the Lakers since 2007.

The Knicks also are assured of a losing season with their 42nd loss, and the Hawks have two games in hand in the playoff race.

The Lakers missed 13 of their 18 shots in a 14-point first quarter, but they rolled off a 22-4 run in 5 1/2 minutes to open the second quarter. Los Angeles made 11 of its first 13 shots, and Anthony missed his first seven shots for New York before a jumper late in the half.

Meeks and Jordan Hill then expanded the Lakers' lead with a 12-0 run early in the third, shredding the Knicks' defense from inside and out. Ryan Kelly's 3-pointer stretched Los Angeles' lead to 74-49 midway through the quarter.

NOTES: Young converted a four-point play in the third quarter. He has six of the Lakers' nine four-point plays this season, both franchise records. ... Gasol will be re-examined Wednesday before the Lakers determine whether he will travel with them to Milwaukee and Minnesota this week. ... Metta World Peace, the former Knicks and Lakers forward, attended the game. New York waived the former Ron Artest on Feb. 24. He got a rousing ovation from the Staples Center crowd when he appeared on the scoreboard in the first half, and he sat in Jackson's box during the second half.
Game Notes
2013-14 Season Series: The Lakers trail the season series 0-1 after a loss in the final
game of the "Grammy Trip" on 1/26.

All-Time Series Notes: The Lakers and Knicks split the 2012-13 season series 1-1 … Prior
to 2011-12, the Lakers swept each of the previous four season series ... Dating back to the
Minneapolis era, this will be the two teams' 279th meeting and the 188th since the Lakers
moved to Los Angeles prior to the 1960-61 season ... In their last 10 overall games, the Lakers
have gone 7-3 against the Knicks … Los Angeles had their nine-game win streak against New
York snapped 2/10/12 at Madison Square Garden ... At home, the Lakers are 11-3 all-time
against the Knicks at STAPLES Center ... In New York, the Lakers have gone 5-5 in their last
10 trips to Madison Square Garden ... On 2/2/09, Kobe Bryant scored a Madison Square
Garden record 61 points (19-31 FG) while converting a franchise record for free throws
made without a miss (20). The mark has since been surpassed by Carmelo Anthony (62
points, 1/24/14 vs. CHA) ... Bryant's 20 free throws without a miss tied for 2nd most in NBA
history without a miss behind Dominique Wilkins' 23-23 effort in December of 1992 ... It was
the 5th time Bryant has scored 40+ points at MSG, with his 61 points surpassing Michael
Jordan's 55-point opponent record and Bernard King's 60-point building record ... On
January 31, 2006, the Lakers established a series record for largest margin of victory with a
130-97 win over the Knicks at MSG ... In that contest, Bryant led all scorers with 40 points while
tying his own franchise record with 23 free throws made ... Additionally, Bryant's 23 made free
throws set an MSG record while his 26 attempts tied the building record ... In 32 career games
(28 starts) against the Knicks, Bryant is averaging 27.2 points.
Connections: Lakers head coach Mike D'Antoni and assistant Dan D'Antoni served in similar roles with the Knicks for three-plus seasons (2008-12) … Lakers G Kobe Bryant and Knicks F Carmelo
Anthony helped the United States men's basketball team capture consecutive gold medals in the 2008 and 2012 Summer Olympics … Lakers F Jordan Hill played for the Knicks under D'Antoni for the first
part of 2009-10 … Knicks C Tyson Chandler (Dominguez HS) played his prep basketball locally in the Los Angeles area … Knicks F/C Amar'e Stoudemire and Lakers G Steve Nash were teammates in
Phoenix from 2004 to 2010, where Stoudemire also played for D'Antoni … Chandler, Stoudemire, Anthony, G Raymond Felton and G/F Iman Shumpert all played for D'Antoni with the Knicks …Knicks F
Kenyon Martin and Lakers G Nick Young played together on the Clippers during the 2011-12 season... Knicks G Shannon Brown played from 2009 to 2011 on the Lakers, winning two championship rings
and averaging 7.9 points in 182 regular season games ... While on the Phoenix Suns, Brown played with Nash during the 2011-12 season, and with Lakers F Wesley Johnson and G Kendall Marshall
during the 2012-13 season... Knicks F Earl Clark played on the Lakers during 2012-13, averaging 7.3 points and 5.5 rebounds in 59 games ... Clark also played with Nash in Phoenix from 2009-10... Lakers
assistant coach Johnny Davis coached Knicks C Andrea Bargnani in the same role on the Toronto Raptors from 2011 to 2013 … Anthony and Johnson both played collegiately at Syracuse ... Knicks C
Cole Aldrich and Lakers G Xavier Henry played together collegiately at Kansas University in 2009-10, guiding the Jayhawks to a 33-3 record and the No. 1 overall seed in the NCAA tournament.
Instagram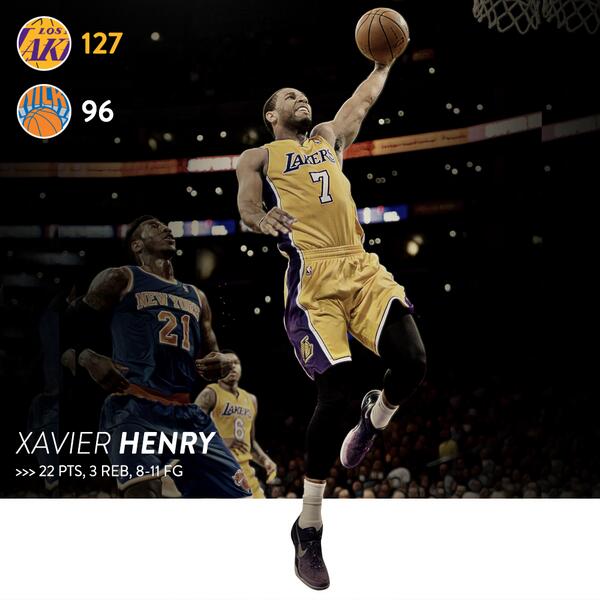 Game Photos
Click here to view Game Photos
Game Leaders
BasketBlog
Game Videos
Game Starters
Injury Report - LAKERS
Kobe Bryant:
(fractured left knee) is out
Steve Nash:
(nerve root irritation) is questionable
Jordan Farmar:
(groin) is out
Chris Kaman:
(foot) is questionable
Xavier Henry:
(wrist) is probable
Pau Gasol:
(vertigo) is doubtful
Injury Report - KNICKS
Andrea Bargnani:
(torn ligament) is out
Kenyon Martin:
(sore left ankle) is