The NBA World View: Western Conference First Round, San Antonio Spurs vs. Dallas Mavericks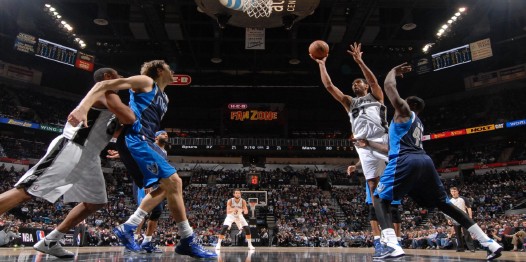 The Experts
Adriano Albuquerque

Aldo Aviñante

Fran
Blinebury

Davide Chinellato

Iñako Díaz-Guerra

Emeka Enyadike

Scott Howard-Cooper

Simon Legg

Karan Madhok

Akshay Manwani

Max Marbeiter

Takuma Oikawa

Stefanos Triantafyllos
One Thing I'm Looking Forward To Most...
Stefanos Triantafyllos
4-2
Duncan vs Nowitzki. What else? The battles between them are 14-12. TD is winning...
4-0
Takuma Oikawa
The match up between Tim Duncan and Dirk Nowitzki, two legendary forwards, may be the last time in the playoffs. Just enjoy the great matchup.
Fran
Blinebury
4-1
It will be a joy to watch a pair of aging veterans and all-time greats Tiim Duncan (37) and Dirk Nowitzki (35) square off maybe for the last time in the playoffs. They have both had outstanding seasons and show no signs of letting up.
4-1
Davide Chinellato
As an Italian I should say I'm looking forward to seeing Marco Belinelli, but I'm going with Tim Duncan vs. Dirk Nowitzki: two legends matching up against each other. Timmy or Dirk? It's hard to tell.
Iñako Díaz-Guerra
4-1
Duncan vs Dirk one more time. Perhaps the last one. A classic of this generation. Enjoy.
4-3
Emeka Enyadike
Definitely San Antonio - Dallas, that's the stand out fixture for me and a lot hinges on how far the Spurs can take their final bow. We've seen Dirk Nowitzki among the records as they managed to get it. Could he crash their party?
Scott Howard-Cooper
4-1
The head-on collision between Dallas' offense and San Antonio's defense will be a good show.
4-1
Simon Legg
The Spurs are my pick to win it all so I'll be watching them closely throughout the playoffs. I'm interested to see how Pop spreads his minutes around with his talented bench. Will Patty Mills have an influence? Let's hope so!
Karan Madhok
4-1
Another chance to see 2 of the greatest power forwards of our time - Tim Duncan and Dirk Nowitzki - go head to head in a 7-game series? Yes please!
4-0
Akshay Manwani
Whether Dallas, a bottom-10 defensive rating team will have an answer for San Antonio's top-10 offense?
Aldo Aviñante
4-1
The Power Forward match-up between two all-time greats at their position, Tim Duncan and Dirk Nowitzki also the elite speed of Tony Parker against a rejuvenated Monta Ellis will also be an enticing duel if they defend each other.
4-2
Adriano Albuquerque
Dirk Nowitzki vs Tim Duncan might be the closest thing the NBA has to Peyton Manning vs Tom Brady these days. I might be exaggerating there, but really, these are the two best power forwards of the last two decades, who have done some epic battles throughout the years -- I can never forget that Mavericks 4-3 series win in 2006 -- and both have revolutionized their position.
Max Marbeiter
4-1
Duncan vs. Dirk. Two of the best Power Forwards to ever play the game going at each other again. What more can you ask for.
The Predictions