The NBA World View: Western Conference First Round, Oklahoma City Thunder vs. Memphis Grizzlies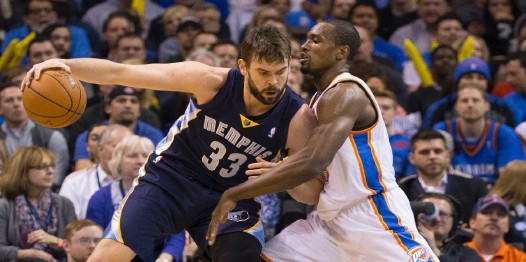 The Experts
Adriano Albuquerque

Aldo Aviñante

Fran
Blinebury

Davide Chinellato

Iñako Díaz-Guerra

Emeka Enyadike

Scott Howard-Cooper

Simon Legg

Karan Madhok

Akshay Manwani

Max Marbeiter

Takuma Oikawa

Stefanos Triantafyllos
One Thing I'm Looking Forward To Most...
Stefanos Triantafyllos
4-2
Last year the Grizzlies knocked out Thunder after Russell Westbrook went down due to injury. Now he is back. Let's see where the two teams left things after last year. They have been starting a rivalry.
4-1
Takuma Oikawa
It was a great comeback for Memphis from .400 in mid-December to the Playoffs. But they have no answers to stop Mr. Kevin Durant.
Max Marbeiter
4-2
Durant's bitter revenge for last year's early exit against Memphis.
4-1
Davide Chinellato
That Serge Ibaka vs. Zach Randolph matchup under the baskets it's going to be really physical. I bet on Air Congo, but Z-Bo is a guy you can't underestimate.
Iñako Díaz-Guerra
4-3
Marc Gasol and Serge Ibaka are partners in the Spanish National Team and two of the best defenders in the NBA. It's a great duel for us here in Spain.
4-2
Emeka Enyadike
Revenge is in the air and Kevin Durrant has been in the form of his life and Russell Westbrook is available. Big interest in Africa for the power of Serge Ibaka, and hoping Thabo Sefolosha is back. The Grizzlies are not to be underrated with Zach Randolph in the fray but my head is with Thunder, 4-2.
Scott Howard-Cooper
4-1
I'm like everyone else. I can't wait to see what Russell Westbrook can deliver with rest between games
4-2
Simon Legg
The Grizzlies knocked the Thunder out last season so there's some history here. The Thunder will need to make a statement but won't have it all their own way against the Grindhouse kings.
Karan Madhok
4-2
This one is the 'vengeance series'. Without Westbrook, Durant and the Thunder were outmuscled and defensively overwhelmed by the hard-nosed Grizzlies. Westbrook will be back this year with a vengeance, and there will be blood in the eyes of soon-to-be-MVP KD, too.
4-1
Akshay Manwani
Oklahoma City handling Memphis' dominating and very physical frontcourt presence of Zach Randolph and Marc Gasol.
Aldo Aviñante
4-0
Payback time for the hungry and healthy Thunder squad. They were bullied by the Grizzlies last year but with a complete lineup and a more experienced cast alongside Kevin Durant expect OKC to take it to the Grizz with a keen approach to dominate them.
4-2
Adriano Albuquerque
Kevin Durant has certainly not forgotten their series loss to Memphis last season, a demoralizing 4-1 drubbing. I bet Russell Westbrook didn't forget it either, and will be determined to prove that it would have been much different if he was healthy. Memphis, though, has got it together and loves to play the underdog, especially when people seem to forget their history with OKC and don't give them their due.
Fran
Blinebury
4-3
They met twice in the playoffs over the past three seasons with each side winning once. It's the slick skills of Kevin Durant and Russell Westbrook against the brute strength of Marc Gasol and Zach Randolph. I'm looking for fireworks.
The Predictions