The NBA World View: Eastern Conference First Round, Miami Heat vs. Charlotte Bobcats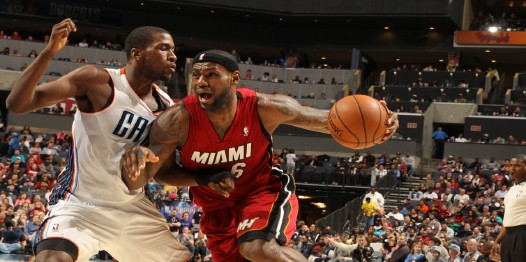 The Experts
Adriano Albuquerque

Aldo Aviñante

Fran
Blinebury

Davide Chinellato

Iñako Díaz-Guerra

Emeka Enyadike

Scott Howard-Cooper

Simon Legg

Karan Madhok

Akshay Manwani

Max Marbeiter

Takuma Oikawa

Stefanos Triantafyllos
One Thing I'm Looking Forward To Most...
Stefanos Triantafyllos
4-0
LeBron scored 61 against the Bobcats this season. In the REGULAR season. What he 'll do now?
4-1
Adriano Albuquerque
Everybody says the keys to beating Miami is strong point guard and big man play, and Charlotte has that. Kemba Walker can score in bunches and Al Jefferson will demand a lot of attention from Chris Bosh. While I don't see Charlotte parlaying that into an upset series win, because the Heat has such a strong roster, they could make the games more interesting.
Fran
Blinebury
4-1
This should be great fun watching Al Jefferson go to work against the vulnerable middle of the Heat defense and Coach of the Year candidate Steve Clifford come up with a scheme to slow down the two-time defending champs.
4-0
Davide Chinellato
I can't wait to see how healthy Dwyane Wade is and if Al Jefferson can guide his teammates to something other than a sweep at the hands of the Heat.
Iñako Díaz-Guerra
4-0
So Miami's engine has been hot and cold all the season, and we used to think that they were only saving gas for the Playoffs. OK, I want a proof of life now.
4-0
Emeka Enyadike
The Bobcats' Al Jefferson will cause the Heat all sorts of problems but Miami's experience will be too much, and Chris Bosh and LeBron James will pull them through. It should be the shortest of the series.
Scott Howard-Cooper
4-0
Charlotte's best threat is center Al Jefferson. Miami's biggest weakness is inside. I am interested to see if that gives the Bobcats a chance to win a game.
4-1
Simon Legg
It's just great to have the Bobcats in the playoffs again! Al Jefferson deserves a return to the postseason so it'll be nice to see him lead the Bobcats, having said that, I don't think they stand a chance.
Karan Madhok
4-0
Miami struggle defending the post and on the boards. In Al Jefferson, the Bobcats have a true old-school 20-10 force on the inside. Could be an exciting challenge for the defending champs.
4-1
Akshay Manwani
Can Al Jefferson dominate Chris Bosh and make this an interesting series.
Max Marbeiter
4-1
Al Jefferson against Miami's big-man rotation should be a fun matchup to watch. Maybe Greg Oden has his first big-impact game for the Heat.
4-0
Takuma Oikawa
LeBron James vs Michael Jordan! Ok, not on the court, but this interesting matchup is the first time -- officially -- that the two have met..
Aldo Aviñante
4-1
I'm keen to know if Dwyane Wade will be healthy enough for this series or will he be saved for bigger battles ahead. Miami should dominate against the inexperienced Bobcats.
The Predictions