The NBA World View: Eastern Conference First Round, Indiana Pacers vs. Atlanta Hawks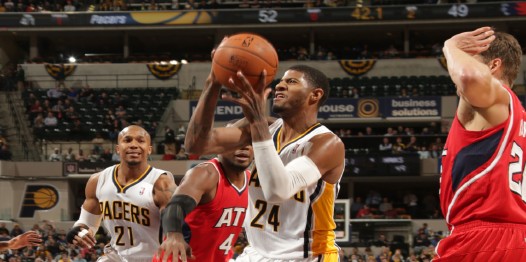 The Experts
Adriano Albuquerque

Aldo Aviñante

Fran
Blinebury

Davide Chinellato

Iñako Díaz-Guerra

Emeka Enyadike

Scott Howard-Cooper

Simon Legg

Karan Madhok

Akshay Manwani

Max Marbeiter

Takuma Oikawa

Stefanos Triantafyllos
One Thing I'm Looking Forward To Most...
Aldo Aviñante
4-0
Now we'll see if Indiana can bounce back from their horrible season-ending funk to turn back the upstart Atlanta squad that's been long without the services of All-Star Al Horford.
4-2
Adriano Albuquerque
Which Indiana will we see in this series? The dominating, stifling defensive force that started the season, or the inconsistent group that finished it? If they continue to waver, then Atlanta could really be a threat; the Hawks tied their regular season series with the Pacers and actually blew them out just over a week ago at Bankers Life Fieldhouse.
Fran
Blinebury
4-2
After the way the Pacers staggered down the stretch to the finish line in the regular season, I want to see if they can recapture their defensive bite and overall confidence against a Hawks team with little to lose.
4-1
Davide Chinellato
I think we're gonna find out if the Pacers are the perfect machine who dominated before the All-Star Game or the sloppy team who lost 9 of the last 15 games.
Iñako Díaz-Guerra
4-1
Can the Pacers use the 1-vs-8 matchup to put it all together again?
4-2
Emeka Enyadike
Many people wondered if the Pacers will overcome their late season slump after their incredible start but I always felt they will finish strong. They have one of the strong attributes for the Playoffs -- defense -- but most of all, watch out for the real Paul George. There's a chance he will reproduce some of what we saw early this season.
Scott Howard-Cooper
4-2
I am anxious to see which Indiana team will show up: the group that was so impressive most of the season or the one that stumbled badly near the end.
4-1
Simon Legg
To see how the Pacers perform and whether they can turn it on in the postseason. Paul George is definitely the player to watch here. If he gets back to his early season form then things could start looking up for the Pacers.
Karan Madhok
4-1
In recent months, the Pacers have shown that they're susceptible to playing down to their opponent. I'm looking forward to the possibility of an epic 8 over 1 upset. That said...4-1.
4-2
Akshay Manwani
Whether Indiana will rediscover their mojo in this round.
Max Marbeiter
4-1
I'm really curious to see whether the Pacers get it together once the playoffs start.
4-0
Takuma Oikawa
Indiana will come back into form in the postseason. They'll regain the powerful defense that led them to the top seed in the Eastern Conference.
Stefanos Triantafyllos
4-0
Millsap against West. A match-up of two different kind of power forwards.
The Predictions