The NBA World View: Eastern Conference First Round, Chicago Bulls vs. Washington Wizards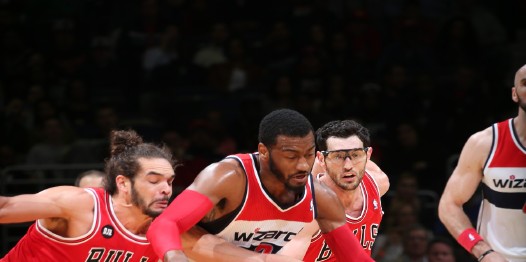 The Experts
Adriano Albuquerque

Aldo Aviñante

Fran
Blinebury

Davide Chinellato

Iñako Díaz-Guerra

Emeka Enyadike

Scott Howard-Cooper

Simon Legg

Karan Madhok

Akshay Manwani

Max Marbeiter

Takuma Oikawa

Stefanos Triantafyllos
One Thing I'm Looking Forward To Most...
Karan Madhok
4-2
I know what I'm NOT looking forward to: rumours (based on nothing credible) of Derrick Rose's heroic post-season return, which won't happen. Unless it does, in which case, that is all I'm looking forward to.
4-2
Akshay Manwani
Will John Wall's talent trump Joakim Noah's heart.
Fran
Blinebury
4-1
Now that he has scrapped and battled and practically willed the Bulls into the No. 4 seed with his relentless style and attitude, I'm looking to see Joakim Noah serve notice that the first round is just a start and Chicago is ready and able to take a bite out of the big boys from Indiana and Miami down the line.
4-1
Davide Chinellato
Joakim Noah elevated his game into the top-5 of the league in these final months of regular season. I'm looking forward to seeing if he lives up the expectation.
Iñako Díaz-Guerra
4-3
I love John Wall but, now that he's in the playoffs, could he find holes in this fantastic defense? Is he ready?
4-3
Emeka Enyadike
I don't think anyone fancied the Bulls to do well this season with Derrick Rose out injured but how Joakim Noah stepped into the plate has been phenomenal and his was one of the really top-draw individual performances we've seen. How far can John Wall go for Wizards will tell. It will be a keen contest but I fancy Bulls.
Scott Howard-Cooper
4-2
Will Washington act like it is just happy to be there?
4-1
Simon Legg
I'll be watching Joakim Noah closely in this series! The guy has been amazing for the Bulls over the past few months and I think their season will be extended by at least one playoff series.
Stefanos Triantafyllos
4-3
The last playoffs series the Wizards won was back in 2005...against the Bulls.
4-1
Takuma Oikawa
For John Wall & Bradley Beal, it will be the first time to play in the postseason. But Chicago's passion will overwhelm Washington's freshness.
Aldo Aviñante
4-2
Experience will come into play, I personally think the biggest asset you can have in the playoffs is a battle-tested team. The Bulls have been there and done that the past few seasons, and they know how to play undermanned. I'm also excited to finally watch John Wall under the bright lights of the playoffs.
4-2
Adriano Albuquerque
A battle of injury-plagued teams! Who has the most left in the tank to get to the next stage? Also, it's a battle of a team that's coming up and getting its first playoff appearance in a while against a battle-tested group that has been to the playoffs over and over the past five years.
Max Marbeiter
4-2
I simply enjoy watching the Bulls' intensity. They've been playing playoff basketball for 82 games and therefore should have a mentality advantage over any other team which has to start from zero.
The Predictions