Michael Jordan Statue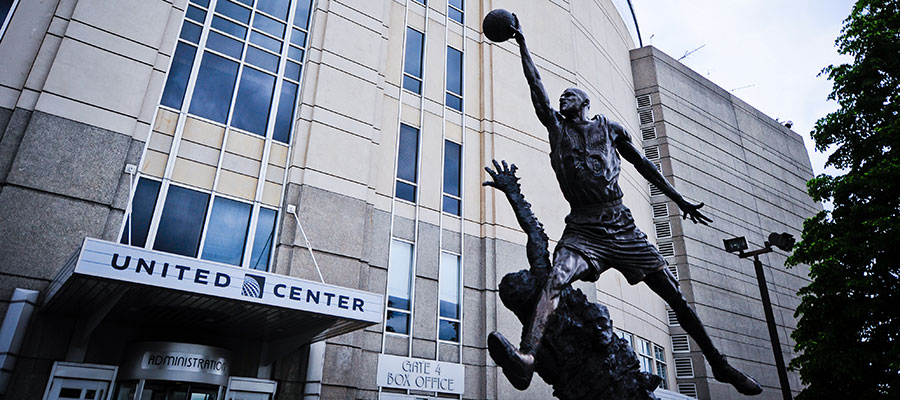 The Michael Jordan statue is unfortunately not accessible to the public as it has been returned to its permanent location inside the new United Center atrium, currently under construction. Fans will be able to visit the statue in the atrium once construction is complete, currently scheduled for the midpoint of the 2016-17 season. We apologize for the temporary inconvenience and encourage fans to visit the statues of Chicago Blackhawks legends Bobby Hull and Stan Mikita outside of Gate 3 1/2.
---
In late 1993, Bulls Chairman Jerry Reinsdorf directed team Vice President Steve Schanwald to conduct a search for a sculptor who could craft a statue as tribute to the greatest player in NBA history.
In January 1994, Schanwald hired the husband-wife team of Omri and Julie Rotblatt-Amrany of Highland Park, Illinois, to design and create a statue of the then retired Bulls superstar which would stand forever at the entrance to the United Center, the Bulls' new home, which was set to open in August of that same year. Schanwald sought a design which would be a realistic depiction of Jordan, illustrate the spectacular nature of his unique skill, and create the illusion of flight. Following a review of submissions by a number of sculptors, the now familiar design submitted by the Amaranys was approved by Jerry Reinsdorf.
The statue, unveiled before a national television audience by Larry King, Reinsdorf and Jordan himself in a November 1, 1994 ceremony at which the famous No. 23 was retired, sits on a 5-foot high black granite base inscribed with Jordan's basketball achievements, and the words, "The best there ever was. The best there ever will be."
The statue itself measures 12 feet tall (17 feet from top to bottom) and weighs 2,000 pounds. The statue was cast in bronze using the "lost wax" method at Art Casting of Illinois, a foundry in Oregon, Illinois.
Working in secrecy, and putting in 16-hour days, seven days a week for four months, the Amrany's finished work depicts Jordan soaring over an abstract entanglement of opponents, preparing to unleash one of his signature dunks. The airborne Jordan is attached to the base at just one point—the knee.
"At that moment I knew, surely and clearly, that I was witnessing perfection. He stood before us, suspended above the earth, free from all its laws like a work of art, and I knew, just as surely and clearly, that life is not a work of art, and that the moment could not last."
— "A River Runs Through It"
The above quote is displayed at the foot of the Jordan statue. It was added following Jordan's second retirement in 1998, along with his long list of basketball accomplishments, achievements, honors and records.
---
Read more about the Jordan Statue