In this community, where we live, learn and play, we recognize that there is an overwhelming need. That's why Wells Fargo and the Trail Blazers have partnered again this season to "Take Time Out" and invest in our community. Throughout the year, volunteers from both Wells Fargo and the Trail Blazers will be taking time out to make assists at local non-profits. Keep checking back to learn how Wells Fargo and the Trail Blazers are investing in your community.
KGW Great Toy Drive:
This holiday season, Wells Fargo and the Portland Trail Blazers partnered again with the KGW Great Toy Drive to bring holiday cheer to our community's less fortunate families in Oregon and Southwest Washington. Due to an overwhelmingly generous response by the community, the KGW Great Toy Drive was able to raise enough toys to help over 60,000 children this holiday season.

Community supporters dropped off new, unwrapped toys at numerous Wells Fargo locations through December 19th. To 'Take Time Out' and support the KGW Great Toy Drive and Wells Fargo, the Portland Trail Blazers assisted in collecting toys on December 13th during a Trail Blazers game. During a challenging time for many families during the holiday season, Wells Fargo and the Portland Trail Blazers would like to thank everyone who participated in investing in our community.

Thank you for your support of the KGW Great Toy Drive!

AMERICAN RED CROSS, WELLS FARGO AND THE PAUL G. ALLEN FAMILY FOUNDATION TEAM UP FOR HURRICANE SANDY RELIEF AT TOMORROW'S PORTLAND TRAIL BLAZERS HOME GAME
It's all about teamwork. And that's what it will take to help the millions of people in the northeastern United States who have been devastated by the effects of Hurricane Sandy. The Paul G. Allen Family Foundation and Portland Trail Blazers invited members of the Oregon Red Cross to the Rose Garden on Thursday, November 8th to raise funds and awareness in support of hurricane relief efforts. In addition, Wells Fargo has programmed its ATMs in Oregon and Washington to enable its customers to donate to the Red Cross relief efforts through Nov. 13.
American Red Cross volunteers with collection buckets helped to collect donations from fans for Hurricane Sandy disaster relief and to provide information, collecting a total of $10,500 from fans! In addition, Wells Fargo and the Paul G. Allen Family Foundation have each pledged to match fan donations up to $10,000 for a total of $30,500 raised for Hurricane Sandy Relief.
More than 70 Oregonians have been deployed to New York, New Jersey and other communities on the East Coast to help with disaster relief. This includes volunteer drivers for all five of Oregon Red Cross emergency relief vehicles who departed the state on Saturday to head east to become part of the relief fleet.
If you would like to help, please visit www.redcross.com to donate.

Harvest Dinner
The 17th annual Harvest Dinner hosted by the Portland Trail Blazers assisted more than 6,000 community members this year. Thousands of meals and multiple services were provided free of charge to homeless, underserved and low-income individuals and families. Wells Fargo helped Take Time Out to host a kid's play area for children to have the ability to color, play with toys, watch family movies, read books, and simply stay warm. The ultimate goal of Harvest Dinner is to raise awareness surrounding food insecurity and bring together the community partners to serve those who are unable to afford a holiday dinner.

Therefore the Portland Trail Blazers 'make it better' volunteers along with volunteers from Wells Fargo and other partners served meals to deserving individuals. While health care services such as flu shots, dental checkups, haircuts, and family photography were also offered throughout the event.



Wells Fargo Fan Fest
The annual Wells Fargo Fan Fest took place on Sunday, October 21st with an intra-squad basketball scrimmage, on-court Q&A session and tons of family-fun entertainment.
Fans picked up free family passes at Wells Fargo stores for this popular preseason event in order to get an up-close and personal interaction with members of the Portland Trail Blazers. Wells Fargo and the Trail Blazers encouraged attendees to Take Time Out and give back to the community to help keep those in need warm by bringing mittens, scarves and stocking caps to benefit the Salvation Army. Hundreds of donations were collected at the Rose Garden in this effort to help the community.
Wells Fargo also entertained five local non-profits in luxury suites for this event.
Those charities included:
Regence Boys & Girls Club
Medical Teams International
Neighborhood House
Self Enhancement Inc.
Trillium Family Services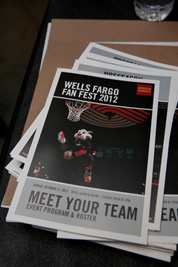 Habitat for Humanity:
Last fall, a volunteer team of approximately 150 Trail Blazers employees, Wells Fargo volunteers, and season ticketholders were mobilized on September 15th, 2011 to build townhouses at the new Victoria Cottages build site in Gresham. This was the largest one-day volunteer team ever gathered locally by Habitat. Volunteers and Trail Blazers personalities, including alumni, coaches and broadcasters, worked alongside the families who would eventually be living in the homes. Once the homes were complete, a memorable presentation took place in which Wells Fargo Executives joined Trail Blazers Alum Jerome Kersey to present a family with the key to their new home. Wells Fargo is happy to be an ongoing supporter of Habitat for Humanity.

/>/>/>/>/>/>/>/>/>/>/>/>/>/>/>/>/>/>